An elliptical exercise bike is excellent workout equipment and can burn calories like any heavy gym workout. However, the elliptical bike combo does not significantly impact your muscles and is a safe means of physical training. An elliptical and bike combo is an excellent option for someone planning to stay fit indoors. The multifunctional role of the stationary bike includes impact on both the lower and upper body. Let's dive deep into these best 2 in 1 elliptical and bike combos
You no longer have to use multiple fitness equipment and get all of it in just one deal. The elliptical, recumbent bike and steppers are clubbed together in one hybrid elliptical trainer. You can save both space and money with the exercise bike elliptical combo.
Top 10 Elliptical Recumbent Bike Combo
The elliptical bike combo machines help train your entire body and regulate your cardiovascular health. There are numerous brands with a variety of elliptical bike combos.
We have listed the best 2 in 1 elliptical and bike combo to reduce your hassle for great use.
Body rider elliptical trainer and stationary bike combo are 2 in 1 exercise machines. This comes with a seat and is a dual trainer for your best home use. The combo has dual training modes and maximizes the output.
The recumbent elliptical cross trainer has an adjustable seat for different user heights. The BRD2000 elliptical trainer is ideal for someone who prefers sitting and standing combinations during workout sessions.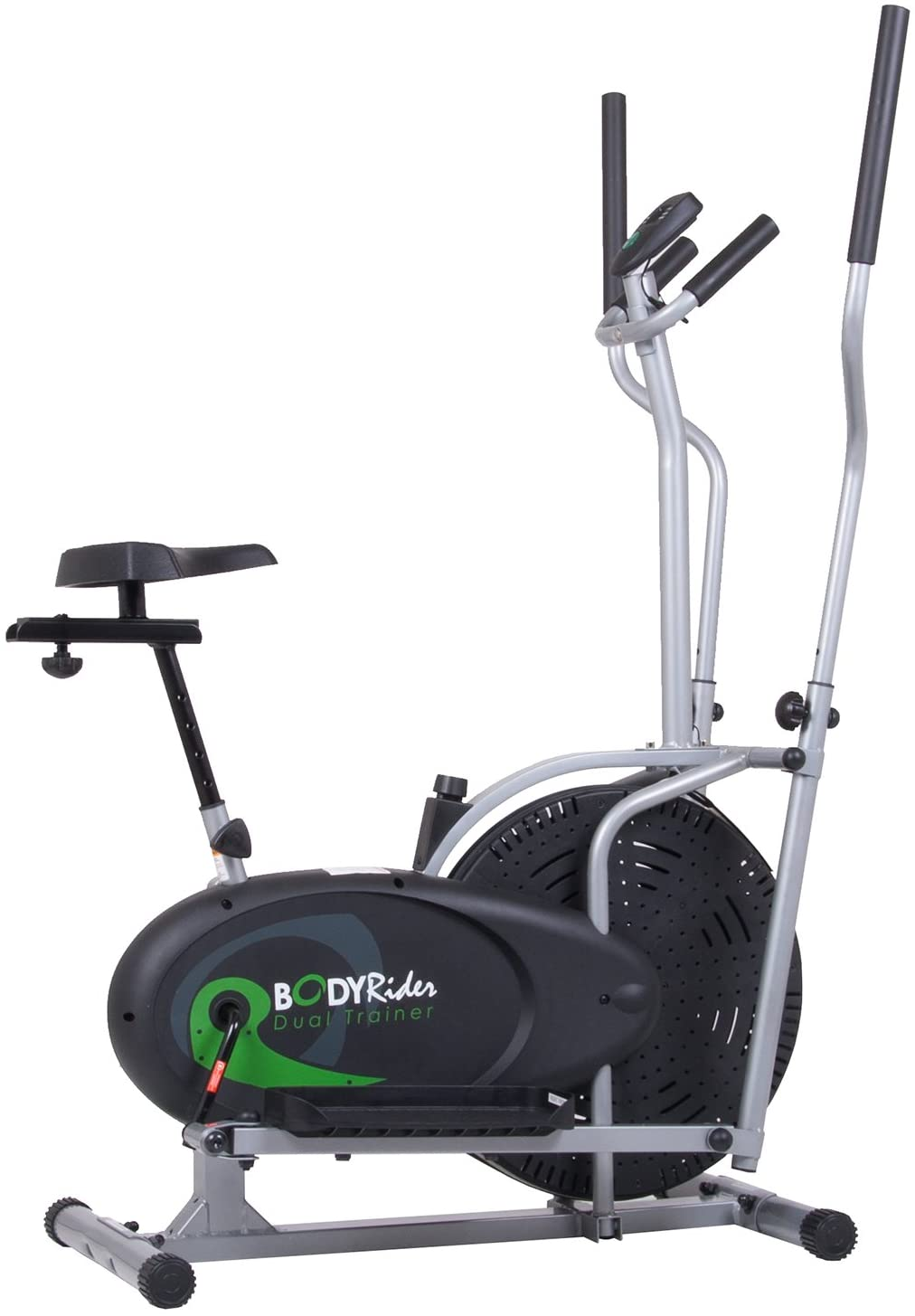 Specifications –
Item Dimension – 48 * 28.5 * 59.5 inches
Item weight – 66 pounds
The material used – Metal
Four integrated handlebars
Electric console
Pros –
This can be easily assembled
Space-saving design
Sturdy machine
Built-in transportation wheels
Computer features
Cons –
A bit noisy
Loose wheels
The BR2000 elliptical machine with a bike combo is excellent for a low-impact body workout. The built-in transportation wheels make it convenient to move around the house or store it. The seat height can be adjusted both horizontally and vertically.
You also get the advantage of adjusting tension simply via a knob. The electric console helps you track workout progress by monitoring the speed, distance, time, and calories burned.
You need to spend 20 minutes of your day three to four times a week and activate your various muscle groups.
The cross trainers allow you to adjust the intensity and incline settings per individual fitness level.
The integrated handlebars of the body rider elliptical trainer increase the safety levels and make you feel secure. Watch television, listen to music or read your favorite magazine while trying to lose weight.
The Sunny Health and Fitness Elliptical combo comes with a device holder and monitor for tracking the progress of your workout. This is one of the best elliptical machines and helps you execute powerful exercises.
The device holder gives you ample options to keep your favorite device close by. For example, you can watch a movie, listen to music, or read something while doing various physical activities.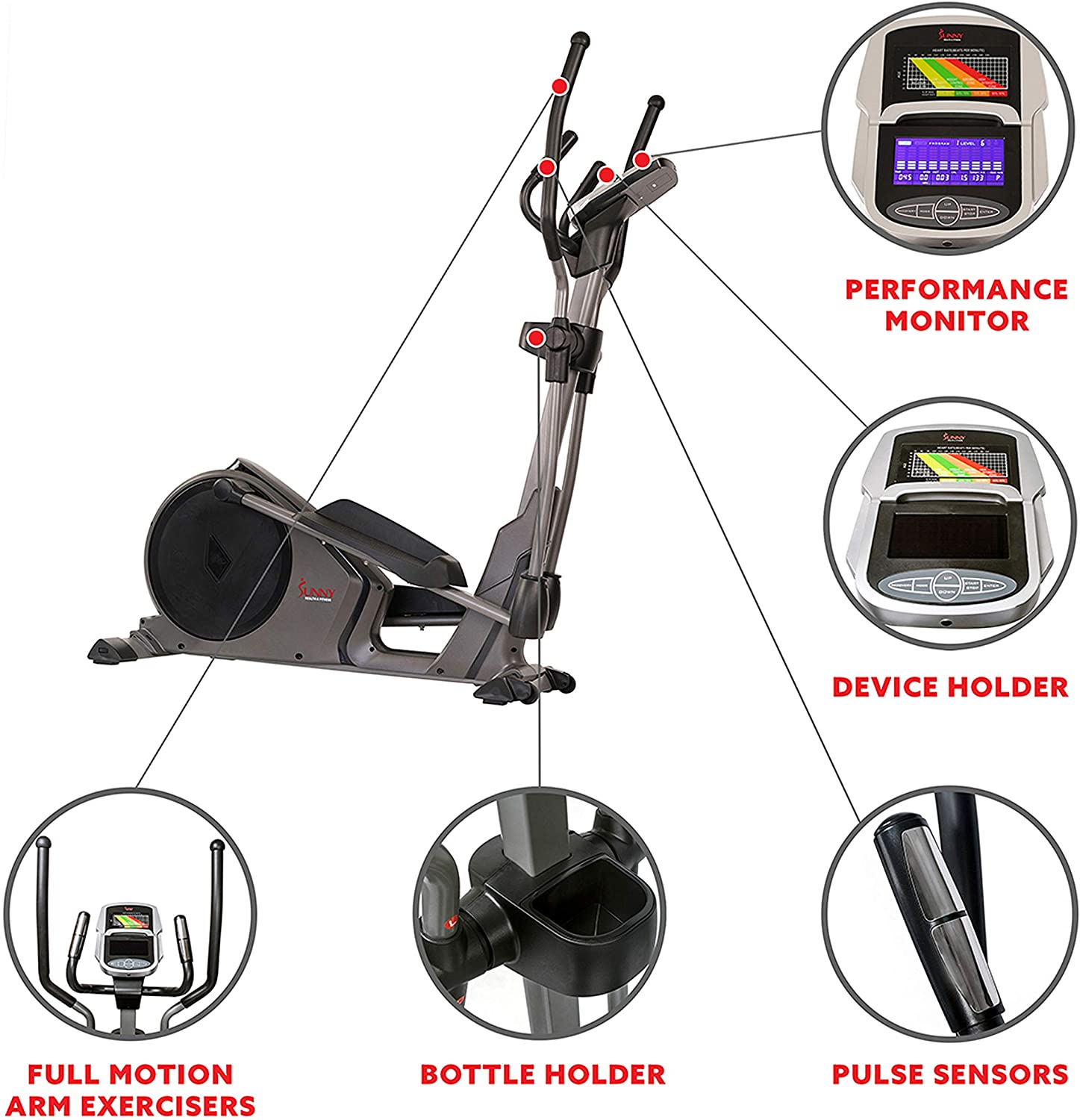 Specifications –
Item Dimension – 55 * 23 * 64.5 inches
Weight capacity – 330 lbs
The material used – Steel
Number of workout modes – 24
Pros –
It comes with a device holder
Has floor stabilizers
Backlit display
Various workout modes
Easy to assemble
Cons –
Made loud sounds after a few uses
You can challenge yourself with the variable magnetic resistance. The stride length is very smooth due to the flywheel and belt-drive technology. The presence of floor stabilizers keeps the 2 in 1 elliptical machine steady.
Your speed, time, calories burned, magnetic resistance, etc., can be easily monitored with the help of the backlit display. There are 24 workouts ranging from manual, pre-programmed to heart-rate for a more effective training session.
The stabilizers help to prevent the machine from tripping and provide comfortable training. Bring home this elliptical bike combo by Sunny Health and bring the change.
Teeter freestep recumbent is one of the best elliptical bike combos. You can work out on this elliptical combo with zero impact on your body. The stride length goes smooth and maintains a natural motion.
The elliptical bike combo is dual powered and gives all the muscle groups involved a total body workout. The whisper-quiet system helps you in performing a quiet exercise.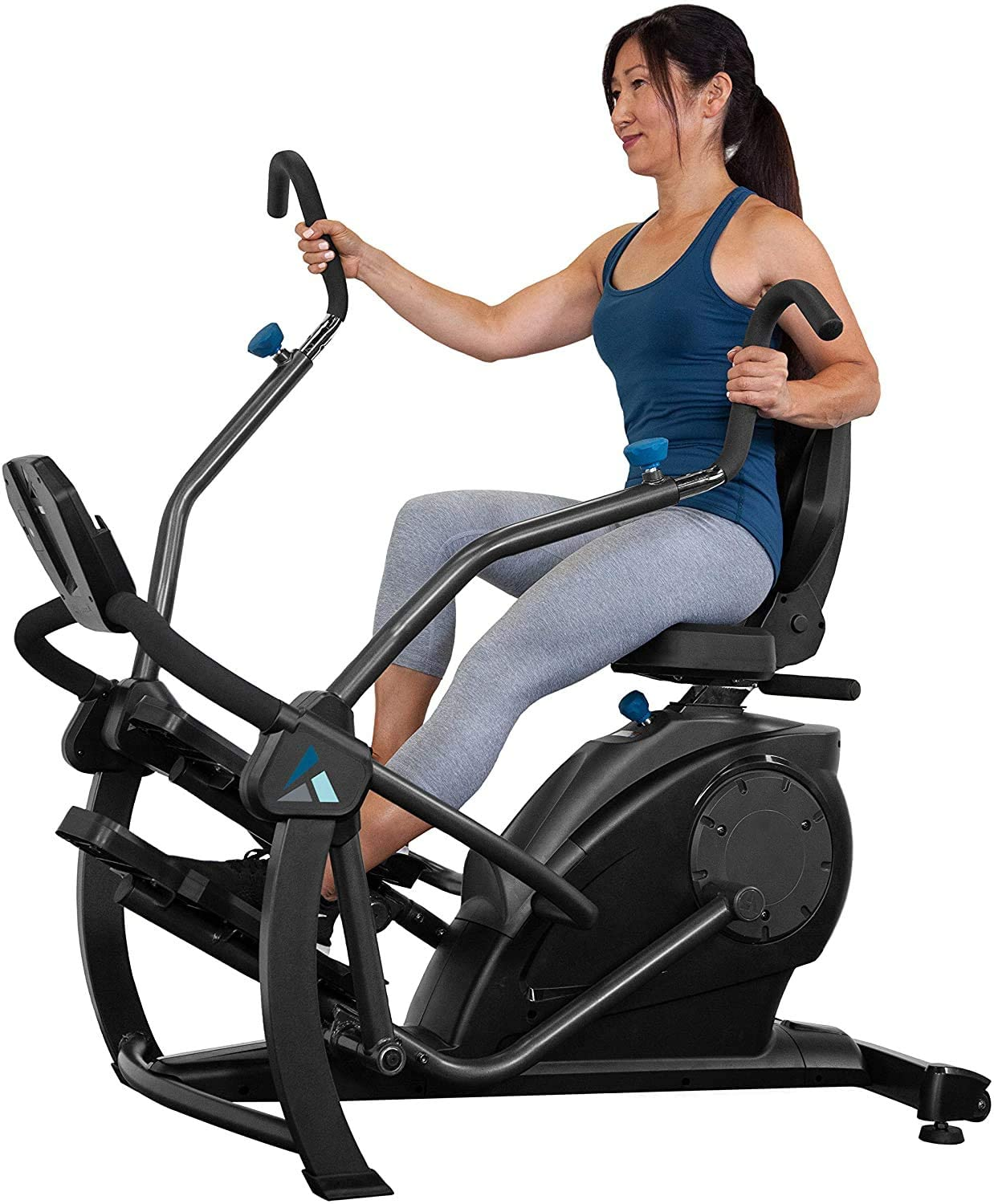 Specifications –
Item dimension – 54 * 38 * 52.5 inches
Weight capacity – 300 pounds
Item weight – 110 pounds
Separate water bottle holder
Pros –
Adjustable seat height and recline
Easy to transport
Allows full-body workout
A quiet mode of operation
Cons –
Time-consuming assembly
Difficulty in adjusting the seat and handles
The highlights of this combo remain the natural reclines position. It has zero impact on your joints and is perfect for someone who has arthritis. You get a total allowance to do a noise-free workout with whisper-quiet technology.
The adjustable resistance takes the intensity from zero to high and fulfills several workout goals. The pedals are durable and come with excellent gripping. Choose the magnetic resistance as per your choice and lose weight quickly.
The LCD screen displays the training data and helps you improve your actions. You can hold the handles of the teeter freestep recumbent from different angles to target specific muscles specifically.
This elliptical recumbent bike combo has various workout programs and a computer-controlled resistance system. The Free Max trainer app helps you set and track your fitness goals. You also get the facility to train with professional experts and attain fruitful results.
You can adjust the intensity of the exercise bike according to your fitness level. The Bluetooth compatibility adds to the features of this elliptical bike combo.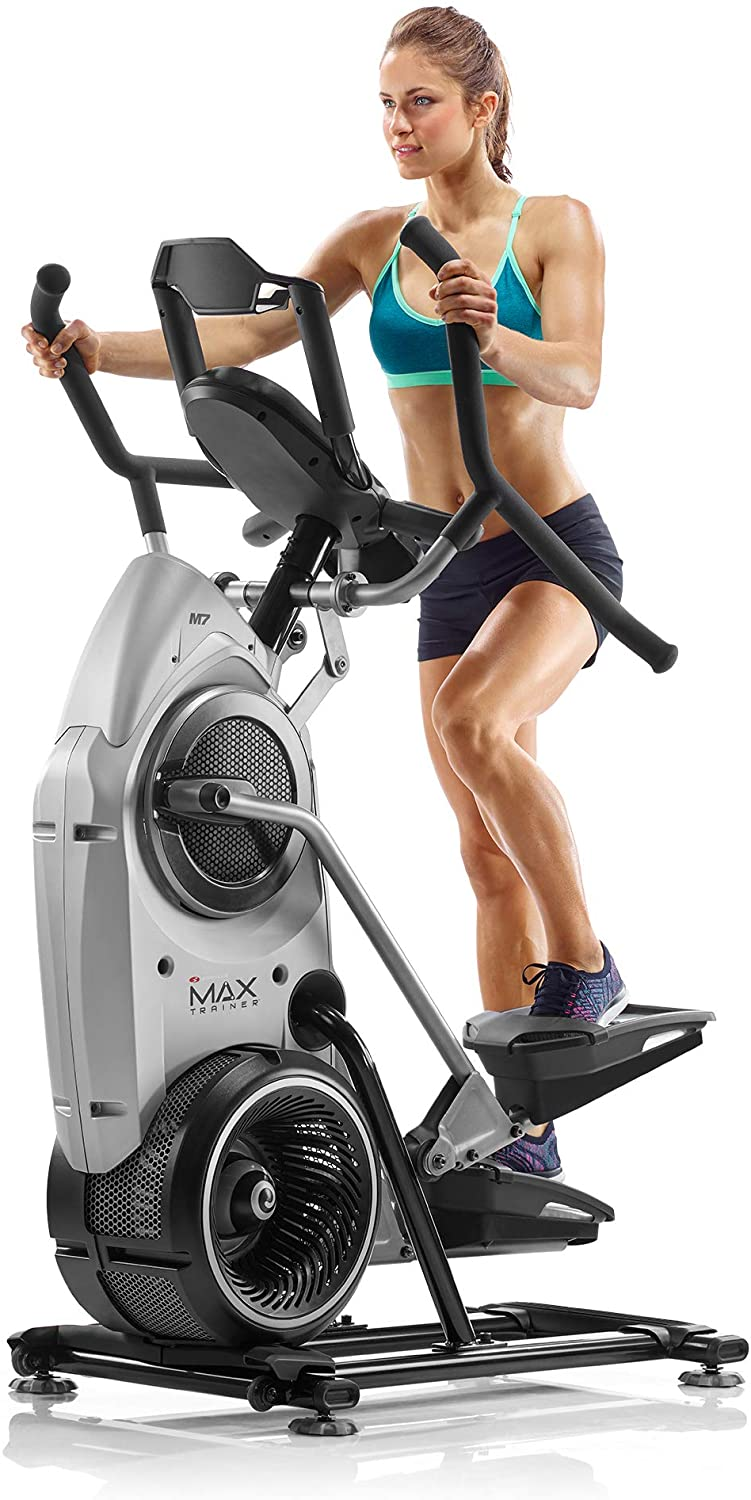 Specifications –
Item Dimension – 49 * 30.5 * 65.5 inches
User weight capacity – 300 lbs
The material used – Metal
20 levels of resistance
Pros –
Pre-assembled base
Allow four user profiles
Compact size
Add time feature
Cons –
Squeaky sound during operation
Assembly is not simple
You get to avail yourself of 11 workout programs and 20 levels of resistance from this elliptical bike combos. There is also a dual backlit display for a great workout experience.
You can just click a button and add more time to your workout. So, purchase this recumbent cross trainer from Bowflex and skyrocket your body fitness.
The Proform hybrid trainer is an elliptical bike combination with iFit compatibility. This cross trainer and the elliptical machine are good options for personal training at home. The elliptical combo has a fantastic LCD window display to keep you engaged.
The machine provides stability in both sitting and standing positions. This elliptical bike has received a lot of positive responses from its users for its resistance levels and low-impact workouts.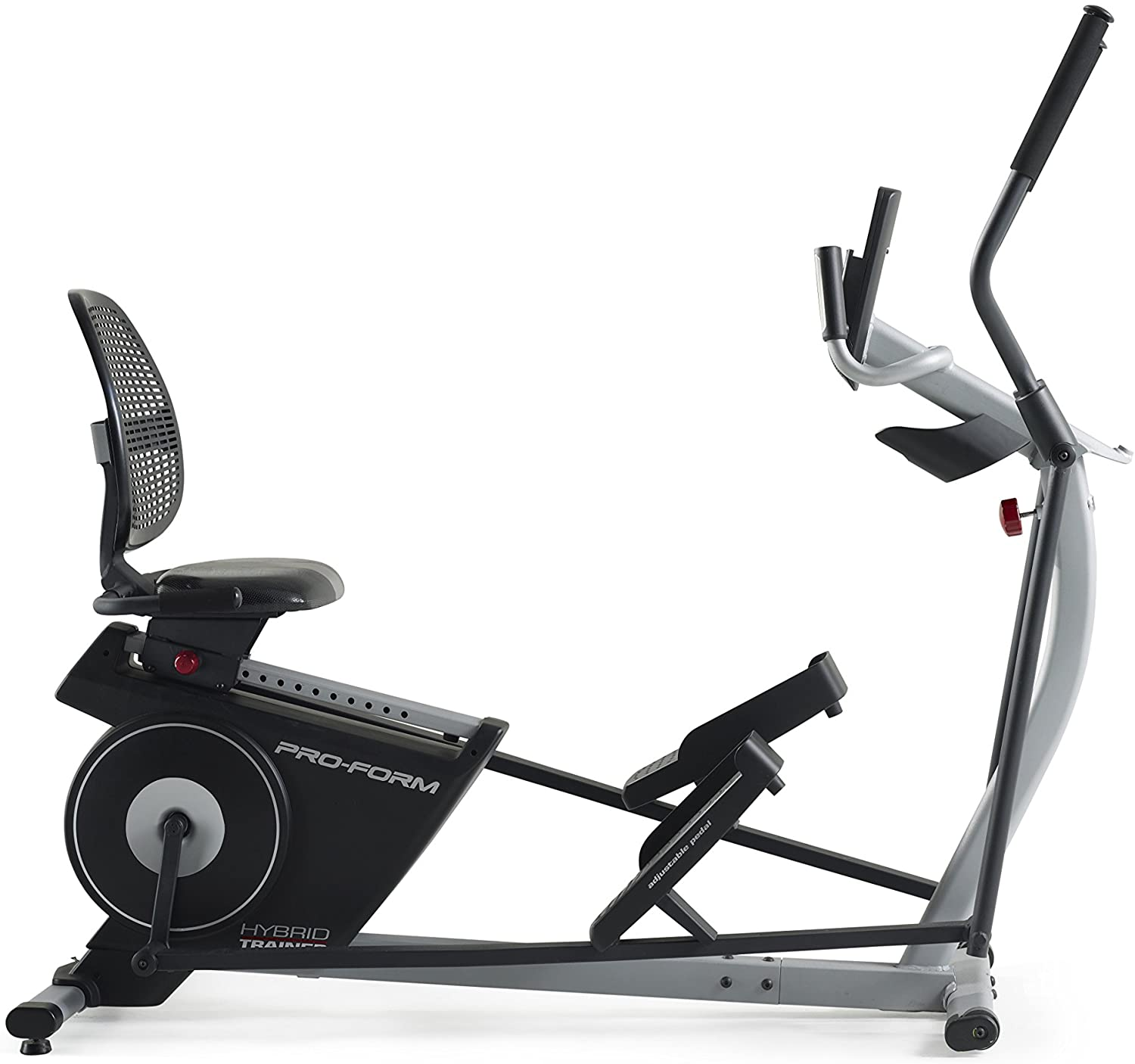 Specifications –
Item dimension – 70.5 * 24.5 * 60.5 inches
Item weight – 135 pounds
Number of resistance levels – 16
User Weight capacity – 350 pounds
Pros –
Easy to assemble
Stable in both sitting and standing positions
Easy conversion from elliptical mode to a recumbent bike
Cons –
Weak motor
Squeaky after a few uses
The complimentary iFit membership gives you access to on-demand global workouts and fitness studios for a progressive workout routine. The trainers can also adjust your equipment and help you with the training.
The resistance is flexible up to another level. The trainers can auto-adjust your smr silent magnetic resistance and inertia-enhanced flywheel for a smooth session. In addition, the machine offers the benefits of a cross-trainer and elliptical and provides a unique experience.
The frame of the Proform hybrid trainer covers a five-year warranty, followed by 90-days parts and labor warranty.
The elliptical, stationary bike combo also has a tablet holder and LCD to keep you motivated. Stream iFit training or other exciting stuff to add some fun to your workout.
The body power 2 in 1 elliptical device comes with a stair stepper and curve-crank mechanism. The curve-crank technology produces constant tension and results in efficient motion. In addition, you can easily adjust the resistance levels for a high training interval workout.
The 2 in 1 trainer with an LCD screen, transport wheels, and space-saving design makes it ideal for home use.
You can undergo a total body workout with synchronized handlebars and an oval path. The resistance training machine produces one of the top cross trainers reviewed.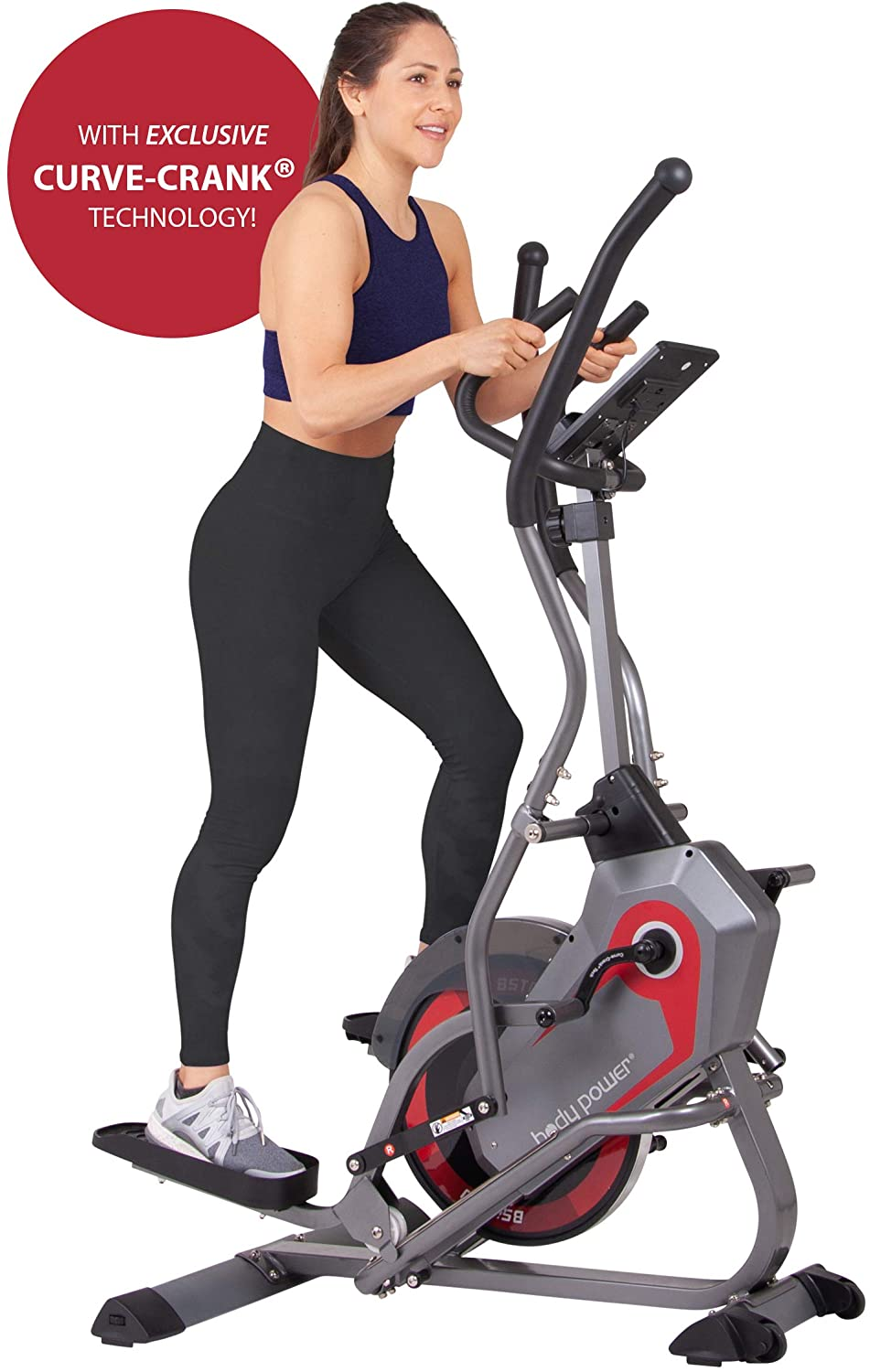 Specifications –
Item Dimension – 42 * 24 * 62 inches
The material used – steel
Max user weight capacity – 250 lbs
Number of resistance levels – 8
Two sets of built-in foot pedals
Pros –
Tray for tablet holder
Good quality hardware
Heart rate monitor
Front rollers for easy transportation
Cons –
Challenging front stabilizer attachment
Not hardwood floor friendly
The LCD screen is excellent for tracking your workout metrics and guiding you throughout your training. It is one of the best elliptical bike combos with the benefits of an elliptical trainer, stair climber, and vertical climber.
The product comes with a one-year warranty on the frame and 90 days warranty on the parts. The media shelf makes it convenient to use a laptop between the training. The curve-crank technology and smooth resistance levels help you in an effective full-body workout.
Body power 3 in 1 elliptical bike combo is a trio trainer with a heart rate monitor. The upright bike offers easy transitions and integrated handlebars for a practical training session.
You can do your favorite cardio exercise with this multifunctional equipment and achieve your workout goals. The magnetic resistance system helps in a quiet operation without disturbing others.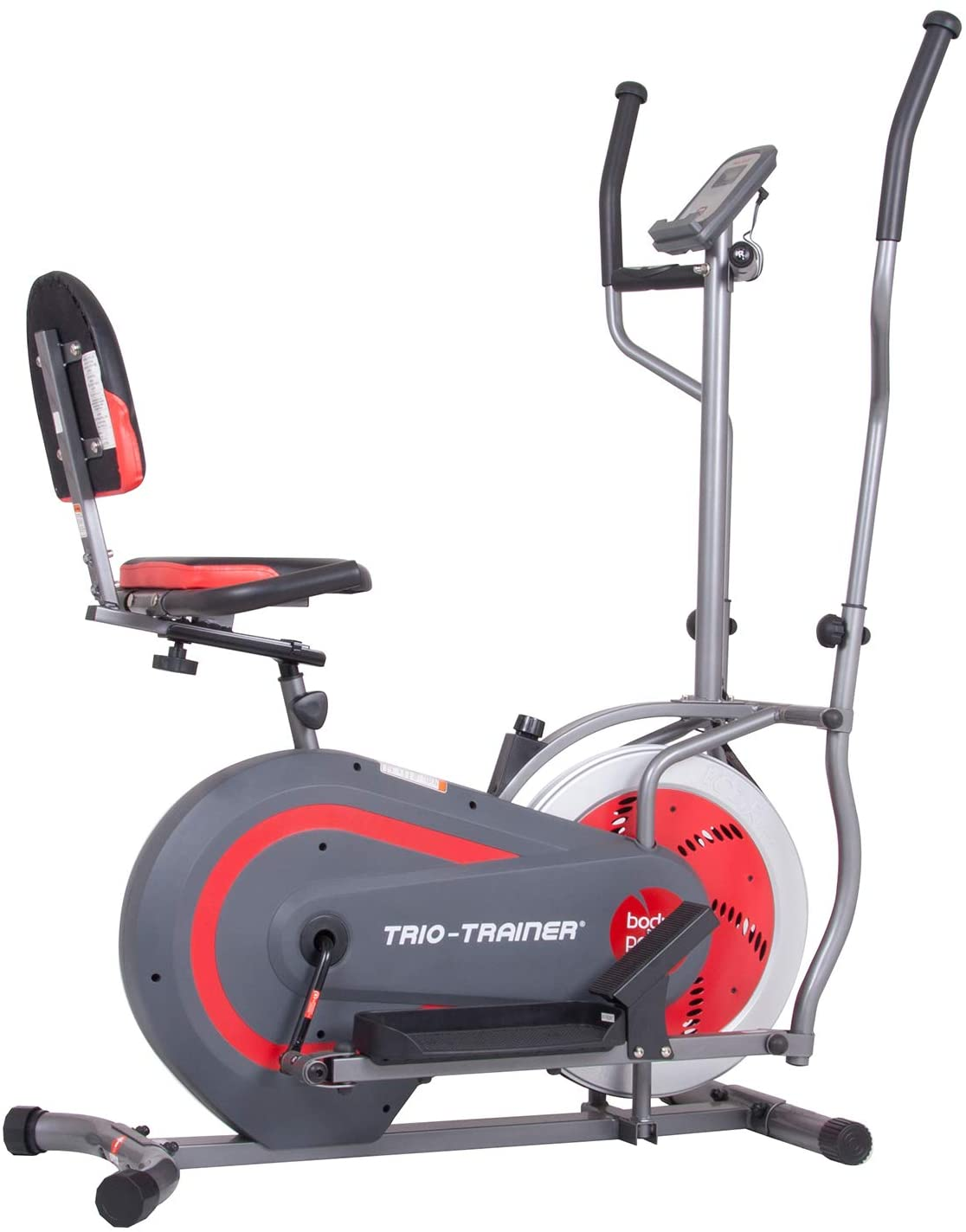 Specifications –
Item Dimension – 43.7 * 62.2 * 29.13 inches
Item weight – 71.65 pounds
The material used – plastic
Three types of handlebars
Pros –
Smooth Operation
Sturdy and stable built
Flexible resistance levels
Heart-rate monitoring system
Cons –
The machine broke down in between workout
The body-power bike combo is a space saver and can fit even in a small condo. The magnetic resistance of the elliptical machine can be adjusted according to the activities.
You can work out early in the morning or during the day as the flywheel system helps in noise reduction. To fix the noise and looseness, do not forget to tighten the nuts and bolts once a month.
The presence of transportation wheels is an add-on for smooth shifting and easy storage. If you have been looking for a piece of home equipment for an indoor workout, this elliptical bike is everything you need.
The Body champ 3-in-1 is an upright bike for upper body options. This trio trainer is an excellent machine with hassle-free transitions. The equipment comes with magnetic resistance adjustments to give you a gym-like experience.
The presence of a magnetic flywheel offers a quiet motion, and you can work it out at any time you desire. In addition, the variable magnetic resistance system helps you burn calories like never before.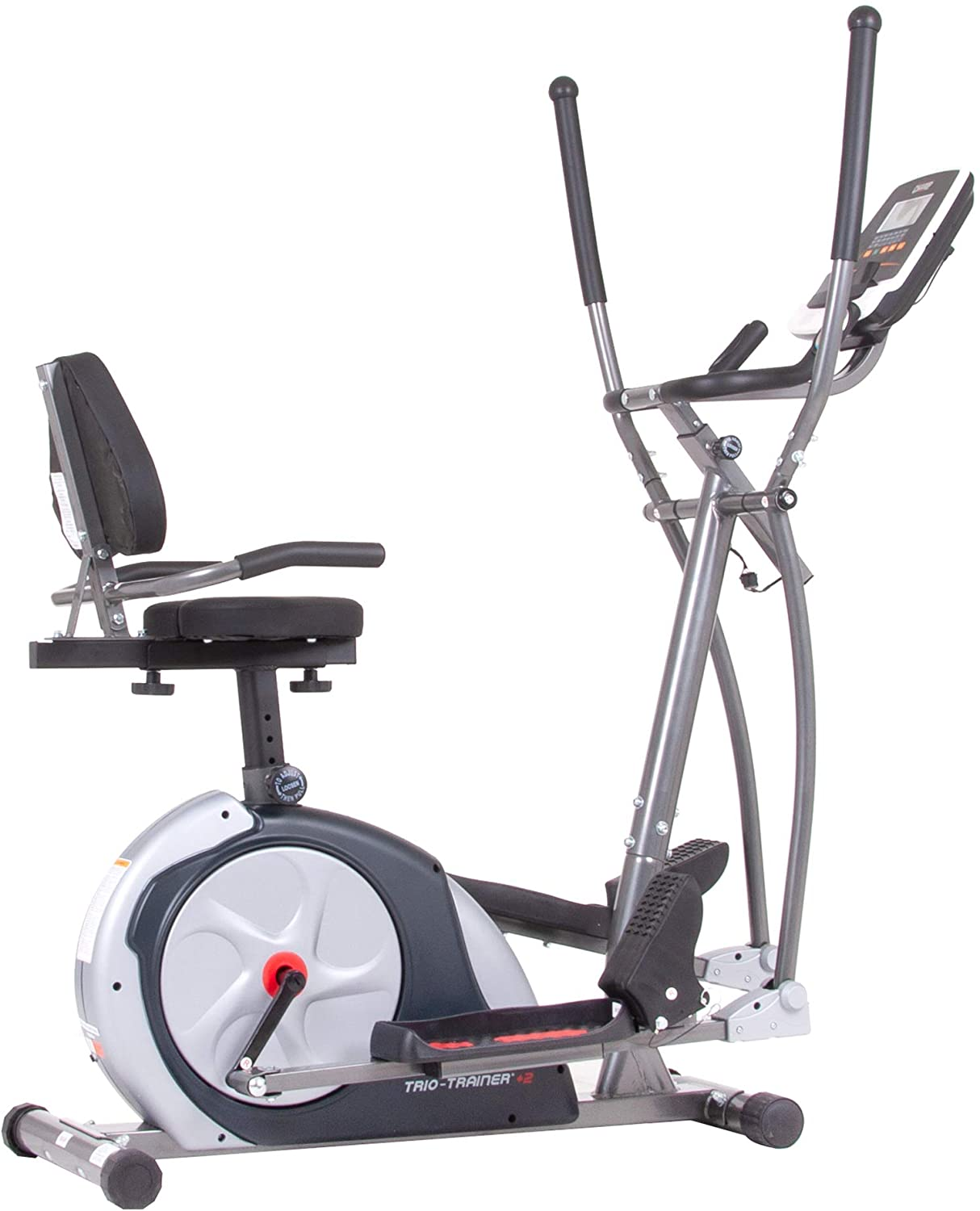 Specifications –
Item weight – 110 pounds
Item Dimension – 60 * 28 * 64 inches
The material used – plastic
Number of integrated handlebars – 3
Pros –
Sturdy design
Great resistance levels
Quiet machine
Ideal for bad knees
Upper body stance options
Cons –
Time-consuming assembly
Shorter stride length
This Body Champ trio trainer has a silent magnetic resistance that helps in a quiet ride. This recumbent cross trainer has the edge over the dual trainer and can be labeled as the best exercise bike.
This bike combo can take multiple roles like an elliptical trainer, upright stationary bike, and a recumbent bike. The trio provides effortless transitions, and the adjustable resistance makes it a total win-win product.
If you can adjust the nuts and bolts once a month, you can do away with the loose riding and noise issues. The transportation wheels make it easy to move the equipment and store it. The comfortable leather seat and padded back can be adjusted for better support.
The Goplus 2 in 1 elliptical fan bike fulfills all elliptical training possibilities. This hybrid exercise bike comprises a heavy-duty steel frame and is highly reliable. In addition, the manageable resistance levels adjustment and multifunctional uses make it one of our top picks.
Goplus 2 in 1 machine is perfect for indoor cycling. You can also adjustable seat height for more comfort. The elliptical and bike combo gives you a dynamic ride and helps maintain your body's shape.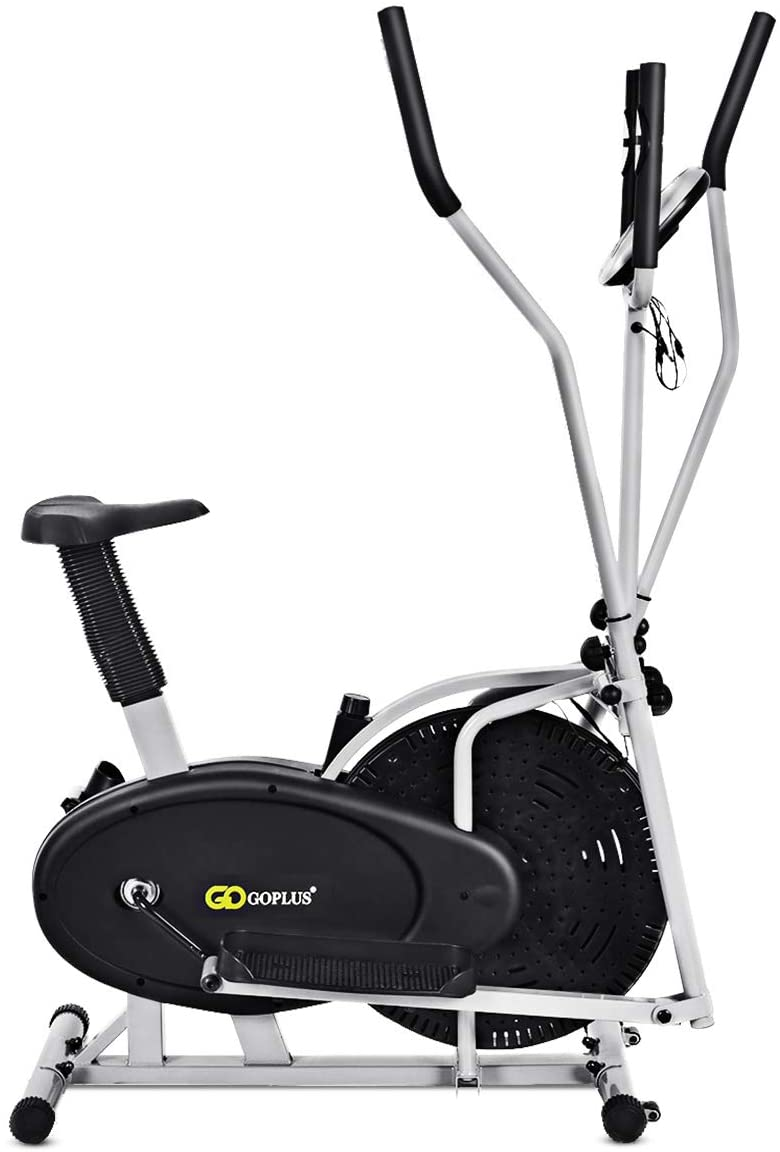 Specifications –
Item Dimension – 36 * 27 * 57 inches
Item weight – 69 pounds
Weight capacity – 250 lbs
The material used – Alloy steel
Pros –
Heart rate sensor
Easy to assemble
Lightweight yet sturdy
Adjustable seat height
Cons –
Footplates do not offer a firm grip
Uncomfortable seat
The elliptical bike has an LCD to monitor time, distance, speed, calories, etc., during the workout session. In addition, the handles have pulse sensors to record real-time heart rate.
You get a chance to adjust the resistance by simply turning a knob to achieve different fitness levels. In addition, the presence of transport wheels increases portability and helps in easy storage compared to various other elliptical bikes.
Bring home Goplus 2 in 1 hybrid indoor bike and experience a smooth and quiet ride. The exercise bike setting supports a productive workout routine. The durable frame and chic look make it one of the best exercise machines and can accommodate users of any fitness level.
Body champ 3 in 1 is another trio trainer with a multifunctional design. You are guaranteed hassle-free transitions with this elliptical bike combo. This elliptical bike is even more valuable with a flywheel mechanism and multiple resistance levels.
The body flex trio trainer has handlebars that make the excellent bike combo safe and secure. This is a fantastic machine for you to bring home and take care of your fitness.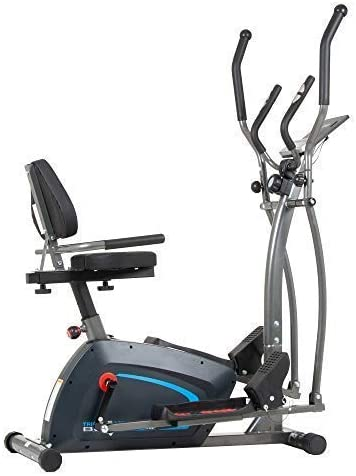 Specifications –
Item dimension – 42 * 19 * 63 inches
The material used – Plastic
Number of handlebars – 3
Number of resistance options – 8
Pros –
Easy to use
Simple to assemble
Great for home use
Transportation wheels
Cons –
Not for tall people
Loud clanking noise
No matter how you intend to use the machine, it comes with a 3 in 1 design. From an elliptical trainer to a recumbent bike or an upright stationary cycle, this has got it all. The elliptical bike combos are a space-saver and can be easily converted.
There is no problem if you want to adjust the magnetic resistance and customize your training. The magnetic encased flywheel system is computerized and reliable. You can take the workout to any difficulty level with the presence of 8 levels of resistance.
There are three types of handlebars, ranging from U-shaped, dual-action to wraparound. The U-shaped handlebar also comes with a heart rate monitor. Store it wherever you want with the help of easy transportation wheels.
Things to look for while buying 2 in 1 elliptical and bike
There are certain factors to consider while buying an elliptical exercise bike. The comfort of the seat, pedals, weight capacity of the exercise bikes, stride length, resistance, etc., play a crucial role in determining the quality of the device. We have listed the critical factors while buying the best elliptical bike combo.
Pedals & Seat
The pedals of the elliptical exercise bike must be more significant for a firm attachment and comfortable ride. Go for an elliptical cross trainer with adjustable seat height & positioning. Again, comfort is the key, and the seat and stride length of the foot pedals play a crucial role in making the user feel comfortable.
Weight Capacity
Most elliptical cross trainer machines can withstand up to 350 lbs of weight. Look for exercise machines that go per your body weight—using elliptical machines more than your weight has a high chance of damage.
Resistance
The resistance determines the intensity of your workout. By changing the resistance of your cross trainer, you can challenge yourself with new difficulties and achieve more significant goals. Look for a dual trainer with different levels of resistance for effective training.
Frame Quality and Transport
The robust frame quality is essential for the elliptical and bike machine. You can easily use the bike for upright cycling or other exercises with a reasonable frame. Do not miss on the transportation wheels if you are looking forward to moving around the cross-trainer.
Display
If you do not know the stats of your exercise, it gets challenging to assess the quality and move forward. A monitor display with pulse sensors showing accurate workout data is vital in improving your overall experience.
Apart from the features mentioned above, look for a device holder or water bottle holder, fixed and moving handlebars, and warranty certificates while buying a dual trainer.
Benefits of Exercise Bike
If you have been considering buying an exercise bike, a multifun2ctional elliptical and bike combo is everything you want. You can perform multiple forms of exercise not in many but one machine.
Here is the possibility to target various muscles all in one elliptical combo. Let us quickly see why an elliptical bike combination is the best option for you.
2 In 1 Action
No one will deny getting more at a lower price. The benefit gets double when you get two in the deal for one. You do not have to spend separately for an elliptical and bike; for you get both in one machine. Moreover, you can save a lot of money this way and enjoy a complete workout.
Cross Trainer
You can use the elliptical trainer for burning body fat and simultaneously use the bike for a relaxing workout on the seat. Pedal or run forward and backward in the elliptical and bike modes without hassle.
Ideal for Family Use
A multifunctional design provides you with different possibilities of action. A family comprises many people with varying requirements for machines. With these dual and trio trainers, individuals can use them as per their preferences and do not have to spend on multiple exercise equipment.
Conclusion
Buying an elliptical bike combo is a smart choice as you save both space and money. By now, you know the advantage of the 2 in 1 elliptical combo and why it is beneficial over any other single-purpose machine.
Products like Proform hybrid trainer and Teeter freestep recumbent are some of the best elliptical bike combos. The modern design, handlebars, and comfortable positioning allow you to work out without stressing your joints.
Your ankles, hips, back, and elbows are all super easy during the training. No sitting in front of the screen for hours and searching for the top combos. We have listed the best elliptical bike combo to ease your choice and provide you with the best workout experience.
FAQS
What is better for the belly fat elliptical or the bike?
An average person working on an elliptical trainer is likely to burn around 700 + calories working out for 45 minutes. On the other hand, working out on a bike would reduce calories by about 400 +.
Both ellipticals and bikes are good for losing belly fat. However, ellipticals have a slight edge compared to bikes.
Is an elliptical bike worth it?
An elliptical bike is definitely worth the deal. It will perform dual-action and give your multiple training options in a single machine. An elliptical bike is right at your service, from aerobic workouts to steady cardio.
Strengthen your heart, lungs, and muscles using the elliptical combo.
Do elliptical bikes burn belly fat?
Elliptical bikes provide you with the option of climbing stairs, running, or walking without stressing your knees or joints.
The elliptical bike is not only beneficial in reducing belly fat but also burns calories and tons the body. In addition, it decreases the risk of injuries with an elliptical combo and faster reduces your belly fat.
What is best for knees, elliptical, or bikes?
Both ellipticals and bikes are less stressful for the knees. However, people with knee or hip pain, arthritis, or similar health conditions have been advised to use ellipticals for a safer workout.
Exercise bikes have been proved to be excellent cardio machines, whereas the elliptical has stood out for its benefit in performing upright exercises.
Is elliptical good for arthritis?
Elliptical trainers are low-impact devices and work excellent for people with arthritis. A great alternative for running or jogging for people with arthritis.
An elliptical is always a safer option if you have a musculoskeletal condition and have been recommended for people with severe joint condition.