Elliptical machines are some of the best cardiovascular exercise equipment. They are more effective in burning calories and offering a full-body workout. Now, coming to the heavy-duty elliptical, they are designed keeping the tall and heavy person in mind. Therefore, they have the potential to bear more weight and allow the users to perform an intense workout. The heavy-duty elliptical ranges from 300 lb to 400 lb weight capacity. Compact, heavy-duty ellipticals are excellent for a home gym. They are super easy to use and also fit for low-impact exercise. However, not all elliptical trainers are great, and one must consider many factors before buying a heavy-duty elliptical machine.
The right exercise equipment helps fulfill all your workout goals and gives you the body of your dreams. For example, a cross trainer takes less space than a treadmill or an exercise bike. Likewise, a heavy-duty elliptical machine serves its purpose and makes a great exercise machine.
Here is a comprehensive list of some of the best elliptical machines for your workout programs and healthy lifestyle.
Types of Elliptical machine: Heavy Duty Elliptical
There is quite a variety when it comes to cross-trainers. Pick your favorite cardio machine and get started with your exercise routine.
Rear Drive Elliptical Machine
A rear-drive elliptical is one of the oldest designs. Precor first explored this in 1995 and came with a flywheel weight at the back of the machine. The position of the flywheel is made in such a way that it produces a smooth workout experience. These exercise machines give longer and more natural stride lengths.
As a result, natural running motion is created, and less pressure is produced on the lower body. These elliptical trainers are old but effective and are still widely used.
Foldable Elliptical Machine
The foldable elliptical machines can be easily folded and slid away. However, this does not mean that the size of the heavy-duty elliptical trainer is small. On the contrary, it can be folded small and kept away to save floor space.
A foldable cross trainer caters to the space available in the home gym and is built accordingly if you have been skipping your workout session due to space crunch, time to bring a foldable exercise machine.
Front Drive Elliptical Machine
The design of this elliptical trainer accommodates the flywheel in the front and roller tracks at the back. The pedals are inserted in the sides of the tracks and offer a vertical motion. The workout on this cross trainer resembles a stair climber.
The front-drive elliptical machine is slightly lower to the ground and provides ample options for users. You do not have to step over the device to get it started.
Center Drive Elliptical Machine
The center drive elliptical machines are a recent phenomenon with the flywheel on either side of the pedals. They are effective in contributing to a smooth workout program. Users can stay upright during the workout sessions and avoid leaning on the handrails.
A center-drive exercise machine is more compact than a front-drive or rear-drive elliptical. So, protect your knees with this less straining elliptical machine and indulge in a challenging workout.
Elliptical Cross Trainer
A cross trainer might appear like a stationary bike but is altogether different. A cross trainer is an elliptical machine but has some extra features. For example, you can perform workout programs by taking a seated or reclined position like a recumbent bike.
The seat is similar to a stationary bike and produces less strain on the joints and legs. You can involve your upper body, core, and back muscle groups and increase your workout progress.
Apart from these, there are also compact ellipticals and a glider to benefit your weight loss process. These are versatile machines for losing weight and have incredible features to use and stay fit. So grab the best heavy-duty elliptical from the list and get going.
Things to keep in mind while buying Heavy Duty Elliptical machines
Buying high-quality exercise equipment can be tricky with many brands and a wide range of budget ellipticals. Certain factors are a must for a standard heavy-duty elliptical trainer.
Weight Capacity
The weight limit or the weight capacity is a prime factor to consider while purchasing a heavy-duty elliptical machine. A quality elliptical trainer will possess a minimum weight capacity of 300l lb and a maximum of 400 lb capacity.
Measure your weight, and choose an elliptical trainer that goes best with your category. Choosing a heavy-duty elliptical with at least 300 lb weight capacity is recommended.
Type of Resistance
Magnetic resistance is the top choice when discussing heavy-duty elliptical machines or a high-weight capacity elliptical. This is because magnetic resistance is crucial in keeping the device quiet and offering smooth workout sessions.
Hydraulic resistance can be your other option but might be a little noisy. Instead, look for elliptical machines with multiple resistance levels for adjusting the workout intensity.
Design
There are numerous design options for an elliptical machine. First, search for a compact device for your home gym. A foldable elliptical trainer can be great if you have a small space and want to tuck away the equipment after the workout.
Check if the trainer has transportation wheels for moving it here and there. In addition, the design of the machine can help you in storing it efficiently.
Handles
Handles are effective in providing support during workouts. However, if the handles are not comfortable, they might cause cramps. The best high-weight capacity elliptical will have the grips angled, so your arms naturally rest on the handlebar.
The handles provide safety and security in case of any loss of balance or emergency.
Flywheel Mechanism
The high-weight elliptical must have a heavy flywheel to increase the durability and longevity of the machine. The flywheel's resistance and its weight have a simultaneous impact on the functioning of the elliptical machine.
Large flywheels enhance the overall feel of the device and add so much to an elliptical trainer. A high-end elliptical machine has a heavy flywheel and is efficient for a full-body workout.
Budget
You are on the right page if you have had trouble getting a heavy-duty elliptical trainer because of price issues. High weight capacity machine can range from $150 to above $3000. If you are not looking forward to spending too much on the elliptical, you can go for something inexpensive.
Also, do not miss the critical features while getting your hands on a cheap elliptical machine. Instead, fitness enthusiasts should go with quality heavy-duty ellipticals for their workout programs.
Warranty
Some people prefer buying products that accompany warranty cards. This is because the reliability of the equipment increases with the warranty certificate, and it is easier to buy. However, the type of warranty depends from product to product.
Some have a warranty on the frame, motor, parts, and labor. Check out the warranty period on the heavy-duty ellipticals and choose wisely.
Apart from the features above-mentioned, look at whether the high-weight capacity ellipticals offer preset workout programs if there is an LCD screen to keep track of the workout data. In addition, check for a chest strap or a grip sensor for accurate heart rate monitoring. Lastly, see how comfortable the seat is for your increased workout intensity.
Top 10 Heavy Duty Elliptical machines
The Gazelle glider is a piece of great equipment for training at home. This is a low-impact device and comes with easy-to-use functionalities. The device is meant for high performance and improves your overall fitness.
The diverse range of motion is a result of the dual-action split suspension. As a result, the machine will not stop abruptly between a workout and will give you a smooth experience. In addition, the computer screen gives you data ranging from speed, time, distance, and calories reduced.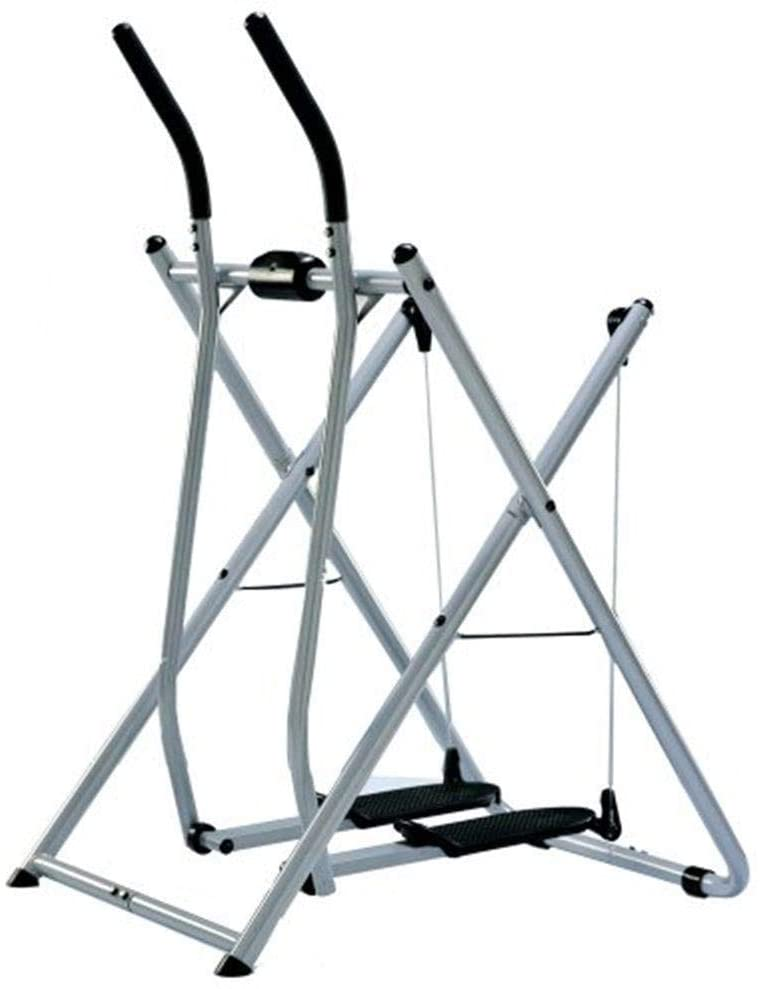 Specifications –
The item dimensions are 43 * 28 * 53.75 inches
The color is silver
It comes with a steel construction
Holds up to 250 pounds of weight
Foldable design
Non-skid platform
Handlebars made of high-density foam
Pros –
Easy to assemble and use
Low-impact device
Smooth and quiet
Dual-action
Easy storage
Cons –
The feet might hurt without gel sole inserts
Not for excellent calorie burn
Versatile Range of Motion
The dual-action of this trainer is excellent. You can go from a slow walk to an entire run without interruption. The abrupt stops do not hinder your workout, and the transitions are very smooth. Also, this training machine has minimal stress on your knees and joints.
More Features –
If you want to improve your cardiovascular health, use this fitness device. Keep track of your workouts and increase the intensity as desired for optimum results. In addition, the non-skid surface is vital in keeping your feet stable and providing stability.
On top of that, the handlebars have high-density foam for extreme comfort and resting your hands. Fold the glider when not in use and free up the floor space. Also, get the bonus workout DVD, workout manual, and a nutrition guide on your purchase.
The Body Rider elliptical machine and the stationary bike come with a seat and has tremendous weight capacity. The foam seat gives you extreme comfort and support while shedding some pounds.
The device allows you to adjust resistance and speed for high-interval exercise training. The seat can be adjusted vertically and horizontally and support seven user heights. This versatile machine gives you a total studio feel at home.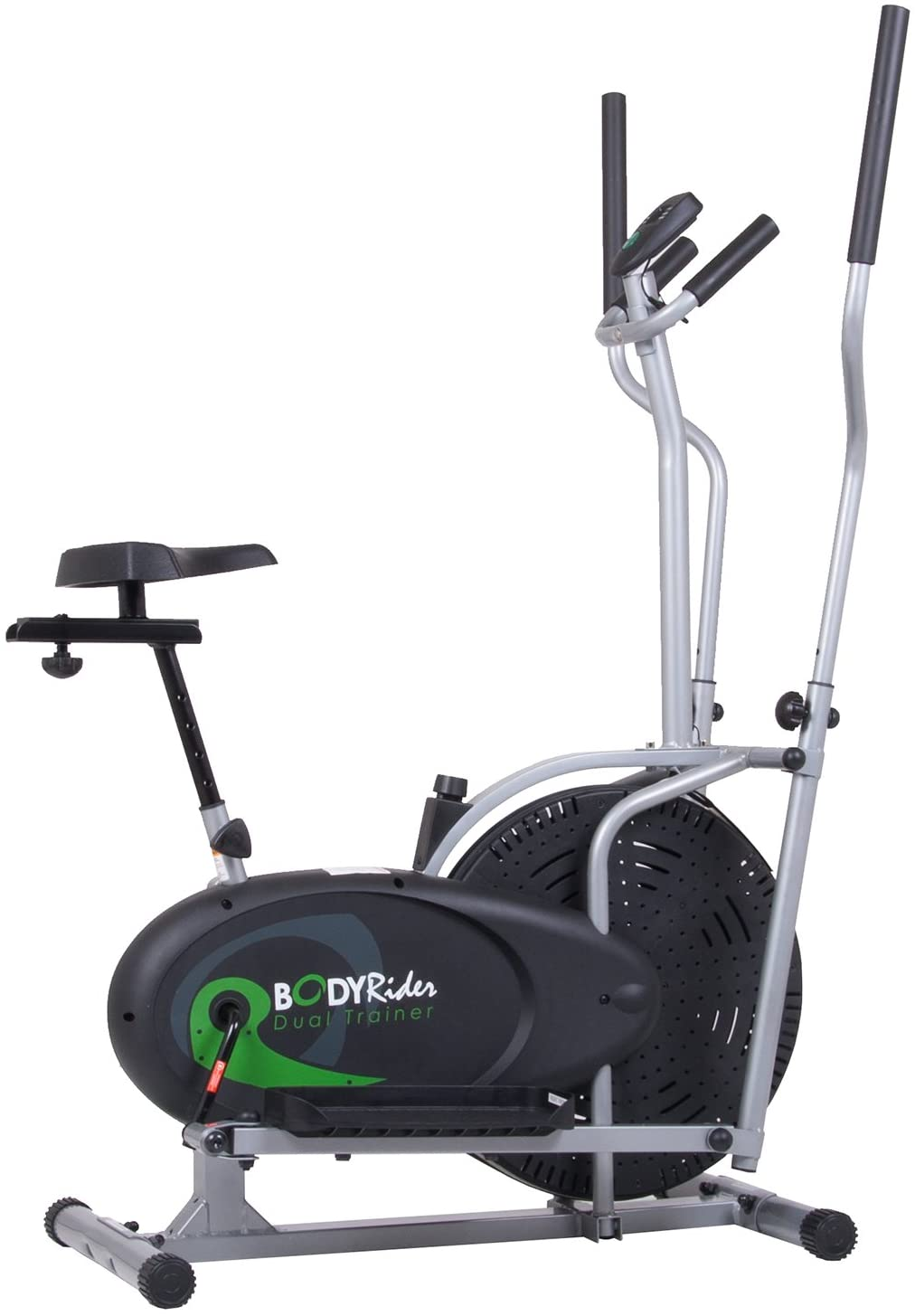 Specifications –
The item dimensions are 48 * 28.5 * 59.5 inches
The material used is metal
The colors available are black and grey
Electronic Console
Adjustable seat
The item weight is 66 pounds
Pros –
Easy to put together
It fits in small spaces
Dual-action
Adjustable tension knob
Cost-effective
Cons –
It does not have enough tension
Little noisy at times
Safety Features for a Secured Workout
There are four integrated handlebars and an adjustable cushion for security. The covered fan flywheel is effective in preventing injuries. There are front and rear stabilizers for added safety and stability. A manual knob is present for adjusting the tension quickly and easily.
More Features –
The equipment comprises two devices in one. You can use it as a regular elliptical or an exercise bike. A gentle and low workout is what you get from this reliable machine. Here is a low-cost solution to solve your fitness queries.
You can enjoy a total-body workout at home without hitting the gym. This machine is compatible with all ages and all fitness levels. The foot pedals are fantastic and offer a smooth and seamless motion.
The Schwinn Fitness Elliptical has a standard weight capacity and is compatible with heavy users. In addition, there are various app-based tracking options for monitoring the workout progress. This advanced machine is full of innovative features and is a great deal.
The Explore the World app gives you access to 50-plus global workouts. The speed and resistance can be auto-adjusted using the app and helps in a smooth transition. So you can travel international routes and enjoy your workout to the fullest.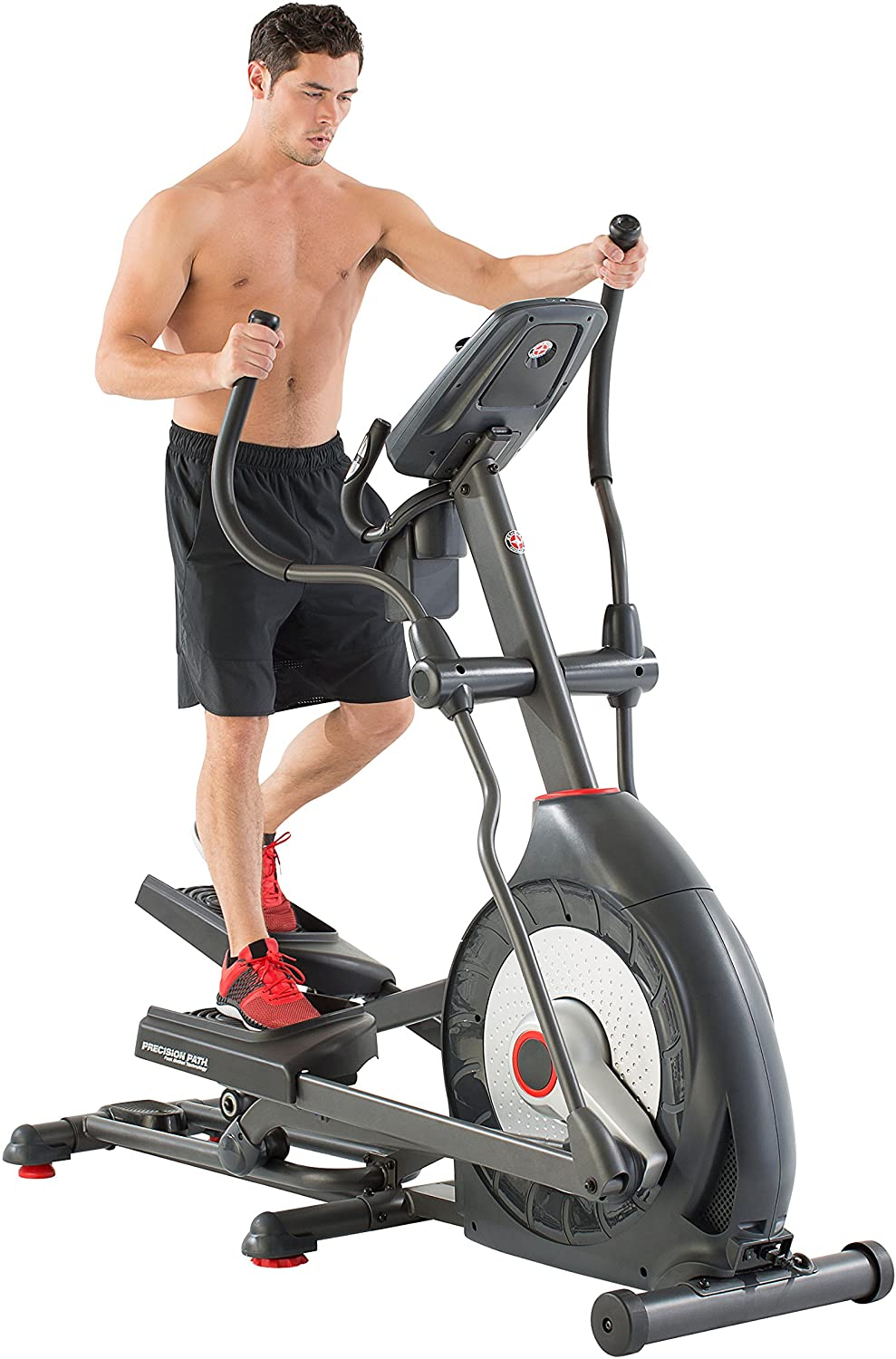 Specifications –
The item dimensions are 28.2 * 63.2 * 70.1 inches
20″ of stride length
The color of the machine is black
10-degree adjustable ramp
The material used is steel
25 levels of resistance
29 workout programs
Dual Track blue backlit display
The maximum weight capacity is 300 pounds
Pros –
Easy assembly
Silent operation
Bluetooth connectivity
Well-built machine
Easy to use
Cons –
Not recommended for tall people
The middle handlebar is placed too low
The Flywheel Increases the Momentum and Provides Stability
The flywheel of the 470 elliptical is 20 lb, which is excellent considering the price range. The higher the flywheel, the smoother the operation. The circular pieces play a crucial role in controlling the machine's function.
More Features –
Track data using the LCD screen and measure the distance, speed, time, calories burned, etc. There are also touch buttons on the console for quick action. The resistance feature can be compared to various high-end machines.
There is a USB port for charging the devices during exercising. The oversized foot pedals work great and provide the proper comfort required for heavy users. Read out the step-by-step instructions for the box and set it up yourself for practical training.
The Bowflex max trainer M8 is another heavy-duty elliptical and has the benefits of personal coaching. You can customize your workouts, auto-adjust speed and incline for a great workout session.
Even the shortest workouts on the Bowflex are going to fetch you results. You can store the tablet or phone on the media shelf and keep them handy. The machine is compatible with tracking the heart rate and controlling it.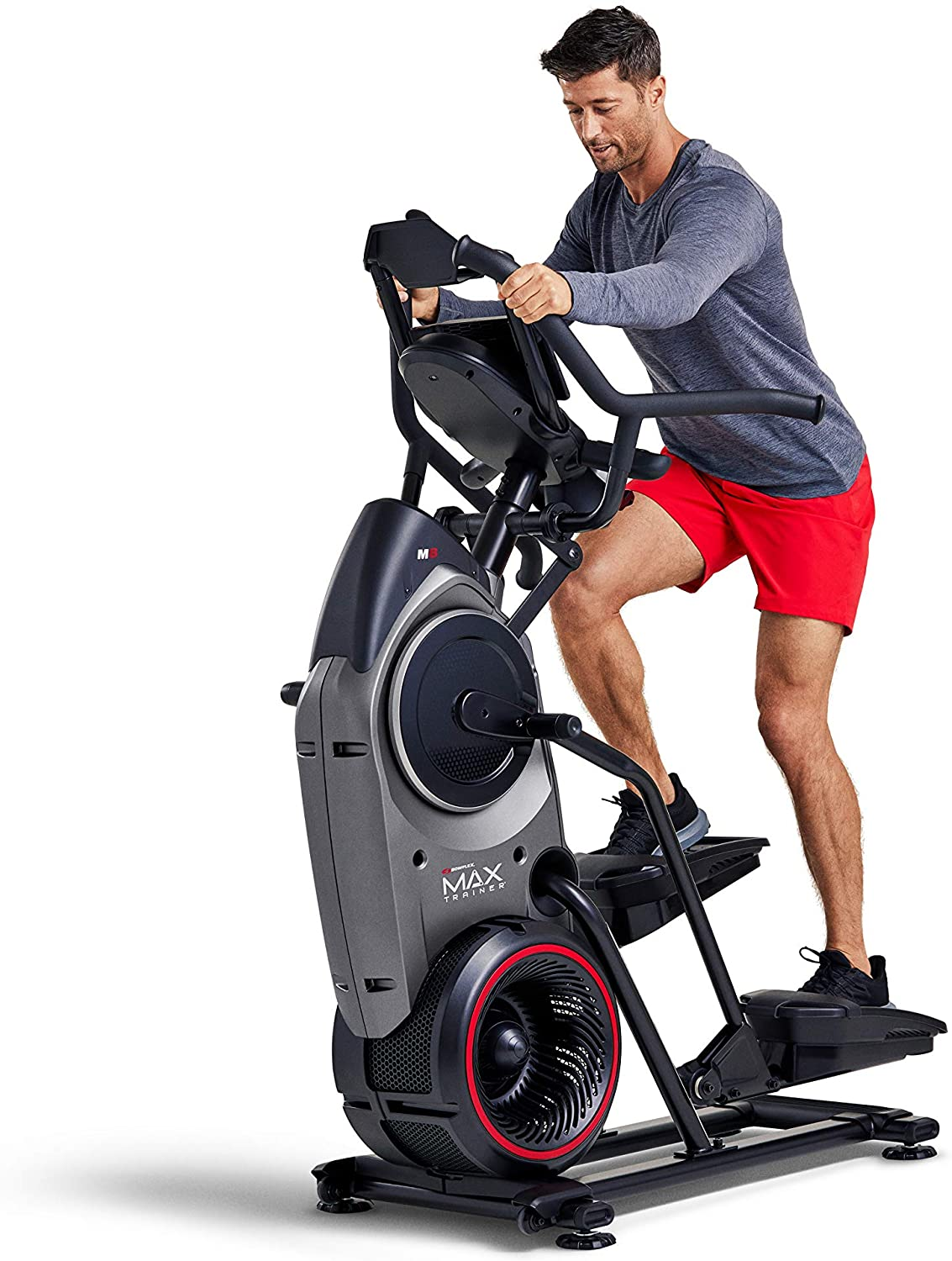 Specifications –
The material used is magnetic
Offers magnetic resistance
20 levels of magnetic resistance
50 plus global routes
Item weight is 148 pounds
The color is black
Pros –
Pre-assembled base
Bluetooth Heart rate band
Space-saving design
Dynamic handles
Media shelf
Cons –
Not a gym-quality device
Noisy wheel fan
JRNY Coach for Better Fitness
The Fitness JRNY coach gives you a personalized coaching experience. You can auto-adjust speed, incline, and other settings to your fitness level and take maximum benefits. The customized workouts are designed specifically for individual needs.
More Features –
The dual-mode screen comprises seven guided workouts. The machine has the potential for up to four users and is great for heavy use. It also has a calorie-burning power similar to a stepper. You can roll this elliptical trainer and store it in any corner of your house.
The dynamic handles give you the proper support required during the workout and help reduce the excess stress. In addition, their device has a 3-year frame warranty, 3-year parts, and a 90-days labor warranty. This heavy-duty elliptical is all you need to begin your daily training at home.
The Proform hybrid trainer is a quality heavy-duty elliptical with a standard weight capacity. You also receive a complimentary iFit membership with the device and access to global workout programs.
This is a hybrid trainer and a blend of the recumbent bike and rear drive elliptical. This is the perfect equipment for home training and offers magnetic resistance. In addition, if you are prone to using a recumbent exercise bike, the proform hybrid trainer can answer any queries.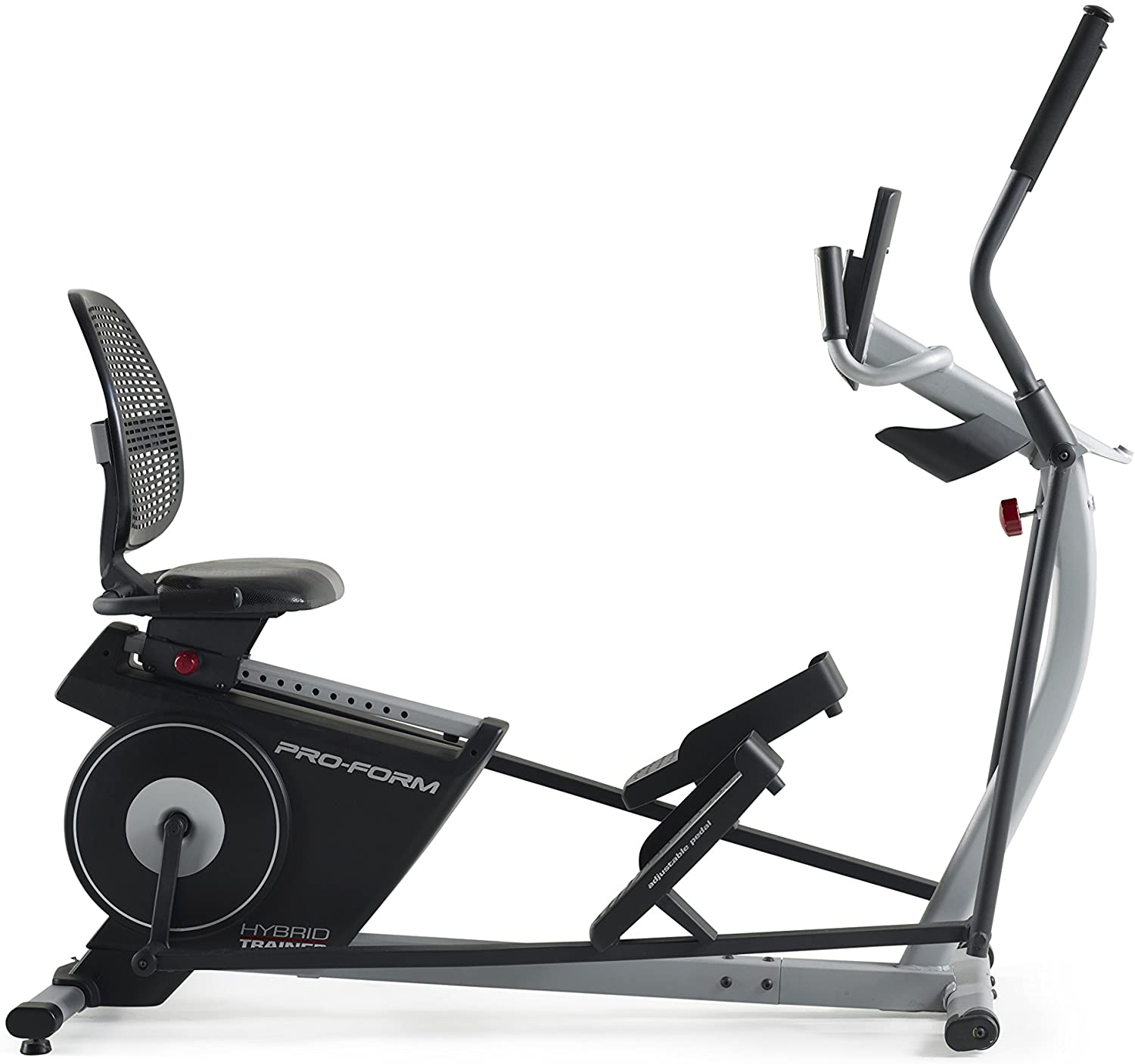 Specifications –
The item dimension is 70.5 * 24.5 * 60.5 inches
The item weight is 135 pounds
The material used is alloy steel
The max user weight is 350 pounds
Resistance is magnetic
16 digital resistance levels
LCD window display
Pros –
Easy to assemble
Stable equipment
Easy transition
2-in-1 machine
Extended warranty
Cons –
A glitch in the display experienced by a few users
Bit noisy
16 Levels of Digital Resistance for Adjusting Workout Intensity
This hybrid trainer has 16 levels of adjustable resistance. The iFit app allows the elite trainers to auto-adjust the opposition themselves. The SMR silent magnetic resistance and the inertia-enhanced flywheel help conduct a smooth workout.
More Features –
The oversized pedals make it ideal elliptical machines for heavy individuals. The device is covered with a 5-year frame warranty and a 90-day parts and labor warranty. In addition, you can stream various workouts using the iFit app and add spark to your routine.
You can use the LCD to track your progress, time, speed, distance, calories burned, etc. In addition, you can use it as a recumbent bike and an elliptical for your upper and lower body. This is one of the best heavy-duty ellipticals and is loaded with features.
The Body Power 3-in-1 elliptical trainer is home equipment and benefits from an exercise bike, recumbent bike, and an elliptical trainer. In addition, this trio trainer comes with a heart rate monitor and several quality features for enhancing your training.
This is a multi-functional device and is capable of providing cardio perks. There are multiple workout options with this trainer from Body Power. The transport wheels at the bottom help move the machine from one place to another with minimum effort.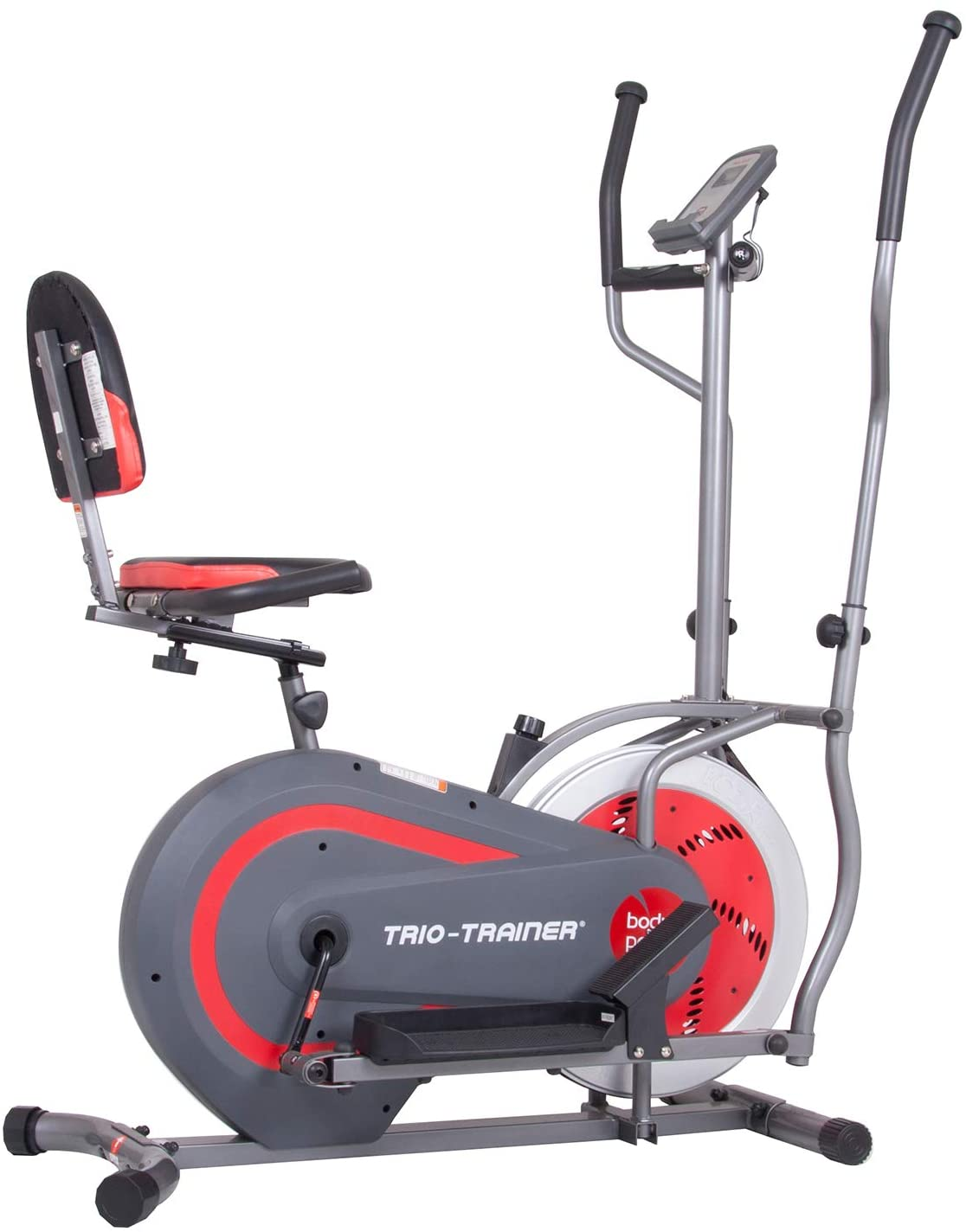 Specifications –
The item dimensions are 43.7 * 62.2 * 29.13 inches
The item weight is 71.65 pounds
Resistance is magnetic
Three types of handlebars
Heavyweight flywheel
The colors available are gray, silver, red
Pros –
Smooth Operation
Sturdy design
Transport wheels
3-in-1 action
Electronic console
Fluidity flywheel system
Cons –
The weld on the seat broke
It makes a knocking noise at times
It comes with Hassle-free Transitions
The machine has got an innovative design with smooth transitions. You no longer have to get down and hold your training to adjust the settings. Instead, the resistance allows you to customize your workouts and have a smooth training experience.
More Features –
There is a fluidity wheel system for an ultra-quiet motion. You can choose to work out early in the morning or late during the night without bothering a family member or neighbor. However, it is advised to tighten the nuts once a month to ensure smooth running.
Keep an eye on the screen for workout metrics and change the speed of your workout as required. This trio trainer has a user-friendly design and an integrated heart rate sensor to maintain heart health.
The Nautilus E614 is an excellent heavy-duty machine for a comfortable workout session. The features of the device are impressive for its price. This elliptical trainer has received great reviews and supports up to 300 lbs of weight.
For anyone looking for a low-impact workout device, the Nautilus E614 is an excellent choice. There is a wide range of resistance levels opening up work intensity alternatives. You can set your workout goals and fulfill them with ease.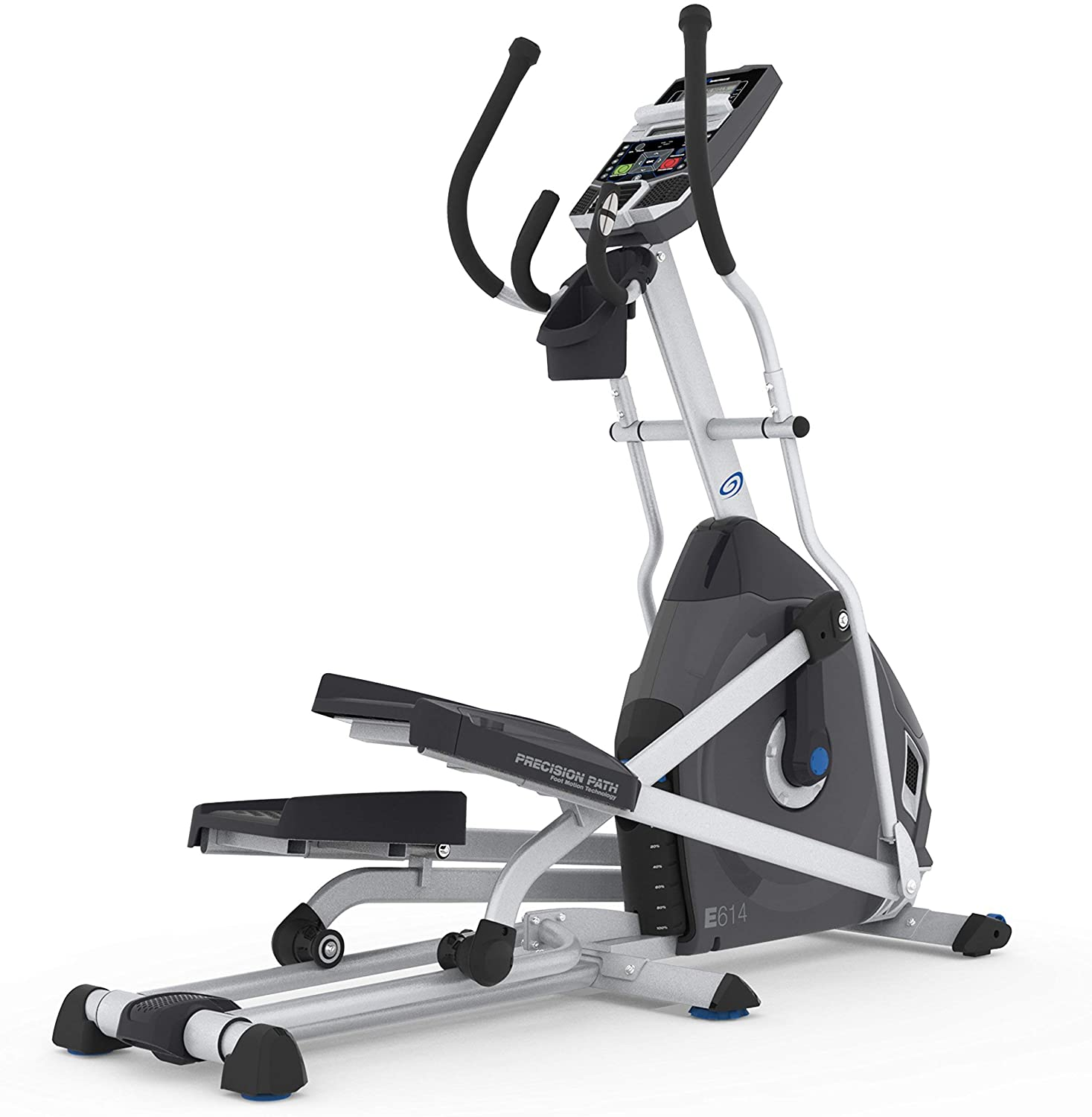 Specifications –
The item dimensions are 50 * 34 * 22 inches
The item weight is 167.3 lbs
The stride length is 20."
22 workout programs
20 levels of adjustable resistance
The max weight capacity is 300 lbs
Pros –
Quiet operation
Solid machine
Smooth stride
Cushioned pedals
Steel frame
Cons –
Unsteady pedals
Loud squeaky noises
Variable Workout Intensity Options
There are 20 levels of resistance offered by the Nautilus E614 elliptical. As a benefit, the user can adjust the machine's resistance depending on their fitness level. Therefore, it is advisable to begin at a lower resistance and increase ascending order.
More Features –
There are a total of 22 preset workouts. Out of which 12 are profile, nine heart rate control, four custom, and two fitness tests. In addition to all of these, there is also a recovery test and a quick start. The elliptical can accommodate the heaviest and tallest person in the room.
This device brings absolute comfort and is effective for upper and lower body workouts. A heart rate sensor is also present to keep eyes on your heart rate and make you feel secure. So get home this heavy-duty elliptical and walk away from all the stress.
The Exerpeutic 6000 is another elliptical trainer with excellent weight limits. The design of this elliptical machine is sleek and offers a natural stride length. The weight limit of this device is sufficient for heavy users and makes a tremendous elliptical.
A double transmission saves a lot of space and fits the device compactly. The trainer is also compatible with fitness apps on android and IOS for workout options and automatically stores your workout data.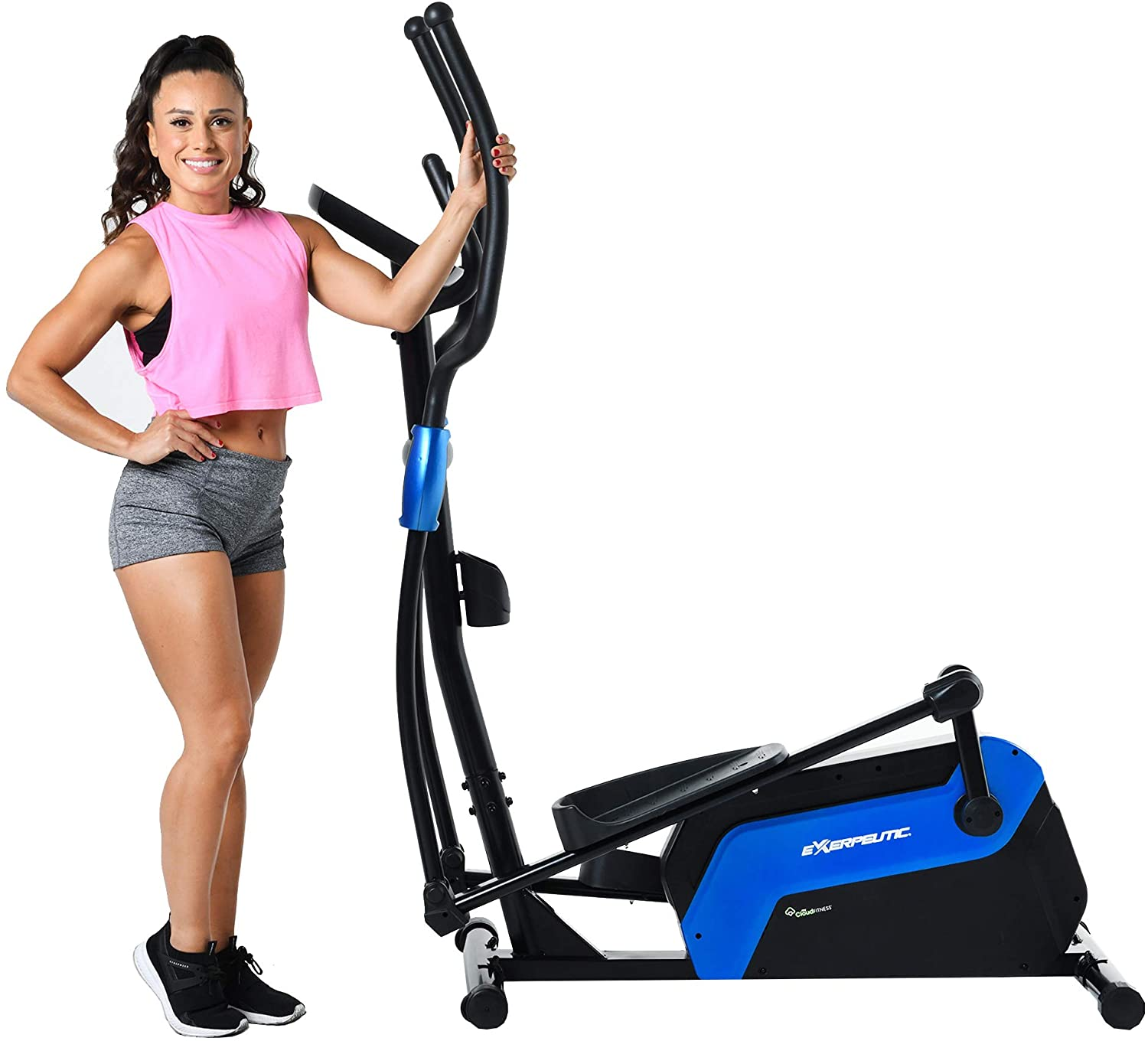 Specifications –
The item dimensions are 46 * 16 * 64 inches
It is available in black and blue colors
There is a 270 lb weight capacity
Backlit LCD window
6″ of the distance between the two pedals
Pros –
Compact size
Simple to use display
Affordable machine
Magnetic resistance
Bluetooth connectivity
Fitness app
Cons –
Problem with the tension
The screen flickers and is unusable
The Backlit Display and MyCloudFitness app
This elliptical trainer is compatible with the MyCloud Fitness app available on Android and IOS devices. Not only can you track your workout but also save the data via the MCF ecosystem. Everything is visible on the display screen and can be tracked from there.
More Features –
The distance between the two pedals is 6″ and not very wide. As a result, no stress is produced on the joints, and one can perform a low-impact workout. The overall length and size of the equipment use double transmission technology.
Apart from these, the machine has various tools and a manual for the set-up guide. So try out one of the best heavy-duty ellipticals without any regret in the future.
The Nordictrack smart elliptical is intelligent folding equipment and has a space-saving design. An excellent machine for your home gym with a high weight limit. It is also compatible with iFit and increases the workout options.
You can fold up the elliptical and store it away after use to free up space. It can be stored vertically in a compact manner for convenience. There are upper body grips that contribute toward a full-body workout.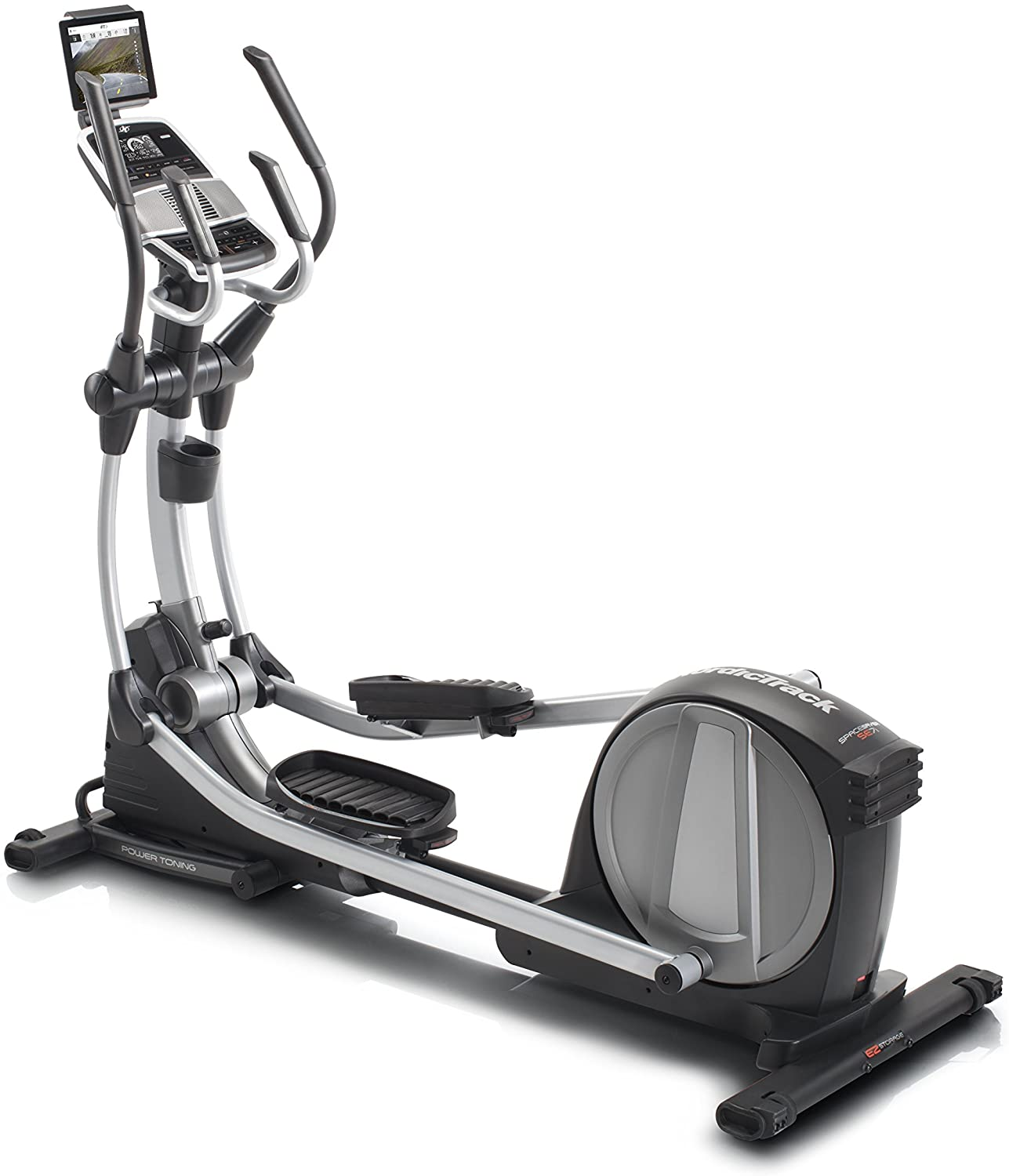 Specifications –
The item dimensions are 80 * 32 * 67 inches
The material used is alloy steel
22 levels of digital resistance
Backlit display of 5 inches
SMR silent magnetic resistance
There is a 325 lb weight capacity
Pros –
iFit compatible
Commercial quality
Easy to assemble
Sturdy design
Foldable machine
Workout fan
Cons –
Loud clicking noise from the flywheel area
Set-up is confusing for some
Get a 30-day iFit Membership Free with this Elliptical.
This heavy-duty elliptical is iFit compatible and is beneficial in streaming live and on-demand workouts. In addition, you get access to a global routine and guidance from elite trainers, who can also adjust the settings of your elliptical while working out.
More Features –
The auto-breeze is handy in keeping the temperature down during heavy workouts. The backlit display efficiently tracks the workout data and stores it for reference. There is also an adjustable power ramp for high flexibility.
The adjustable stride length is helpful if multiple people use your machine. Covered with a 10-year frame warranty, 2-year parts warranty, and 1-year labor warranty, this 325 lb weight capacity is one of the best heavy-duty ellipticals.
The sole fitness e95 is a heavy-duty elliptical and has excellent weight capacity. The weight of Sole fitness e95 is comparatively more than competitor machines. In addition, a good stride length helps in an efficient workout program. The sole fitness brand is famous for producing heavy-duty equipment and holds a reputation.
The adjustable incline positions make it flexible for the users. The stride length is also adjustable and stretches up to 22″—an integrated sound system to keep you entertained throughout the session.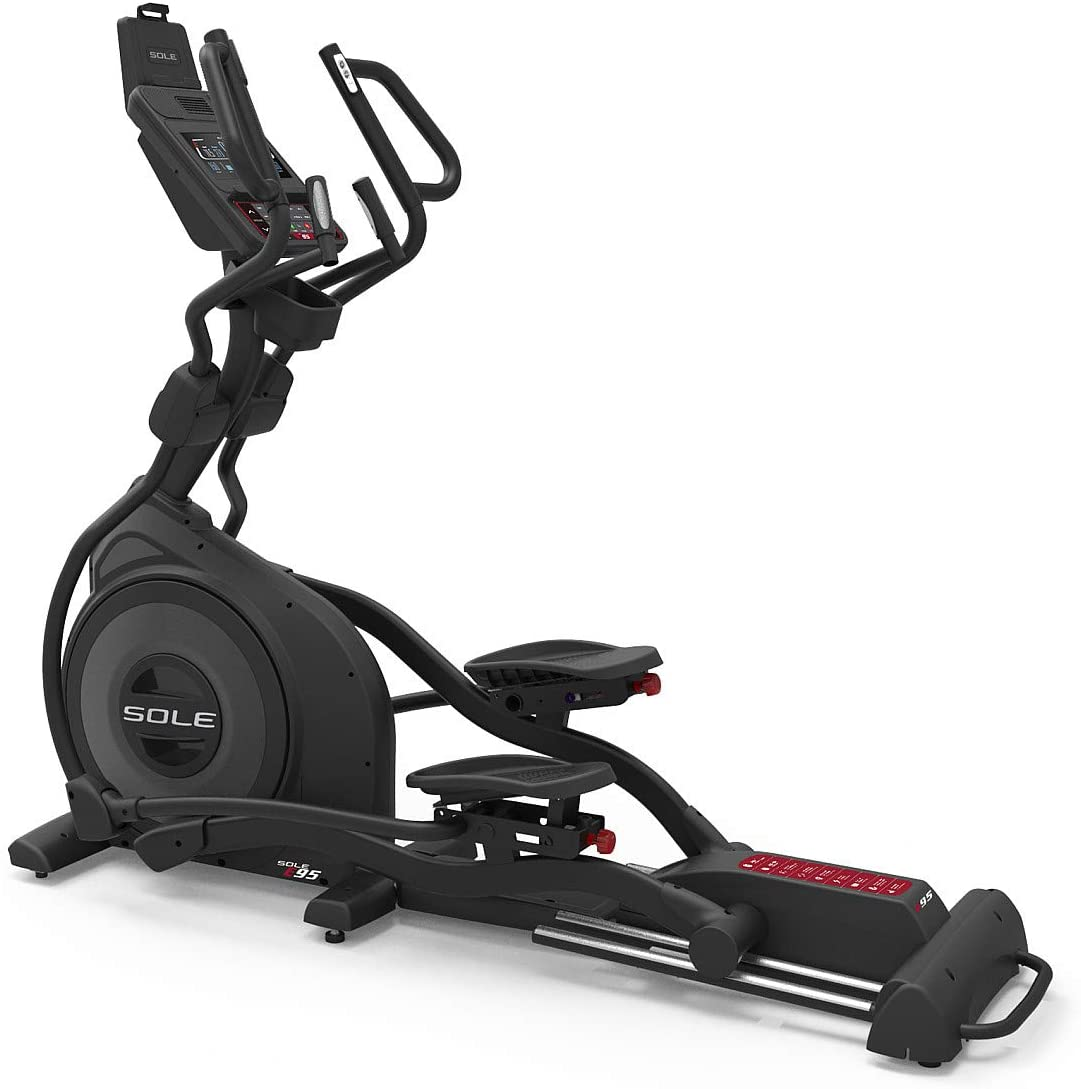 Specifications –
The resistance type is magnetic
Max weight limit is 400 pounds
The max stride length is 20."
Ten workout programs
The flywheel weight is 27 lb
Ten adjustable incline positions
USB charging port
Pros –
Pocket-friendly machine
Big and sturdy
Smooth and quiet
Tablet holder
Cooling fan
Water-bottle holder
Chest strap monitor
Cons –
The app crashes and fails to save workout data
Preset Workout Programs for a Good Training
There are ten programs listed on this trainer for increasing your productivity. The programs add versatility to your boring workouts and give you motivation for better. In addition, you can save your workout data and compare it with your friends and family.
More Features –
This sole fitness elliptical is both the chest strap and pulse grip compatible. A heart rate monitor to regulate your heart health and workout accordingly. A cooling fan is an excellent way to give you relief from sweaty sessions.
Do not miss out on the cushioned pedals that add so much to the device and make it even more comfortable. Instead, get this trainer and work on your lower and upper body.
Benefits of a heavy-duty elliptical
The elliptical trainer is a great exercise machine for maintaining cardiovascular fitness. You can enhance your aerobic capacity and burn calories efficiently. There are innumerable benefits of buying the best elliptical machine; read below for details.
Cross-Training
The recumbent elliptical trainer comes with moving handles. This is beneficial for both upper and lower body workouts simultaneously. The resistance and weight are distributed evenly and help target your glutes, hamstrings, quads, chest, back, etc.
Reverse Stride
The best heavy-duty elliptical will allow you to stride in the reverse order and target various muscle groups in your body. As a result, you can burn calories more efficiently by reversing the motion and moving backward.
Low-impact Workout
People with achy joints can take a deep breath. A recumbent cross trainer is excellent for a low-impact workout. Your knees, hips, ankles, and back can all get involved without the risk of injury or damage. In addition, it is less weight-bearing compared to other exercises.
Burns Body Fat
An elliptical trainer can help you lose weight faster. Interval training on an elliptical has been beneficial in achieving more in a shorter period. Using an elliptical trainer, you can burn more fat than a stationary bike.
You can lose weight and maintain your fitness level after an injury with a cross-trainer. An elliptical trainer improves your aerobic capacity and balance and targets specific muscles. It is simple to use and has a lot regarding body fitness.
FAQs
What is the most important thing to consider while buying a high-weight capacity elliptical?
One of the most important criteria for buying an elliptical is the flywheel weight. A machine with a 7-8 kgs flywheel is likely to cause jerks and offer an unpleasant experience.
A minimum flywheel of 20 lbs is required for generating momentum. A heavy flywheel brings in a smooth ride.
What is the maximum weight capacity of an elliptical machine?
The weight limits of an elliptical machine depend from product to product and brand to brand. An average machine has a max user weight of 250 lbs, whereas a quality machine offers a maximum weight limit of 400 lbs.
So, the maximum weight capacity of the trainer ranges between 250 to 400 lbs.
Can obese people use an elliptical Trainer?
An elliptical is one of the best ways for obese people to weight loss. A heavy person can sit, take a comfortable position and enjoy a low-impact exercise without causing any harm.
The elliptical machines for heavy users are designed keeping the weight in mind for efficient use. The recumbent cross trainer can be a great option.
How much workout is enough to lose weight on an elliptical?
A minimum of 30 minutes of intervals or an hour of cardio exercise is required for effectively losing weight. In addition, one must work out at least five days of the week for a progressive output.
Start with 15-20 minutes a day and take it forward to see an increase in calories burned.
How to figure out stride length on an elliptical?
You can easily calculate the stride length without expert intervention. When your legs are stretched on the elliptical, the distance between both feet is half your height. For example, if someone is 4 feet, the stride length will be 2 feet.
Can you lose belly fat using an elliptical machine?
Yes, an elliptical can help you cut down the extra fat on your belly. It reduces belly fat, but it also tones your muscles.
However, a proper diet and regular exercise are required for affirmative results. Therefore, ellipticals are 100% effective in reducing belly fat.
Conclusion
The Gazelle glider and Body Rider elliptical are our top two picks for heavy-duty ellipticals. They have everything that you need for an effective home workout.
A reliable elliptical is a secret for many athletes and fitness freaks. The heavy-duty elliptical machines are designed keeping in mind both men and women. So if the elliptical trainer has your back as a heavyweight person and needs a sturdy device for a low-impact exercise, the elliptical trainer has got your back.
The machines come with oversized adjustable pedals for accommodating various heights of people. You will also need to consider the time you are willing to spend on the device, which will decide your pick.
Do not miss out on looking at the factors mentioned while buying an elliptical trainer. We have listed some of the best heavy-duty elliptical machines for your convenience. The trainers have a variety of prices and various high-end features at an affordable price.
So, stop making excuses and get home your favorite elliptical machine!