If you are experiencing chronic knee pain and it is causing you difficulty walking, there might be a solution to better the situation if you have shoes that help better with these situations. Looking for best shoes for knee pain that can give you comfort and support while walking might get tricky if you are unaware of all the better options, but today, you have come to the right place
Foot pain is a cause for concern as the knees get affected. This relates to hip pain, which can get as bad as going for knee replacements! Knee osteoarthritis and weakening of knee joints due to rough shoes is a facet that has given endless woe to this generation. Here, we have listed some of the best running shoes for knee pain to help you manage and decrease the pain.
What To Look For When Buying right Shoes for Knee Pain?
The first thing to look for in shoes is the amount of comfort they can give and their support to your knees. A comfortable pair of shoes means that they can certainly help you reduce knee pain.
Quality of materials is critical. The shoes should also be made of comfortable, breathable, and flexible materials.
The insole of the shoes should be either leather or memory foam, as they are considered the best for people with knee pain. Soft cushioning and fresh foam balance are critical parts for improving foot function and shock absorption.
Treatment for knee pain : Best Shoes For Knee Pain
You can do numerous things to relieve knee pain if it results from the latest injury or long-term arthritis.
Excessive rest can be bad for your muscles. Find and stick to an exercise program that is comfortable for your knees.
Consult your physical therapist if you are unsure which movements are safe and how much you could do.
Get some exercise. Cardiovascular exercises help to strengthen and stretch the muscles that make up your knee pain.
Resting, Ice, Compression, and elevation combined, called RICE, are effective treatments for knee pain caused by a minor injury.
Use a cold pack to relieve swelling of knee pain.
It's best to use a bag of ice and frozen peas. It should be used for around 15 to 20 minutes, about 3 or 4 times daily.
To be gentle on your skin, wrap the ice in a towel. Afterward, you can warm things up for 15 – 20 minutes three to four times a day with a hot bath, hot water bottle, or warm towel.
Factors To Consider While Buying Shoes To Ease Knee Pain
Cushioned footwear
It is recommended to get cushioned shoes, especially if you face knee pain. Lightweight Cushioning will help you provide comfort and support while walking or running. The best walking shoes for knee pain will have orthotic insoles and great air cushioning! People can wear custom orthotics for specific foot shapes or orthopedic shoes to lessen knee pain.
Quality 
The quality of the shoes should be good to use for a long time without causing any damage. Each supportive shoe must be immune to wear and tear and be comfortable shoes.
Fabric
The fabric of shoes must be breathable and soft, and if you get a harsh fabric on your feet, your knee pain worsens. A walking shoe should not only showcase casual styles but be soft for bad knees as well.
Insole For Shock Absorption
The insole of the shoes can be made of leather, which provides good cushioning, or memory foam, which offers comfort and flexibility.
So, choose what suits you the most.  Make sure you also go for a durable rubber outsole suitable for motion control and shock absorption.
Footbed
The shoe should have great arch support that can decrease pressure, help reduce knee pain, and give comfort to flat feet or wide feet. It also eases the heel pain with the heel-to-toe transition.
Support and flexible comfort shoe
Getting shoes that give you good support while walking or running is better. Also, the flexible shoe helps to move your foot around quickly and is suitable for arthritic knees.
The American Podiatric Medical Association has strongly recommended that the best running shoes have a wide toe box to ease knee pain, an extra cushion, and a breathable mesh to protect the knee joint and provide excellent shock absorption.
Though the pain starts at the feet, it moves upwards, affecting heels, knees, hips, and the entire body. Therefore it is necessary to consider all the points mentioned above for running and walking shoes before buying any shoes for bad knee pain.
11 Best Running Shoes for Knee Pain Reviews
Below is the list of best running shoes for knee pain we gathered after doing proper research. Skechers has always given us what we want in the world of shoes. 
So here also, Skechers Men's Afterburn Memory-Foam Lace-up Sneaker can be the best choice if you can get what you need from these shoes.  First, however, you need to find out what's best for you, depending upon what your knees want.
Sketcher offers men's shoes with memory foam and durable Rubber outsole. Additionally, these shoes are made of 100% synthetic leather to provide hardcore durability and extreme comfort. They are one of the best sneakers, great for flat feet and awesome for knee osteoarthritis people.
Specifications:
100% leather
Rubber sole
High heels up to 2 inches
Memory foam insole
Pros
Comfortable
Lightweight
Durability
Flex with the foot while walking
Easy slip-on
Cons
Easy to slip if the size is too big
Fit cannot be customized
Along with being health conscious and cost-friendly, Skechers offers a variety of products with different ranges and sizes for all age groups. They have a trendy design, giving customers a wide variety of dress shoes look. In addition, they have a diversified product line that meets consumers' budgets.
A material to love
These Skechers right running shoes insert a mesh fabric and are also suitable for inward rotation. They have a sporty look, padded collar, and fabric lining.
Award-winning features
This imported Skechers running shoe is an award-winning global leader in the footwear industry. It has been praised for its comfort, flexibility, and lightweight. Budget-conscious individuals have even appreciated the price. In addition, it has relieved people suffering from flat feet, knee pain, and joint pains.
HKR Women walking shoes come with a simple design having arch support which is an excellent option for women suffering from knee pain and rheumatoid arthritis. It is a favorite shoe of mine and has a rocker sole.
Finding shoes that improve walking motion and allow natural movement is difficult because a perfect shoe is hard to find.
Specifications:
Light Weight
Mesh Fabric
Rubber sole
Wide toe box
Supportive shoes for knee pain
Arch design for a comfortable fit
Pros
Effortless on and off
Water-resistant
Removable Insole
Memory foam insole
It can be used for a long time standing work
Cons
Care and clean: Only hand wash
The company provides support and confidence in this product and guarantees money-back. The stretchable fabric and soft upper belt are like a sock, so they won't let you take off your shoes.

A comfortable rubber sole characterizes the slip-on outline. In addition, these shoes use air cushion technology to make them lighter and slip-resistant, ensuring you enjoy every occasion with them as dress shoes for knee pain.
Arch Supported Mesh Fabric Design
It has an outsole with an air cushion, preventing a slip and keeping you safe and comfortable on any terrain. 
Asics is one of the most sought-after brands dealing with footwear. Their shoes are fully synthetic and are imported.
These are balance running shoes that advocate maintaining balance and give protection from foot issues. It comes with a rubber sole and has FlyteFoam Midsole technology. 
Specifications:
100% Synthetic material
it has a rubber sole
FlyteFoam Midsole Technology
Ideal running shoes
Shaft measures approximately low-top from arch support
Running shoe features
The shoe's sole offers are bouncing back and cushioning properties with less weight and extended durability. The rearfoot and Forefoot GEL Cushioning Systems reduce shock during impact and allow you to move across multiple planes. 
The shoe has a Heel Clutching System technology that offers support and heel fitting movement.
Slow man store offers women's sneakers with air cushions for better comfort and shock absorption.  This is a great shoe offering great support for your bad knees.
Specifications:
Easy on-off
True to size
Great Traction
Ideal running shoes
Pros
Available in all colors
Stylish dress shoes
Daily- can be worn with sports clothes, casual clothes, jeggings, skirts
Supportive shoe
Cons
These shoes are designed for healthcare providers. They are super comfortable, supportive, and well-built. It has anti-slip technology to prevent slipping while performing exercises or sports. It comes in variable sizes and colors. So enjoy your day with the best shoes keeping your health foremost.
Simple and Innovative Design for foot pain
These Sock sneakers come with an innovative design. Its design is breathable and ensures that you don't feel sweaty.
In addition, an air cushion at the mesh fabric's sole contributes to the shoes' light weightiness. It also offers a memory foam construction that helps daily, such as women working and outdoor sports. 
Ryka offers synthetic sneakers which are made in the USA and then imported. These shoes come with a rubber sole and are comfortable to wear. Ryka is one of the top-rated shoes in the country, offering the best walking shoes for knee pain.
Specifications:
100% Synthetic
It is made of rubber sole
Shaft measures approximately low-top from arch
It weighs only 8.7 oz
Pros
The shoes are perfect for working out.
It weighs less.
These shoes offer support.
It is comfortable to wear
Cons
durability is not assured in the case of often active use.
The shoe sole has pivot points, making it easy to turn. It has responsive cushioning for sudden impact. The shoe weighs less and has a full-length RE-ZORB drop-in. An external RE-ZORB LITE pod network is placed between the outsole and midsole cushioning.
Excellent Material
These balance shoes have an ortholite footbed and are designed for women's wellness. The shoe features a breathable upper mesh attached to the support system through the indirect. It will aid by giving support in all lateral movements. The synthetic overlay has a gradient print.
Other features:
The shoe has an eight Piece radius of skeletal rubber that works simultaneously with the RE-ZORB LITE midsole and pivot point plus flex grooves under the ball of the foot supporting plantar fasciitis and wide feet.
Gravity-defying offers multifunction women's shoes; they provide orthotics alignment for the whole body, which eventually helps relieve pain.
Specifications:
Durable rubber outsole
Synthetic Sole
Free Corrective Fit Orthotics included
Front Rolling design for heel pain.
Pros
Flexible
Proper ventilation
Protective Shank
Non-slip heel counter
Diabetic-Friendly
Cons
less variety and not suitable as dress shoes.
They specifically design shoes to tackle joint and ligament pain. This brand has been designing shoes with different soles and designs for over ten years. When choosing the best shoes to get the best relief from knee pain, G-Defy offers you the best options.
Hybrid VeroShock Technology for knee pain shoe
These shoes are not designed for casual wear but are developed strictly to overcome pain in their lower ligament and joint and knee issues.
The shoes are created using the VeroShock Technology. This technology converts the absorbed harmful shock into renewed positive energy at each step.
In addition, the Front Rolling Design Smooth movement reduces foot stress and provides full-body alignment. Finally, they come with a soft, seamless interior design. 
The Gravity Defyer Shoes spend an immense amount of time ensuring that their shoes fully support those who use them. It extensively relieves pain for those who suffer from severe joint pains.
Brooks is one of the brands offering women the best walking shoes. They offer fabric and synthetic shoes available at reasonable prices. The shoe has a rubber sole. You can check your correct size and buy it on Amazon. 
Specifications:
It is made by fabric-and-synthetic
It is Imported
It features a rubber sole 
Ideal running shoes for knee pain
Pros
The shoe provides arch support.
It has the correct width for wide feet.
The toe box fits correctly.
Cons
Some customers felt that the quality of the shoes had gone down over the years
Customers have given good ratings on the comfort of wearing this great shoe. These shoes provide good arch support and fit your tow in perfectly. They are available in various colors to buy the one you like. 
Excellent Material
Brooks has offered shoes in both fabric and synthetic types. You can pick one according to your preference.
The boots are imported and of high quality. Their shoes are known for their support to the body. It makes running smooth. 
The popular GOSkechers store offers men's shoes with synthetic material and an air-cooled mat insole for better comfort and support.
It also comes with heel fabric to provide supreme comfort and a natural fit.
Specifications:
Shaft Measures
Synthetic Sole
Responsive Cushion
Midsole and Insole Cushions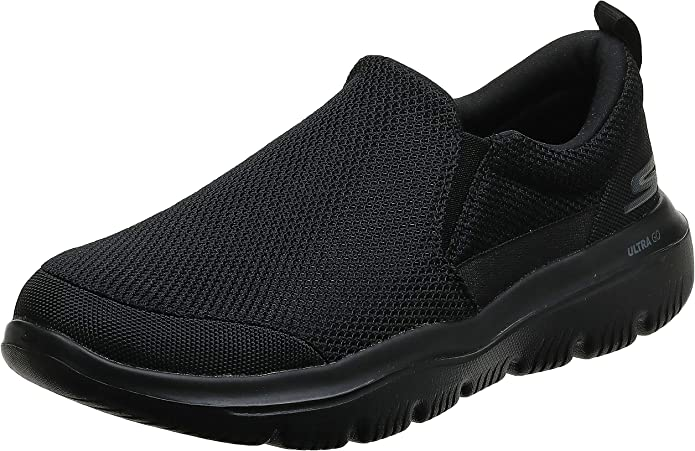 Pros
Washable in machine
Surprisingly lightweight
Safe walking shoes
Good athletic shoes
It helps a variety of foot conditions
Smooth heel to toes
Cons
Available in limited colors
The soft padded collar and natural expansion help the customer feel comfortable and have a secure fit. In addition, a small strap at the end of the shoe allows you to put on and take off the shoe very quickly, saving you time.
The comfort you want
Skechers presents the walk evolution featuring lightweight and responsive cushioning that reacts to every step for finding the ultimate comfort.
The slip-on comfort walking design having dual side elastic panels for comfort gives an enhanced look with the side S logo.
In addition, Skechers has been offering heel and toe panel overlays for improved durability. They have been providing a high performance for years and offer the best options with a wide variety.
Fila is a famous company among shoe enthusiasts. It offers women's shoes with 100% synthetic material and rubber soles.
These shoes offer durable performance with leather and synthetic overlays to offer versatility. The rubber slip provides best-in-class traction and slip-resistant functionality.
Specifications:
Superior Traction
They are good athletic shoes for knee pain
Solid Performance
Shaft measures having approximately 3″ from arch
Rubber Sole
Pros
Deep interior sides
Relaxed Styling
All-day comfort
Solid Performance
Firm and stable platform
It has good stability features
Ideal athletic shoes
Cons
Available only in black and white
Laceless Design
These work shoes are designed to fulfill the work in every industry. The sock liner of the shoe is made of memory foam. The midsole of the shoes and the memory foam provide extra comfort.

Even Though they help prevent slips, one must be cautious on slick surfaces. Fila defied expectations and delivered a higher level of performance.
Amazing features
Fila's Women Work shoes have offered a comfortable, protected, and no-sacrificing performance in one workday, contributing to anti-slip safety shoes.
The shoes are constructed from synthetic overlays and durable leather, giving a dependable work shoe that meets daily occupational needs. Additionally, it features a rubber slip-resistant outsole to provide traction against slick or wet surfaces. 
Fila continues to enrich the athletic experience by improving performance and comfort. It is designed in such a way as to face daily challenges with ease and a variable lace-up front closure. So, they are the best athletic shoes.
Auraton comfort store offers women's shoes as pain relief shoes that come with Arc support technology. These shoes are pedal boat shoes that provide extra support with pain relief.
Canvas upper
Premium quality Insole
Eva + Rubber Outsole
Arch Support Insole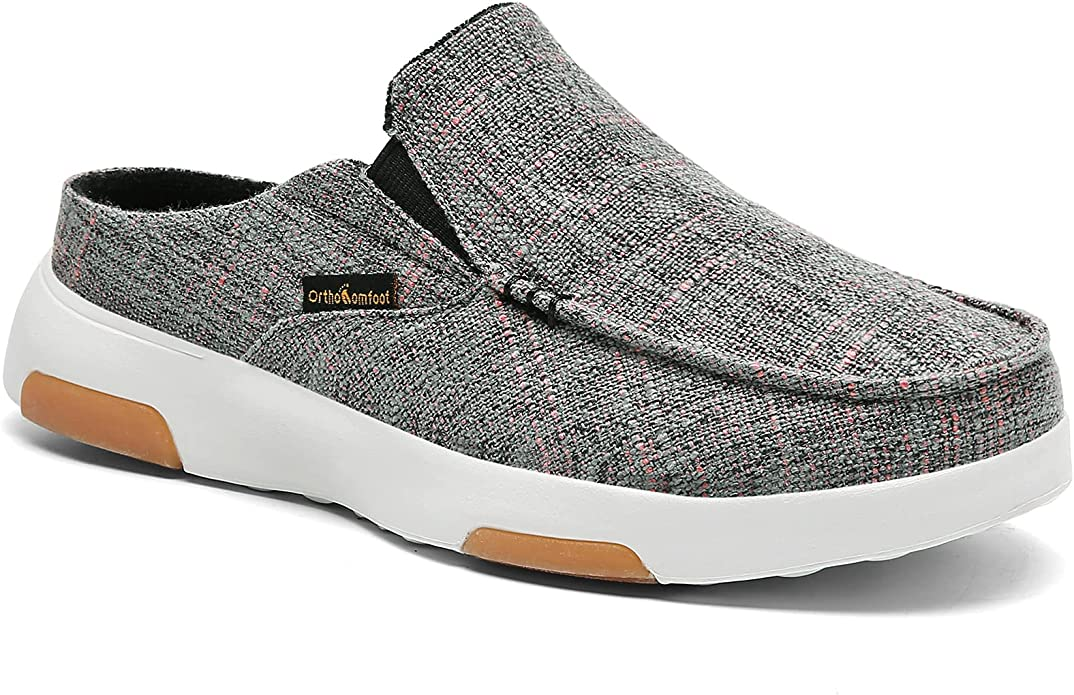 Specifications:
Shoes treating Plantar Fasciitis
These shoes treat Plantar fasciitis, offering a superb level of high arch support. The deep heel cup is present to help reduce the overstretch of Plantar Fasciitis and relieve pain from the heel and the heel spurs.
It also has a slip-on design with two sides for easy on and off.
Puma has been one of the most famous brands globally, dealing with sports and accessories over many years. Their products are high quality and long-lasting. The shoes are imported and work better for bad knees. 
Specifications:
It is a 100% Textile
It features a rubber sole
The midsole is of PU foam 
Cellasto foam heel pad
EverTrack high-abrasion outsole
Pros
The width of the shoes is proper.
The toe box is correct.
The shoes weigh less. 
Cons
The shoes are not sturdy.
These shoes weigh less and make you feel light. It is one of the best shoes for running and comes with an Ignite impact dispersing cushioning. The shoe features a logo of the performances at the upper and Formstrip. 
Excellent Material
The shoes come with high-quality materials and consist of 100% textile and are comfortable to use. The outsole has an ever-track high abrasion.
The heel pad has a cellasto-responsive foam pad, making it comfortable. 
Best Shoes for Knee Pain FAQs
Q.1 Can shoe improve knee pain?
Shoes with soft cushioning and better soles can make walking better with knee pain. With bad knees and chronic knee pain, relying entirely on shoe support is not suggested.
However, it can improve the situation by lessening the knee pain prolonged wait can alleviate pain and make it worse to recover from.
Q.2 Which slipper is best for knee pain?
In case of knee problems wearing well-fitting shoes with soft cushions and underfoot support is suggested to be used by people. Slippers can worsen foot pain and affect the already injured shin splints or plantar fasciitis. In the case of a specific foot shape, custom orthotics slippers can be used. But it is better to go for orthopedic shoes for knee pain with orthotic insoles.
Q.3 Can shoes help arthritic knees?
Right shoes can help patients with arthritic knees by soothing knee pain while walking or performing daily chores. Choosing the right shoes for knee pain is very important, as the wrong shoes can increase the pressure on the knees and worsen the pain. People with arthritic knees should use boots with soft rubber soles wedged heels to lessen the pain.
Q.4 Which sketchers shoes are the best shoes for knee pain?
Sketchers have introduced comfortable shoes for knee pain, helping many lessen knee pain. Skechers Men's Afterburn Memory-Foam Lace-up Sneaker and Skechers Men's Go Walk Walking Shoe are excellent choices for the ones who experience chronic knee pain. They offer the best comfortable cushioning and soles for bad knees.
Q.5 Is new balance good for knee pain?
New Balance also has introduced many options for those with bad knees and experiencing chronic knee pain. Especially the813 series of New Balance has offered unique cushioning and motion control features to help people with knee pain usually perform and complete their daily chores without disturbance. Along with that, the new balance offers many options for comfortable walking shoes.
Q.6 Are crocs good for your knees?
Crocs are easy to wear but do not support the legs in case of knee pain. Crocs are not suggested for people with knee problems. With bad knees, shoes are recommended with better foam cushioning and excellent arch support to support the knees while walking. Crocs do not offer soft cushioning for underfoot support.
Q.7 Can wearing flat shoes cause knee pain?
For walking, there needs to be proper arch support to the footwear. Otherwise, it might create unnecessary pressure on the feet, kegs, and knee that causes injuries to the parts like heels, knees, hips, and entire body, which may disrupt the walking motion and lead to knee pain because of the wrong shoe choice.
Q.8 Are Birkenstocks good for knee pain?
This option is great for daily casual wearthat offers a lot of variety in simple classic sandals for women where dress shoes are unavailable or can not be used. This option also supports the feet and knee to save from chronic pain. Footwear offered by them is also flexible.
Q.9 What are the symptoms of needing a knee replacement?
Some symptoms like continuous knee pain while walking or any movements that bother the sleep routine. Doing simple daily chores has also become impossible to perform, and knees are swollen for a long time to the point where icing is also not helping. There are many simple signs of recognizing the seniority of knee pain, and at such point, it is suggested to go for professional assistance.
Q. 10 how to relieve knee pain?
Many simple steps can be implemented at home to lessen the knee pain, such as resting the legs without putting any pressure on the knees, ice pack application to reduce the inflammation and pain, hot water bags can also help reduce pain, and compression helps in the swelling. Keeping the legs elevated can work better for blood circulation.
Q.11 What is the difference between Sketchers Go walk shoes?
There is a difference in width between the sketchers Go walk style. The shoes of Sketchers Go walk 4s are a little narrow compared to Go walk 3s. Apart from the difference in width, sketches in the shoes offer no other features. There has been no quality compromise done in the creation of shoes.
Q.12 Can foot issues cause knee pain?
Yes, the problem that begins at the feet might hamper the health of the legs, hips, and back if not treated on time. There can be a reason for the misalignment of bones or other reasons that might change the walking motion and create unnecessary pressure on the knees or hips to cause or begin chronic pain.
Q.13 Are Viconic good for knee pain?
This footwear is a great option to use on arthritic knees with the consultation of a professional. These shoes reduce pronation and correct the positioning to make walking motion better. This option offers better underfoot support to walk on and makes it easy to perform the chores without feeling continuous pain.
Q.14 How long does it take to recover from a total knee replacement?
Depending upon the severity of surgery and advice given by the healthcare professional, it takes approximately 2 to 3 months for recovery with all due care. They suggest a little movement of the knees to release the stress along with the proper rest otherwise.
Q.15 Can changing shoes help with knee pain?
Of course, a shoe change can improve the condition and lessen chronic knee pain. A wrong choice of shoes can alleviate pain and worsen the situation, whereas the right shoes for knee pain can help reduce it with proper cushioning and arch support. Therefore when experiencing frequent knee pain changing footwear can be the first and foremost remedy.