Momo is a word that stirs every foodie's mind. It has become a very famous street food in the South Asian region which is available in every nook. Momos or dim sum are an Asian cuisine wonder. These are non-vegetarian or vegetable stuffing inside wheat flour prepared momos dough and cooked in a traditional momo steamer. With a side of spicy sauce or momos chutney- it is love.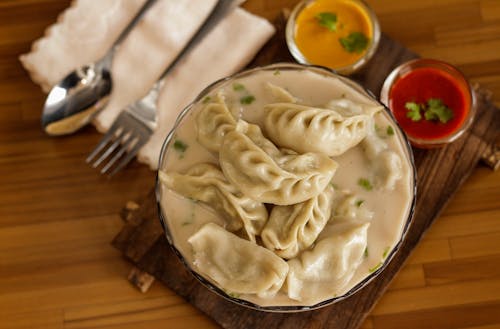 Traditionally these are steamed but now, you will find variations like pan-fried and more! Some think that momos, dim sum, and dumplings are the same. Well, they are not. They have way different origins, recipes, and histories.
Momos- All About Tibet
Many reasons have been set and explained how momo is Chinese. The truth is- it is not.
"All momos are dim sums, but not all dim sums are momo."
Confused? Here's an explanation.
Momos originate from Tibet and have roots in Nepal too. Yes, they are inspired by dim sums but the recipe and way of eating them are quite different. Momo is not made for fine dining experiences.
It is comfort food; one of the popular street food for which you can pay a small amount and have a cozy evening snack with friends.
They are more widely available than any type of dumpling out in the world. These are steamed with finely chopped vegetables as filling and served with momos chutney. Whole wheat flour is the main ingredient for the dough. Even all-purpose flour is used to make the dough.
Another difference that suffices is that momo doesn't need to be eaten with a beverage, unlike other dim sum or dumpling recipe.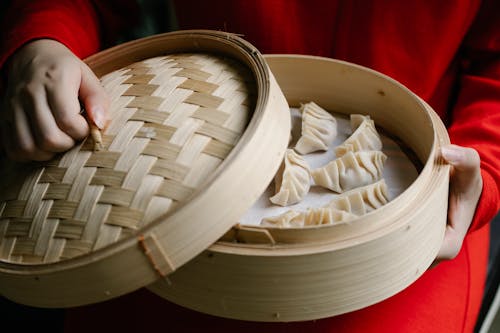 Traditional momo steamer is used to cook this popular Tibetan recipe but quick household tips have now recommended pressure cooker and instant pot for steaming. Veg momos recipes are preferred in India.
Currently, momos are served best in Nepal and surround themselves by the borders of North-Eastern India and North Bengal. Even though other adjacent regions are serving momos, the authenticity still lies with the Tibetian origin.
What are the Similar Variations to Momos?
There are nearly more than 4 variations worldwide but only some surface as popular dishes apart from momo.
Dim sum
The first and foremost dish within the luxury boundary is dim sum. This name originates from a Chinese lexicon meaning "touch the heart", which is really thoughtful as it is quite tasty. And of course, tasty dishes always touch the heart.
The main ingredient of this dish is not vegetable stuffing rather it is meat. There are different recipes with pork, chicken, duck, beef, and more.
Generally, the use of whole wheat flour to make the dough is substantially limited. Rice flour and potato starch are the primary ingredients of its dough. Hence, these have translucent and sometimes transparent covering, unlike momo which has opaque covering.
The fillings inside can be finely chopped or diced. Vegetables are used in a little lesser amount than meat. The dim sum makes an exquisite affair of cuisine for sophisticated fine dining.
Traditionally, these are accompanied by tea and eaten without any tomato sauce, hot sauce, or schezwan sauce. Although, a side serving of soy sauce with finely chopped spring onion greens or a thick paste of chili is put on the top to eat it.
The cooking method includes bamboo steamers and is served for an authentic premium dining experience.
Dumpling
This dish is not limited to Asian cuisine, rather it has its root in the European continent too. Dumpling is something you "dump"- hence the name. There are both vegetarian and non veg recipes for this dish.
This traditional delicacy is deep-fried, thawed in boiling water, steamed, or pan-fried. The steamed dumplings resemble steamed momos.
The dumpling dough is wheat-based, and the fillings with finely chopped veggies and meat add a nice upgrade to street food recipes. These are picked up with chopsticks and dumped into a selection of dipping sauce made with schezwan sauce, soy sauce, veggies, and more.
Often dumplings are also prepared and served in bamboo steamers like dim sum. Surprisingly, the dumpling is a range of dishes that serve as a category under which come Italian Gnocchi and Ravioli as well. Interesting, right?
Wontons
Wontons are best found in the Northern regions of China. Usually, these are shallow fried ones. It is folded into a square-ish shape and comes out as a golden brown delicacy. The main flavorings of the filling are ginger and garlic.
Now, there are modifications with cheese as well. Some choose to eat it without any dipping sauce. While some prefer to have it with wine and main course.
Gyoza
These are Japanese and have become a member of dumpling in recent years. With an extremely thin layer made up of rice flour or cornstarch dough.
The main difference is that gyoza uses assorted vegetables and meat that are even more finely chopped than any other variants. With this, very few differences come up with the technique of cooking and serving.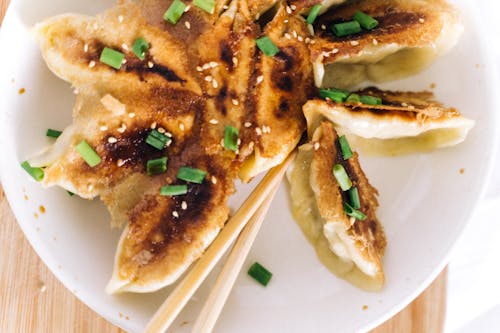 For example, the most famous Japanese gyozas are kept over a skillet with a little amount of water and covered for steam to rise. After a few minutes, oil is added and they fry from the bottom. This pan-fry technique is very unique. It is served with simple soy sauce and sesame or even with a replica of momo chutney!
Bao
This is a traditional Chinese dish that is very different from other dishes mentioned above but still falls into the same line of cuisine. It does not have a thin outer covering rather it is soft, round, and made up of yeasty steamed bread. The original recipe of bao has pork and the vegetarian version has bean paste.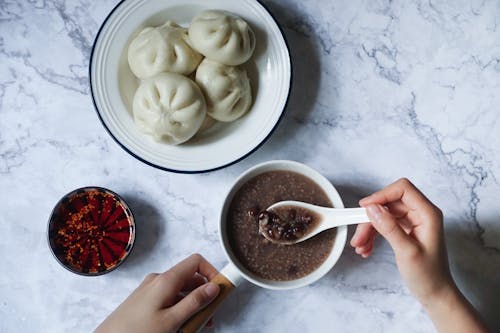 There isn't any need to finely chop the stuffing. Bao works best with a side of soup. Additionally, this is the only variant that is now becoming a popular street food apart from momos.
How is Momo Made?
Among the range of momos recipes, the veg momos recipe is most eaten in India. While the non-veg one is famous in Nepal.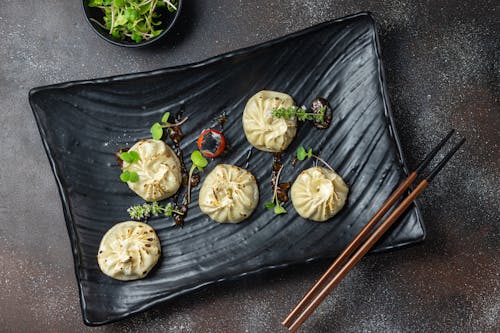 Stir Fry Momos recipe: Veg Momos
Serving: 15 momos
For the dough
1 cup all-purpose flour
Salt to taste
1/2 teaspoon oil
2-3 tablespoons for kneading
For the vegetable stuffing
1.5 cup of mixed vegetables (green bell pepper, onion, carrot, cabbage, french beans, etc.)
3-4 cloves of garlic
1 teaspoon black pepper
Salt to taste
1 teaspoon soy sauce
1 tablespoon oil
Instructions
Mix the flour, salt, and oil in a metal utensil or kneading bowl.
Add water part by part and knead into a dough.
Cover it and place it aside for 30 minutes.
Either use the mixed vegetables finely chopped with a knife or place them into a food processor and give a churn.
Now, transfer the chopped vegetables into a large mixing bowl.
Add the rest of the ingredients and mix with a spatula.
Stir fry them in a pan over low to medium-high heat for 3 minutes.
Then increase the heat and fry over high flame for another 2 minutes.
Add salt or any flavor in case it doesn't fit right to your taste.
Steaming For Steamed Momos
Roll the dough into a 7 to 8 inches long log and cut into 15 equal pieces.
Make each of them a ball.
Dust the board and rolling pin.
Take each ball and roll them into circles. Try that the center is thicker than the edges.
Hold a sheet in your palm and with a finger of the other hand, dap very little water on the edges.
Place 2 to 3 teaspoons of the filling in the center.
Now start pleating in the way of your desired shape.
Repeat the process to make 15 momos.
Place water in a steamer or a regular pot with a stand. Let the water boil and turn to steam with a covered lid for 5 minutes over high flame.
Grease the mold and place momos one by one so that they don't touch.
Remove the lid of the steamer and place the molds into it.
Cover with lid and let them steam for about 5 to 6 minutes or until they look shiny and cooked.
Serve them with a spicy sauce momo chutney and enjoy!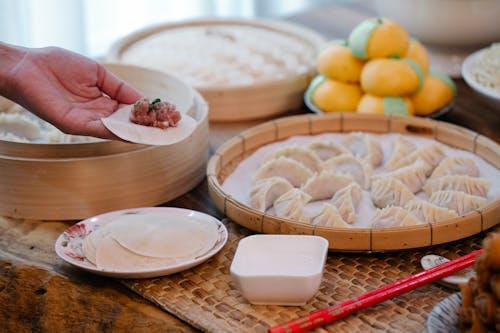 Just like this recipe- veg momos recipe can also be made with meat. The steaming process is the most adopted one but deep frying them also turns out to taste good. Nowadays, bamboo steamers have come into play as well for steaming.
Basic Fundamentals of Veg Momos Recipe
Method of cooking
The choice of cooking method matters for the preparation. Steamed momos are cooked in a steamer or instant pot so that the steam cooks the momos. Fried momos need oil and pan-fried momos need both water and oil. Furthermore, there is a boiled version too.
Stuffed vegetables for veg momos
Many tested vegetarian recipes of veg momos have onions, garlic, carrot, and cauliflower as main veges to be finely chopped. The non veg momos recipe has dead chicken cooked well mainly. Even mushrooms and cottage cheese are added for a savory touch.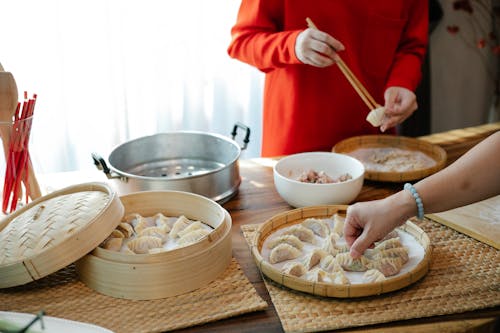 Stir fry works well to cook the stuffing if there is no certainty that momos will be cooked properly. Furthermore, finely chopped veggies make it easier to cook.
Dough
The flour should be kneaded thoroughly with firm hands. Adding salt to taste and oil enhances the dough's consistency.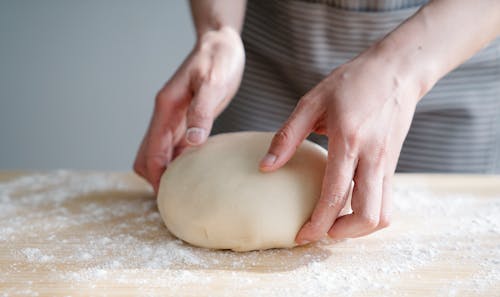 Pleating
There are numerous ways a dumpling or momos can be pleated. being friendly with each style takes time. Start pleating as soon as the stuffing is placed over the dough sheet. This fastens up the entire process.
Time
The time required to boil the water or oil, and the time needed for momos to cook is very crucial. The stuffing should not be uncooked or the outer covering should not be overcooked. Making momos is like a work of art.
Every recipe- veg momos recipe or non-veg recipe has its own time of cooking. Hence, it should be timed properly.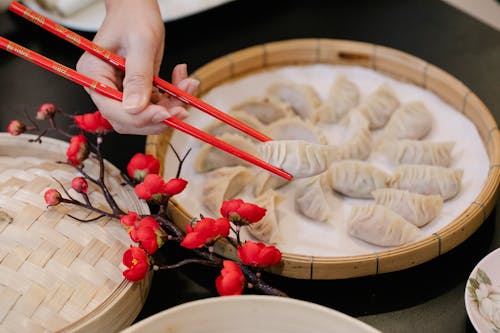 Total preparation duration
Yes, making momos is a lengthy process. It takes 2 hours at minimum. And while making in a huge lot, 5 hours go away in a flash. So, schedule the time for each part. Keeping a recipe card handy is a pro tip that always works to remove all confusion during happy cooking.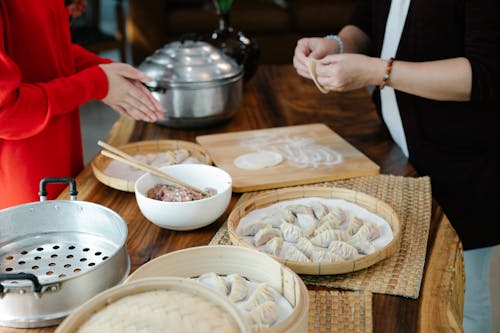 Are Momos from a Street Vendor Safe?
Some vendors sell momos coming from a large-scale manufacturer. On the other hand, some prepare the momos themselves to sell. The ones who buy the non-veg or veg momos from a large-scale distribution often have pieces with artificial flavoring and preservatives.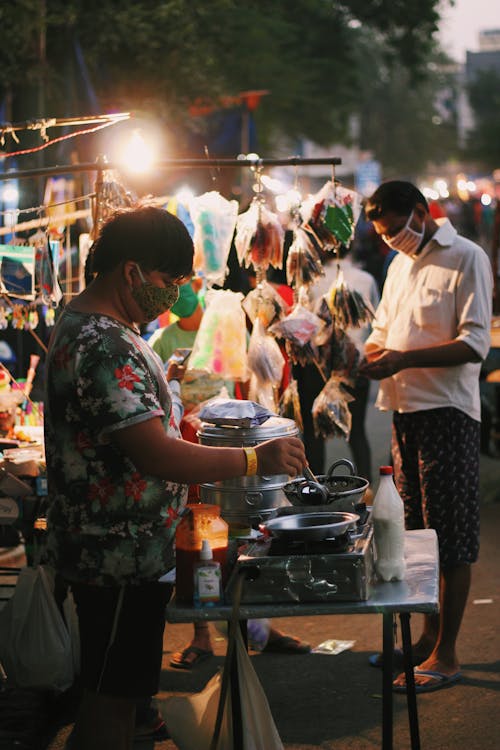 Chemicals like mono sodium glutamate can toxicate one's digestive system, cause chest pain, nausea, and such sickness.
Additionally, the surrounding condition of the selling point matter. If the stall is nearer to a sewer, garbage area, or is contaminated- it is better to stay away. The vendor's own hygiene also matters.
This does not only applies to momos but also to other popular street foods. Choose a clean place to eat.
Momos: Always the Favorite
Momos aren't just any usual dish. Many find it to have a sentimental feeling attached to it; from an evening snack with friends to having birthday parties. It is one of the most loved street food and provides comfort no dish can.
Having a fine dining experience with authentic dumplings have their own charm but having a plate of momos at a nook has a certain glittery effect.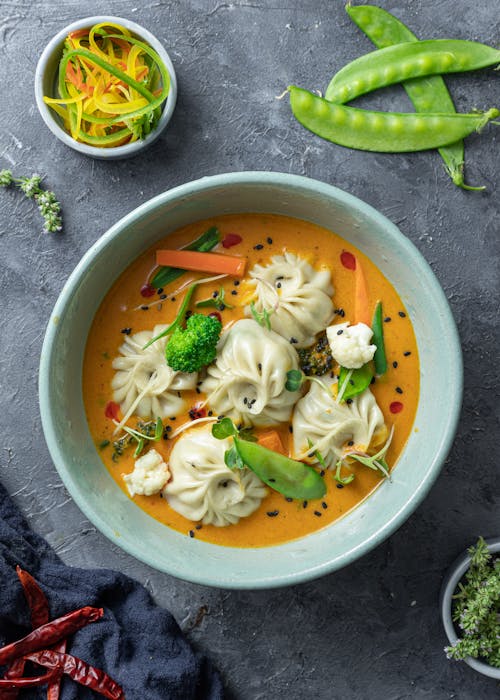 With a nice outer covering of dough having flavorful stuffing inside, there can be magic. Momos chutney is just an additional reason why many are hooked. There are many recipes to try at home and experiment with. Some recipes will be easy and some difficult. But, the result will always be worthwhile.