Buying Any Of These 10 Treadmill Under 200 dollars Can Save You A Lot Of Money
We have your back if you are a first-timer and looking forward to not spending a lot of money after a treadmill. Buying a treadmill for a home with basic features is not huge. However, if you are looking for hi-tech functionalities, you might need to reshuffle your budget.
Treadmills can be a little pricy for advanced features and quality machines. But you can get a treadmill for under $ 200, with adequate features to kickstart your workouts. Nothing to worry about because we have listed the ten best cheap treadmills to care for your mental and physical health. From motorized treadmills to electric treadmills, manual treadmills to folding treadmills, there is nothing that you will miss on the list.
10 Best Affordable Treadmill under 200 dollars: Total Buying Guide + Review
Sunny Health health of the most popular brands for a quality treadmill. This is a foldable manual walking treadmill with some excellent cardio benefits. This is one of the best folding treadmills and tops for mobility and storage.
Exercise brings in a lot of change and betters your mental and physical health. You do not require an electric outlet to use this treadmill by Sunny Health. This compact treadmill can fit into any space, irrespective of size.
Specifications –
Item Dimension – 49 23 50 inches
The material used – Alloy Steel
Running board – 42 * 13 inches.
Max user weight capacity – 220 lbs
Pros –
Easy to assemble
Reasonable price
Excellent incline positions
Compact size
Non-slip running surface
Cons –
Not ideal for running
Letting go of the handlebar stops the belt
The global ratings suggest the popularity of this machine and indicate why this is one of the ideal treadmills. Even if you have a small apartment, you no longer have to worry about the size of the machine.
This is one of the best treadmills and is 100 % durable, and can withstand power walking alongside some light jogging. The treadmill monitor displays time, distance, speed, and calories burned for improved training.
The easy folding functionality and transportation wheels make it easy to move and store. The non-slip running surface is very smooth and ensures user safety. This remains a low-maintenance machine and one of the best treadmills. Do not miss out on the soft foam grips, which provide the right balance during the workout programs.
Progear 190 is a manual treadmill and another popular choice in the cheap treadmills race. The availability of oversized belt rollers enhances the walking experience. It provides a smooth walking experience and helps you lose weight quickly.
There are long handles for security in case of any loss of balance. You can adjust the inclines per your workout requirement and fulfill all needs. The running machine comes at an affordable price and makes an excellent treadmill for a home gym.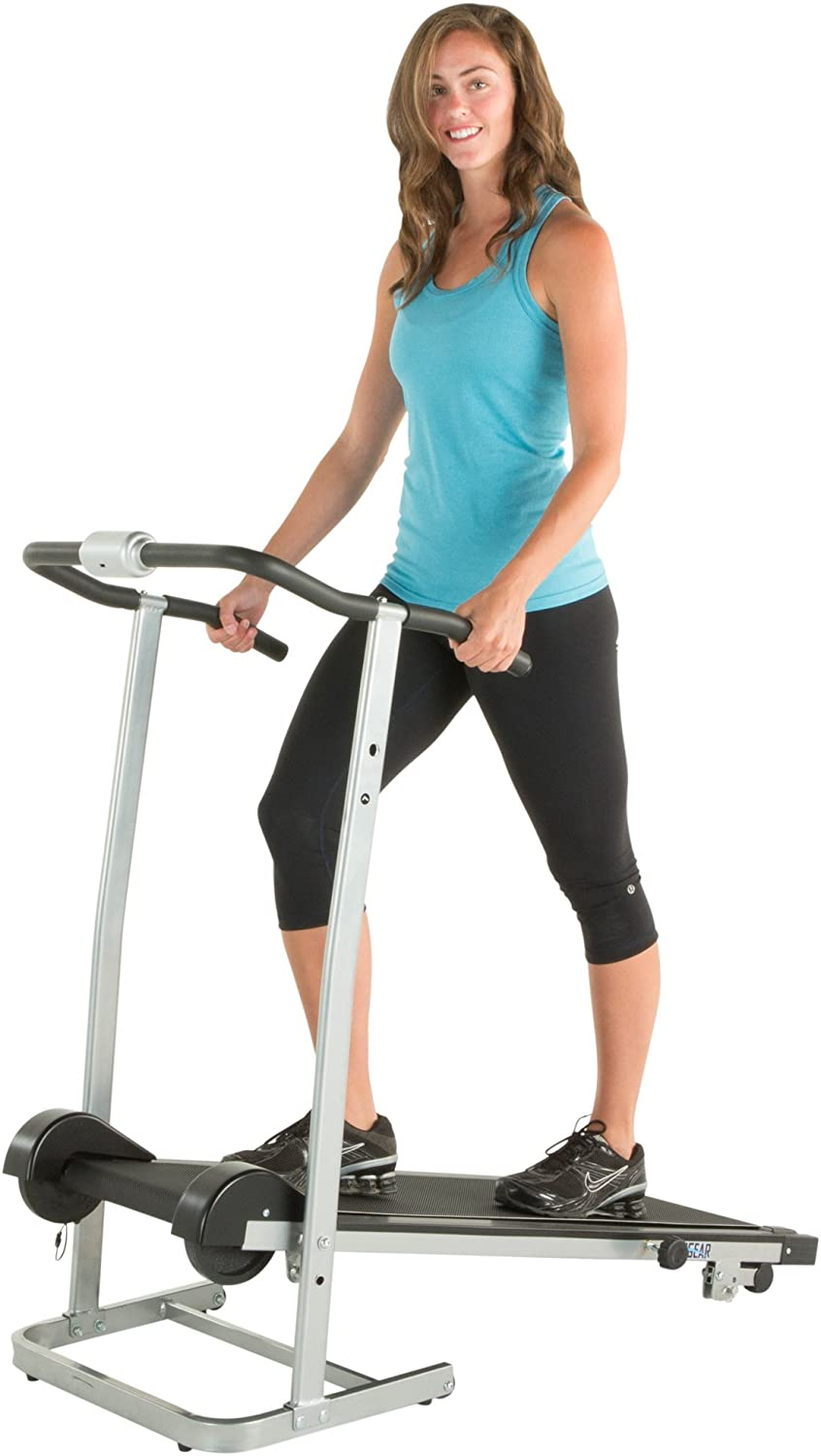 Specifications –
Item dimension – 47 23 51 inches
Item weight – 49 pounds
The material used – Alloy steel
Max weight limit – 230 lbs
Number of incline levels – 2
Pros –
Amazing incline options
Twin flywheels
Portable and easy for small spaces
Easy to set up
Long handles for stability
Cons –
No ways to adjust the normal verticality
This is one of the best manual treadmills for home use. The steel frame of this treadmill comes with a powder-coated finish. The incline adjustments for this manual treadmill are 6 and 10 degrees. The flywheels make the workout quiet and help in a good training session.
The console features an LCD monitor to track the speed, time, calories burned, etc., making it easier to track the workouts. So you can easily fold this treadmill and store it from one room to another without depending on anyone.
The large running surface gives enough space to walk or run and helps burn calories. Progear 190 Manual treadmill is prominent in the cheap treadmills list and makes one of the best treadmills under 200.
Fitness Reality TR1000 is another manual treadmill with a Twin flywheel and two incline levels. This walking treadmill is foot-powered, and you will need to hold on to the rails to work out on this fitness equipment. The foldable design makes it ideal for small spaces.
This folding treadmill is an excellent option if you are on a crisp budget—also, this is one of the top manual treadmills for regulating your cardiovascular fitness.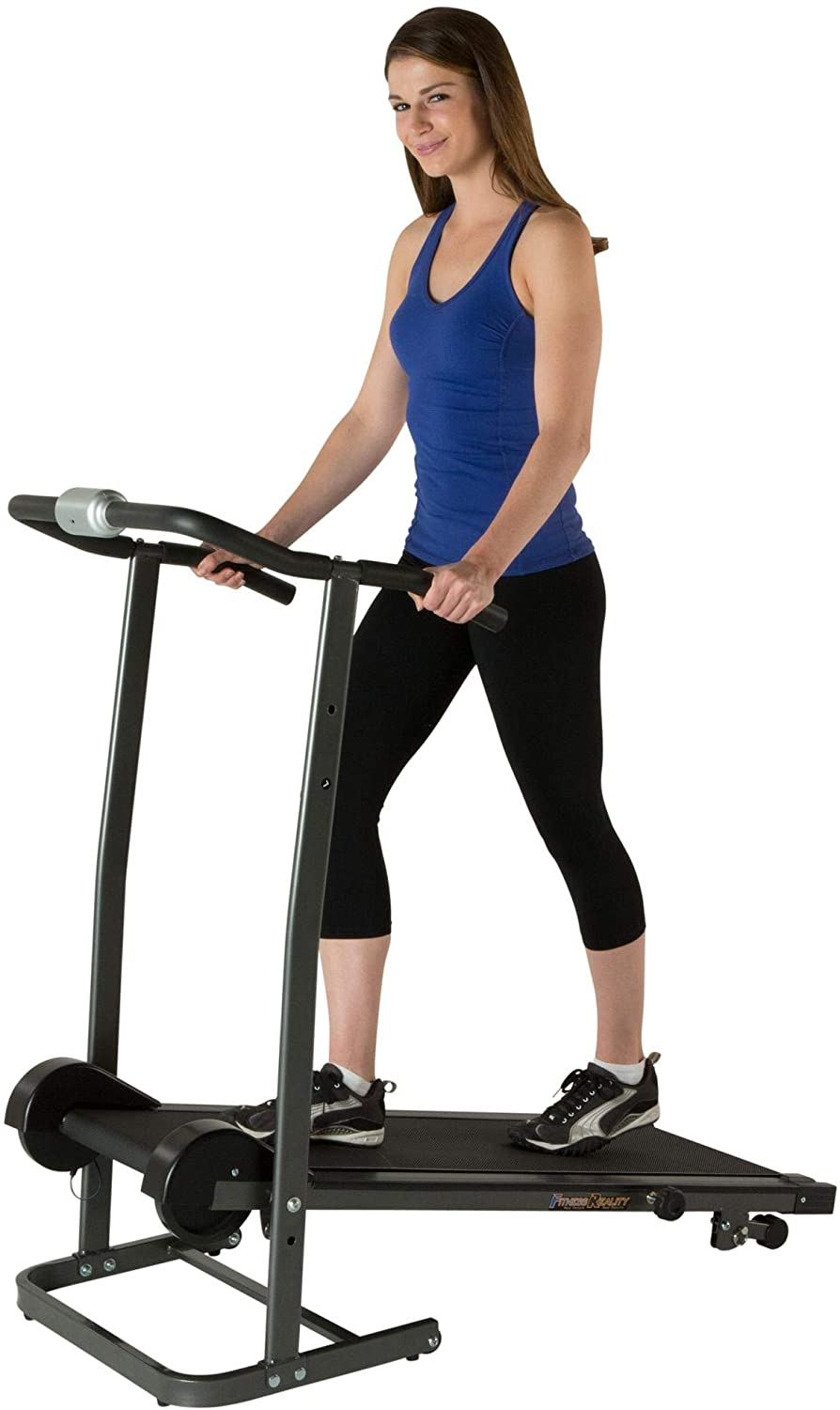 Specifications –
Item Dimensions – 47 23 51 inches
Item weight – 24.5 kilograms
The material used – Cast iron and alloy steel
Maximum weight – 230 lbs
Running surface – 43″ * 13 1/4″
Pros –
Easy to put together
Sturdy built
LCD display
Easily foldable
Easy storage
Cons –
Not very silent
Need to hold the rails while running
The steel frame comes with a powder-coated finish. The incline settings need to be manually adjusted but are super easy and quick. The two incline positions are 6 and 10 degrees for varying training intensity.
The presence of two flywheels helps in a smooth and quiet experience. The digital LCD display screen will show you all the workout metrics: speed, distance, calories burned, etc. Use the transportation wheels and carry this lightweight treadmill wherever your desire.
This is one of the best cheap treadmills available in the market. So, save space with this compact treadmill for your home gym and enjoy your workout even in bad weather.
Stamina Inmotion T900 is a manual treadmill with two incline levels and dual flywheel technology. You can use this equipment to walk or run at your desired speed. Also, track real-time data using the LCD display for a quality workout.
This comes with an audio coaching app named muuv and provides access to personalized workout videos. In addition, the flywheels offer smooth and consistent training. Most users find this machine as one of the best folding treadmills for home gym.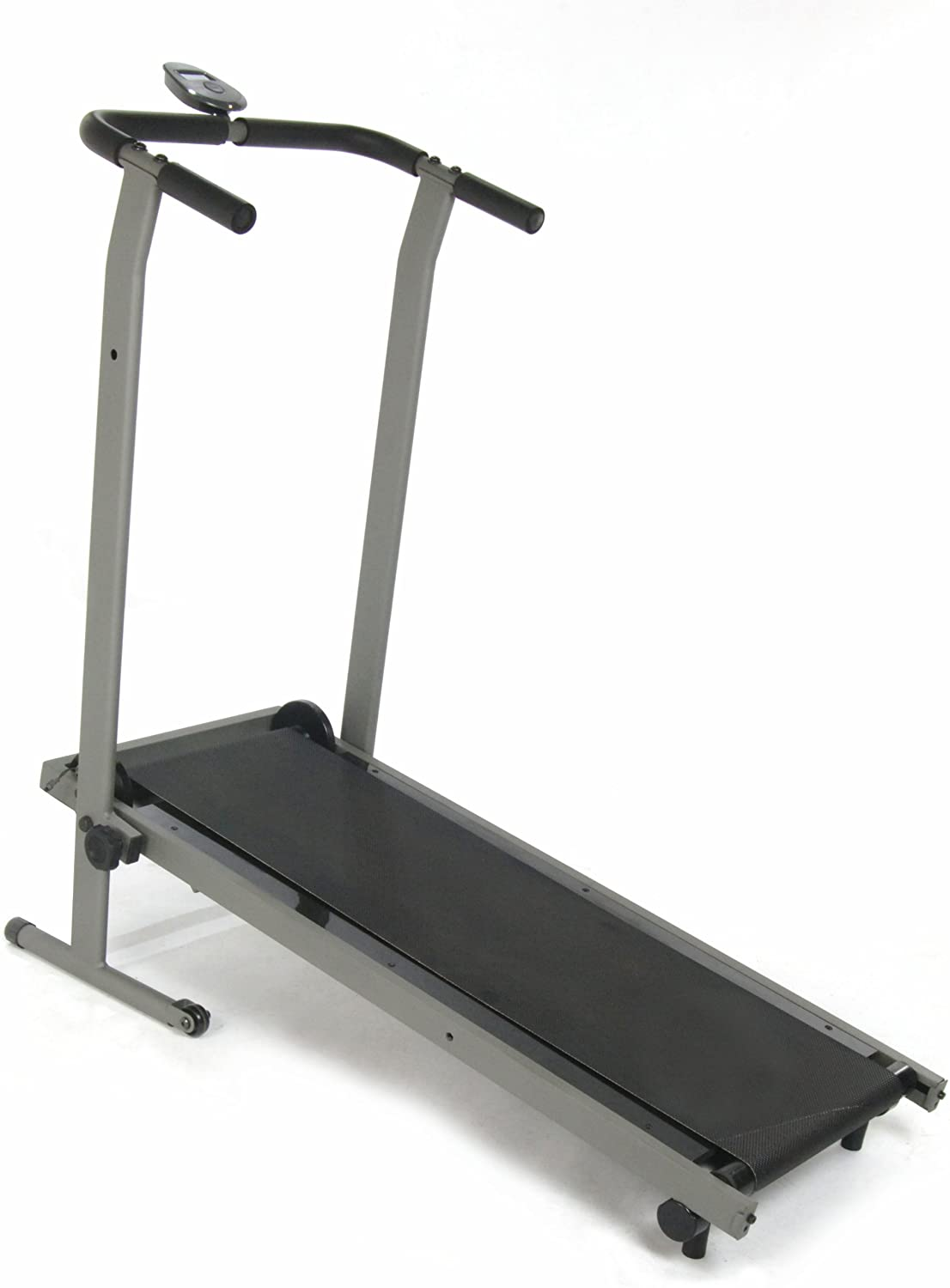 Specifications –
Item dimension – 47 22 45 inches
Item weight – 52 lbs
Maximum weight limit – 250 lbs
The material used – Alloy steel
Pros –
Runs smoothly
Easy to put together
Lightweight and portable
Multifunctional monitor
Cons –
Squeaky flywheels
Running belts needs to be adjusted
The incline levels available are eight degrees and ten degrees. The multi-functional display is excellent for tracking the workout and providing information like speed, distance, time, and calories burned.
You require no motor or electricity to use this treadmill. The smart audio coaching makes Stamina T900 one of the best manual treadmills. You can listen to music while shedding sweat and keeping yourself entertained.
A great deal for improving your cardiovascular health and right in the comfort of your home. So, book your order now and get home this excellent fitness device.
This space-saving motorized treadmill comes with soft cushioning and is an excellent pick among cheap electric treadmills. Here is a powerful and comfortable solution to your workout needs. This treadmill tops the search for affordable treadmills and surpasses the average rating.
The tilt can be adjusted manually, and you can combine walking, running, or jogging for various experiences. The treadmill easily folds up and is an excellent choice to begin your fitness journey.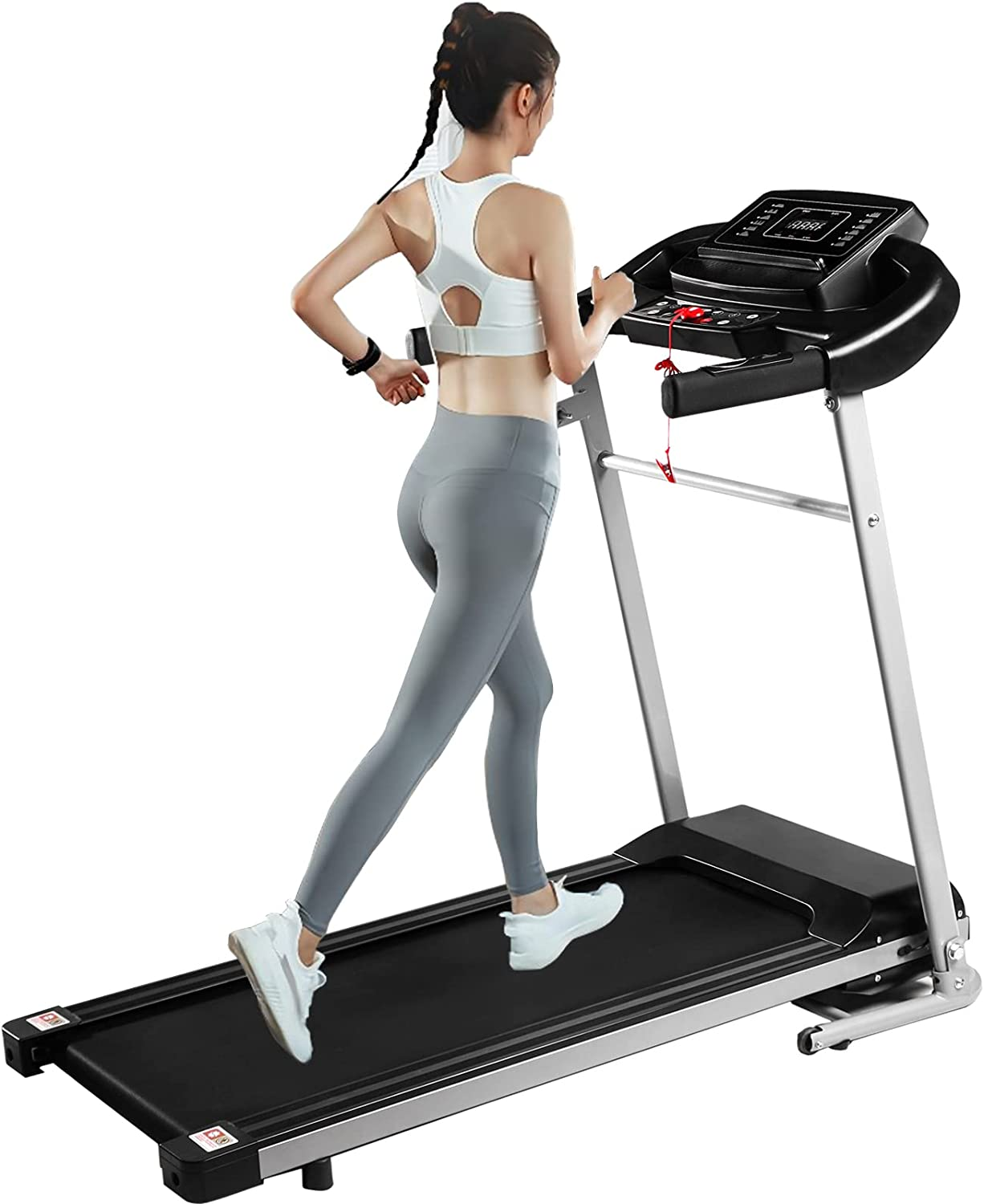 Specifications –
The material used – Alloy steel
Motorized treadmill power – 2.5 HP
Max speed – 7.5 miles per hour
Max user weight – 220 lbs
Running Surface – 15.7 inches
Pros –
Easy to set up
Emergency stop
Soft drop system
Anti-slip belt
Cons –
Display error
The arrival of a faulty product
The soft drop technology makes it convenient to automatically fold the treadmill and lock it. The wide anti-slip belt comes with cushioning and works in favor of your knees. Use the digital monitor and track 15 exercise data, ranging from distance walked, heart rate, speed, time, calories burned, etc.
You can touch the button for the on or off facility. This is a safety feature in case of emergencies. This is a decent treadmill with a multi-layer running belt. The extra space on the belt offers better footstep control. The treadmill machine requires an electric outlet for an operation to burn fat.
From an adjustable incline to a digital monitor, a powerful motor to a comfortable belt, it has everything you have been looking for in your home gym treadmill. So, get this treadmill home and start moving your limbs.
Another solid machine by Anwick with various training modes and levels of incline. If you are not going for expensive treadmills, this is an excellent treadmill for your home or even a local gym. You can walk, run and even perform aerobic workout programs using this machine.
The easy-to-move design, pulse monitoring, adjustable speed, and flexible wheels make it one of the best treadmills to significantly improve mental and physical status. It is a small treadmill and does demand huge space to fit in.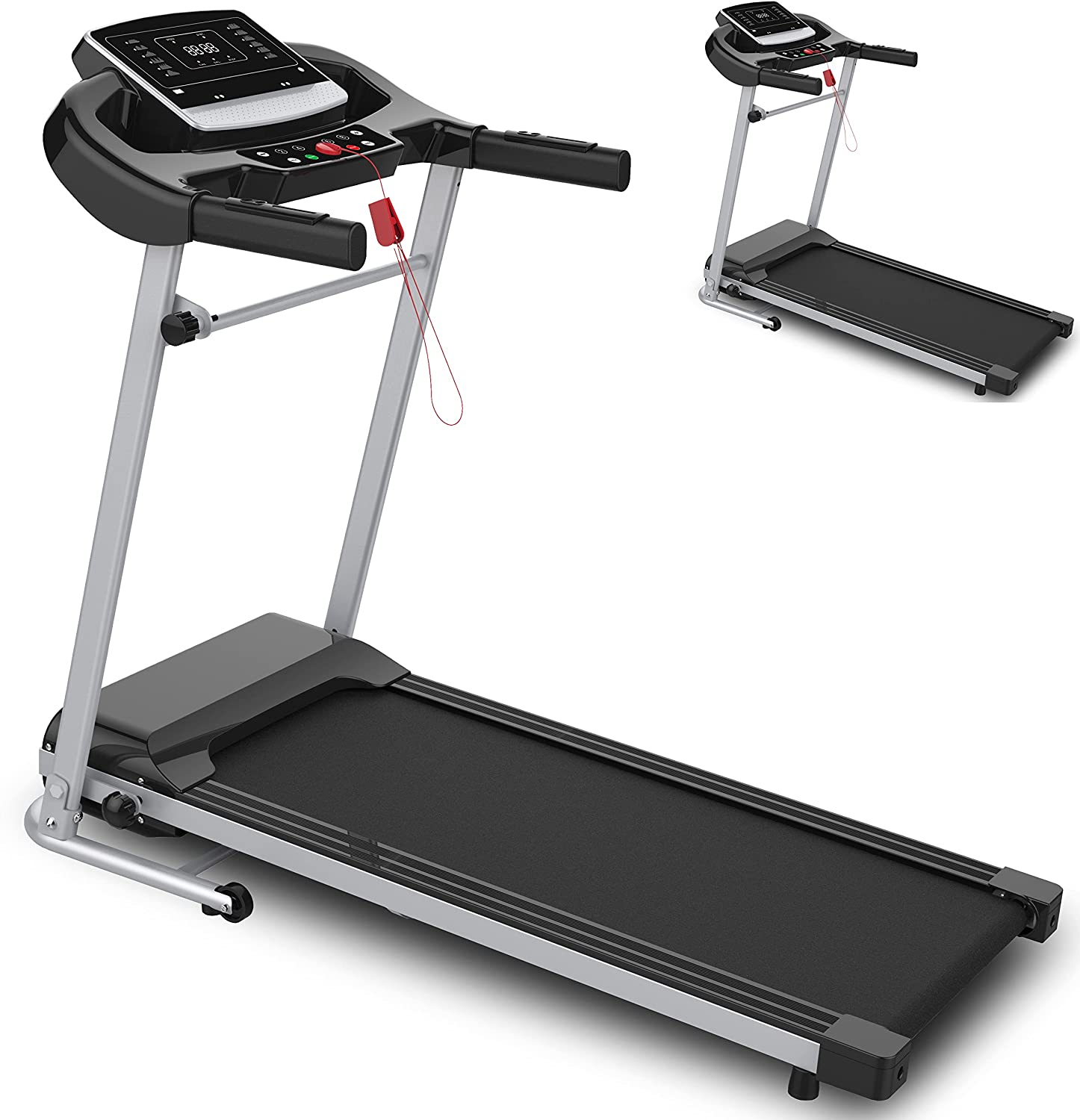 Specifications –
Item Dimension – 50 46.1 20.7 inches
Item weight – 70.5 pounds
The material used – rubber
Motor Power – 2.5 HP
Maximum speed – 10 miles per hour
Levels of incline – 3
Belt – 15.75 " * 43.4 "
Pros –
Easy to store
Built-in grip sensors
Multi-layer running belt
Anti-shock system
Cons –
Very long tube cables
Some parts do not fit correctly
The 15 preset programs of this electric treadmill for home make your workout super flexible and motivating. Like most treadmills, this also gives you the option of different running speeds. The easy one-button operation is one of the key features of the running machine.
Read the digital monitor and count the calories burned while running on the smooth belt. The motor is not very loud and gives you a quiet experience. The anti-shock system protects the knees from damage and makes this fitness equipment one of the best cheap treadmills.
It is an excellent option for someone with poor knees. It is also lightweight in case you want to avoid something too heavy. Don't waste time, and grab this treadmill for effective workouts.
Another portable treadmill for home with easy transport wheels. There are 12 preset exercise programs to guide you for an effective workout session perfectly. This is a fully-assembled machine; all you need to do is unfold it and begin your workouts.
You must tighten or loosen a few screws to fold/unfold the electric treadmill. There is no remote control, but you can access the handlebar controls with just one button. You can adjust the button's speed and play around with the workout intensity.
Specifications –
Item Dimension – 21.34 20.3 42 inches
Item weight – 60 pounds
The material used – metal
Maximum speed – 12 miles per hour
Running area – 15.75″ * 43.3″
Max user weight – 240 lbs
Pros –
Runs smoothly
Easy to control
Built-in dual speakers
Quiet yet powerful motor
Cons –
Too small for tall people
Achieve your fitness goals with this cheap treadmill full of quality features. The anti-slip belt provides a secure platform for exercise, and the rolling wheels make it an easily portable treadmill. There is also a safety stop useful for emergencies.
The 5″ LED display records speed, distance, heart rate, and calories burned for better results. The integrated cup holders and tablet holders are some of the other perks. Listen to your favorite music using the built-in speakers and enjoy while losing a few pounds.
This machine is ranked higher in the cheap electric treadmills list for its auxiliary port and premium vacuum motor. Accessible and simple to transport, this treadmill is one of the best on the market.
This treadmill by S Chengjin is a folding electric treadmill machine. A perfect deal for your home workout with preset programs and other features.
You have got everything from a powerful motor to multiple levels of manual incline at such a low price. In addition, the brand offers some of the best customer services and believes in commitment post-sale.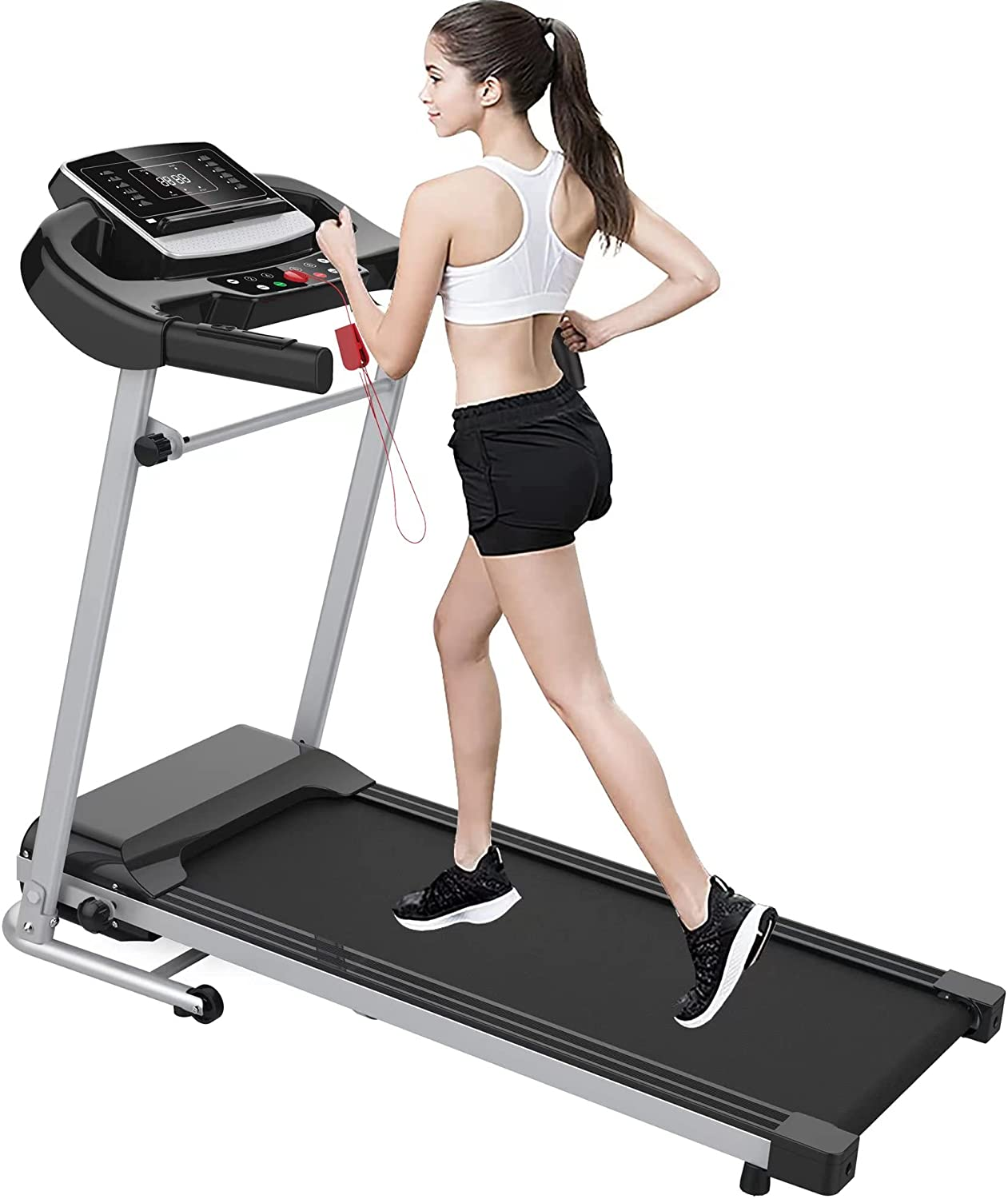 Specifications –
Item Dimension – 52 24 40 inches
The material used – stainless steel
Item weight – 76 pounds
Motor Power – 2.25 HP
Running surface – 40.6″ * 15.7″
Speed control – 0.6 MPH to 7.5 MPH
Weight Capacity – 250 pounds
Pros –
Easy to set up
Easy folding treadmill
Sturdy built
One-touch operation
Quiet motor
Cons –
It does not have a wide range of inclines
The presence of a 5″ LCD display makes it easy for you to track your fitness progress. You can access 12 preset workout programs with just one touch and have a wonderful experience at home.
The treadmill motor is powerful yet quiet and gives a stable running speed. In addition, the electric controller set adds to this electric treadmill's functionalities, making it one of the top affordable treadmills.
There are three levels of manual incline positions for a fantastic running experience. The foldable design helps you to store the machine without much trouble.
This equipment by S Chengjin is a folding electric treadmill with 12 built-in workout programs. The rubber running belt provides a comfortable stride. This folding treadmill is made of heavy-duty steel and is a sturdy assemble.
The flexibility to adjust your workout's incline, speed, and intensity is a handy feature. This machine will require an electric outlet to come into action.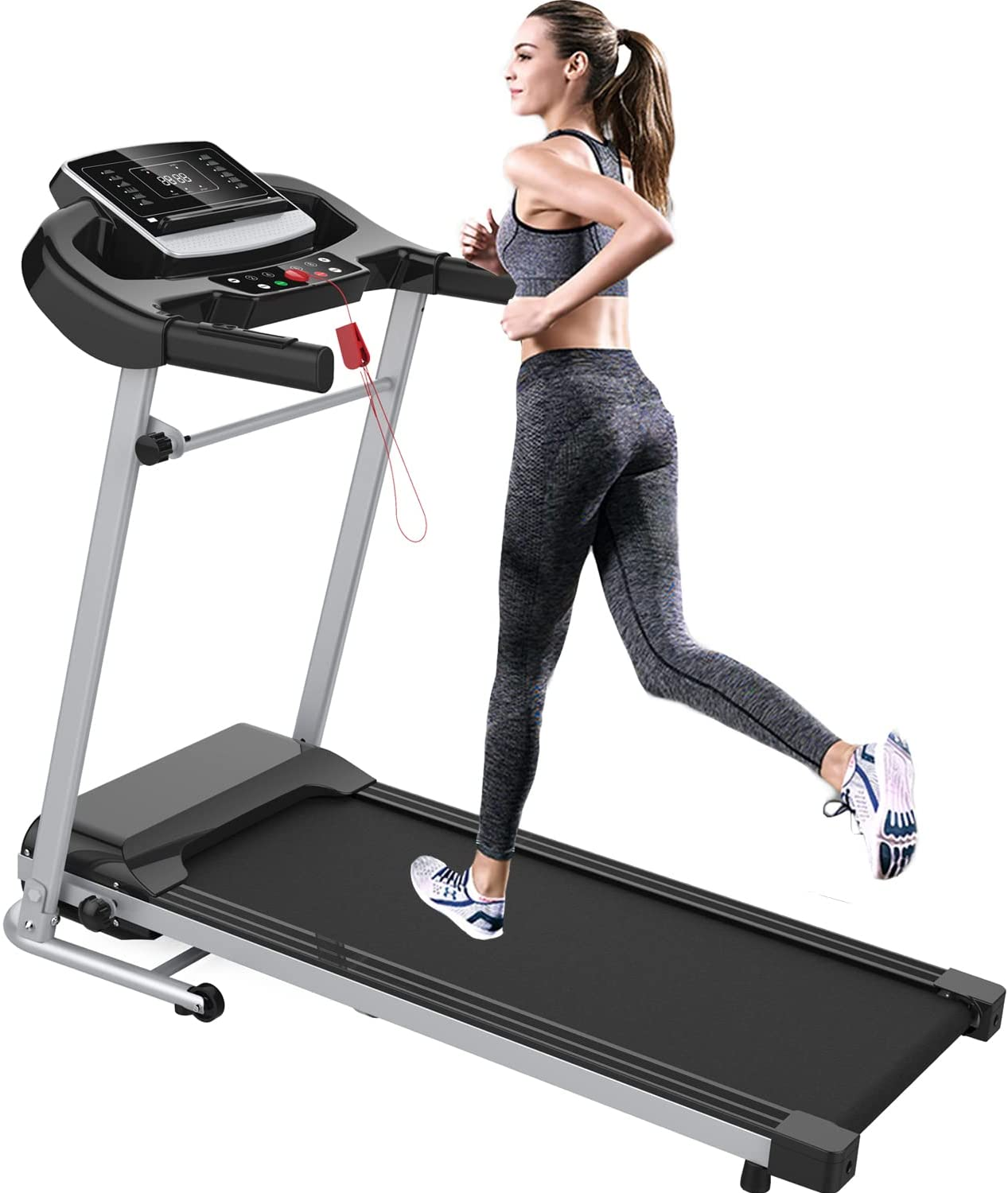 Specifications –
Item Dimension – 53.15″ 27.36″ 8.86″
The material used – Alloy steel
Running Belt – 15.75″ * 43.3″
Max user weight – 240 lbs
Motor – 1.5 HP
Speed – 0.8 – 12 KMPH
Pros –
Small and compact
Preset Training Programs
Audio auxiliary port
Direct speed selection button
Cons –
No instructions on assembly
You can easily access the handlebars and adjust the speed with a quick touch of a button. In addition, the presence of a 5″ display screen helps you track your workout and bring in more improvement. You can also keep a check on your heart rate using the monitor.
You can fold up this electric treadmill in no time and clear the floor space. The rolling wheels on the underside speed up the process and save the floor. The motor is of premium quality and helps in reducing the noise output.
The search for affordable treadmills is over with this great treadmill with excellent weight limit capacities. So, get this home and begin your workout sessions.
This is an under-desk walking treadmill by the Fitness club with remote control facility. This folding electric treadmill is a great option if you want to work out while working on a laptop. It is an efficient technique to lose weight without compromising your work.
This folding treadmill comes with two different modes of running and walking. Store it under your bed, sofa, or other to save some space in the living room. It has a compact design and can fit anywhere.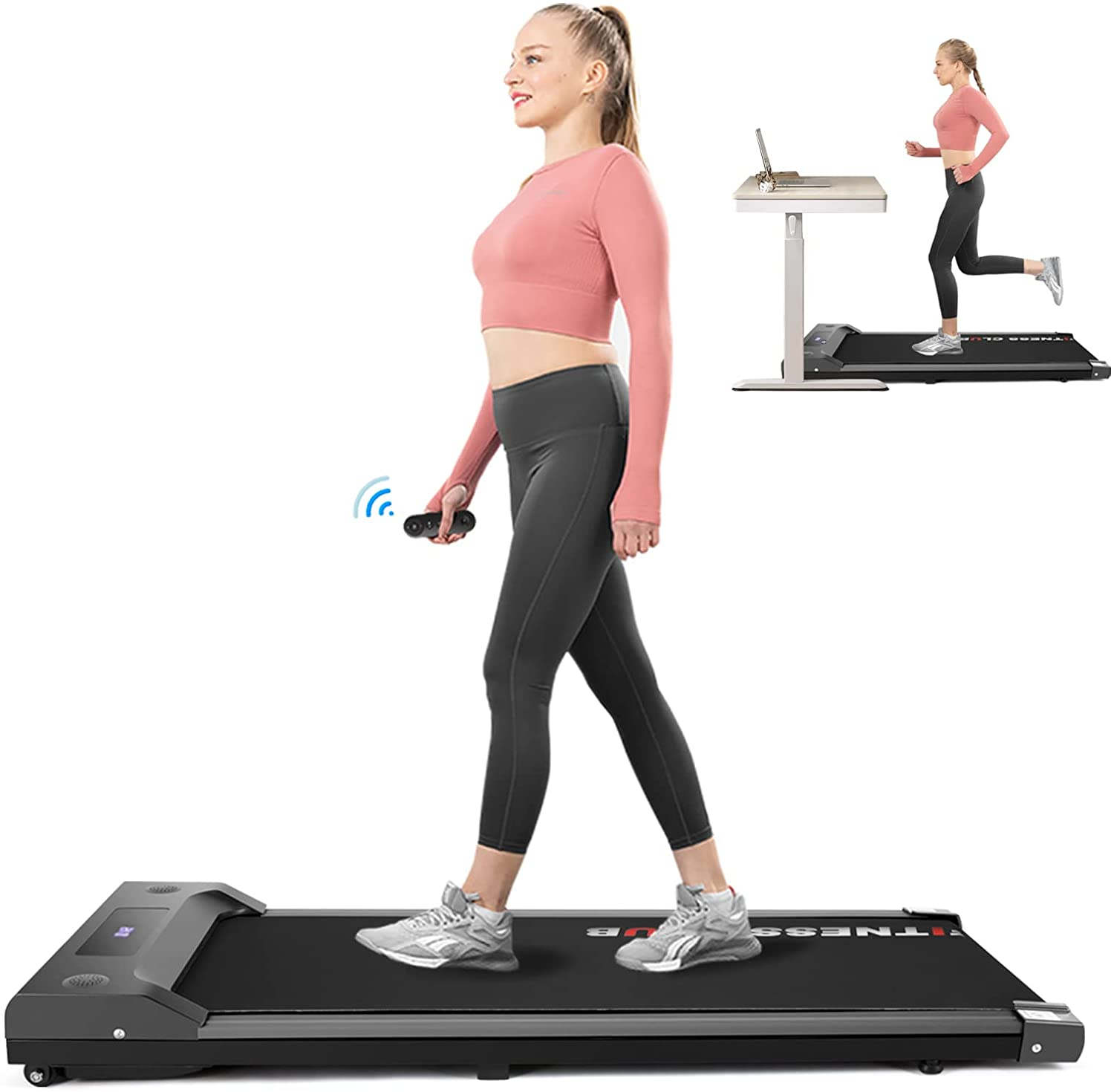 Specifications –
Item weight – 23.93 kg
The material used – Alloy steel
Speed range – 1 to 10 mph
Running area – 40.75″ * 15.16″
Motor power – 3 HP
Maximum weight – 220 pounds
Pros –
Remote control
Ipad/phone holder
LED display
Transport wheels
Cons –
This under-desk walking treadmill is durable steel and has an anti-skid spacious running belt. You can put down the armrest and slide the treadmill under a desk to exercise while working.
The machine comes pre-assembled and is ready to use as soon as unpacked. So if you have been hunting for cheap electric treadmills, this is it. The 2-in-1 mode, portability, sturdy design, LED display, and built-in wheels make it a popular cheap treadmills option.
Things to look out for in Cheap Treadmill under 200 dollars
Basic Features
For a basic workout, there is no requirement for hi-tech features. If training is your goal, you need a treadmill with basic features to execute your exercises.
You can shed weight even with the absence of various advanced functionalities. An excellent running belt with a standard weight limit is some of the basic features that must be cross-checked.
Intent
Before going to buy a treadmill, understand the purpose of your purchase. Do you need a treadmill for a light training session, or do you happen to be a fitness enthusiast and want to perform some intense exercises?
You can also consider another option for buying a cheap treadmill. A second-hand treadmill that is out of use for someone else can be extremely handy. Plus, Amazon is always there for the best cheap deals.
You might not get all of it for a cheap treadmill but a machine to fulfill your primary workout goals is available.
FAQs
Which is the most affordable treadmill?
Sunny health SF-T140M7 is one of the most affordable pieces of gym equipment. It is one of the most popular options and comprises all the necessary features for an effective training session.
This machine is easy to assemble and requires very low maintenance.
Which treadmill is more reliable?
Sunny health T140M7 is reliable and highly durable for an electric treadmill under 200. It is alloy steel and lasts for months, even with regular use.
This treadmill deserves appreciation for its reliability even with such a low price.
Which is the best manual treadmill under 200?
Progear 190 is the best treadmill when it comes to the manual category. The oversized rollers offer a smooth ride, whereas the long handles add stability and security for a safer training session.
Which folding electric treadmill is good for under 200?
SF-T140M7 by Sunny Health is one of the best folding electric treadmills under $200. Apart from this treadmill, all the other machines listed above are great deals for treadmills under 200.
Can I get a foldable manual walking treadmill under 200?
Progear 190 and Fitness Reality TR1000 are examples of manual walking treadmills under $200. As a result, you no longer have to spend excessive money on heavy gym equipment.
Author Profile
Samta is a talented writer and reviewer with a passion for fitness and health. She specializes in providing detailed roundup reviews of treadmills, and her work has been featured on numerous health and wellness websites.

With her extensive knowledge of fitness equipment, Samta is able to provide in-depth and insightful analysis of each treadmill model she reviews. Her writing style is engaging and informative, and she is committed to providing readers with accurate and unbiased information to help them make informed decisions when it comes to purchasing a treadmill.

Samta's dedication to her craft is reflected in the quality and depth of her reviews. She takes the time to thoroughly test each treadmill, paying close attention to the performance, features, and overall value for money.

Her goal is to help readers find the best treadmill to suit their needs, whether for personal or commercial use.