What Are Recumbent Exercise Bikes?
If exercise is something that you love doing, then a recumbent exercise bike is a good workout. The Marcy recumbent exercise bike me 709, is an excellent option for an exercise bike. It claims to offer an easy, fun way to lose weight, burn calories, and improve cardiovascular endurance. The bike is comfortable and has the convenience of being used at home as the compact design and the transport wheels make it so it does not take up too much space and is easily moveable, making it perfect for a home or office space.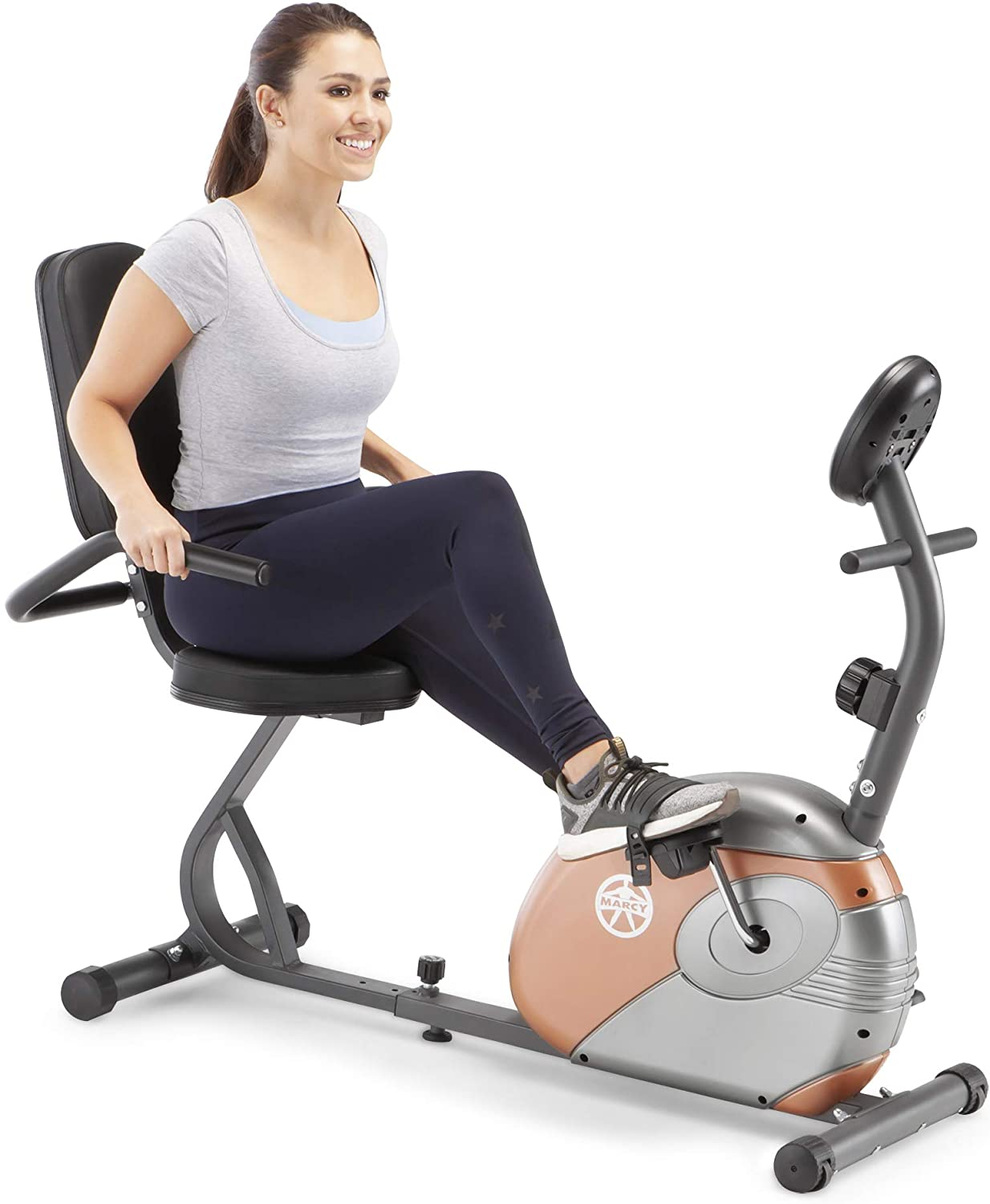 Here is our comprehensive review of the bike and its features.
Assembly
Once you purchase the Marcy bike and the bike arrives, it comes partly completed but equipped with all the tools needed. The bike assembly is very straightforward, and you are provided with all the tools you need to complete it. The step-through design makes the full assembly of the bike may take a few tries, but it is easily assembled within an hour or so.
One person is easily capable of putting it together. Still, it would be recommended to have a second person hold on to the bike when adding specific pieces to the body, like the stabilizer bars.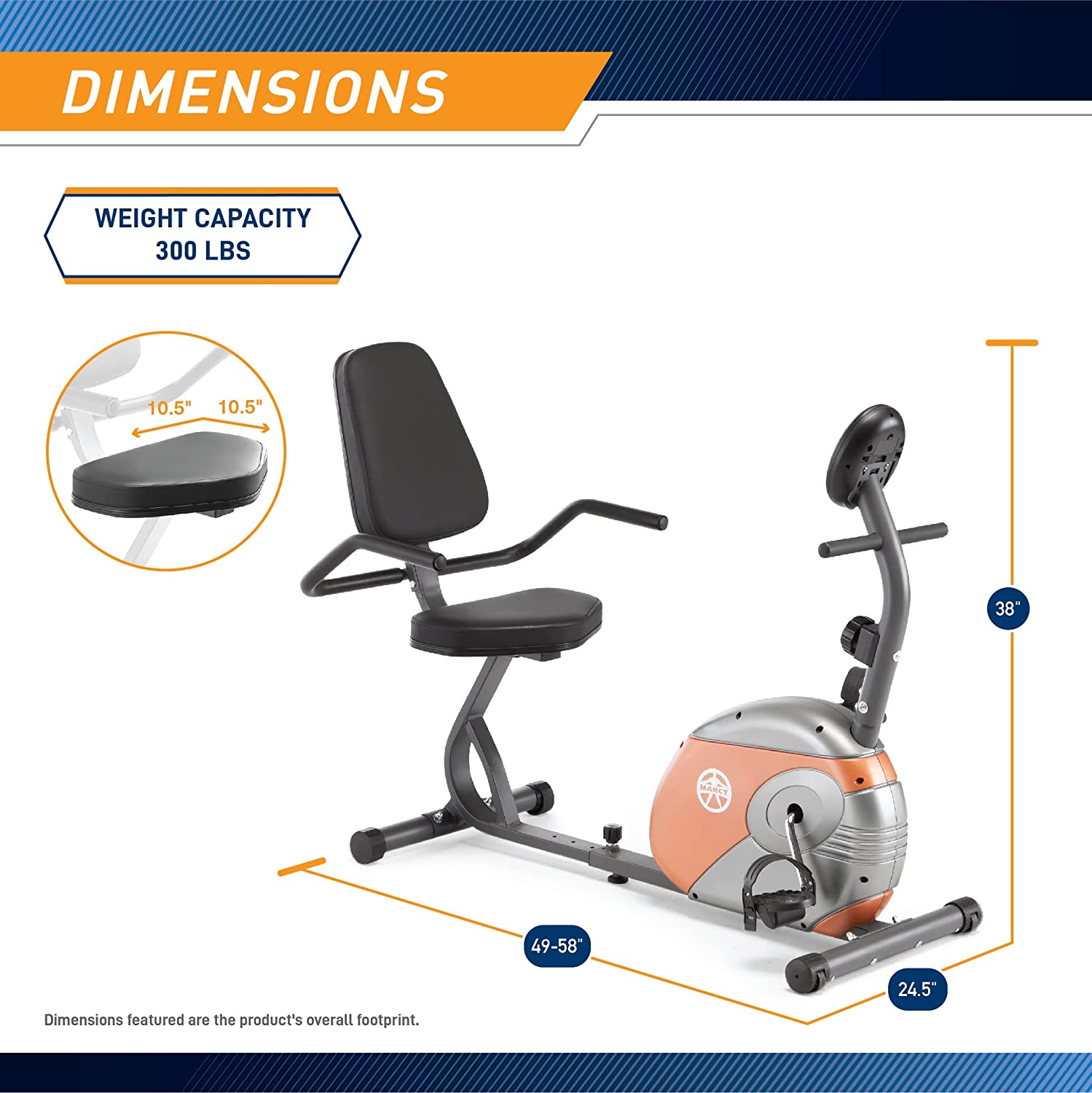 When setting up the front after connecting the computer wire and tension cable, it would be a good idea to study the manual while doing this as if it's not done the right way, it can lead to increased resistance levels, and you may not be able to change it.
Not a lot of people experience this issue, but when they do, it can always be quickly resolved by retaking a look at the manual.
The assembled bike involves a lot of removable pieces that need to be attached, a few of them being the stabilizer bars, the sliding frame, seat supporter, handlebars and pedals.
Comfort
Most reviews show that many people find the padded seat comfortable because the large bike seat has a backrest but not as much padding. Since the seat is fixed and not adjustable, the backrest has been designed at a slight angle, which customers find gives them the required extra support they need for their back, promoting a good range of motion which in turn increases calories burned.
Though many customers may find this a comfortable seat like all other products, opinion is always different. Not everyone may find it the most comfortable for them. Same with this kind of a seat since some customers find adding a cushion on the seat's backrest helps make utilizing the bike more comfortable. Though this offers a quick solution, it will always be likelier to move around during the workout. It may be better to find a more permanent solution.
Remember that trying to replace the seat may be difficult as it is screwed in place with bots, so it would be difficult to find a seat to fit the exact dimensions of the seat.
Many reviews also mention that the seat is similar to a chair, making mounting and dismounting the exercise bike easy. There is no need to lift your leg very high to get on and off the bike.
Adjustability
With the Marcy recumbent exercise bike, you cannot adjust the seat the same way you would with other bikes. The back half of the bike can be moved either further away or closer to the pedals.
You can find a way to make adjustments to the bike on the sliding bar that goes along the floor and joins the front of the bike. Moving the adjustable seat can be done depending on the setting you want. While adjusting, the seat can sometimes cause problems because it is on the bike.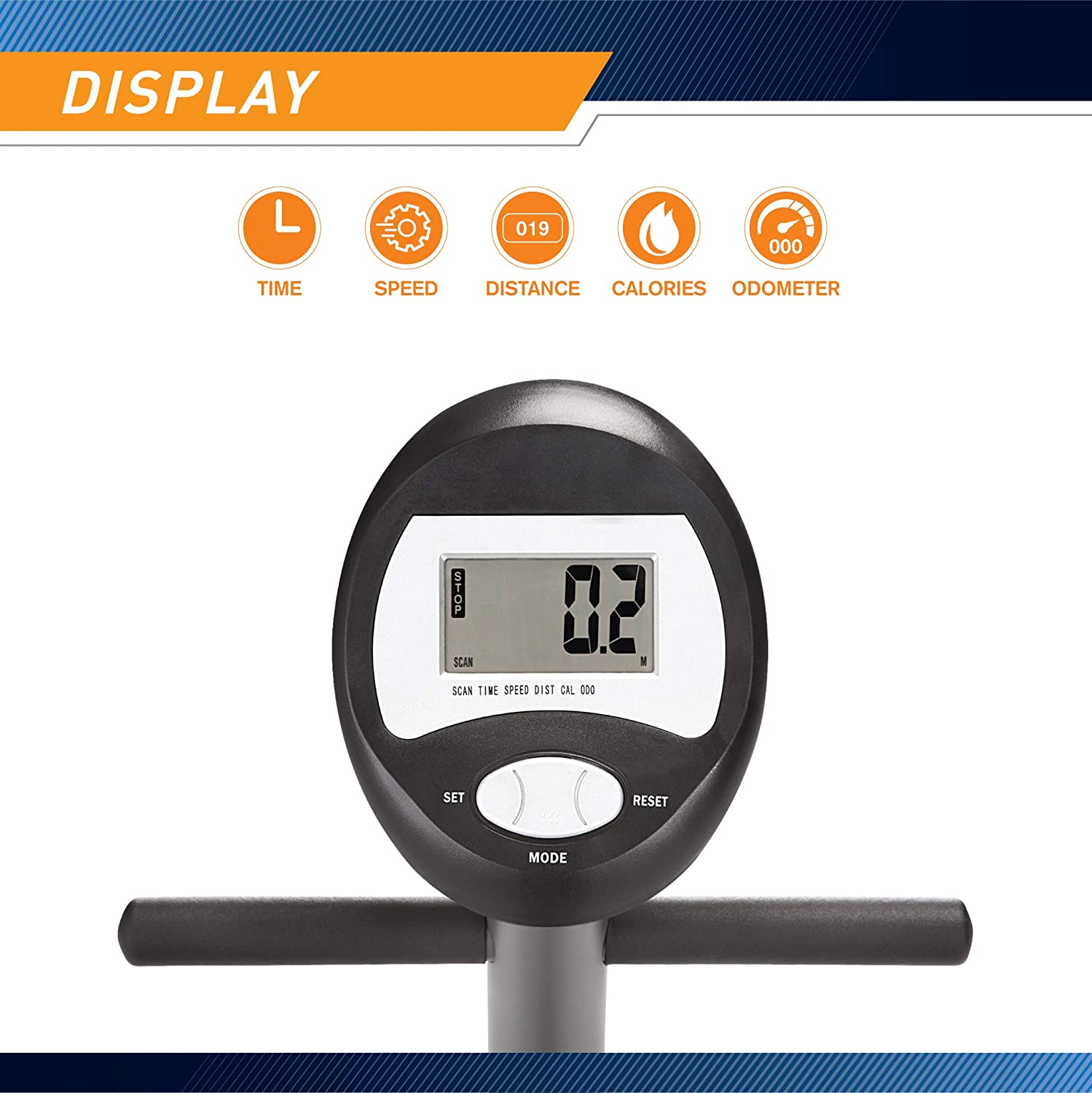 Adjusting the seat requires you to remove the pop-pin knob and pull and slide the rear of the back into your desired position. After this, put back the pin into the hole and tighten the body back into its place. Though it can be quickly done, it may require you to add more strength when moving it than you would need for other similar exercise bikes.
The bike's dimensions look perfect to fit someone between the height of 5ft to 6ft. Most customer reviews mention that people below 5ft 2 may find it uncomfortable as they must stretch and lean forward to reach the pedals. Of course, this is not in all cases since it depends on the person's leg length.
Some customers who struggle to reach the pedals put a cushion behind them to push them forward on the seat to make reaching the pedals easier.
Pedals
While riding an exercise bike, it feels like you may not have enough control over the pedals. That is certainly not the case regarding the Marcy recumbent exercise bike. The pedals it provides are counterbalanced pedals and are weighted perfectly, giving you the extra support your feet need during a workout.
Not just the counterbalanced pedals but the bike also comes fitted with an adjustable seat and adjustable foot straps or safety straps since oftentimes other exercise bikes have a plastic piece that is very difficult to move, causing difficulty for people with larger feet since there is not enough space for them to be tied. So, these adjustable straps ensure you get the perfect fit every time you ride. This flexibility helps prevent injury.
You can experience a smooth experience during peddling because of the counterbalanced pedals since they have a textured grip designed to keep your feet sturdy in place, also offering the ability for length adjustment. Though keep in mind to wear athletic shoes while using the bike for working out.
With this recumbent exercise bike, you can pedal backwards, though it is not advised as there would be no resistance added to your workout.
LCD screen
The Marcy exercise bike me 709 also, with its compact design, comes fitted with an LCD screen so that during your workout, while you are peddling, you can keep track of your stats.
The ability to track your speed, distance, riding time and calories burned is readily available for you to view on the large screen. Being able to track your progress while you pedal visually helps in motivating you to lose weight.
Since your focus is often on riding the stationary bike, LCD display shows statistics displayed in large units, making it easier to see and keeping you from being distracted during the ride so you can effectively work out and reach your fitness goals.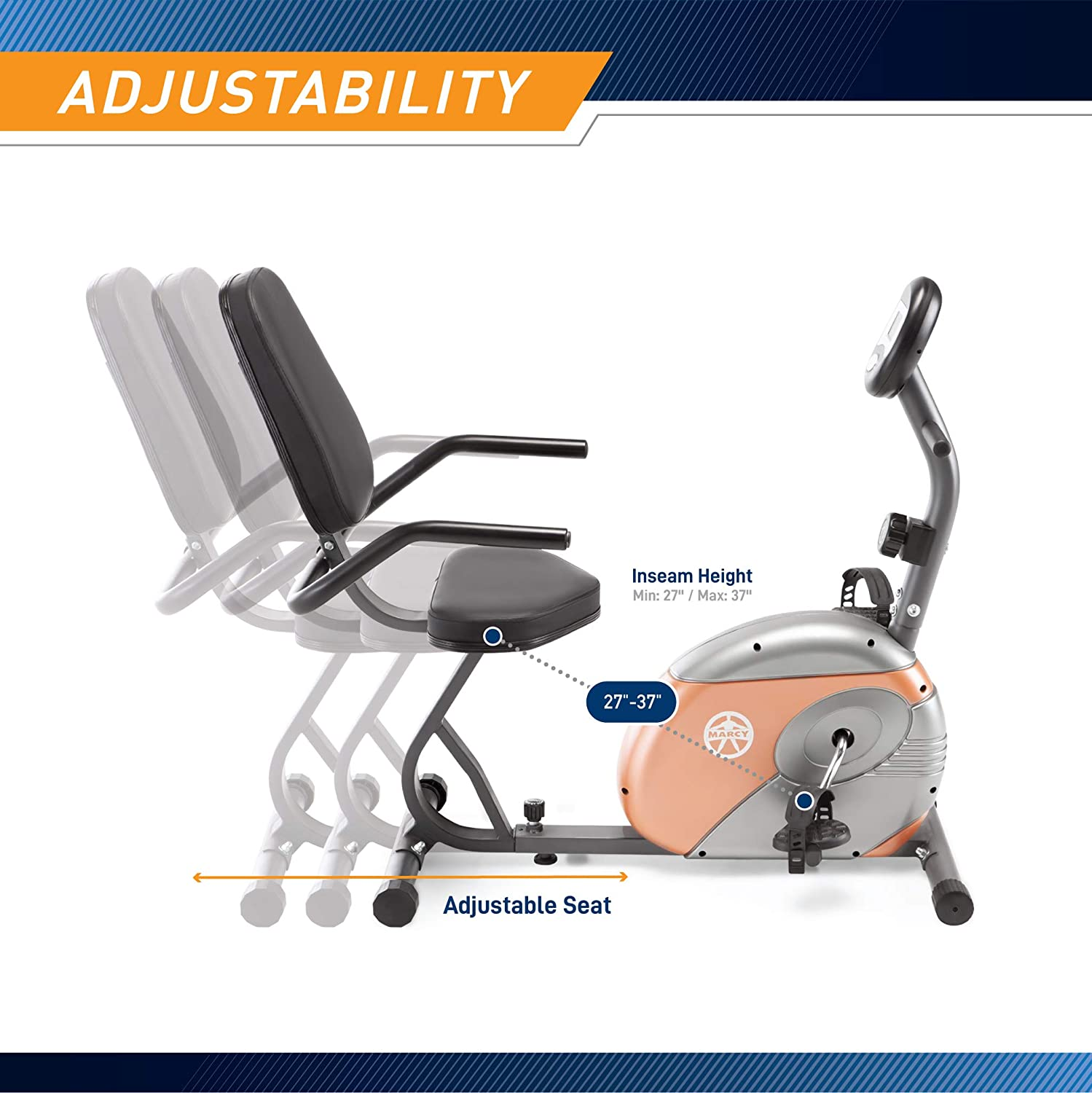 Sturdiness
When compared to other a more expensive bike, this bike is very well constructed and is designed in such a way that it keeps you firm while you exercise.
The bike keeps you steady while working out so that you can work out and watch tv comfortably since it is firm and does not wobble much during the exercise.
Though you are required to have, the bike set up on a flat surface since it does not have anything to support it otherwise. It is recommended for you to possibly place a rubber mat or yoga mat on the bottom of the bike to prevent further shaking.
Though the bike has some excellent service and features, a common concern that people have had is regarding the bearing. Some customers found that after a few weeks, they begin to hear a grinding noise from their exercise bike. This is an old problem, though and often, the company has sent a replacement bike when it has happened.
Another problem that customers have faced is that sometimes when too much pressure is applied to the handlebars, there have been cases of the bars breaking off. This doesn't happen every single time, but the company has again made a replacement in the cases that it has.
It is doubtful that these problems will occur now, yet since they have happened to a few customers in the past, it may be an excellent decision to consider. These reviews have been made by customers who have been utilizing this bike for extended periods.
Resistance levels
Many researchers have concluded that working out a total distance with magnetic or any resistance level can help promote improved fitness results. This goes for having a resistance knob or resistance settings on the bike that are designed to be mainly utilized in a home gym.
The Marcy recumbent bike has eight settings for the resistance knob that allow you to have high-speed short, intense paddling sessions to improve fitness levels in your own home.
The resistance settings can be changed using a knob so you can easily decide what kind of ride you want to do that day as an exercise.
The resistance settings are not just for people looking to practice interval training, but they can also be a good motivation for others to push themselves to have a great ride and get stronger. The trick is to ride on one set till it gets too easy and then switch and move on to the next setting. This will help you make the best of the time allocated for your workout.
If you also feel off one day, you can always move it back for an easier workout.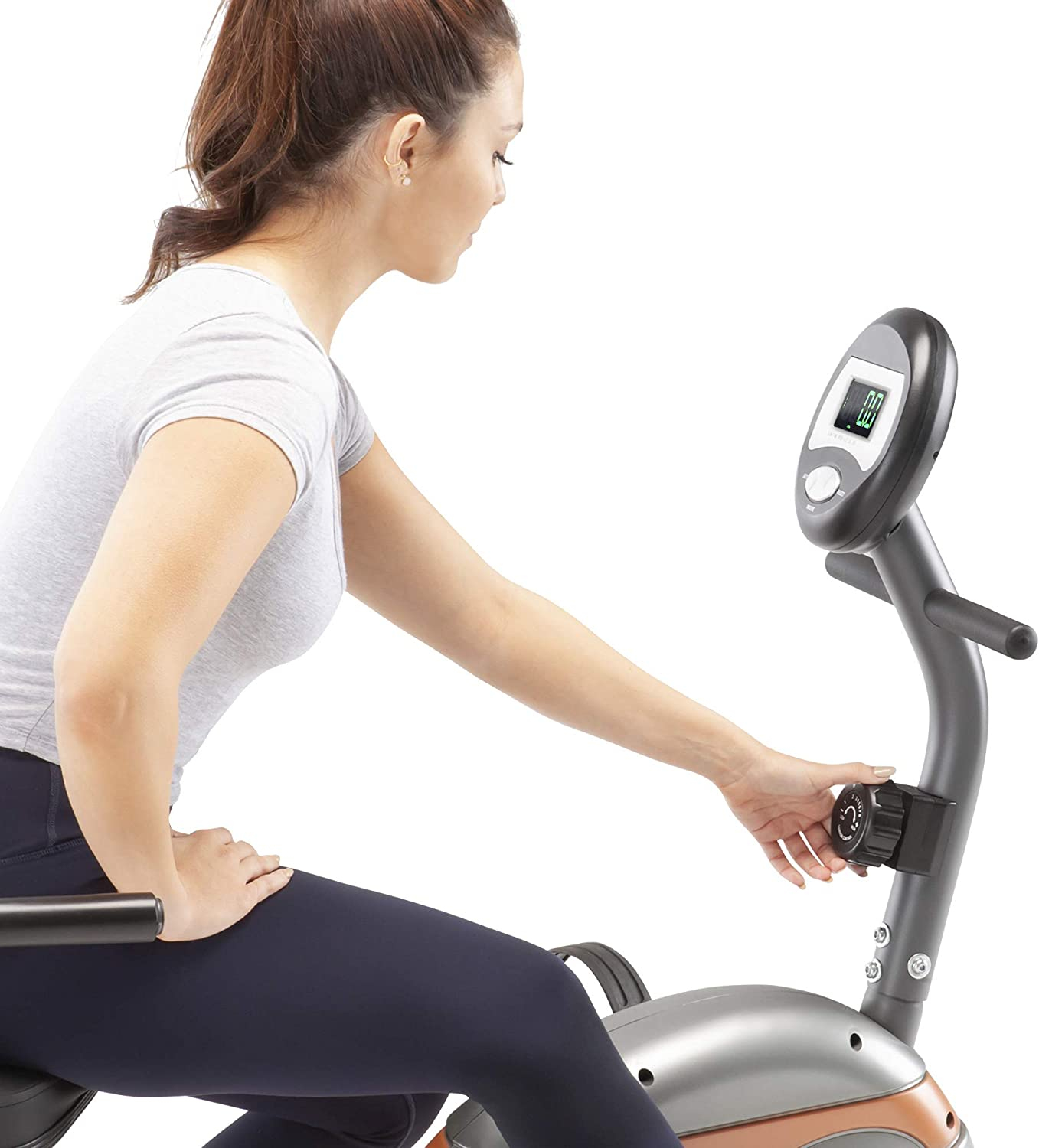 Storage
Since it is a recumbent exercise bike, it does not fold down or close. The stationary bike requires a set designated area for its storage.
It has transport wheels on the stabilizer bars that make moving the bike around seamless, even saying it is easier to move the bike on a flat ground surface than on the carpet.
Placing or moving the bike on a carpeted area can be cumbersome as it causes too much padding on the floor, which could lead to the wheels getting stuck. The other drawback of having it on wooden flooring may be that the weight capacity can cause the floor to get scratched up.
Dimensions
The Marcy me 709 recumbent exercise bike is a great option when it comes to recumbent exercise bike. Before purchasing, it is essential to know what the full assembled dimensions and weight of the bike are:
Height 37.5 ins
Width 25 ins
Length 55.5 ins
Max User Weight 300 lbs
Bike Weight 57 lbs
Pros
The Marcy Me 709 recumbent exercise bike is great and consists of pros that are excellent for a reasonably priced bike. These pros being
Counterbalanced pedals
LDC Screen
Different resistance levels
Step-through design
Padded seating
Transport wheels for easy storage
Powder-coated finish
Sturdy and durable
Affordable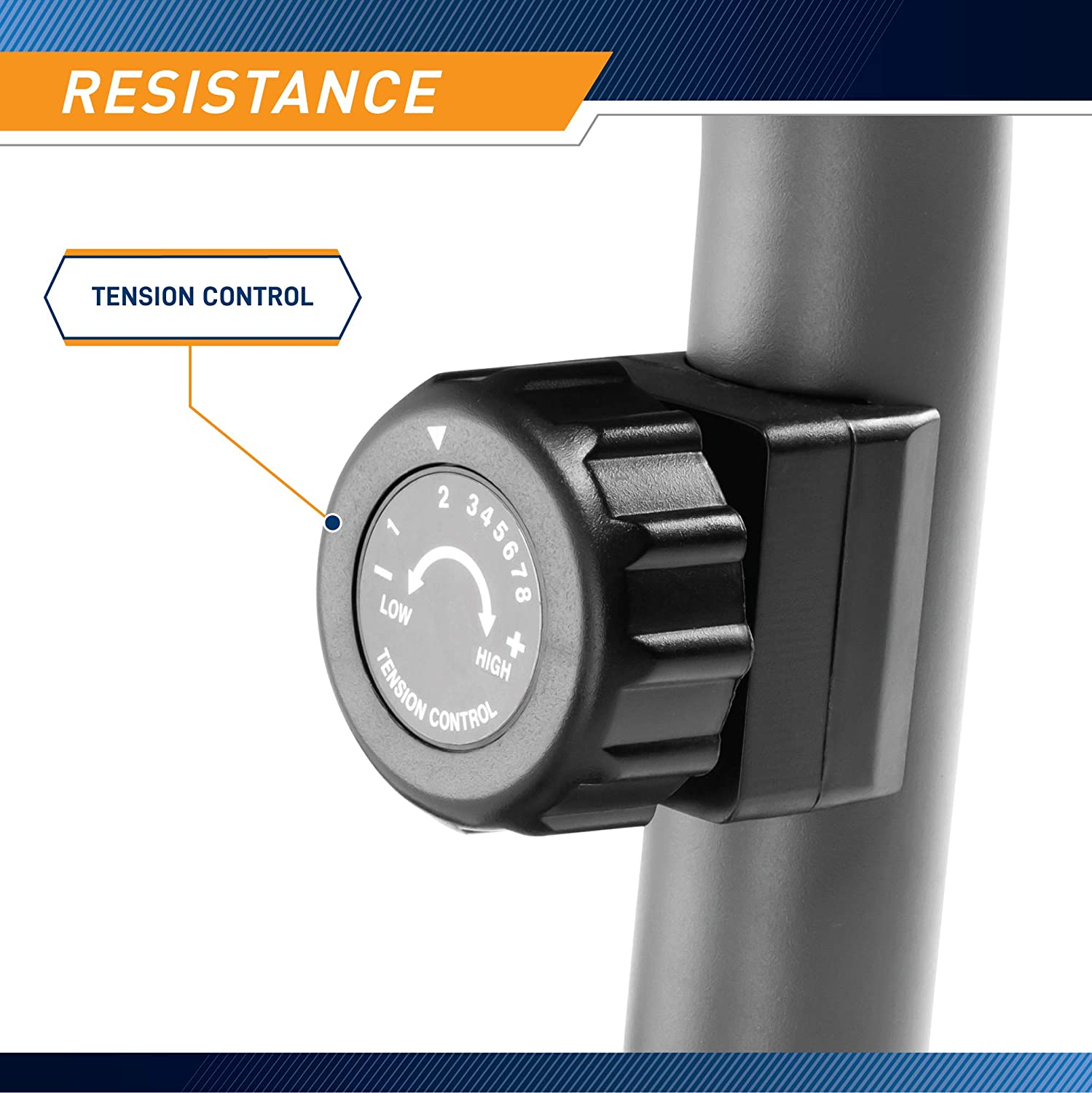 Cons
Though this recumbent exercise bike is good, it does also have cons. Them being :
No heart rate monitor.
Does not contain pre-programmed workouts.
Difficult to adjust to different heights.
No balance on uneven floors.
Occasional breakage of a few parts. However, Mary often resolves the issue.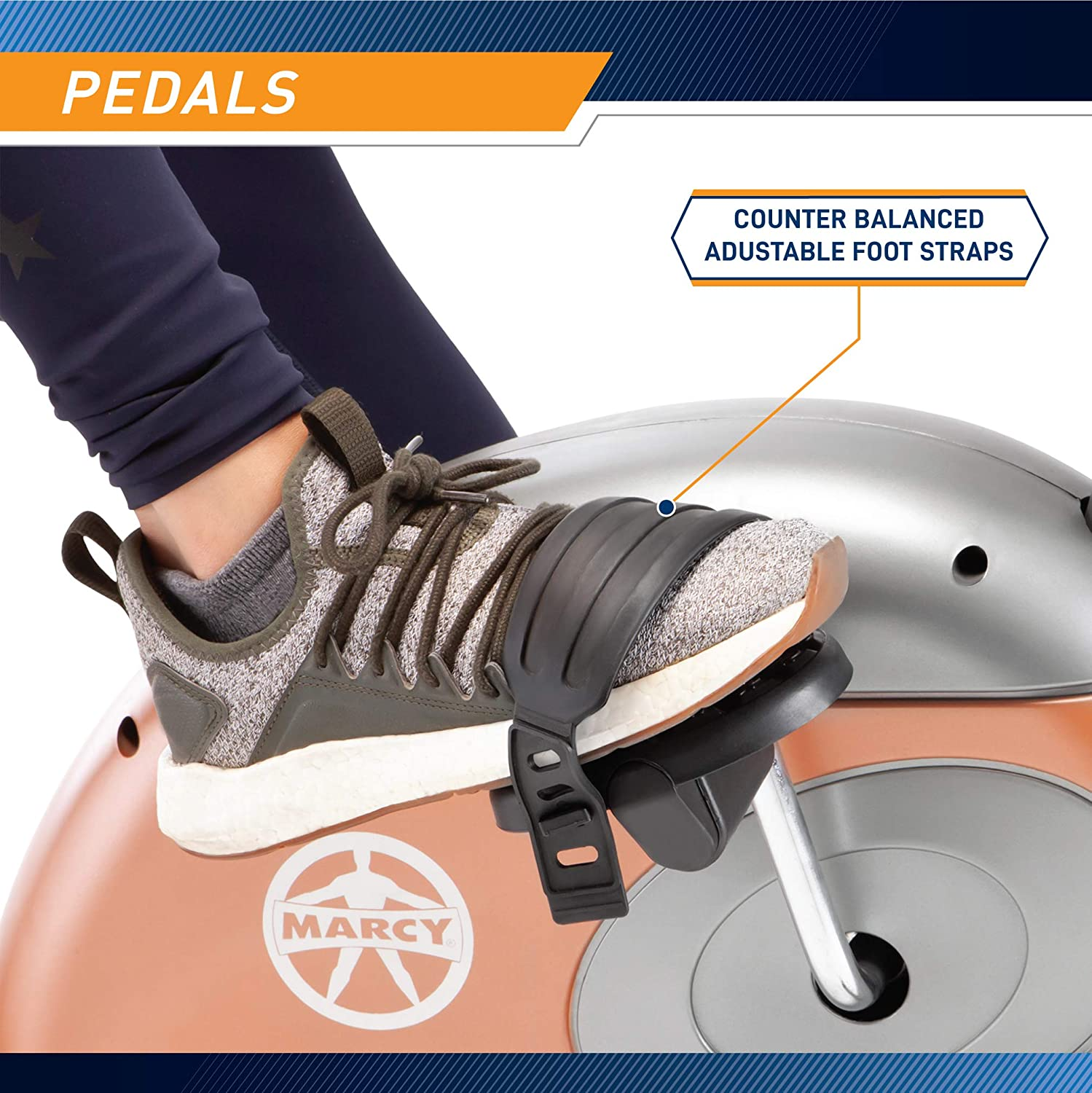 FAQ
Is Marcy a good exercise bike?
Marcy has a history of being some of the best stationary bike if you want something budget-friendly and reasonably priced. They have various kinds of models available for other people's requirements.
Are recumbent exercise bikes any good?
A Recumbent bike is great for improving cardiovascular health. It provides an excellent option for working out for people who are often busy but still want to make exercise a part of their routine. It is also great for people who are just starting their fitness journey and want to start easy and safe.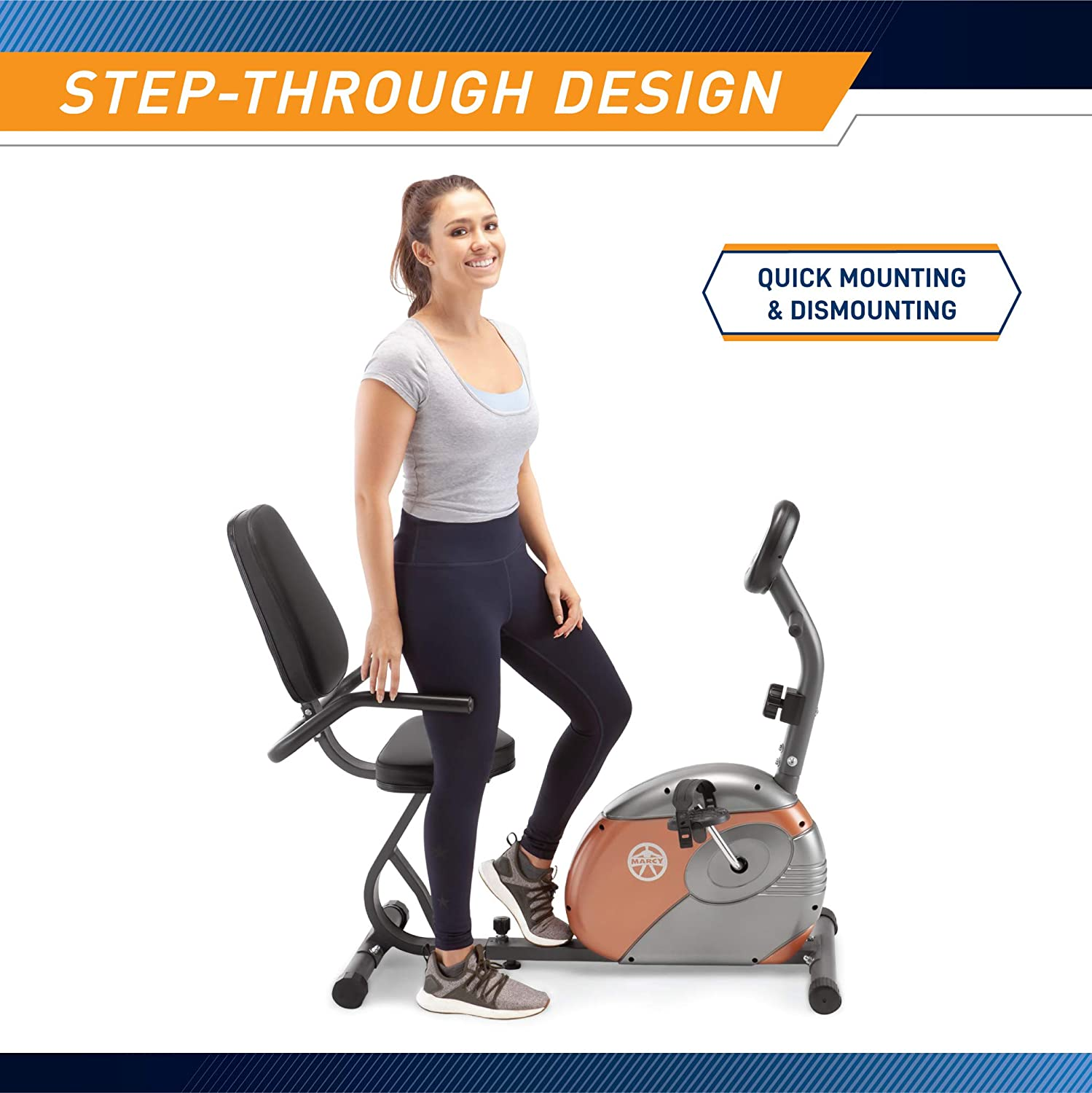 Is a recumbent bike better than an upright?
Riding an upright bike is a similar position to a regular bike. This could cause joint or back pain while riding the bike. Both an upright bike and a recumbent exercise bike are low-impact cardio workouts. A Recumbent bike is a better option, though, since being in a reclined position makes them more comfortable and gentler on the joints and back.
Are recumbent bikes good for weight loss?
A Recumbent bike is great for improving cardiovascular health and one of the most comfortable ways to conduct a cardio workout. A calorie is usually burned when a person's heart rate goes up. So, a low-impact cardio workout where your heart rate is going up can lead to weight loss.
Is riding a recumbent bike good for You?
A Recumbent exercise bike is a low-impact cardio workout. This bike is a better option since being in a reclined position makes them more comfortable and gentler on the joints and back.
How do recumbent bikes work?
A Recumbent bike is a better option since being in a reclined position makes them more comfortable and gentler on the joints and the back. This is because on a bike like this, you have a more prominent seat, and you can be positioned closer to the ground giving better support to the spine and back.
Is a recumbent bike a step back in exercise?
Exercise is essential for the body. It helps to bring movement into a mundane routine. When deciding to exercise, you want to have a continuous movement for an extended period to reap any benefits from it. A Recumbent bike is a low-impact, and a good option since being in a reclined position makes it more comfortable and gentler on the joints and back.
How long should you ride a recumbent exercise bike?
When it comes to any exercise warming up before your workout is always suggested since it reduces the risk of injury. When it comes to a recumbent bike, warm up for a few minutes and then keep a steady pedal for about 30 – 40 minutes, increasing the resistance as your fitness level increases.
What should I look for on an exercise bike?
When picking what kind of exercise bike to purchase, remember that tracking your journey is often very helpful, so look for equipment that can track your heart rate, speed time, resistance levels and calorie burning.
Are cheap exercise bikes worth it?
When picking what exercise bike to purchase, remember that tracking your journey is often very helpful. Few cheap exercise bikes come with an LCD screen or other fitness features.
Is a treadmill better than a stationary bike?
The most critical factor in working out is burning calories, so when you compare running on a treadmill or riding a stationary bike, many studies indicate that treadmills burn about 8.18–10.78 per minute, whereas cycling burns approximately 7.98–10.48 per minute. The decision depends on what is most comfortable for you!