Many people find the commercial gym very noisy and loud because of the sound coming from various machines. Covid forced people to stay indoors, and now it has become a habit as a matter of convenience. People enjoy working out at home as it saves a lot of time. But treadmills can be clanky at times and very disturbing in a home environment. You will not find it right to disturb your spouse or children while trying to do a workout. Treadmills are excellent for cardio workouts at home and benefit the body. Let's show you some of the quietest treadmill in the market
A peaceful and meditative state of mind and body can be achieved through treadmill running. You will be surprised to know that a home treadmill also comes with various workout programs, quick control, auto-adjust settings, and offers a productive workout session. In addition, not all treadmills are noisy; we have listed some of the quietest treadmill for your comfortable workout.
10 Best quietest treadmill on the market to check out
XTERRA Fitness TR150 Folding Treadmill : The Quietest Treadmill there is
Xterra Fitness TR150 is low impact noise machine with sound dampening treadmill features. The motor is not very loud and manages to keep the Treadmill quiet well. In addition, there are three levels of manual incline that help control the intensity of the workout.
Xtrasoft cushioned deck keeps the joints safe and ensures comfortable movement. Xterra Fitness accommodates people with a variety of sizes and stride lengths. In addition, the 12 preset programs bring a lot of variety and fun to your dull exercises.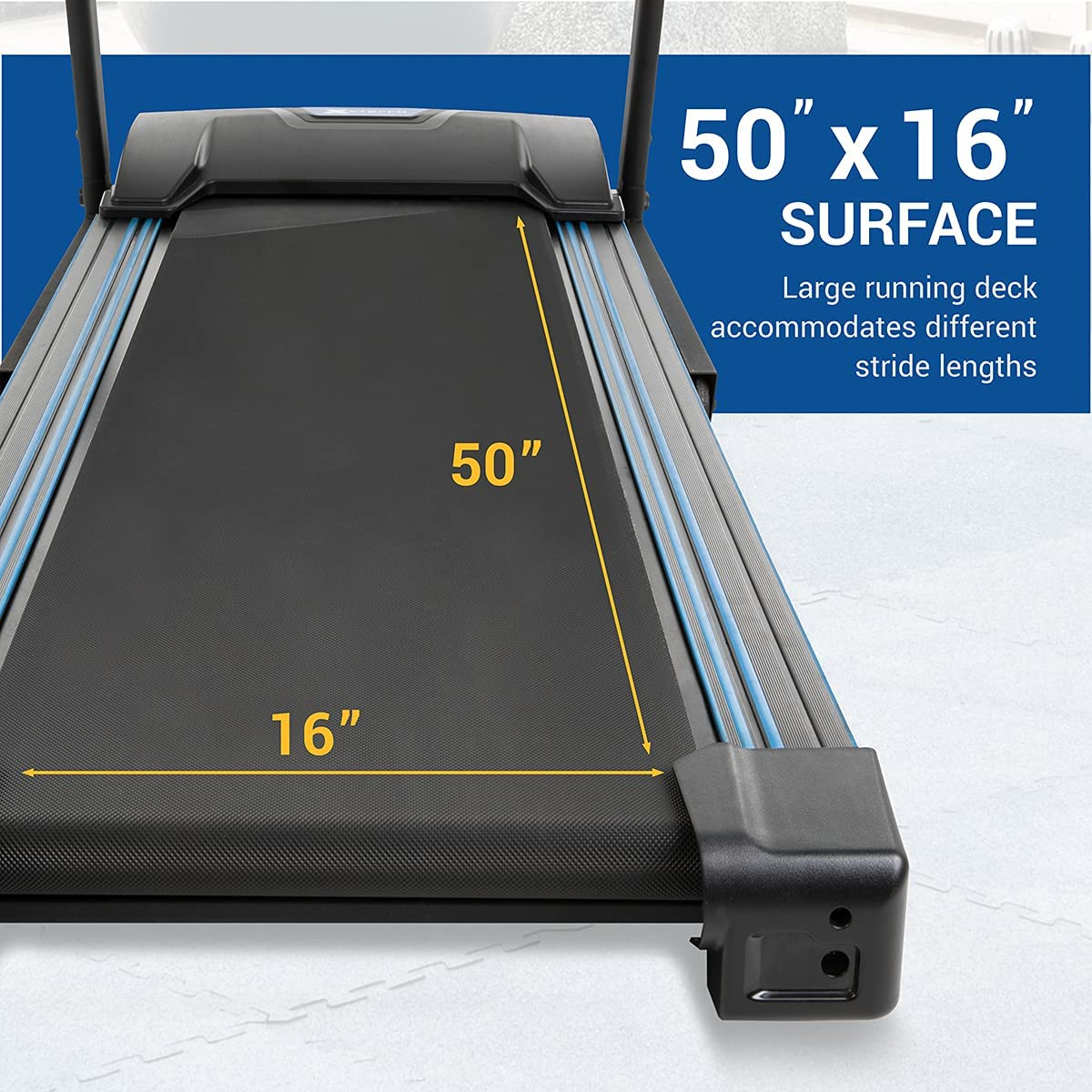 Specifications –
Item dimension – 63.4 * 28.75 * 51.4 inches
Item weight – 108 pounds
Speed rate – 0.5 – 10 MPH
Power – 2.25 horsepower motor
Tread belt – 16″ * 50″
Display – 5″ LCD
Weight limit – 250 lbs
Pros –
Easy to assemble
Clarity in instructions
Highly durable
Large display
Cushioned deck
Cons –
Little noisy when used for running
One of the best quiet treadmills has got users some of the most positive responses. It is compact like a manual treadmill and has an easy-to-pull knob for folding/unfolding purposes. In addition, there is an accessory holder to keep the phone, book, remote, etc., for convenience.
You will also find preset speed buttons on the console for easy updates. The motor does excellent work by keeping the treadmill quiet and giving a smooth experience. The foldable treadmill is apt for the home environment and has fantastic features for a productive workout. You can fold the treadmill and move it out of sight with ease.
The treadmill has a lifetime warranty for the frame, a one-year motor warranty, 90 days deck warranty, and 90 days of in-home labor warranty. Remove your old machine and get home one of the quietest treadmills.
Goplus 2 in 1 Folding Treadmill : QUIETEST TREADMILL
Goplus Folding Treadmill is an electric treadmill and can also be used as an under-desk treadmill. An excellent option for a walking treadmill with remote control and intelligent APP control. The innovative 2 in 1 folding technique allows the machine to walk and jog. The motor is powerful yet ultra-quiet. Let us check out the details for our first ultra-quiet treadmill.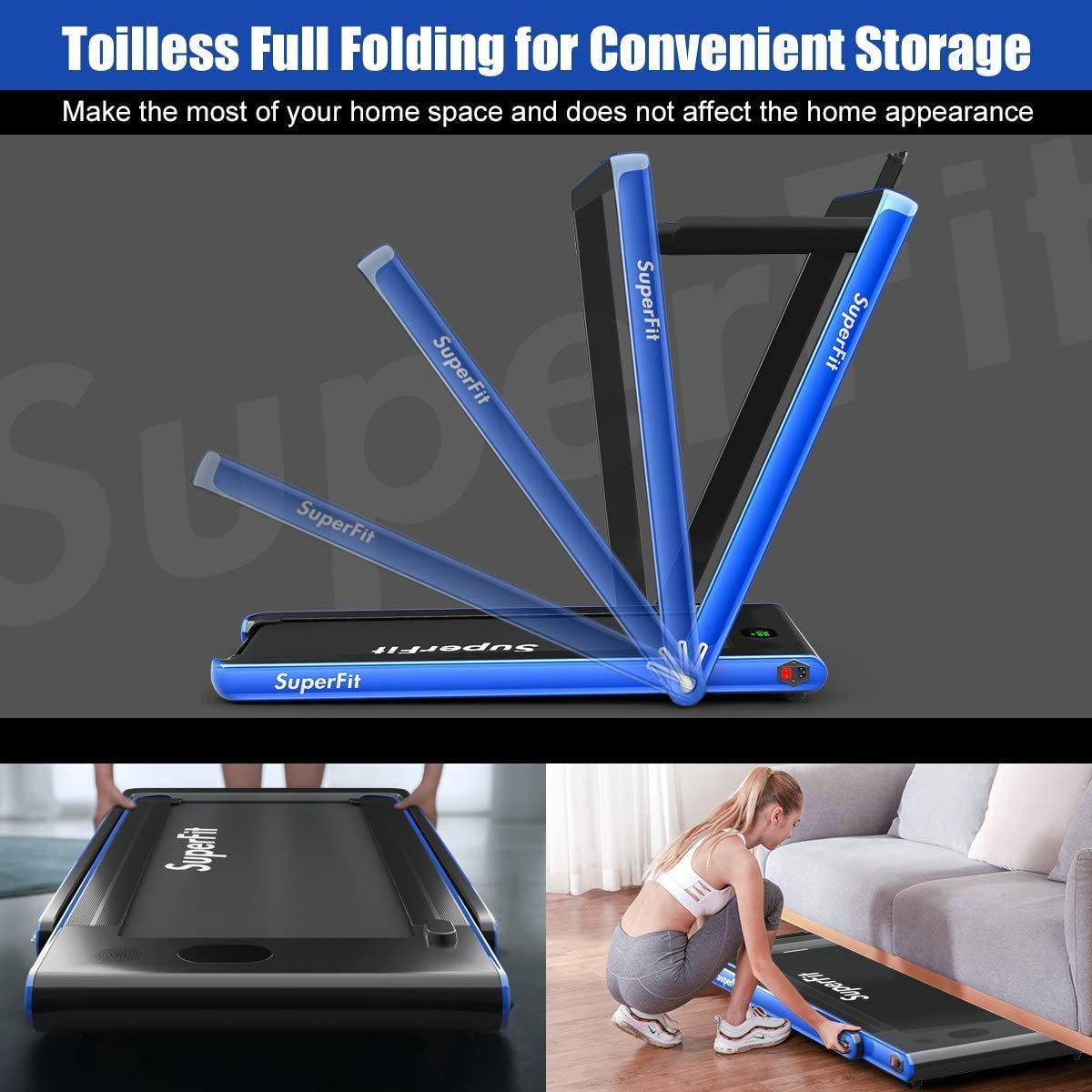 Specifications –
Item dimension – 49″ * 27″ * 42″
Item weight – 74.5 pounds
Max user weight – 265 lbs
Motor power 2.25 HP
Running surface – 40″ * 16″
Speed range – 1-12 MPH
The material used – Alloy Steel
Pros –
Easy to assemble
Quiet motor
Non-slip and very shock absorbent deck
LED display
Cons –
It did not come lubricated
A quiet treadmill with Bluetooth function and a high-quality speaker enhances and adds more fun to your workout experience. In addition, the treadmill belt is seven-layered and has adequate cushioning to protect knees, joints, muscles, etc.
Goplus folding treadmills come with a 2 inches LED screen to track the workout progress and count the calories burned. The folding treadmill has two modes – when the riser is folded, it can be used for jogging or walking, and when the handrail is raised, you can hit for a run. The machine belongs to the motorized treadmills category and is not a noisy treadmill.
The remote control helps speed adjustment and stops the machine at once if required. The APP control allows you to record exercise data and increase productivity. Goplus electric folding treadmill also has built-in transport wheels and can be used for moving it quickly in a small space. The size is compact and makes it an appropriate apartment treadmill.
Sunny Health & Fitness SF-T7515
Sunny Health & Fitness SF-T7515 is an electric folding treadmill. This quiet treadmill has auto-incline features, speakers, Bluetooth connectivity, LCD, and pulse monitor added to the treadmill's settings. You can get rid of the unnecessary noise with a quiet horsepower motor. Sunny Health is one of the most popular brands and has impressive and reliable products.
Specifications –
Item dimension – 64.5 * 28 * 50.5 inches
Item weight – 123.5 pounds
User weight capacity – 240 lb
Incline – 12 – auto electric settings
Speed – 1 – 8 MPH
Treadmill's belt size – 49.5 * 16.5 in
Power – 2.2 horsepower motor
Pros –
Inclines up to 12 %
Easy to assemble
Soft drop system
Handrail pulse sensors
Cons –
Cracked metal frame
Faulty display
The preset button helps in changing the treadmill's speed settings frequently. In addition, the wide treadmill belt allows the users to run with ease, and incline trainers lift higher than average treadmills.
The large battery-powered LCD screen displays time, heart rate, speed, calories burned for a better training routine. The sensors on the arm rails track the heart rate and help maintain the same. The foldable treadmill has 12 interval training programs to fulfill multiple workout goals.
Use Bluetooth to sync your audio media and listen to your favorite song shedding a few pounds. The folding treadmill also has portable wheels for shifting it without much chaos. As a result, it is not very heavy and highly lightweight than others.
The walking treadmill also has an integrated Body Mass Index Calculator for estimating body fat. Replace your existing Treadmill with Sunny Health & Fitness SF-T715. The equipment comes with a three-year manufacturer warranty.
Merax Electric Folding Treadmill
Merax Folding Treadmill is low-impact noise equipment and has more than two-thousand global ratings. One of the top machines in the quiet treadmills list and features speakers for home-usage.
The treadmill is good enough for a run or jog and has 12 preset programs for an effective workout. The machine is lightweight and has a multi-functional display to track performance. In addition, there is a deck to hold your phone or tablet and keep them handy even while on the machine.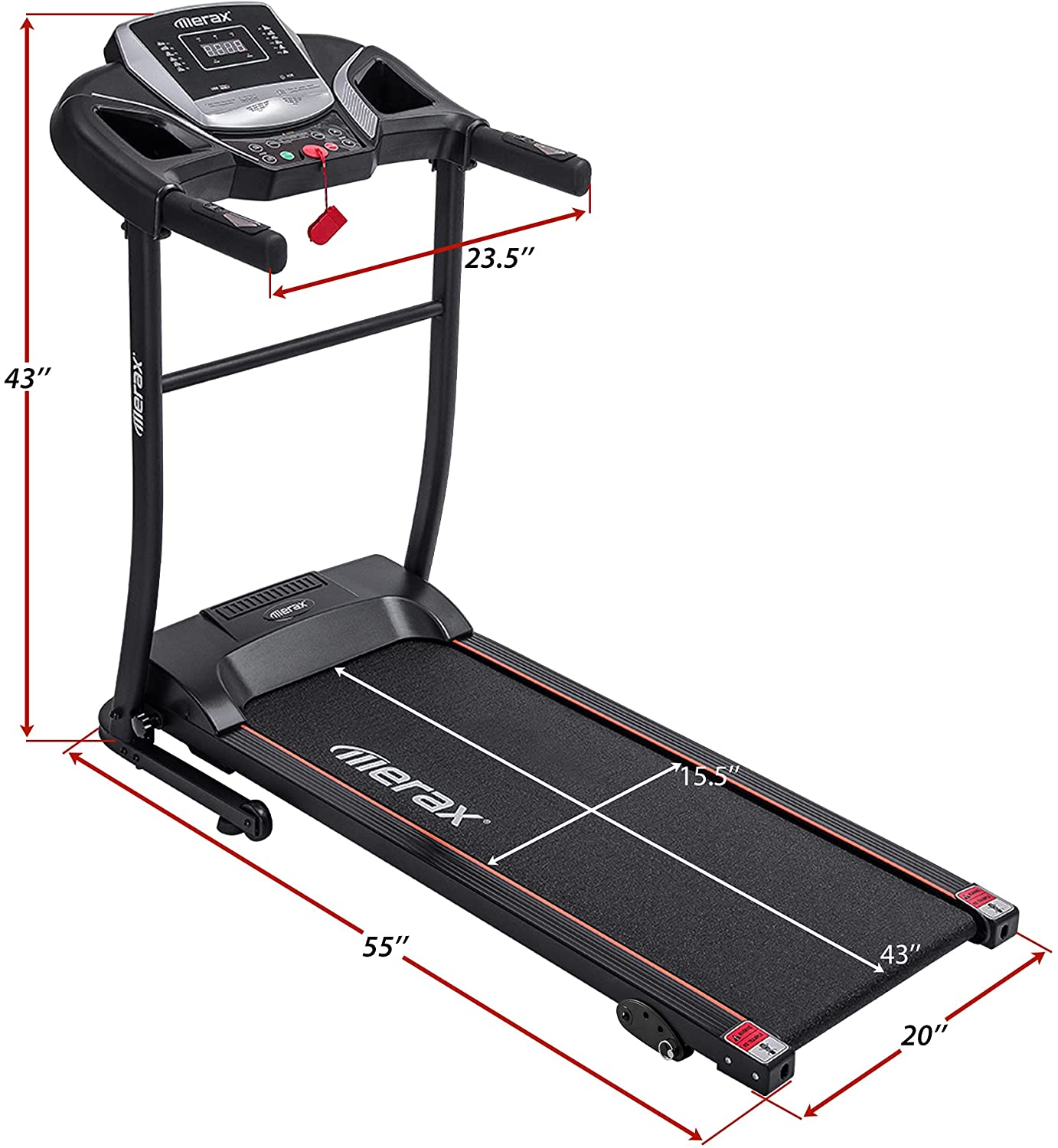 Specifications –
Item size – 55″ * 23.5″ * 43″
Item weight – 64 lbs
Running surface – 15.7″ * 43.3″
Max weight capacity – 240 lbs
Speed – 0.5-7.5 MPH
Motor – 1.5 HP
The material used – Polyvinyl chloride
Pros –
Pre-assembled Treadmill
Sturdy built
Excellent starter treadmill
USB port
Quiet motor
Cons –
Abrupt stops due to the shortcut buttons on the handrail
One of the best quiet treadmills aiming at convenience and efficiency. The preset programs help to navigate between high-intensity and low-intensity sessions. In addition, a large LCD keeps a record of the time, speed, distance, calories to keep you motivated.
The motor is quiet yet strong enough to help you achieve your fitness goals. The fast folding system and easy transportation wheels make it a space-saver machine. There are quick control start/stop buttons on the handrail and easy speed changes.
The tread belt has premium shock-absorption features and a non-slip surface to maximize safety levels. This should be one of your ideal picks if you look at the quietest treadmills list. Get home on this treadmill and enhance the quality of your fitness sessions.
NordicTrack T Series Quietest Treadmill on the market
Nordictrack T series treadmills offer 16,000 + on-demand workouts, new daily workouts, live interaction, multiple users facilities, and membership perks. Another machine from the quiet treadmills with a beneficial 12-month i-Fit family membership and access to global workouts.
This electric treadmill comes with digital quick incline controls, innovative space-saving design, and easy-lift assistance for folding purposes. In addition, the treadmill belt of Nordictrack treadmills has a cushion flex whisper deck to reduce the impact on the joints.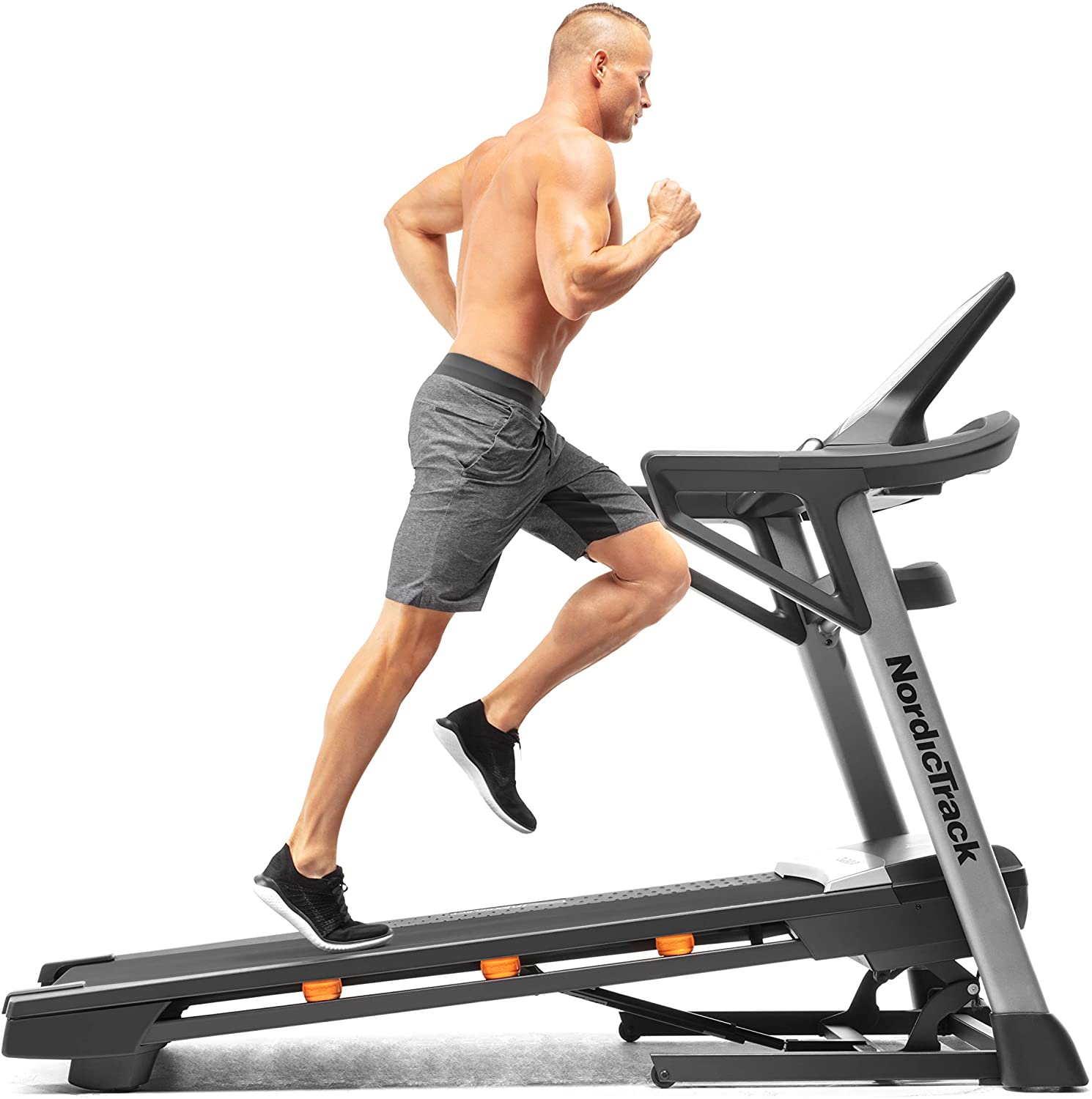 Specifications –
The material used – Alloy steel
Item dimension – 78.5 * 35.5 * 59 inches
Item weight – 0.1 kilograms
Max user weight capacity – 300 pounds
Incline settings – 0 – 12 %
Running surface – 20″ * 60″
Speed range – 0 – 12 miles per hour
Pros –
Excellent delivery and smooth set-up
Comfortable for bad knees
Marvelous sound system
High-quality and great screen size
Cons –
iFit crashes constantly
Over-sized product
You can get rid of the treadmill noise with this brilliant equipment. It is one of the best quiet Treadmills with a fan to give you a cooling experience in the summer season. The treadmill features a 10″ interactive screen with studio workouts for all-body training. In addition, this affordable treadmill offers you the opportunity to interact with elite trainers who can digitally control the speed and incline of your treadmill.
The real-time training on the cushioned deck provides an exceptional experience in the comfort of your home. In addition, the steel frame comes with a 10-year warranty, and the parts have a 2-years warranty followed by a 1-year of labor warranty.
The NordicTrack t series reviews suggest that the treadmill has worked wonders for people with sensitive knees, which most treadmills fail to do. So finalize your treadmill placement and get your hands on this beauty.
LifeSpan Fitness Folding Treadmill
The silent treadmills are gaining popularity due to their quiet mode of operation. Say goodbye to your outdoor running with 21 easy-to-use programs designed by experts to burn more calories and keep you fit. This is another great option for quiet treadmills and is perfect for beginners and avid runners. The treadmill belt has eight compression shock absorbers for comforting the knees and joints.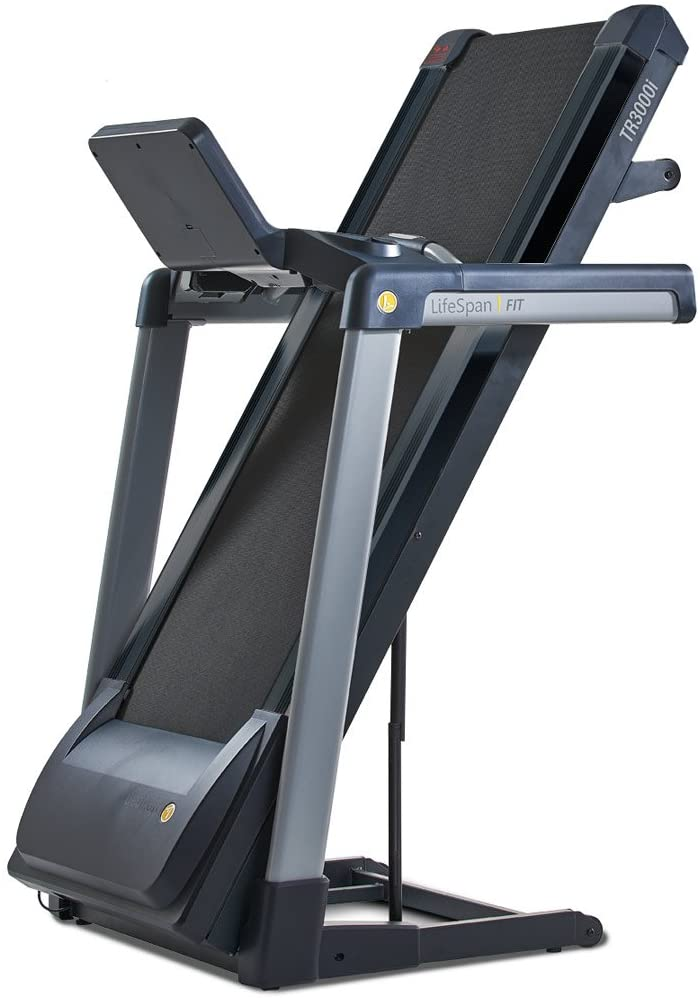 Specifications –
Item dimension – 70.7 * 32.9 * 55.7 inches
Max user weight capacity – 300 pounds
Maximum speed – 11 miles per hour
Motor power – 2.5 HP continuous duty horsepower
Running surface – 20″ * 56″
The material used – Alloy steel
Pros –
Variety of speed and incline levels
Excellent support service
The unit is an easily foldable
Beneficial shock absorbers
Cons –
No high-tech features
The interactive 7″ screen is vibrant and colorful. It allows you to customize the speed and incline—one of the quietest treadmills with folding capabilities and four transport wheels for easy portability.
LifeSpan Fitness offers an excellent electric folding treadmill and is one of the best treadmills on the market list. A hydraulic shock assists in folding and unfolding the machine; whether you want to carry the treadmill upstairs or downstairs, it becomes super convenient.
LifeSpan excels in the fitness equipment industry and promotes healthier lifestyles. So if you have been looking for a home treadmill with a quiet motor, go for it. The heart sensors help keep an eye on the heart rate, and Intelli-step technology keeps track of every step. Unfortunately, there are no warranties through Amazon purchase. However, if you wish to get warranties, reach out to the LifeSpan fitness website.
Echelon Stride Treadmills
Get rid of the treadmill noise with the Echelon stride treadmill and receive a complimentary 90-day free trial membership with access to over 3000 workout videos.
This electric folding treadmill passes the international safety standards test and makes it into the list of excellent treadmills. The design is an intelligent display of functionality and technology. Stream fitness classes with low-impact noise treadmill and get 100% money back if not satisfied.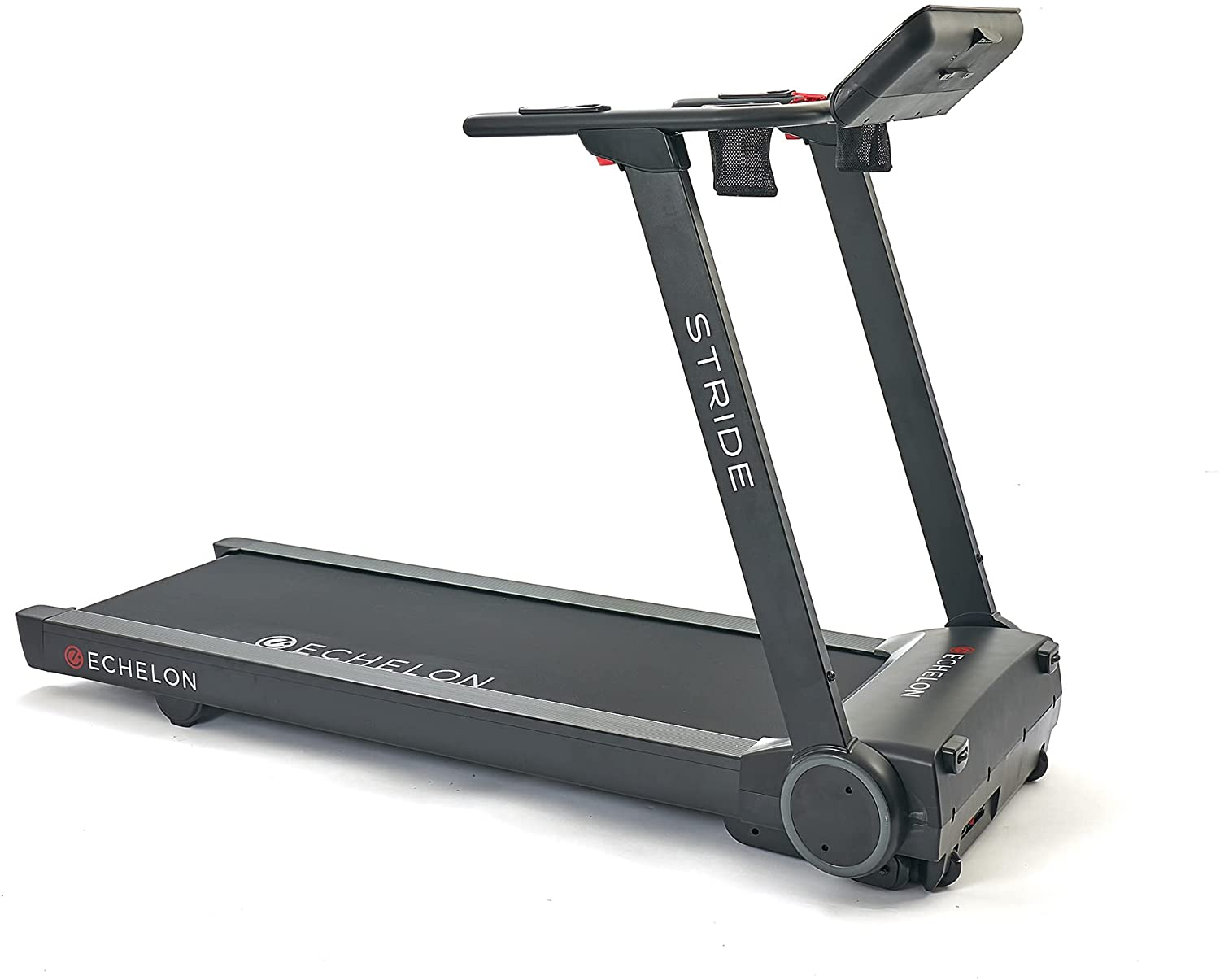 Specifications –
Item dimension – 69.29 * 30.98 * 49.17
Item weight – 179 pounds
Incline training feature – 10% max incline
Speed range – 0.5 – 12 MPH
User weight capacity – 300 lbs
Treadmill's belt size – 55″ * 20″
The material used – steel
Pros –
Easy to set up
Durable running track
Safe and convenient
Lightweight design
LED display
Cons –
Weak motor
poor technical support
This foldable treadmill comes with auto-fold technology and is a quieter treadmill compared to most treadmills on the market. The machine has a steel frame, and its noise output is good enough not to disturb the people around.
The folding treadmill is just 10 inches and makes a great apartment treadmill. The Bluetooth connectivity, USB charging port, safety stop feature, etc., adds to its functionalities. In addition, a metal safety bar under the running belt protects from pulling the objects.
The treadmill can be folded in 3 easy steps. The virtual classes are customized according to both beginners and pro athletes. Replace your noisy treadmill with this quiet treadmill and have a great workout session. The machine comes with a one-warranty from Echelon.
Assault Fitness AirRunner
Assault Fitness machine fits in the category of quietest treadmills and gives a natural running feel. Running on air burns 30% more calories compared to motorized treadmills. This can be used for all training runs on zero electric consumption.
This manual treadmill has a completely new definition and superior steel construction and stability. Assault air runner is compact and can fit in any training space. The equipment is motorless and requires no electricity to operate.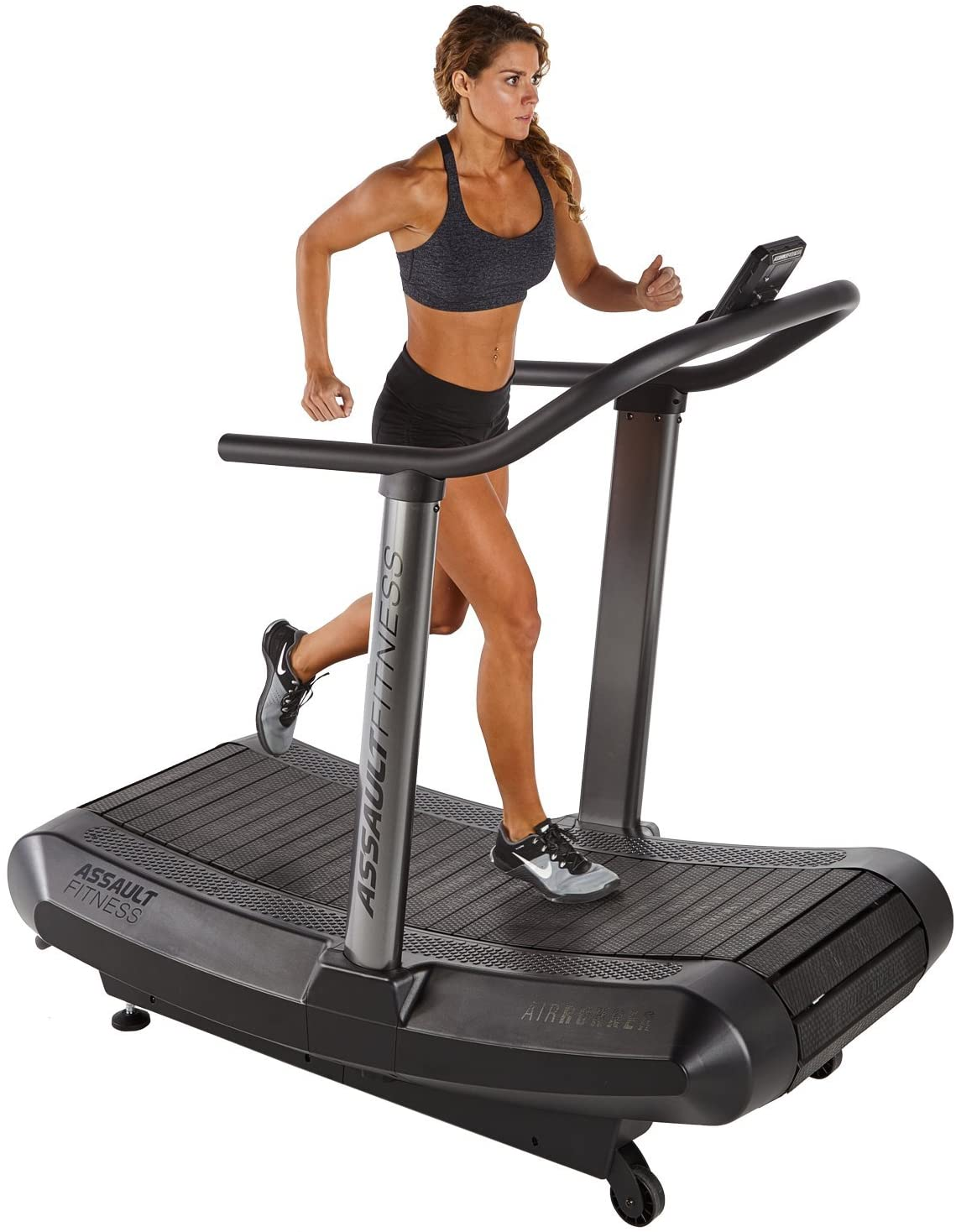 Specifications –
Item dimension – 69.9″ * 32.8″ * 64″
Item weight – 280 pounds
Frame material – Alloy steel
Max user weight – 350 lb
Maximum incline settings – 30%
Max speed – 20 MPH
Pros –
Well packaged
Motorless treadmill
Easy maintenance
It Burns 30% more calories than an average motorized treadmill
Cons –
Not very durable
It makes an odd noise in between
This treadmill can give you a hardcore workout from the power of your own feet. It is one of the lightest treadmills and supports interval training. The treadmill was designed to keep in mind the high-intensity interval training workout.
There is no maximum speed as it is a manual treadmill, and you can push it as far as you can—the brand advocates for a 150,000-mile belt life. You will no longer have to worry about replacing the deck from time to time as it comes with an easy maintenance strategy. The assembly is super easy and takes no time.
The treadmill has a 5-year frame warranty, 3-years of parts warranty, and a one-year labor warranty to add to its worth—one of the best quiet treadmills with a low-noise output.
Studio Series Advanced Training Treadmill by Horizon fitness
This quiet Treadmill by Horizon fitness is effective for advanced workout sessions and provides trainer-led content. There are preset workout programs and innovative fitness technology for a powerful workout. Advanced Bluetooth enables you to connect with multiple devices and stream media of your choice. In addition, you can push workout data to the fitness app, which is also free.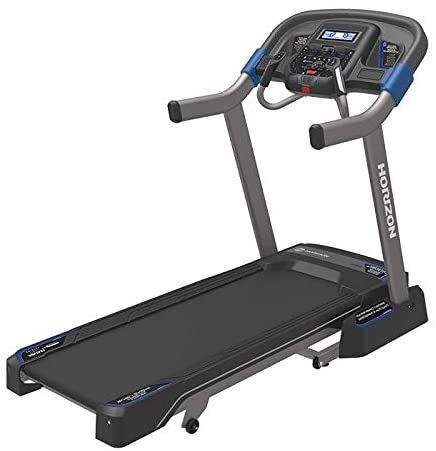 Specifications –
Item dimensions – 78.74 * 29.92 * 11.81 inches
Item weight – 253 pounds
Max weight recommendation – 147 Kg
Deck length – 20″ * 60″
Motor power – 2.75 CHP
Incline range – 0-12 %
Speed – 5-12 MPH
Pros –
Sturdy base
Advanced Bluetooth connectivity
Rapid charge USB port
One-touch incline and speed keys
Cushioned Running surface
Cons –
Sometimes belt shifts to one side
Too heavy
The quick one-touch speed and incline keys help you promptly match the instructions from your workout coach. The motor facilitates a faster and smoother run filled with efficiency. The boring workouts are gone for a toss with motivating exercise activities.
A rapid charge USB port allows you to charge the device and keep it full for what's coming next. The machine has a built-in device holder to place the tablet or phone right in front of the eyes. The integrated speakers are of high quality and ensure a pleasant experience.
The 7″ display assists you in controlling to workout and keeping track of everything. The treadmill is built with metal and plastic and has a three-year parts warranty followed by a one-year labor warranty. The treadmill is black, and the rapid sync motor and drive system best fits interval sessions and expert-led workouts.
Exerpeutic TF3000 Electric Foldable treadmill
Exerpeutic TF3000 is a folding treadmill and joins the quiet treadmills group. The free app and extended belt size make the machine even more magnificent. The Bluetooth innovative technology, 12 preset workout programs, and the cushioned tread belt make the Treadmill one hell of a deal.
There are six quick speed buttons for speed adjustments—Bluetooth innovative technology for iOS help in tracking the workout results. In addition, the air piston folding mechanism makes sure that folding/unfolding is easy and safe.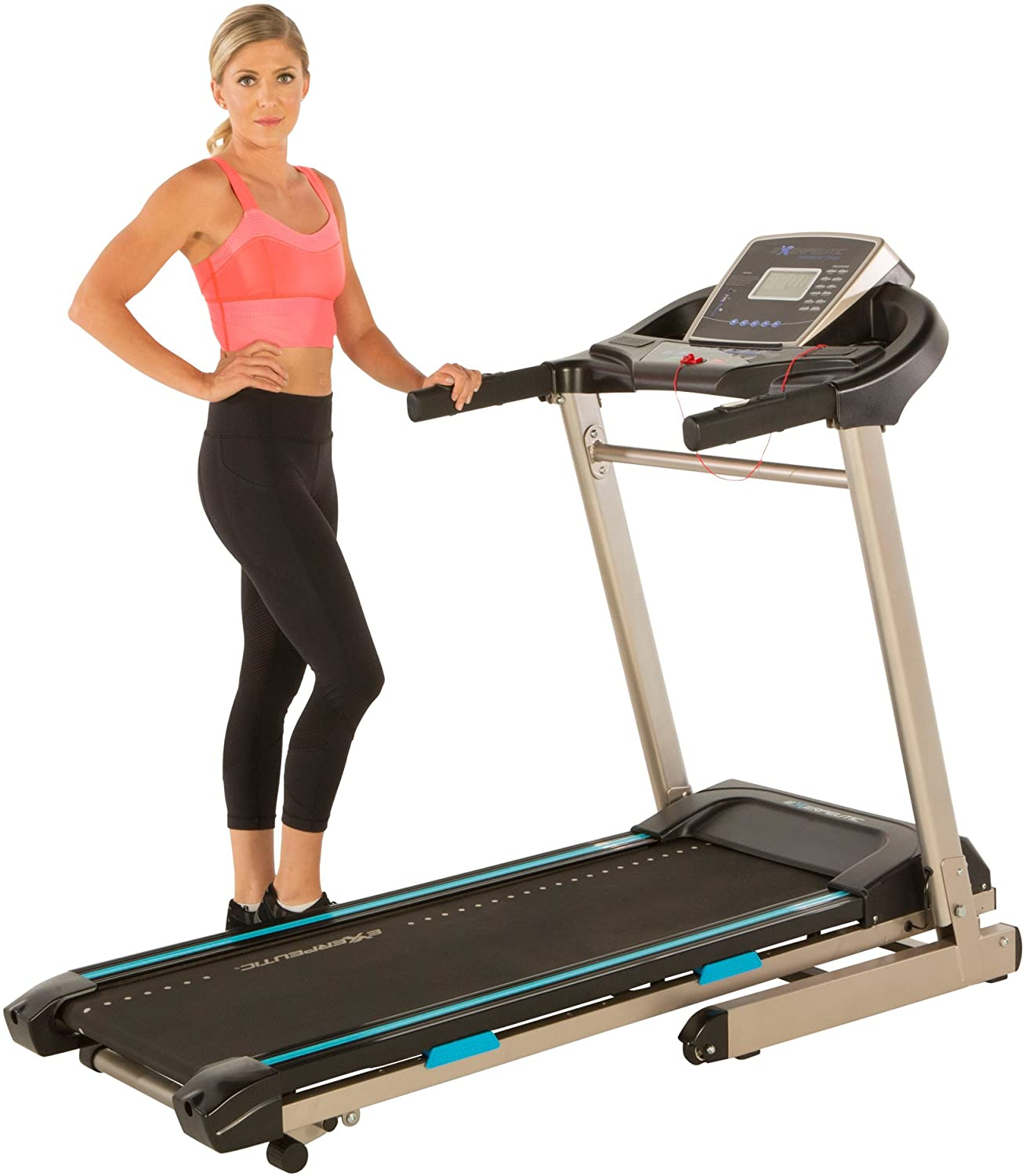 Specifications –
Item dimension – 62 * 29.5 * 50.5 inches
Item weight – 129 pounds
User weight capacity – 250 lbs
The material used – plastic
Max speed – 8 MPH
Running belt – 51″ * 17″
Motor – 2 HP
Display – 5″
Pros –
Easy to use
Large backlit LCD
Transportation wheels
Air piston mechanism
Bluetooth iOS app
Cons –
Not very durable
Dual stereo speakers are of excellent quality and enhance the overall feel of the workout. A USB port is also available for charging the devices and auxiliary ports. The deck is cushioned and absorbs shock well, and reduces joint impact.
The motor has a quiet drive technology, reducing noise and making it one of the best quiet treadmills. Use the 5″ backlit LCD for counting the calories, speed, time, distance, pulse, etc. Hand pulse sensors check the heart rate and also help in maintaining it. The start/stop button on the handlebar is meant for convenience.
You can take the support of the handlebars in case of loss of balance. The treadmill folds up quickly with the air piston technology and can be stored easily without much effort. The transportation wheels help to relocate the machine in no time. The warranty for the frame is extended up to three years, the motor up to five years, and parts up to 90 days.
Apart from the above brands mentioned, sole treadmills also produce an excellent range for quiet treadmills. You can also use a treadmill mat underneath your machine to reduce the noise impact. Various anti-vibration mats or rubber mats are easily accessible in the market. Readout all the product specifications on our page and choose the one that matches your requirements.
Why do you need the quietest treadmill in your apartment?
The convenience of having a treadmill right at your home is unmatchable. The bad weather, the thought of dressing up and going out, etc., will not come in between you and your workout anymore.
And having a quiet treadmill is even more fascinating and favorable. Running on a treadmill is one of the best ways to increase your heart and improve blood circulation. Not only this, but you can also enhance your core strength as it affects the entire body muscles.
You can save ample time by not going out and coming back. Instead, you can do some other work in that time and make your day more productive. In addition, having a treadmill at your home gives you privacy, as some people find it shy to work out in public.
Invest your gym membership fee into buying a treadmill and save a lot of money with added benefits. Nordictrack. Sunny Health & Fitness, Xterra, Merax, and sole treadmills are popular brands.
Where does all the treadmill noise come from?
If you happen to share your apartment with someone making sure that your treadmill does not disturb others is a top priority. Treadmills could be annoying and disturbing.
A lousy belt, low maintenance, lousy flooring, inappropriate shoes, bad monitors can cause a variety of sounds, which are not very pleasant to the ears. For example, the floorboard can make a creaking sound as you move forward on the machine.
You can also hear squeaking noises from the running belt if it is too tight or loose. An unlubricated device can also cause a creaking sound coming from the joints.
We have listed some of the quietest treadmills for your workout without having to worry about the noises.
What are the features that make a quiet treadmill?
Various factors lead to treadmill noise, but you can save yourself from the headache by keeping in mind a few things. Let us quickly look at the features that make a quiet treadmill.
Construction
When a treadmill moves from side to side, it creates a lot of sounds; a sturdy, built, constructed well is essential for walking, running, or jogging—maintaining a slower pace while running will produce less sound.
The speed of the motor should go somewhere between 0-10 MPH. If you happen to enjoy working out at a brisk pace, make sure that your treadmill has incline options.
Look for foam handrails, a strong running belt, frames made of heavy-duty steel, display panels in a treadmill while making a purchase. A treadmill made of high-quality, durable materials should be on your checklist.
Running surface
A floating deck made of rubber or elastomer is easier on joints and creates less sound. This technique is used by soundproofing applications and works on disconnecting structures.
This helps to reduce the noise output and benefits in a silent training session. A surface about 45″ * 60″ sounds about a good deck length. A treadmill with a running surface comfortable for joints, muscles, knees, and back is key to a good treadmill.
Stable base
Suppose you are an enthusiast and can't do without running, then look for a sturdy machine with a stable base. A durable, heavy base will keep your treadmill intact and not allow it to move and create a creaking sound.
People go after lightweight machines for portability advantages, but don't make this mistake if you want to frequently play around with the speed settings.
Certain treadmills come with rubber feet and help keep the treadmill at one place without much movement. You can also use anti-vibration mats under the treadmill to make it stable.
Size
This does not necessarily impact noise but is essential to consider while buying a treadmill. In addition, the foldable treadmills can be lifted after use and kept away to save space.
These treadmills are lightweight but do not support people after a particular size. As a result, it can be unstable and create sounds due to extra or forced pressure.
Check out the treadmill's weight and go for a heavy-duty, sturdy built. Check the dimension of the treadmill and the size of your apartment where you would like to place the machine.
Shock Absorption
As you look for product descriptions, you will encounter 'deck suspension.' The deck suspension makes the treadmill responsive towards the stride.
The shock absorption features are located inside the belt and reduce the impact on the joints. The treadmill should neither be too hard nor too loose.
A hard surface will cause a lot of noise, and a loose belt will put you in an uncomfortable posture. Go for an excellent shock-absorbing tread belt and enjoy working out without trouble.
Minimum specifications to look out for:
Here are a few specifications to watch for a while purchasing a treadmill.
Belt size
The belt size specification will vary from person to person as it depends on the stride length. However, the strap should be at least 55 inches long and 18 inches wide if your height is under 6 feet.
If you happen to be above 6 feet, look for 55 inches long belt for walking and 60 inches long for jogging. The belt size plays a vital role in ensuring a comfortable workout.
Speed range
The speed and motor of the treadmill are co-related. The powerful the motor, the more the speed. The speed rate of a treadmill will depend on your workout activities.
If you are an avid runner, go for treadmills offering a speed rate of over 10 miles per hour. A motor with minimum power of 1.5 HP is required if you are going for motorized treadmills. And if you want a treadmill for jogging and running purposes, a motor with 2.5 HP or 3 HP must be your target.
Incline
Incline settings of a treadmill can be manually adjusted or through remote control. Generally, a treadmill has an incline ranging from 10-15 degrees.
A 10% incline is good enough and comes with almost all low-budget treadmills. The higher they rise, the more calories are likely to be burned.
Higher inclines can also tone muscles, improve ankle strengths, and burn fat five times quicker. Working out on an inclined surface has multiple health benefits.
Weight capacity
The weight capacity of a treadmill speaks a ton about its durability. Often the sellers increase the capacity for optimistic features.
Reduce 50 pounds from the actual power of the machine, and you are good to go. An average treadmill will have user capacity ranging between 200-300 lbs, whereas high-end models can support 300-500 lbs.
Double-check the safety and durability before buying it and experience safe training.
Control panel
Check whether the treadmill has an intelligent control panel with advanced features to track the workout metrics and adjust the speed and incline settings.
The LCD or LED display counts the distance, speed, calories, heart rate, etc., and motivates better results. In addition, the start/stop button for emergency and pulse sensors on the handrails are added functionalities in a high-tech control panel.
How can you reduce treadmill noise output?
Just like our body needs nourishment from time to time, a treadmill is a machine and requires maintenance regularly for its smooth performance. For example, motors might get clogged after a point in time and create noises.
The belt can loosen up with extensive walking or running and tighten for a comfortable stride. Some people have also noticed screws coming off and leading to the machine's vibration. Cleaning the machine timely and keeping it lubricated helps reduce treadmill noise and have peaceful training.
The placement of the treadmill also affects the noise output. For example, a machine controlled in a corner near the wall will likely create a louder sound than the one kept away from the walls in an open space.
You can also use anti-vibration mats made of rubber under the treadmill to reduce the machine's vibration and create a minor disturbance. There are ample treadmill mat options to choose from.
FAQ: Quietest Treadmills on the market
Which treadmill is the quietest?
Xterra TR150 is one of the quietest treadmills. The treadmill comes with a cushioned surface and is easy to assemble—a durable option in the quiet treadmill list.
How can I walk quietly on a treadmill?
You walk or run quietly on the treadmill by adding a few simple habits. Adjust your strides and focus on soft landings; keep your shoulders and lower body relaxed. Do not wear headphones as you do not understand how loudly you are making your feet land. Try walking barefoot on the machine sometimes, and practice running softly.
Are treadmills loud in apartments?
Yes, treadmills can be loud in apartments, considering the small space. The motor, foot landing, and vibration of the floor can cause the treadmill to create sound and disturb people.
Can my upstairs neighbor have a treadmill?
Yes, suggest your neighbor buy a quiet treadmill from our list of treadmills and work out without bothering anyone. The treadmill sound can be reduced to a manageable limit through different measures.
Can I put my treadmill on the carpet?
Yes, you can place your treadmill on the carpet. First, however, add a treadmill rubber mat to keep the machine safe from dirt, dust, and carpet materials. This can help reduce the impact of the vibrations and lessen the sound.
Our top 3 picks for the quiet treadmills category are Xterra Tr150, Nordictrack T series treadmill, and Sunny Health & Fitness SF T-7515. However, we have managed to list out some of the best options for quiet machines and save you from all the hassle. All treadmills listed on the page are subtle and effective for a workout.