Due to its 2-in-1 design and small size, the GoPlus Super Fit is exceptional. This is a fantastic alternative for small customers who want the ease and adaptability that this reasonably priced treadmill offers. It has a phone holder, LCD display, Bluetooth speaker, remote control, and app control, making it different from all the other models. The overall dimension is proof that it is a great walking treadmill with a great weight capacity.
The 40″ by 16″ running surface makes it ideal for shorter steps while strolling, power walking, or mild running, but one may attempt to sprint on it. It can sustain speeds of up to 12 km/h (7.5 mph) when the handrail is folded up, and it can reach a top speed of 4 km/h (2.5 mph) when it is folded down in walking mode. It can also be utilized at a standing workstation.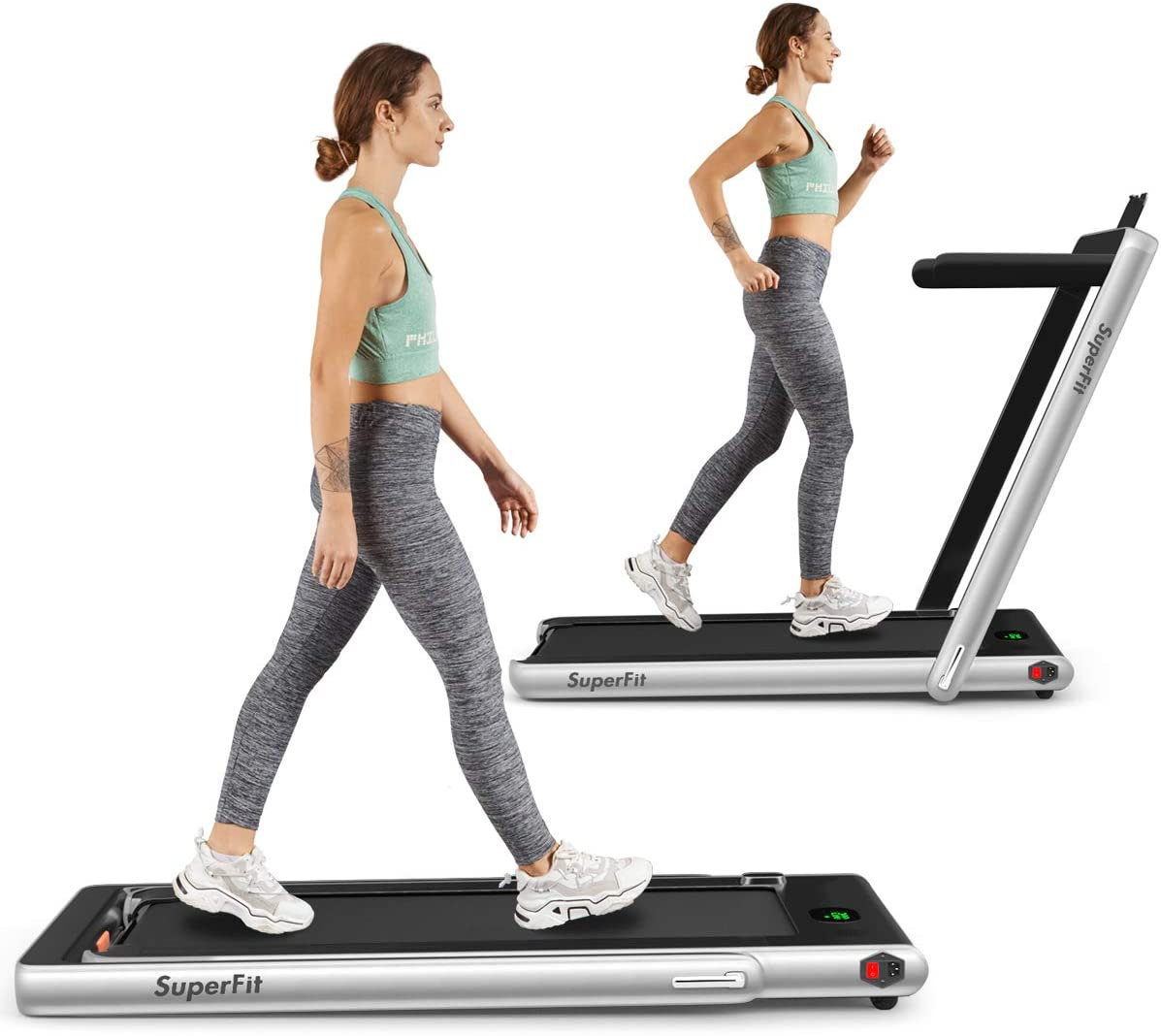 The GoPlus is perfect for anyone looking to increase heart rate and burn extra calories; it is not designed for intense exercise. It can also be used as a desk treadmill. When not in use, you may store it in a drawer or slide it under a mattress or couch by folding the handrail down after you're done using it.
Its multi-layer shield design, built-in transport wheels, safety lock system, and folding dimension are excellent fitness equipment.
[joli-toc]
What is it? goplus 2 in 1 folding treadmill
The Goplus 2 in 1 Folding Treadmill with dual display, a 2.25HP Under Desk Electric Pad Treadmill with a Sound Bar, and a controller may be utilized at home or work as walking or jogging machine. There is not much setup required for the treadmill. You can get the required drive from Goplus 2 in 1 without malfunctioning or overheating. The running area size is ideal for an average running speed and can cover a great distance.
It features a 2.25 HP motor so that you may use it for lengthy, intense exercises. You can monitor your progress toward a healthier you with an LED display that shows time, movement data, distance, pace, and calories burned. Due to its shock-absorbing qualities, it is gentle on joints.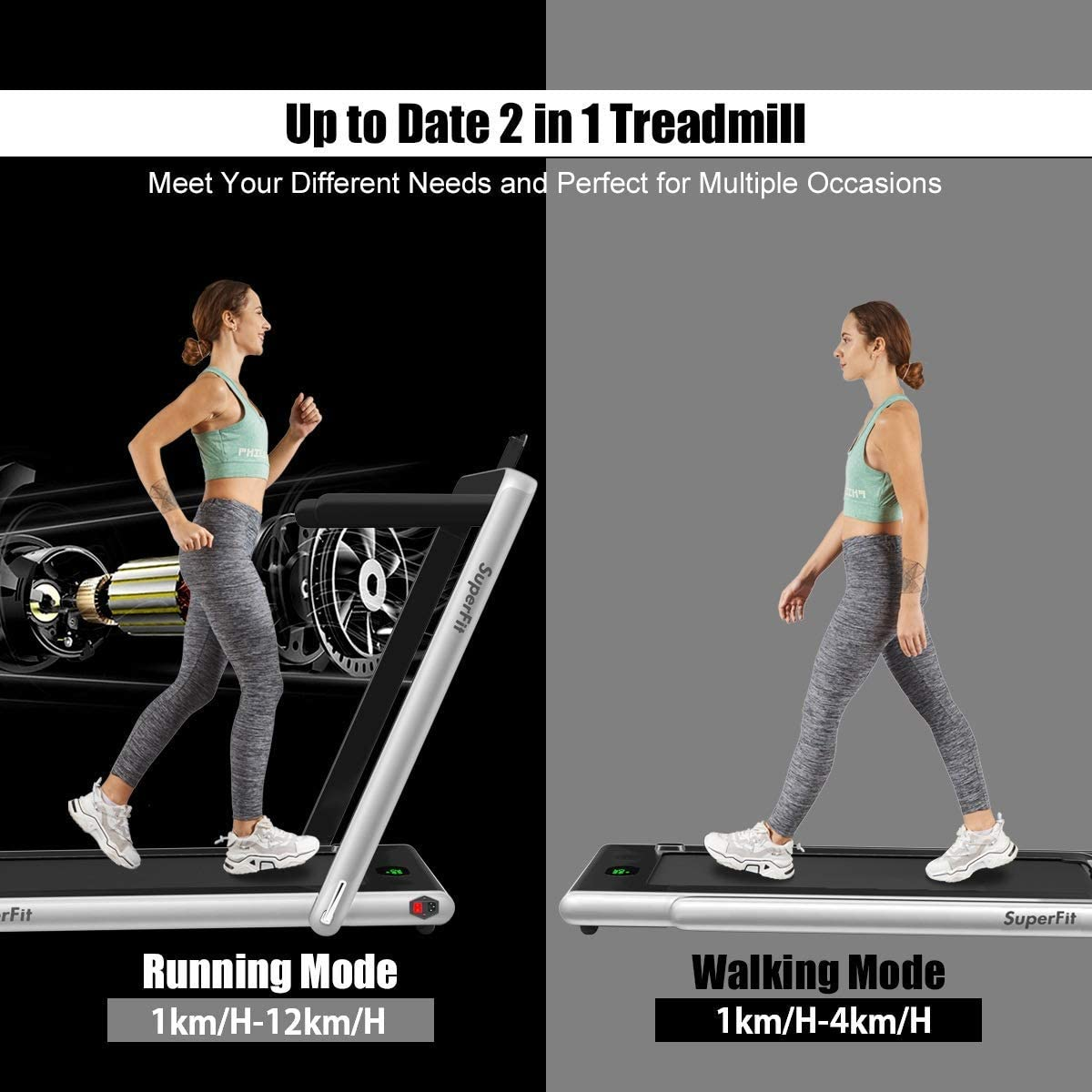 Due to its multi-layer shielding construction, which keeps the noise levels low, it also doesn't bother others when you work out. Its compact design makes it perfect for home and office use. It also has a safety key, making it ideal for home gyms.
However, considering the running area size, it is not suitable for serious runners but is perfect for those who enjoy walking and exercising. It has a high weight limit and also consists of a phone holder.
Overall Dimension and details of the product
Height 42″, Width 27″, and Length 49″
Dimensions when folded: 52″ L x 27″ W x 5″ H
User weight limit: 265 pounds/120 kilograms
Jogging/running on a treadmill and walking under a desk
Weight when assembled: 34 kg/75 pounds
2.25 horsepower on the motor
Range of speeds: 0.6 to 12 km/h (7.5 to 12 mph)
Dimensions of the tread belt: 40″ L x 16″ W
Shock-absorbing mechanism.
LED display circuits to monitor calories, distance, range, speed
Smartphone holder
Wheels for transport: yes
Bluetooth Integrated speaker: Yes
Remote Control
What are its features?
Revolutionary 2-in-1 Folding Treadmill:
The ladder can be folded for use as a running machine at a pace of 1-4km/h. It is ideal for small spaces. Running speed range from 1 to 12 km/h when the handrail is raised.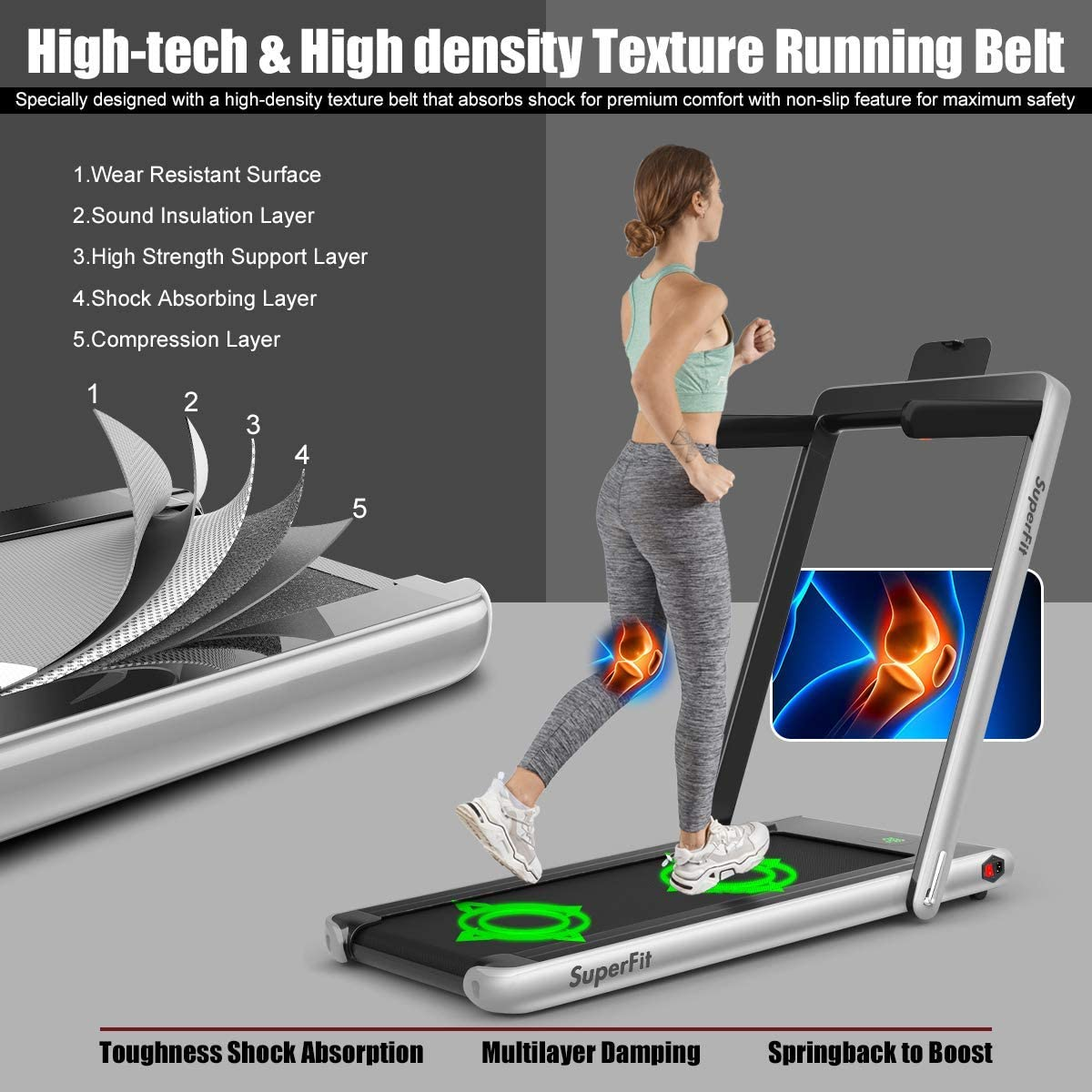 Quiet motor and sHock-reduction system:
You can walk or run peacefully and enjoy exercising, jogging, or going for a long stride on the Goplus treadmill thanks to its robust, silent motor and shock-absorbing running belt. It is both noise-reducing and shock-absorbing, thanks to the multi-layer shielding design.
The Goplus 2 in 1 Folding Treadmill's smooth and comfortable drive enables customers to work out at home or the office without bothering others. The whole front platform of the treadmill has a 2.25 HP motor wrapped in ABS plastic.
The treadmill's motor has a maximum speed of 1 to 12 km/h so you can jog on it. The risers are set up and ready to go.
Non-slip running belt with multifunctional LED display:
The 5-Layer Non-Slip Running Belt is a safe support for your knee caps and has a Multifunctional Led Display. Time, speed, distance, and calories are displayed on the Display panel.
Remote control and Bluetooth speaker:
Bluetooth the treadmill to your smartphone so you may listen to music while working out. It's easy to change the speed using the remote control. The jogging machine also has a phone holder. It also has a power switch.
Weighing Capacity & Weight
Although heavy, this device is portable. The treadmill weighs 84 pounds and has small transport wheels, making it challenging for some people to lift it out of the box or move around.
Despite being heavy to unbox, many people find that transporting it around isn't a major deal, thanks to the little built-in transport wheels for transportation. However, moving it requires you to bear the majority of its weight. Larger wheels will undoubtedly be more practical.
Finally, compared to most treadmills in this category, the weight capability is 265 lbs. To utilize this equipment, you need not weigh more than 225 lbs.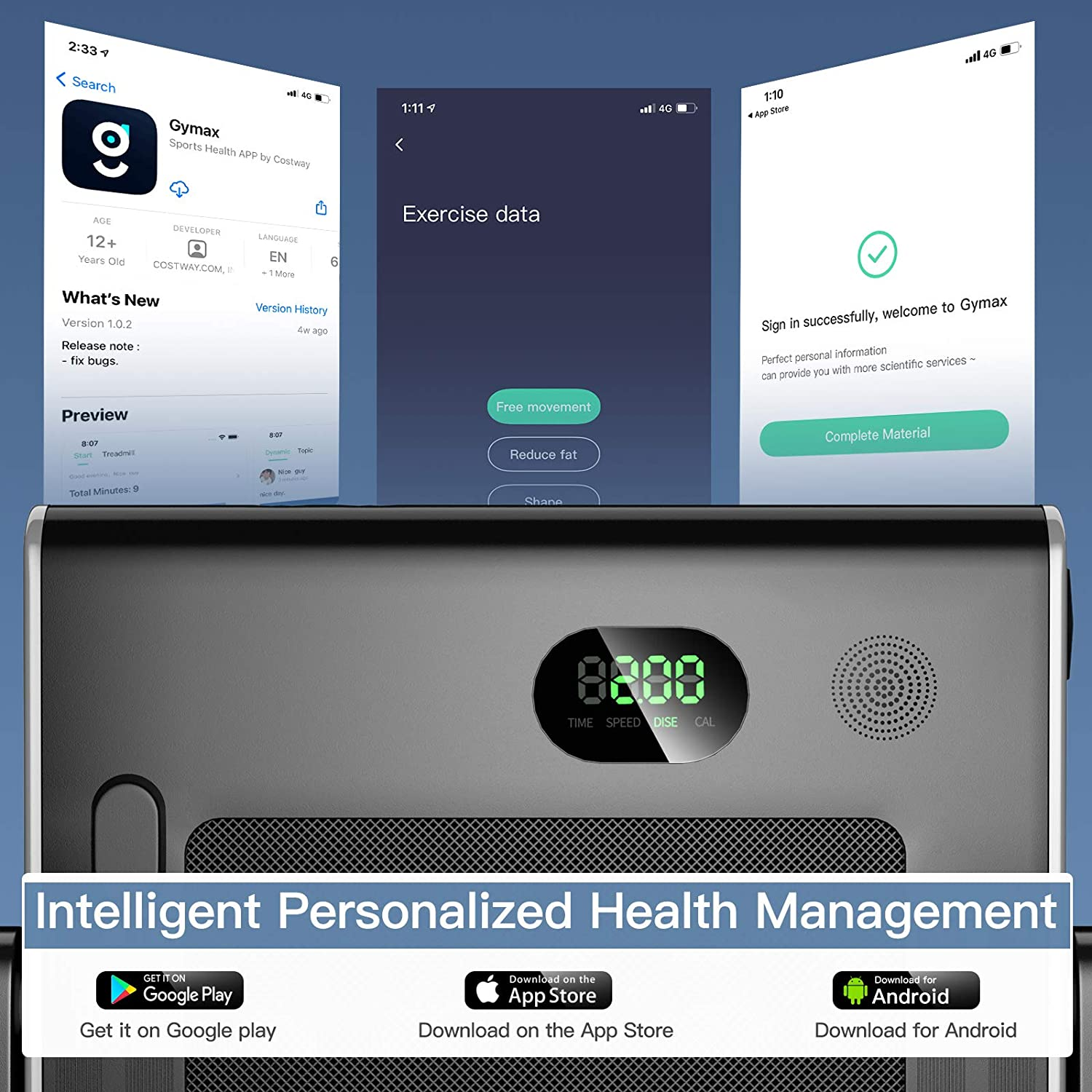 Exercise Track
The five-layer running belt with a non-slip texture protects knees and muscles. According to Goplus, the belt shields your legs and muscles. Taller individuals should not run on the Goplus 2in1's small, narrow track.
The track is 40′′L x 15.5′′W. Because of this, using this treadmill to walk and jog is pleasant for those of short and medium height. But when sprinting, tall folks above 6 feet tall take longer strides.
The Goplus 2 in 1 Folding Treadmill only needs occasional lubrication, but like any jogging machine, it needs to be done regularly to ensure smooth functioning. Therefore it would be preferable if you always maintained it tidy and lubricated it every few months.
Easily Moveable With A Year's Warranty:
It is simple to move and store because of its foldable design and integrated transport rollers. It has SGS approvals for CE, ROHS, CB, EN957, and IEC.
The Goplus treadmill is portable once it is put together, has adjustable arms and a phone holder, and cannot have the arms attached if it needs to be stored flat, like under a bed. The riser may be completed, and the arms can be detached using the Goplus treadmill. An LED screen and a speaker are located on the upper front of the treadmill's base.
Predetermined Exercise Routines
Unlike larger treadmills, this one doesn't have any pre-programmed options. It does, however, operate in a variety of ways.
Speed and slope
The slope on this treadmill is nonexistent. The Goplus treadmill is advertised as being "2 in 1." The riser can be folded flat so that you can walk or run at speeds of up to 2.5 mph (4 km/h).
A Desk Treadmill is a straightforward standing desk with a treadmill attached. The maximum speed is 12 kilometers per hour (7.5 mph). So you can jog briskly and raise your pulse rate.
You have two options: elevate the risers and move rapidly, or lay the deck flat and move carefully. One km/h (0.6 mph) fluctuation in speed is possible. Given its weighing capability, the Goplus 2 in 1 is relatively light, which raises questions about its stability.
Simple to Fold and Move
When not used, it can be folded flat and kept beneath a bed. Due to its flexible shape and transportation wheels, it is straightforward to move and maintain.
With the wings attached to the treadmill, it stores quickly standing and folds flat. However, keep in mind that you'll need to rejoin the arms when using it upright if you would like it to lay flat.
By moving it under the user's desk, these folding treadmills can be utilized as a standard treadmill while at work.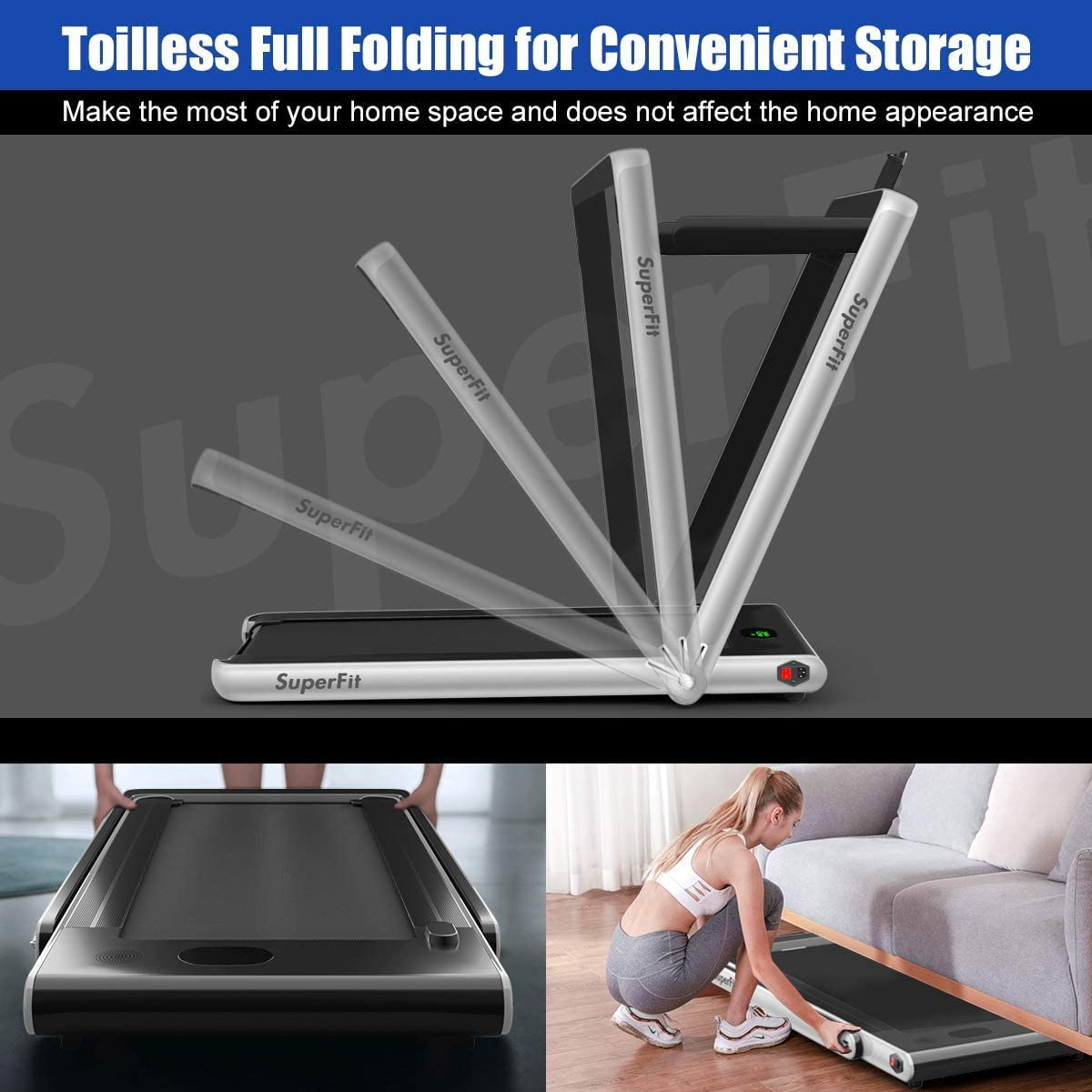 Shipping
The Goplus 2 in 1 Folding Treadmill comes packaged carefully in a box for delivery. Depending on the business you are buying from, shipping may be expensive. Despite this, Amazon offers free shipping and expedited delivery.
Assembly
There is no assembly required for this item. Except, of course, for the readily attachable optional removable armrest on the risers. The treadmill kit contains the necessary tools for attaching the armrest and collapsing the risers.
Maintenance
The Goplus 2 in 1 Folding Treadmill doesn't involve complex upkeep. Still, for it to work well, it must have the running belt periodically lubricated, just like a regular treadmill does. Make an effort to maintain the treadmill's cleanliness at all times. There are 2 bottles of lubricating oil in the box.
Accessory
The Goplus 2 in 1 Folding Treadmill contains a Bluetooth headset and a place to hold your phone. It also includes a remote control. With the help of these capabilities, you may connect your phone to the machine and play music through the built-in Bluetooth speaker.
In other words, the gadgets ensure your workout is enjoyable because of their easy assembly.
Storage space
The Goplus 2 in 1 Folding Treadmill is simple to store. The explanation is that all you have to do to get the risers down is separate the armrests. Its folding design will flatten out to the point that you can keep the treadmill in a typical closet, beneath a bed, a table, or a sofa.
Ordering and assembling the Goplus treadmill
For less than $200, customers can easily order the Goplus Folding Treadmills online at Amazon.com. Every order is processed fast and effectively. Large crates containing the treadmill will come in two weeks. The structure of the Go+ treadmill is relatively simple when compared to that of numerous treadmills.
You don't need to do anything else, but the belt must be thoroughly checked before usage. Fortunately, the treadmill consists of 2 small bottles of lubrication that you can use daily. The treadmill belting is oiled, and certain basic oils can be used to maintain it.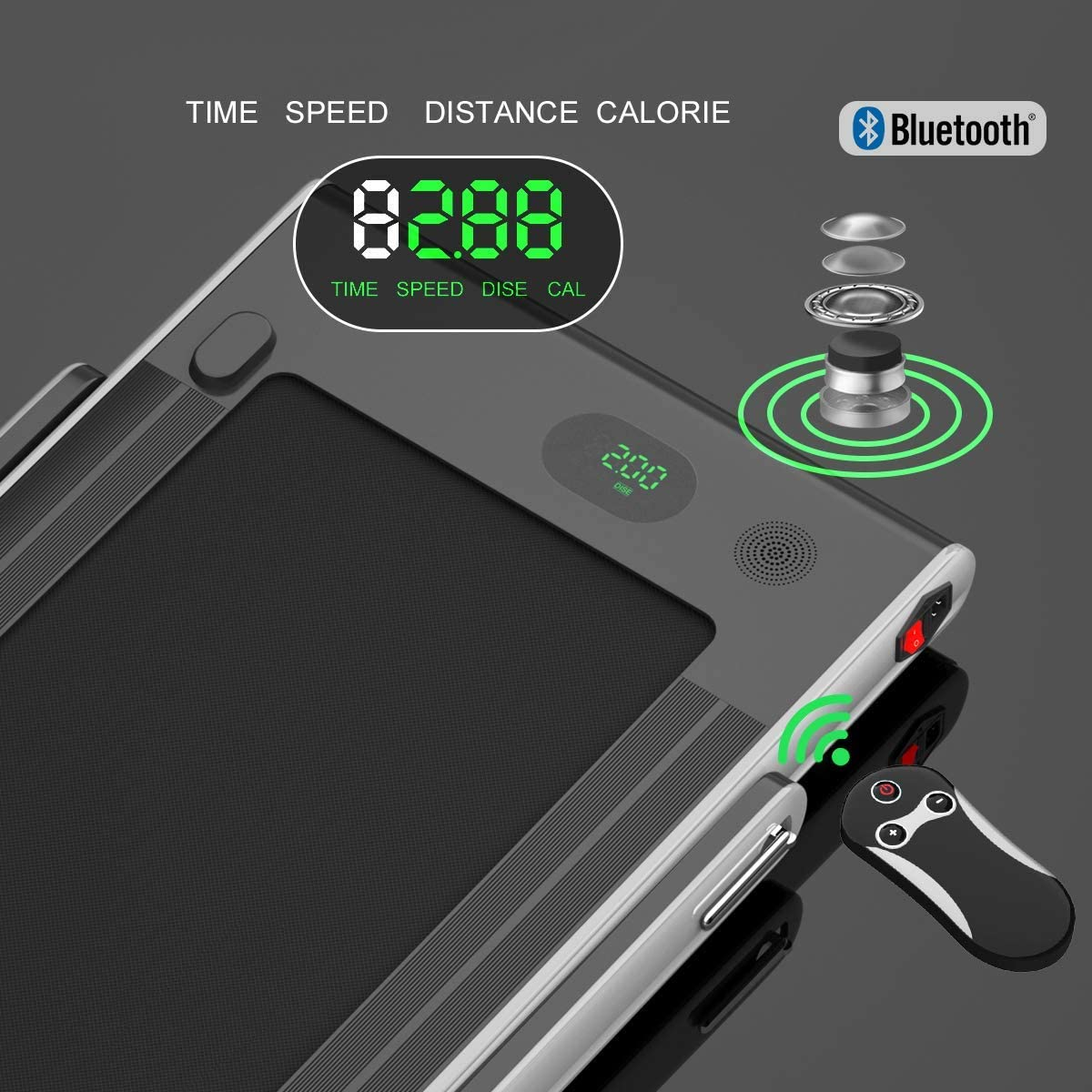 Pros of using Goplus 2 in 1 folding treadmill
Price:
The Goplus 2 in 1 Treadmill is a good choice for users who don't want to spend a fortune on a treadmill because it offers some outstanding features at a reasonable price.
Console:
It has an LED screen to effectively keep track of the time, velocity, duration, and calories you burn during your workout. It also comes with remote control.
Motor:
It includes a 2.25 HP engine that can handle your jogging and walking workouts.
Bluetooth speakers:
You may use the treadmill to pair with your phone wirelessly so you can play music while working out.
Remote Control method:
It has a simple remote control that allows you to change the movement's speed and stop it immediately. Their remote control has various other functions as well.
Folding Capacity:
This machine has a unique two-in-one folding mechanism that makes it easy to fold the elevation and use as an under-desk runner. The folding dimension makes it an excellent choice.
Weight Capacity:
Compared to its rivals, this machine's maximum capacity of 265 pounds is remarkable.
Belt with several layers:
This treadmill's five-layer shock-absorbing, the non-slip running belt offers enough padding to keep your joints and knees healthy.
Cons of using Goplus 2 in 1 folding treadmill
Belt length:
For taller users, jogging or running may be challenging due to the belt's short length. Nevertheless, you can utilize it for light running and walking.
Speed:
While the speed it provides can be matched to your jogging activity. But other inexpensive treadmills might have a motor that is a little bit faster.
A little time-consuming to store:
This machine has handles you must disconnect and store the treadmill after each use because they are connected and detached with screws.
Warranty:
Goplus offers a one-year guarantee on this treadmill, something you might find to be a little less than the standard foldable treadmills.
Customer Reviews
Nearly 5000 people have given the Goplus folding treadmill on Amazon a grade of four out of five. Considering the sample, not bad. People who use these gadgets adore them. Some individuals gush about the treadmills' silent operation and small size.
Some individuals claimed that the treadmill wasn't the best option because it was too slow and required much more electricity to operate than an electrical outlet (the amount of energy necessary for an appliance). According to them, it was all fine initially but stopped working after a few months of use.
Users generally have favorable opinions on 2-in-1 treadmills, and the Goplus 2-in-1 Folding Treadmill is no exception. Customers on Amazon will recommend it because they believe it is the best treadmill for usage at home and the office.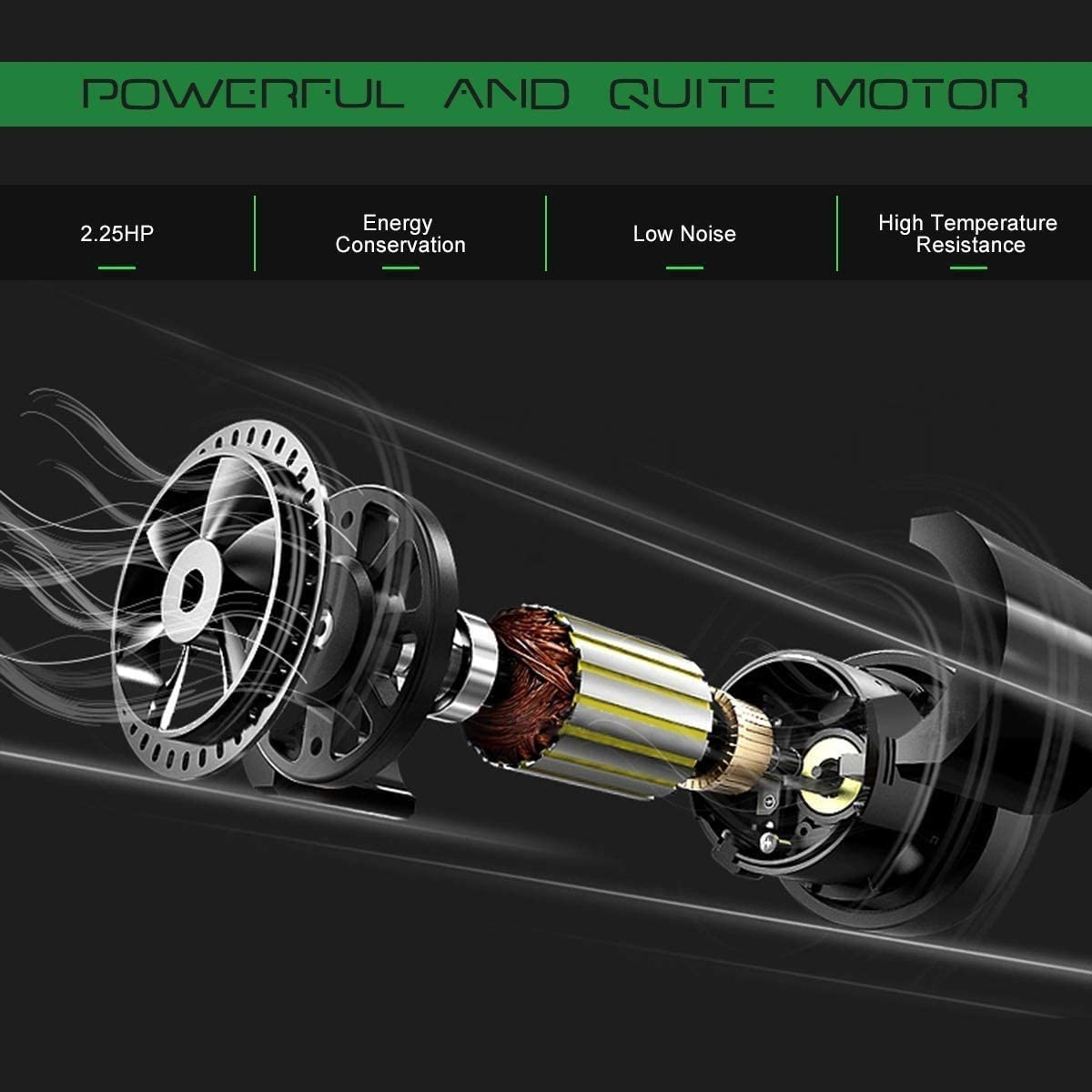 Final verdict on our Goplus treadmill review
This Goplus treadmill may be handy under the desk when expectations are realistic. It's not pricey because these cardio machines cost under $400. Don't anticipate long warranties or sturdy decks. On the other hand, a Go Plus treadmill is portable and ideal for people who need to lose weight through power walking and have tight budgets.
FAQ
Is the goplus goplus treadmill any good?
Similar to the other treadmills we evaluated, the GoPlus is a relatively quiet little treadmill. The primary source of noise on this treadmill, like most others, is the movement of your feet while you jog or walk on it. This treadmill has three color options: blue, grey, and red. Therefore, you are free to select the hue of your choice.
What is a 2-in-1 treadmill?
Foldable and portable, the 2-in-1 treadmill is ideal for small settings. It has a strong, quiet motor and a stress absorption mechanism to safeguard your joints as you exercise. It also has a safe cushion and a small remote or app control.
The 2-in-1 treadmill could run with its arms elevated at faster walking, exercising, jogging, and sprinting speeds or flat when used at slower walking rates.
What is the best folding treadmill?
To fulfill your training demands, the Goplus folding treadmill offers two essential features: sprinting and walking. This treadmill provides ease and satisfaction simultaneously, thanks to a moving riser and an uncomplicated design.
Can the 2-in-1 folding treadmill be used as a running treadmill?
With its two-sport settings, the 2-in-1 folding treadmill can be utilized as a walking treadmill underneath a desk or as a running treadmill.
Why choose goplus?
Since the beginning of their brand, they have focused on researching and creating high-quality products and first-rate customer service to give customers the greatest possible purchasing experience. Goplus is a reputable industrial, sporting, and home decor goods maker.