Just like our body needs nutrition to stay healthy and fit, machines also need the same. Treadmills are heavy gym equipment and need a bit of maintenance. One of the most crucial ways of maintaining a treadmill is lubrication.
Cleaning a treadmill and lubricating treadmill belts from time to time can increase both life and efficiency of the machine. If you do not take care of your treadmill, the chances of a breakdown increase.
The grinding between the machine and the belt is reduced with silicone lubricant. And to your utter surprise, a silicone lubricant reduces noise and helps in a smooth workout.
When you apply the best treadmill belt lubricant to the tread belt, you are preparing it for what's coming next. A lubricated belt will put less pressure on the treadmill motor. Proper occasional lubrication prolong both the performance and treadmill life.
Considering the vast number of treadmill lubricants in the market, here is a compact list of the ten products recommended by treadmill manufacturers.
[joli-toc]
How to select the best treadmill belt lubricant
Using a lubricant is essential for treadmill maintenance but using the right treadmill lubricant. Most fitness equipment manufacturers recommend using a lubricant to save the belt from wear and tear. However, not all lubricants are user-friendly. Here is the buying guide for your treadmill lubricant.
Size
The first trick to getting the best treadmill lubricant is the first trick to getting the correct lubricant bottle size.
The size of the lubricant bottle will determine the amount of money you are going to spend. Major treadmills manufacturers recommend applying treadmill lubricants every 40 hours or three months after use.
Look for buying the right size, neither too big nor too small. An ounce of lubricant is enough for application. Buying a giant bottle does not mean it will last for years. Lubricants also have a shelf life.
Ingredients
The best treadmill lubricant will be 100 % silicone. Major treadmills manufacturers say that, unlike oil, silicone treadmill lube lasts longer and contains no impurities. The chances of premature breakdowns diminish with a silicone lubricant.
Apart from this, remember a lubricant must also be environmentally friendly. Look for lubricant treadmill brands that sell safe lubricants.
Applicator
Before getting into the application process's details, understand the applicator's importance. A suitable applicator must ensure that the treadmill lubricant does not spill and makes treadmill lubricant a mess.
Some applicators won't require you to pull apart the machine. You can go under the belt quickly. However, it can be tricky as you may not be able to see how well you have lubricated the belt.
Remember, an ounce is enough to lubricate the exercise equipment. An applicator will accompany the best treadmill lubricants.
So, keep these few things in mind while choosing the right treadmill lubricant for your machine. Look for non-toxic and odorless products and increase treadmill life.
Top 10 Treadmill lubricants : Detailed Reviews – 2022
The Spot On treadmill lubricant has a precision twist top and an applicator for easy use. You can go for full-width belt lubrication with this 100 silicone tread belt lubricant.
Each bottle has a precision twist spout dispensing and eliminates belt hesitation.
It is an extensive tube cap designed with a straight, stiff tube that helps easily apply. The tube has been designed to match the silicone viscosity and helps in ideal flow control.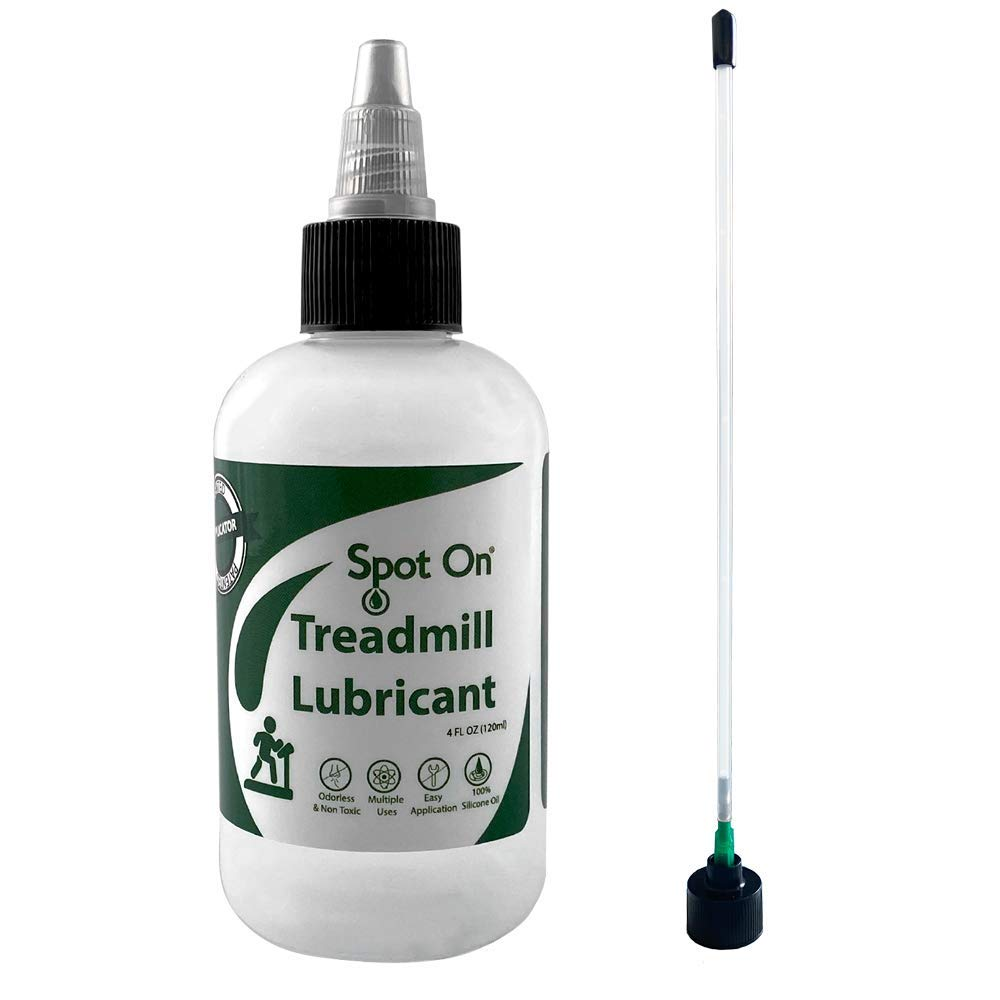 Specifications –
The brand is Spot On
100 % silicone lubricant
The liquid volume is 0.12 liters
It comes with two dispensing options
8-inch extension tube cap
Pros –
Non-toxic and odorless
Patented long tube
Easy access under the belt
Innovative applicator
Optimal flow control
Full-width belt lubrication
Straight and stiff tube
Cons –
Be careful as the blacktip on the applicator might come off
The treadmill lubricant with a twist spout dispensing top is everything you need for easy application. The patented cap slides between the deck and the belt easily. This Custom formulated treadmill lubricant is a solution for various modern treadmills.
This 100 silicone treadmill belt lubricant has the proper lubricant viscosity and effectively reduces friction.
Treadmill manufacturers recommend lubricating the machine for perfect motor life and durability. Each 4 oz bottle contains enough lubricant to maintain your treadmill through the year.
This Spot-On treadmill lubricant is compatible with Nautilus, LifeSpan, NordicTrack, Sole, ProForm, and various popular brands for treadmills.
Save your exercise equipment from costly repairs and grab a bottle of this lubricant.
This treadmill lubricant by Impresa is made of 100 % silicone. This is an excellent lubricant solution for your treadmill. Most elliptical equipment users also use this for their elliptical machine wheel. This can also be used for commercial quality exercise equipment.
A precision twist accompanies the squeeze bottle to simplify the application process. This is non-toxic and odorless and significantly extends the track life of your machine.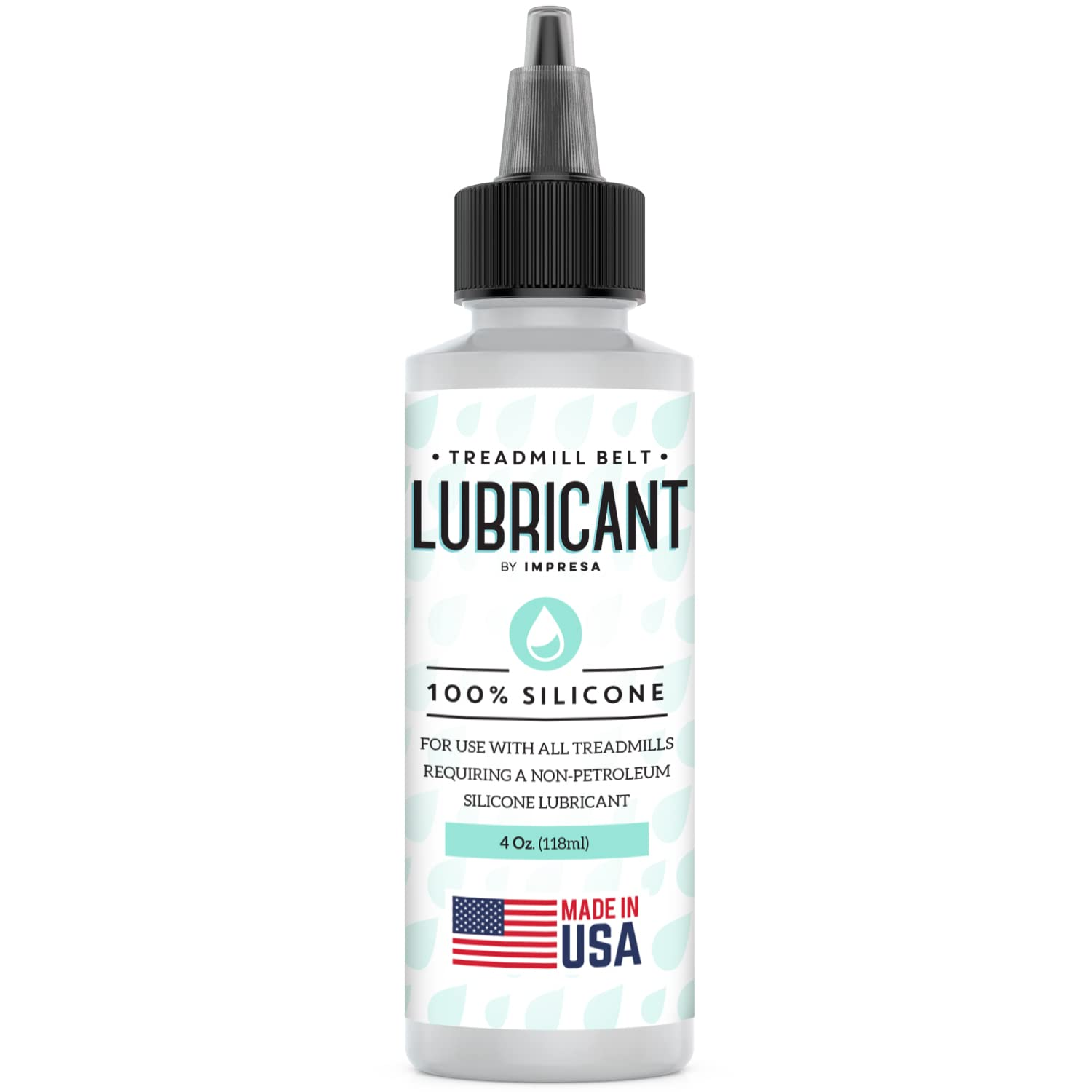 Specifications –
100 % silicone lubricant
The item weight is 0.31 pounds
The brand is Impresa
4oz EZ-squeeze bottle
The size is 4 ounce
Pros –
Easy to apply
Arrived quickly
Adds smoothness
Universal compatibility
Cons –
A user noticed the slow down of a belt after application
This is a toxin-free product and is effective in reducing friction. This treadmill lubricant is compatible with NordicTrack, Sole, ProForm, Horizon, and other popular brands. A small application of this silicone lubricant makes the belt glide.
Not only does it help with the belt hesitation, but this silicone lubricant reduces noise significantly.
You get the ideal flow control with this best treadmill lubricant. This custom-formulated lubricant caters to home, gym, folding treadmill, and other elliptical machines. You can call this a lube, oil, liquid, or silicone spray and use it for your device.
This silicone oil lube increases the track life and is an excellent solution to costly repairs. Regular lubrication reduces noise and keeps the machine quiet. Go for a full belt width lubrication with this Impresa lubricant and save your gym equipment.
The Noosa life treadmill lubricant controls flow and helps in full-width belt lubrication. The best treadmill lubricant comes with an original applicator tube and is easy to apply. A toxin-free tread belt lubricant saves you from the risks of going wrong with your treadmill lubrication.
This custom formulated treadmill lubricant is ideal for home use and commercial quality exercise equipment.
Using this excellent treadmill belt lubricant, keep your expensive workout equipment in good condition and continue the smooth ride.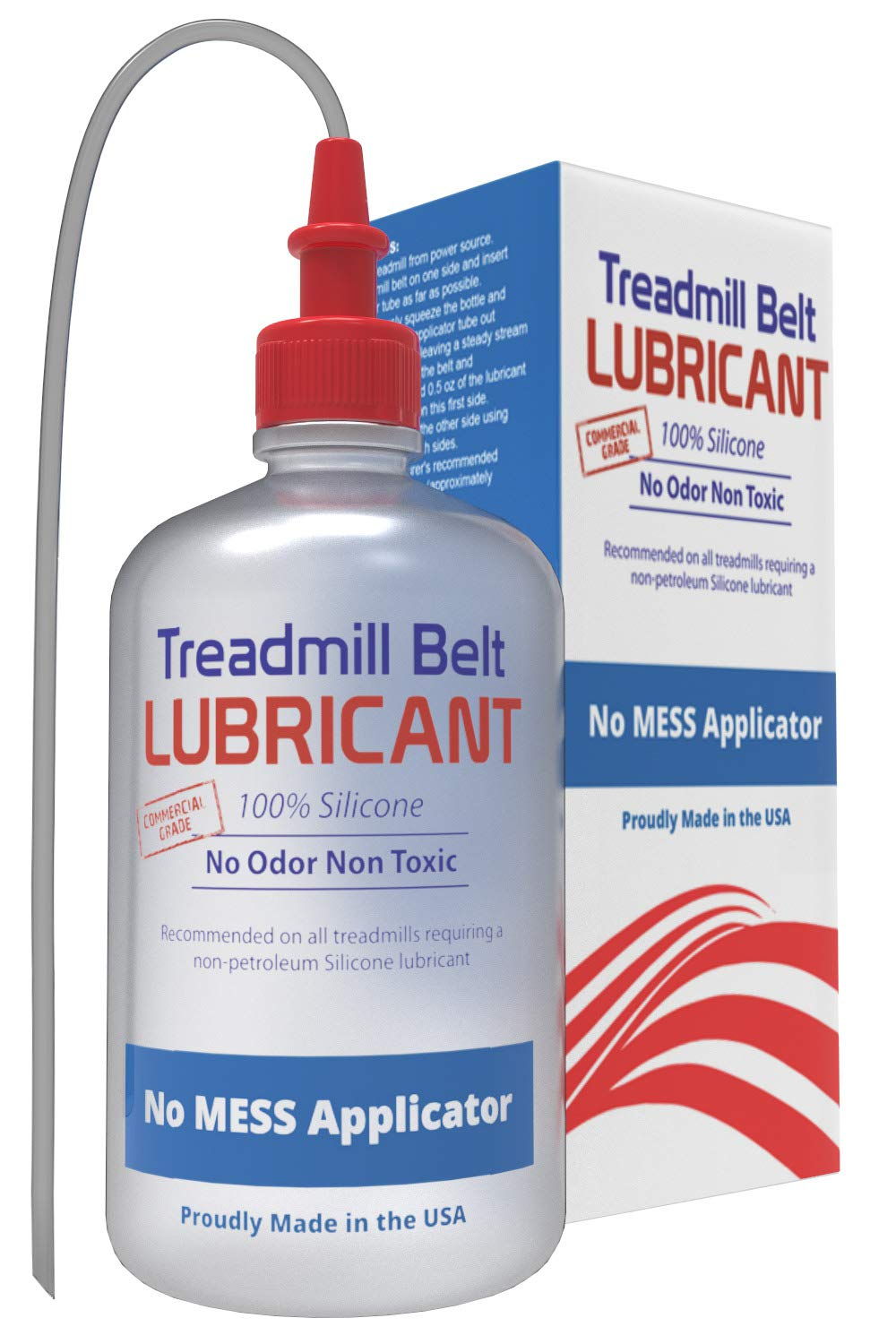 Specifications-
The brand is Noosa Life
The liquid volume is 30 milliliters
This is made of 100 % silicone lubricant
Allows four applications
Pros –
Pure and toxin-free
Do not loosen the belt
Money-Back Guarantee
No odor
No propellants
Easy to apply
Cons –
Some people found the content too watery
This is one of the best treadmill lubricants and is a mess-free solution. Tightening and loosening the belt too much can lead to wear and tear. The tube slides easily underneath the belt and distributes equally. The uniform distribution is done in seconds without creating a mess.
The four-ounce easy-squeeze bottle can be used for four applications. This is one of the best treadmill lubricants and is compatible with many popular treadmill brands. The ideal flow control makes the experience hassle-free and without costing much.
The 100 % money-back guarantee in unsatisfactory results makes treadmill lubricant even more alluring. Infuse new life into your tread belt with this best treadmill lubricant.
This treadmill belt lubricant by Essential Values is a pack of three. This product offers double most treadmill lubricants provided by other brands. This prolongs the track life span of your treadmill's belt and is safe to use besides being toxin-free.
This is not just for home equipment but also heavy-duty machines and multiple styles of gym equipment. The Essential Values lubricant comes in a squeezable bottle with a precision twist top. The irritation squeaks and friction will be reduced with the right amount of silicone viscosity.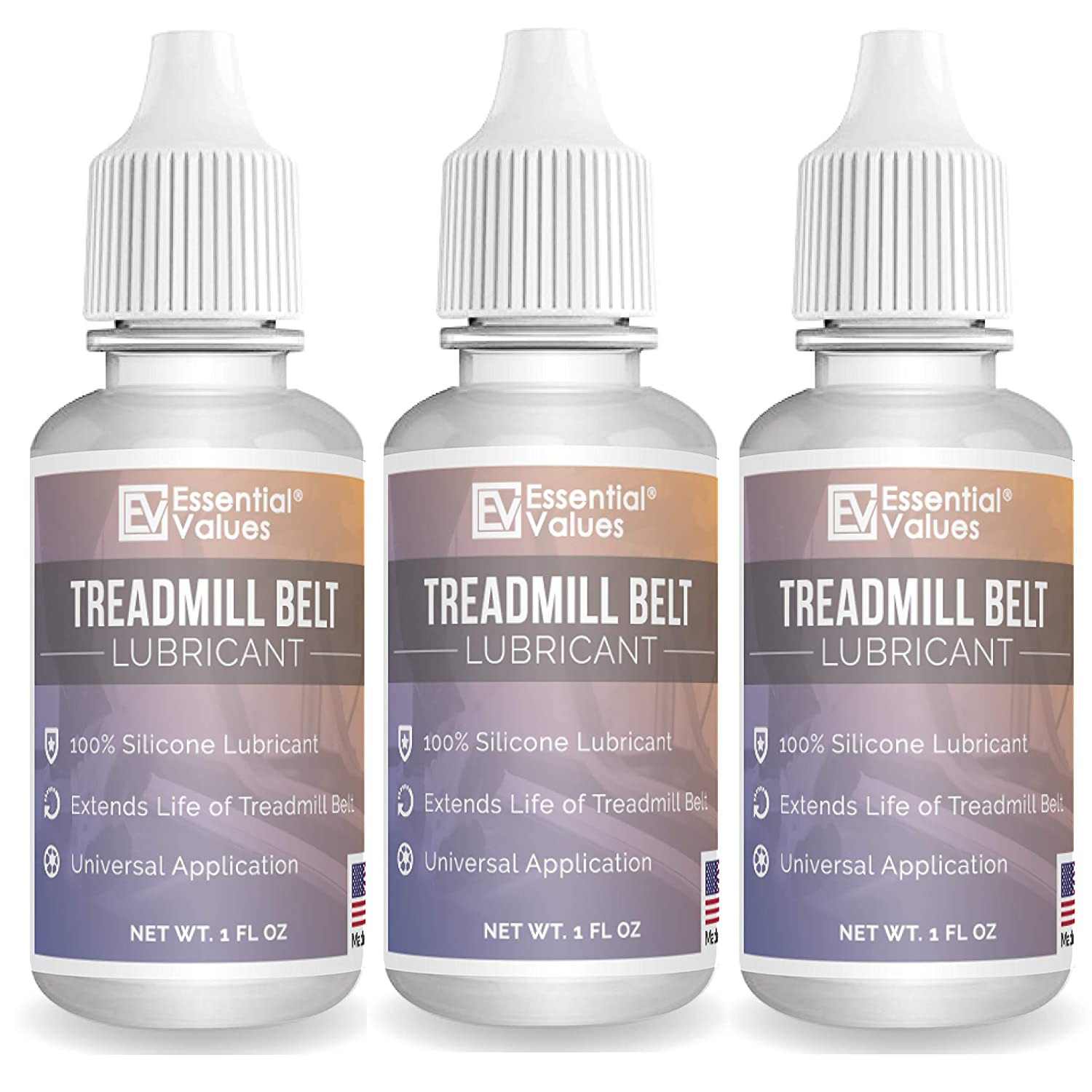 Specifications –
100 % silicone lubricant
Three packs of 1 oz
Non-toxic
Universal application
Pros –
Easy to use
Odorless and non-toxic
Twist top
Eliminates belt hesitation
Cons –
An applicator could have been handy
This treadmill belt lubricant has been engineered to increase the life of your machine. Popular brands like NordicTrack, Precor, PaceMaster, New Balance, LifeSpan, ProForm, etc., have displayed safe usage. It is undoubtedly going to improve the performance of your machine and reduce the irritating noises.
The treadmill lubricant is easy to use and comes with a twisted top. This will make your treadmill quieter and allow you to work out in peace. The quality is supreme and has been tested.
Get this 100 silicone treadmill lubricant and keep your machine smooth and quiet. This is one of the best treadmill lubricants and caters to most issues related to treadmill lubrication. If unsatisfied with the product, there is nothing to worry about; you get a guaranteed money-back solution.
The Godora silicone lubricant reduces noise and also assists in a smoother ride. This is suitable for mostly all treadmills categories and easy to apply. No toxic elements to harm the machine or things around. Treadmills and elliptical machines can be lubricated using this item from Godora.
The multiple-dispensing options effectively eliminate the mess that follows the application of a treadmill lubricant. You can extend the life of your treadmill with this silicone lubricant.
The motor and the belt keep going smoothly with regular lubrication and save you from costly repairs.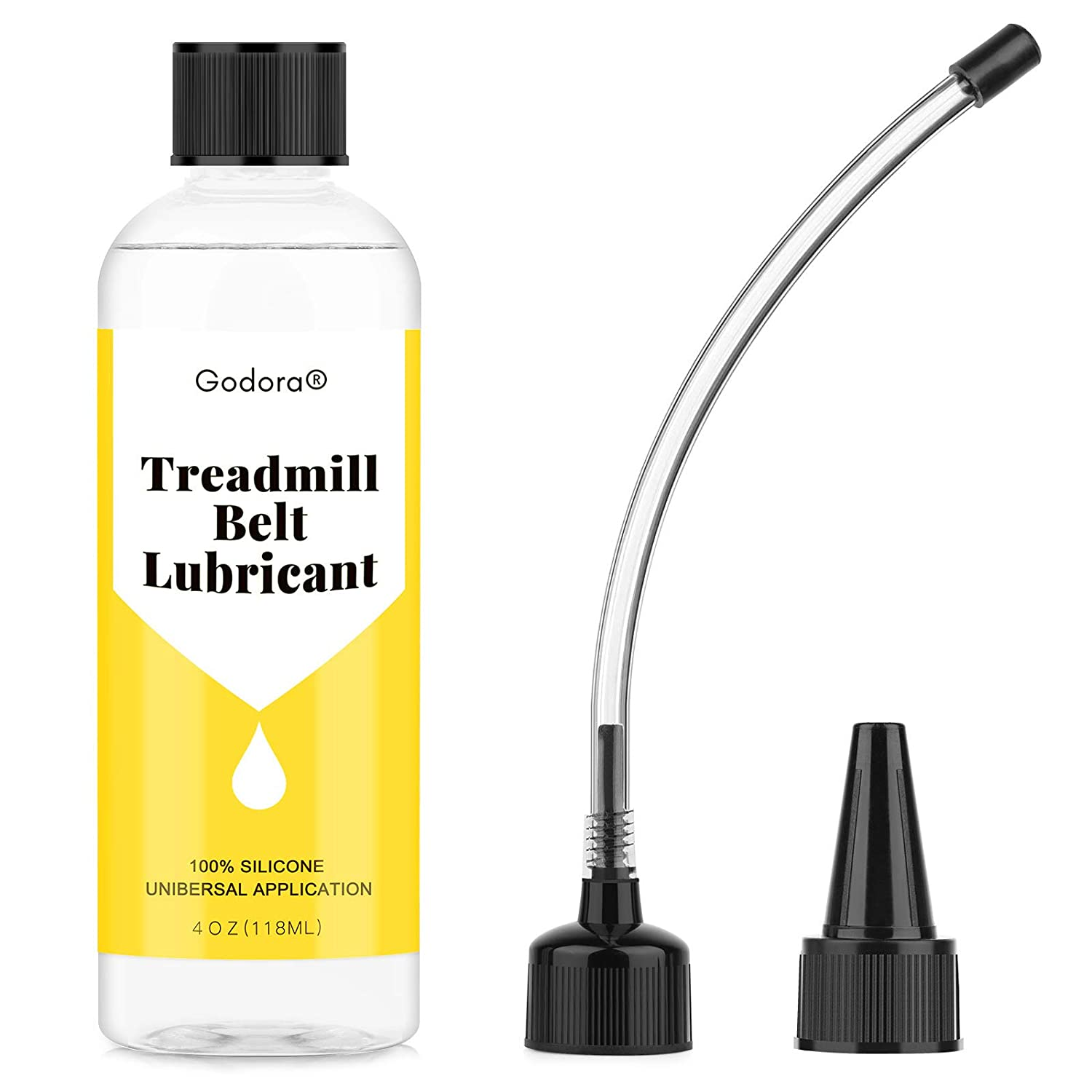 Specifications –
Made of 100 % silicone
The brand is Godora
Has three dispensing options
4 oz bottle
Pros –
Easy applicability
Multiple dispensing options
Money back policy
Fully compatible
Cons –
Applicator device broke for some users
The lubrication kit is comprised of three dispensing options. The extension tube cap is helpful for full-width belt lubrication. The precision twist spout dispensing top is for ideal flow control. The flat seal cap is easily used for easy transportation and storing the treadmill lubricant.
You can use it for popular brands like Nautilus, ProForm, Horizon, NordicTrack, LifeSpan, New Balance, PaceMaster, etc. A treadmill lubricant will make your workouts safer and more enjoyable.
Get your money back if you still feel this is not the proper lubricant for your machine. This is one of the best treadmill lubricants and is a popular choice.
The IPO silicone lubricant comprises pure silicone and comes with an easy applicator tube for the best experience.
A pure and toxin-free product, this treadmill lubricant is 100 % safe. This is environmental-friendly and keeps your machine stable even at high temperatures. Do not go for cheap lubes and ruin the functioning of your treadmill belts.
This slides easily under the belt and does not require loosening or frightening the tread belt. You can apply the treadmill lubricant mess-free and with minimum effort. This 100 % silicone lubricant keeps your treadmill smooth and keeps away unnecessary noises.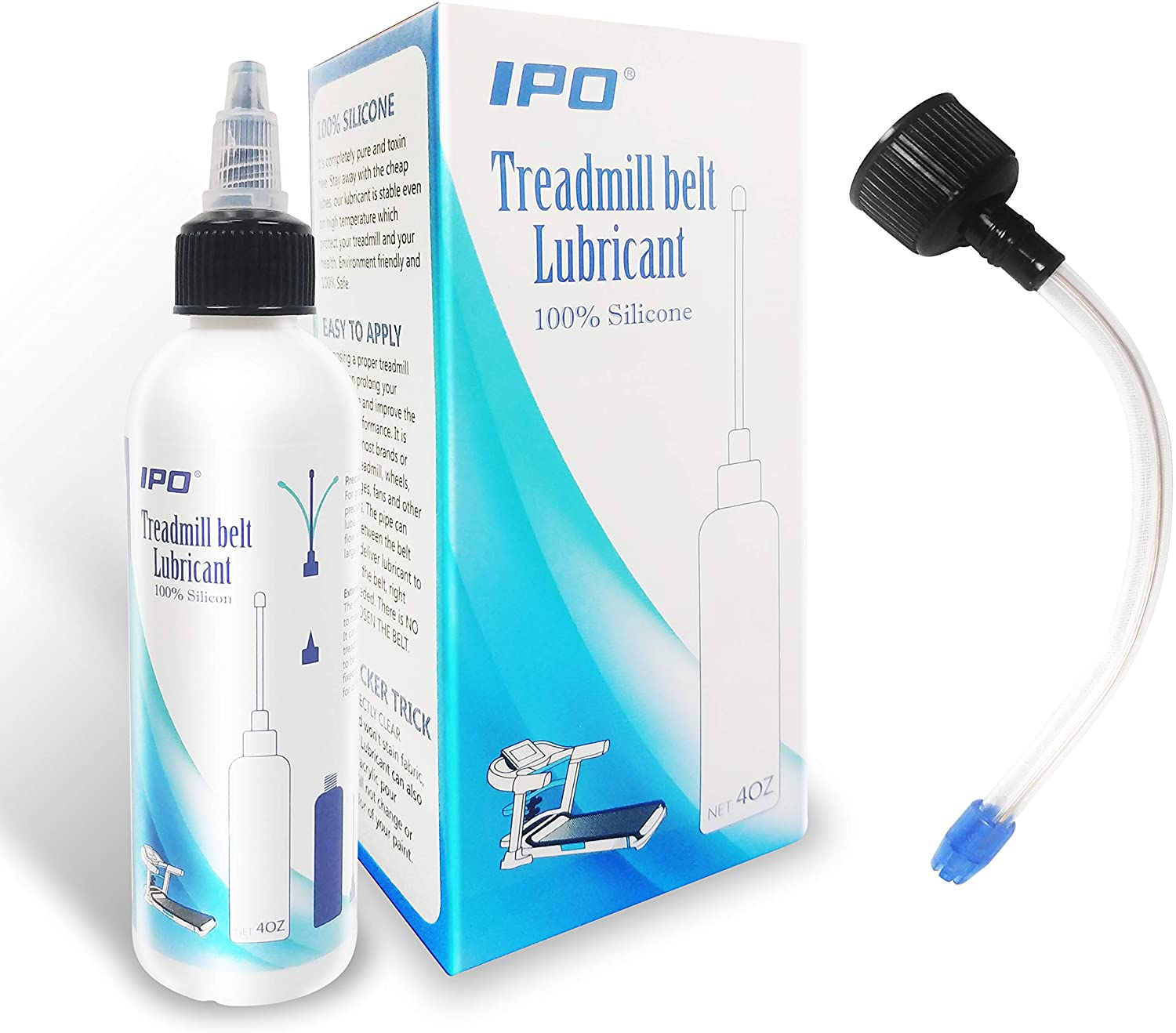 Specifications –
100 % silicone lubricant
The brand is IPO
The liquid volume is 0.12 liters
The item weight is 4 ounces
Comes with an applicator tube
Pros –
Fully Compatible
Eliminates mess
No need to lose the belt
Safe product
Cons –
The straw is too flimsy to direct the flow of the lubricant
Not only is this compatible with IPO treadmills but also with other popular brands. You can also use this to reduce friction between various movable parts. Apart from using it for treadmill lubrication, some people have found it useful for acrylic painting.
A proper treadmill lubricant can enhance the performance of your equipment, and the wrong one can result in a breakdown. You also get a full refund if you are not satisfied with the quality of the product.
This is one of the best treadmill lubricants available at an affordable price. Stop wasting your time over cheap lubes and oils for your machine, and get this IPO treadmill lubricant for the most fantastic experience.
The Horizon Fitness treadmill lubricant is one of the most accessible treadmill lubricants. It comes in a bottle with side measurements and helps control the amount of lubricant used on the walking belt. In a large bottle can be challenging to see the amount of lube that has been applied.
This is one of the best treadmill lubricant and helps in belt hesitation. The best part about the Horizon lubricant is that it comes in a single bottle use and saves you from extra trouble.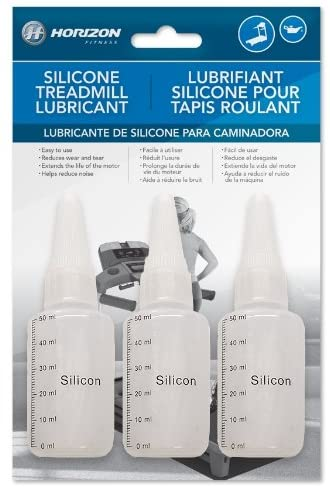 Specifications –
100 % silicone treadmill belt lubricant
The brand is Horizon Fitness
The item weight is 0.35 pounds
It comes in a package of 3 bottles
Precision twist top
Pros –
Quick arrival
Easy to apply
Side measurement for a precise use
Three applicators for three bottles
Squeeze bottle
Cons –
Difficulty in squeezing the bottle for lubricating
You will need to cut the cap of the wholly sealed pack for using it. Since there is a single bottle, the chances of leakage are also reduced. Some people found it challenging to squeeze bottles. The bottles are a bit small and can be complicated to handle.
But on the other side, they also bring more precision and control, which is key to lubrication. This is one of the best treadmill lubricants and is beneficial in providing full-width belt lubrication.
So, get this 100 silicone treadmill lubricant and add some smoothness to your treadmill or elliptical equipment. You can increase the motor life and belt life and save your machine from wear and tear.
The Good Habit silicone oil lube is premium quality and an effective belt friction solution. This silicone lubricant is a good option, whether your home treadmill or the commercial-quality treadmill gym.
The squeezable bottle is a mess-free solution to your spills. It can quickly go underneath your tread belt and distribute itself equally. The oil is cleaner and a better option compared to sprays and gels.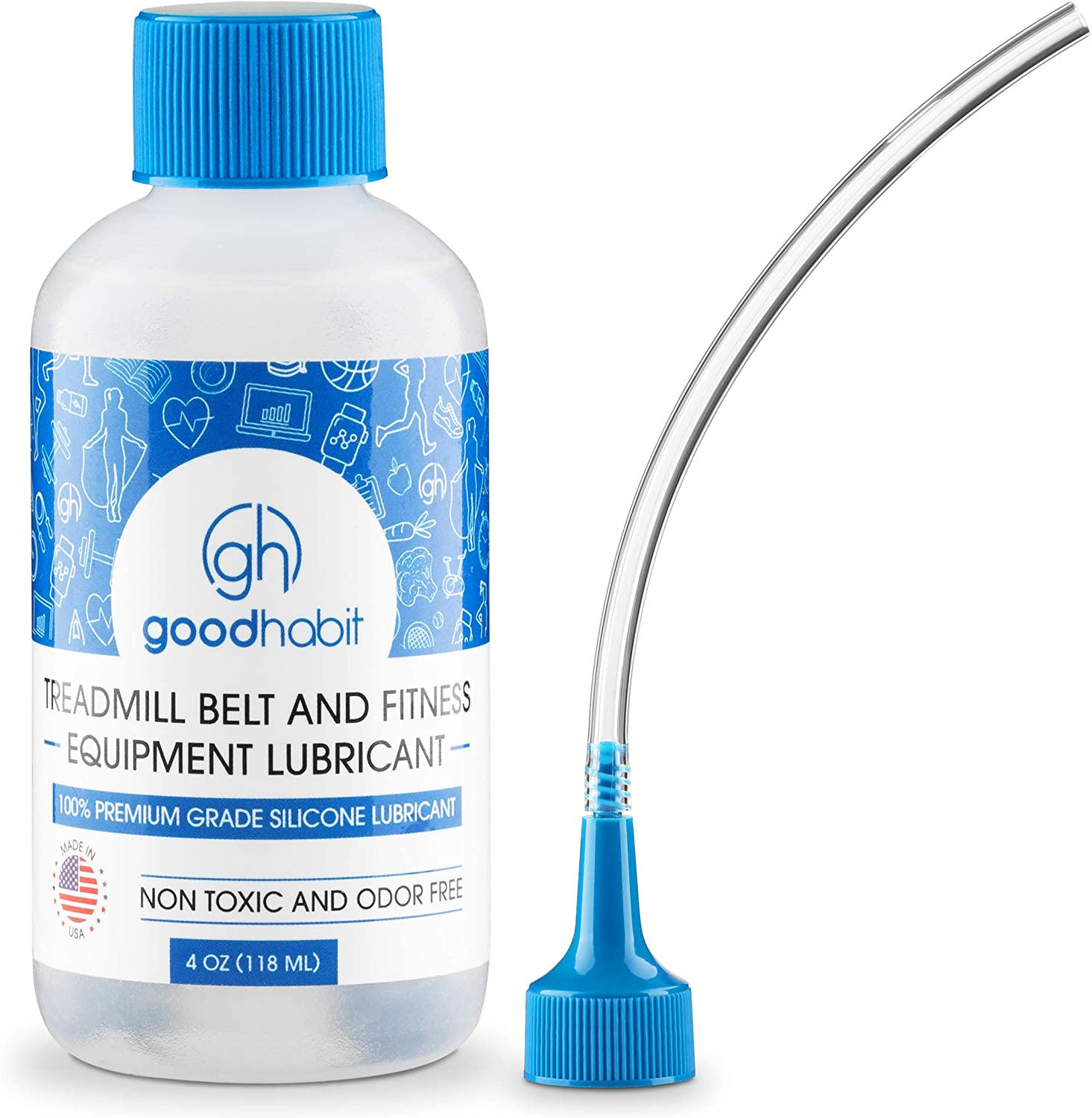 Specifications –
100 % silicone oil
The brand is Good Habit
It has a lube applicator
4 oz squeezable bottle
Pros –
Premium quality
Easy to use
Universal compatibility
Money-back guarantee
Cons –
The consistency of oil may not work for all brands
This treadmill lubricant works with most popular brands like Reebok, Horizon, ProForm, Nautilus, Spirit, Precor, Weslo, Schwinn, NewBalance, etc.
This simple maintenance can save your treadmill, motor, and belt life without spending too much. It will keep your machine running smoothly and have a quieter workout.
Get your money back if you feel the lubricant fails to match your expectations. From premium quality to universal compatibility, this treadmill lubricant incorporates all the requirements of a good product. This is another top pick from our best treadmill lubricant list.
You don't have to spend time disassembling the machine and putting it together again. Applying the silicone oil takes a minute and gets your device going with the proper flow.
This treadmill lubricant by Unisport is excellent for your home and commercial treadmills. It effectively provides the right solution for the belt hesitation and lubrication issues. The quality of this lubricant exceeds most competitive products.
Applying Unisport treadmill lubricant will bring a lot of change to your treadmill. A smoother, quieter, and the faster belt is what you get post-application. It is straightforward to apply and requires no expert intervention.

Specifications –
The brand is Unisport
The liquid volume is 0.12 liters
The item weight is 0.33 pounds
4 oz squeeze bottle
Pros –
Reduces friction
Helps in regular maintenance
100 % silicone
Easy application
Cons –
The bottle leaked in case of a few users
This treadmill lubricant also has a precision twist spout dispensing top to simplify lubrication. There is no odor, making applying it on the deck easier. You will get a smooth workout experience and reduce the risk of wear and tear.
The profits of this product are used for charity work which makes another good cause to use this treadmill lubricant.
Compatible with popular treadmill brands and backed by the money-return policy, this is undoubtedly a hit product for most treadmill users. Try this treadmill lubricant from Unisport and get rid of unwanted friction.
The last on our list is this silicone spray from Techmotion. This is an easy lubricate solution and has rare chances of making a mess. Spray this under the treadmill belt and uplift the performance of your treadmill.
This will also reduce the stress on the motor and prolong its life. You can use this for both residential and commercial treadmills. This is a hassle-free solution and does not require a lot of effort. You can use this spray to maintain your treadmill and keep it updated.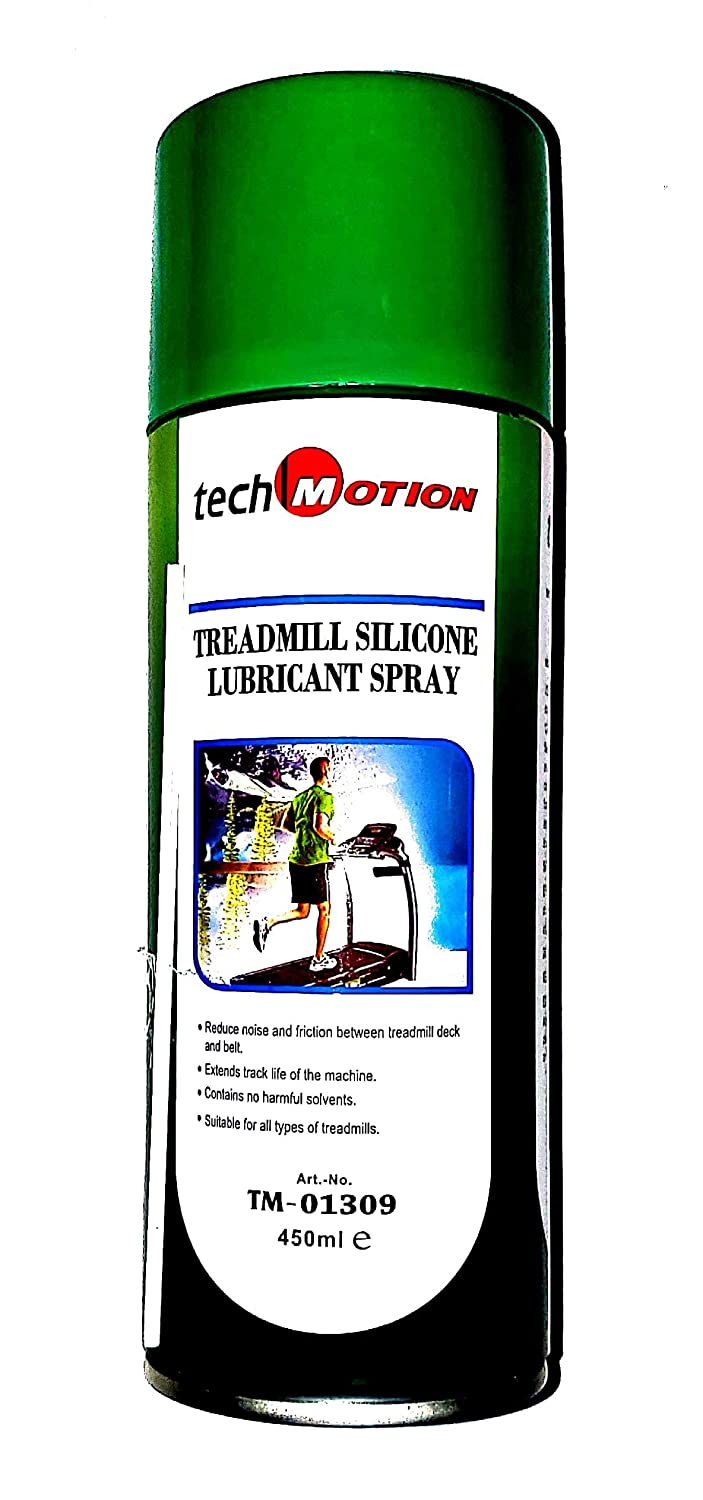 Specifications –
100 % silicone
Designed explicitly for treadmill use
Lubricant spray
The brand is Techmotion
Pros –
Easy application
Reduces friction
Mess-free solution
Reduces noise
Cons –
Not to be used for Star Trac
You need to lift the belt and spray the lubricant underneath for application. It will reduce the friction and diminish the squeaky noises you encounter from time to time.
The best part about the lubricant spray is that it dries away fast and does not leave behind the oil. It is non-toxic and can be applied with complete safety.
However, do not forget that it is not compatible with Star Trac. Get this lubricant spray with squeaking, slow belt, and sticking problems.
How to apply a silicone treadmill belt lubricant
Reading out a treadmill manual before using any new item for maintaining the treadmill belt can be damaging.
The different treadmill brands are compatible with different types of lubricants. There is no particular rule as to how often you should lubricate your treadmill or the amount of lube to use. However, one must follow a standard way to go about it.
The treadmill's quality, its belt, size, type, etc., determines how to lubricate a treadmill. If you use your treadmill for light walking and jogging, it is alright to lubricate it yearly. For vigorous runners, applying the treadmill lubricant twice a year is suggested.
You don't require a lot of tools to lubricate the treadmill belt; a screwdriver can be handy if you need to reach out the space between the walking belt and the machine. Some treadmills come pre-lubricated; adding more can damage your treadmill performance.
If you have loosened the nuts and bolts, do not forget to tighten them after applying. Proper lubrication requires a suitable applicator. Keep a towel handy in case of spills.
Do not apply any treadmill lubricant on the top of the belt, and wipe it immediately if you spill it accidentally.
Lastly, ensure that the treadmill's power is plugged off. Follow the treadmill manual instructions for the best guidance and save yourself from costly repairs.
FAQs
What are the types of treadmill lubricants?
There are two most common types of treadmill lubricants – silicone and wax. The silicone treadmill belt lubricant comes in liquid and sprays forms.
On the other hand, the wax lubricant can be granular, solid, or powdered. Do not forget to check out the manual to know which lubricant suits your treadmill or other exercise equipment.
What amount of lubricant shall be used?
Most treadmill manufacturers recommend using an ounce of lubricant. However, the amount of lube depends on the size and use of the treadmill or elliptical machines.
When you see a waxy substance or an oily coat, you know it's time for some lubrication. Modern treadmills have odometers for indicating the next service date.
Is it necessary to apply a treadmill lubricant?
The deck and treadmill belt are two of the most sensitive parts of a treadmill machine. The constant friction between them can shorten the life span and lead to wear and tear.
Heavy-duty commercial treadmills need lubrication for heat dispersion and to prevent the breaking of the belt, and it eliminates belt hesitation.
Which lubricant is best for treadmills?
The Spot On silicone lubricant tops our list of treadmill lubricants. The precision twist cap and optimal flow make it easier to use this lubricant and mess-free. The other products on the list are also tested for their applicability.
Is it ok use vaseline as a lubricant?
It is advised not to use a non-approved substance for lubricating the treadmill belt. A dry deck can be a huge problem, but using the wrong lubricant can have more significant consequences. It is advised to use a treadmill lubricant approved by manufacturers and experts. A silicone treadmill belt lubricant is a good option.
Can WD-40 be used as a lubricant?
A 100 % silicone-based lubricant is recommended for lubricating a treadmill. WD-40 is a mixture, and using the wrong lubricant can harm your motor, belt, and other parts.
Skip using household lubricants or oil for lubricating a treadmill machine. Go for authentic and specific products.
Conclusion
A treadmill is constantly in motion and requires regular maintenance. Most of the lubricants on are list are silicone-based, and it would not be right to rank them. The top ten products are a result of vigorous research and are unique.
Our top three picks for the best treadmill lubricants are Spot On, Impresa, and Noosa. Its non-toxic and odor-free nature make it excellent for home usage.
You have to decide whether you are looking for a controllable squeeze bottle or an original applicator tube. The cheap lubes must be avoided at any cost or else be ready to pay the extra fee.
Go for the treadmill lubricant that suits your requirement best, significantly extends the motor life, and results in an ideal flow controllable squeeze bottle.
A 100 silicone treadmill belt lubricant is a great option. So, start proper treadmill lubrication and save a lot of repairing costs.