Treadmills are excellent exercise equipment and cater to most of your body's fitness needs. Gone are the days you hit the gym to keep yourself in shape. The advancement in technology has worked wonders and getting yourself home exercise equipment is hassle-free.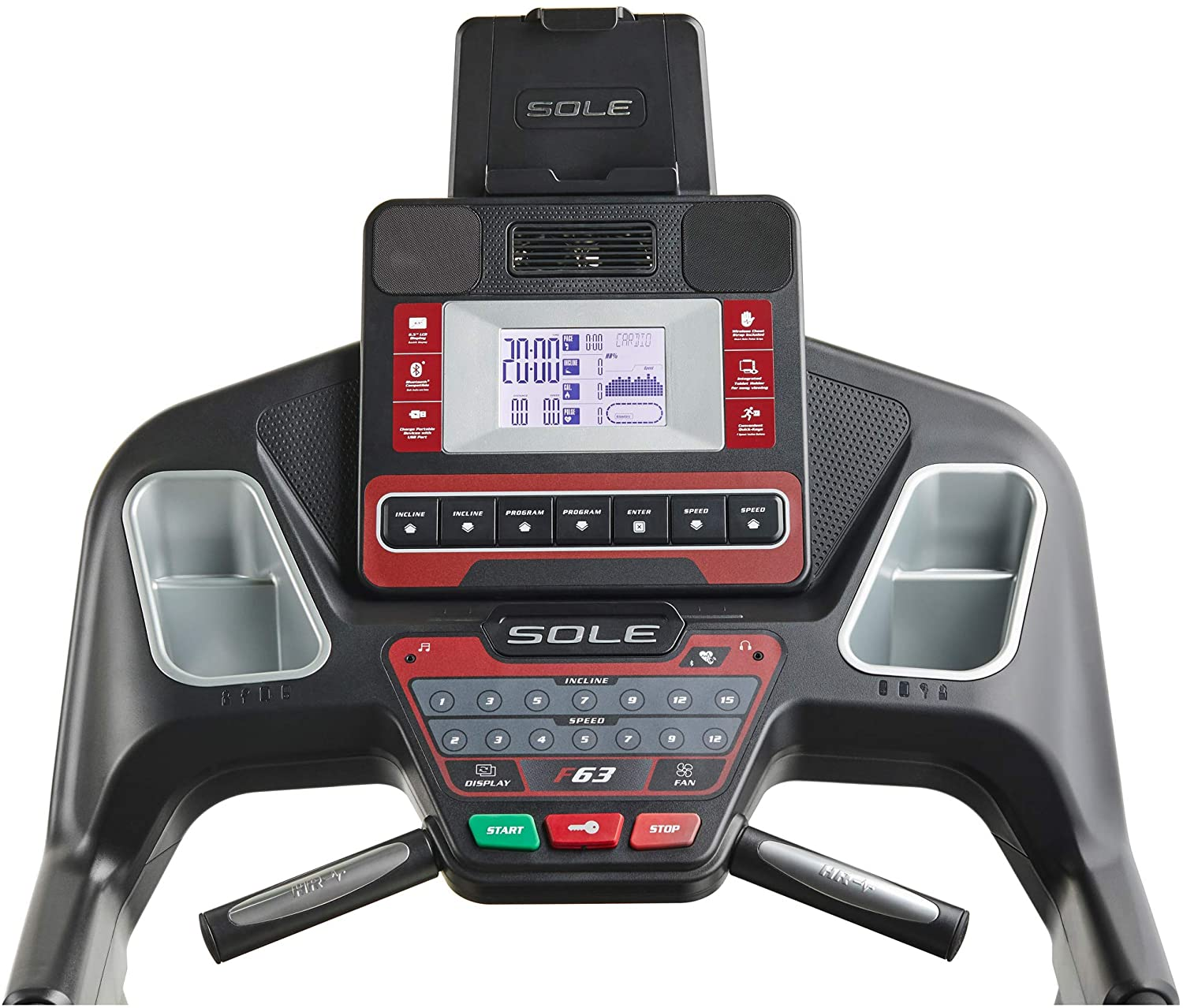 If you have been looking for a home gym treadmill, the sole treadmills have crossed your sight. Sole is a famous treadmill brand with excellent machines for your home gym. We will discuss the top two home treadmills from Sole: f63 vs. f80.
There is a slight difference between the two treadmills. We will shed light on the quality, running surface, weight capacity, custom programs, connectivity, etc., of the Sole Fitness Treadmills.
Both the machines are top-rated and have great value for their money. However, finding a good quality machine can be difficult; we have compared the two from top to bottom for your convenience. So, check out the details and pick one!
Things to consider while buying fitness equipment like a treadmill
With so many options in the market, it can be confusing which treadmill to go with. However, some things to keep in mind are your height, weight, and fitness requirements.
The length of the running surface is an essential factor to consider. Consider a machine with a larger running surface if you have long legs and long strides. Does it have safety features like handlebars or an emergency stop button? Look for high incline degrees if you want a hiking experience.
Some treadmills do not have warranties, but buying the ones with more extended warranty offers is advisable. Read out the top reviews and see the quality of their customer service. You can see which brand delivers a treadmill faster if you want a treadmill immediately.
Some people live in compact households and do not have a lot of space for huge gym equipment. In such scenarios, a foldable treadmill can be a great option. You can fold it and store it away easily without any hassle.
Does your fitness equipment have a personal trainer or preset programs? It works great to keep you motivated. If you are a heavy-weight individual, opt for a treadmill with a higher weight capacity.
Apart from these, look for extra features like a media shelf or a water bottle holder, Bluetooth speakers, etc.
The Sole is a decent treadmill that can be used for walking and running. This new fitness equipment from Sole Fitness has various features for different fitness levels. A smooth-running surface and good motor strength are what you get with Sole F63.
The message board of this machine resembles an instruction manual, making it different from other treadmills. You can store the workout stats for future reference and analyze your training. Serious athletes can use this tool for a better understanding of their performance.
More serious runners can use Sole F63 for challenging workouts. Let us quickly take a look at the features of this excellent machine.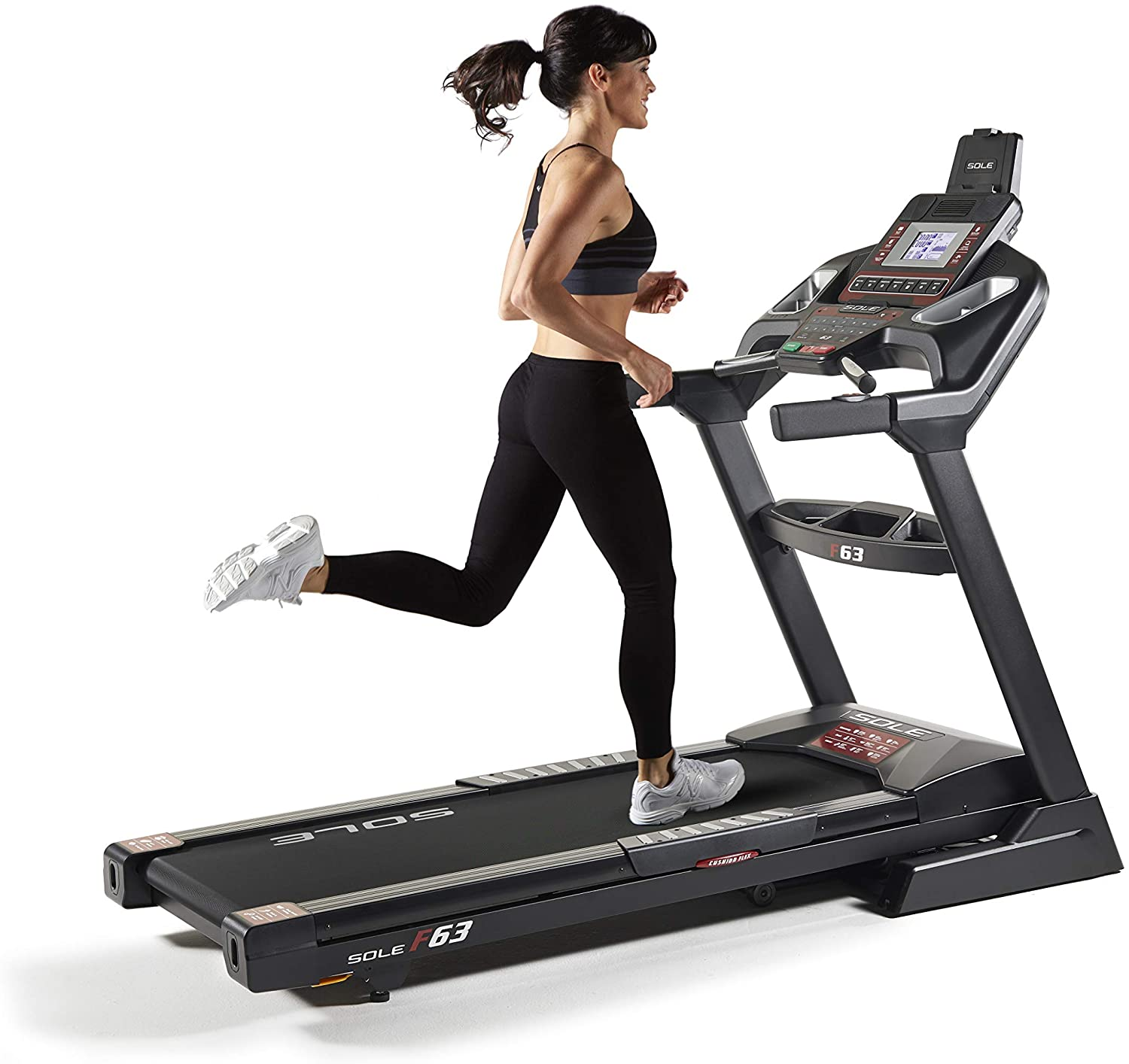 Features of Sole F63
Assembles dimensions are 33 * 75 * 58 inches
The dimension, when folded, is 68 * 43 inches
Motor strength is 2.5 HP
The top speed is 10 miles per hour
The maximum weight capacity is 325 pounds
The incline percentage is up to 15 %
Bluetooth speakers
Bluetooth connectivity for transferring workout data to other devices
Presence of six standard programs
Two custom programs
2.5 inches of roller
Running surface of 20 * 55 inches
Double-ply belt
The cushion flex whisper deck reduces the impact on joints
Included heart rate chest strap
Pulse grips
Single LCD screen
Built-in cooling fan
USB port for charging devices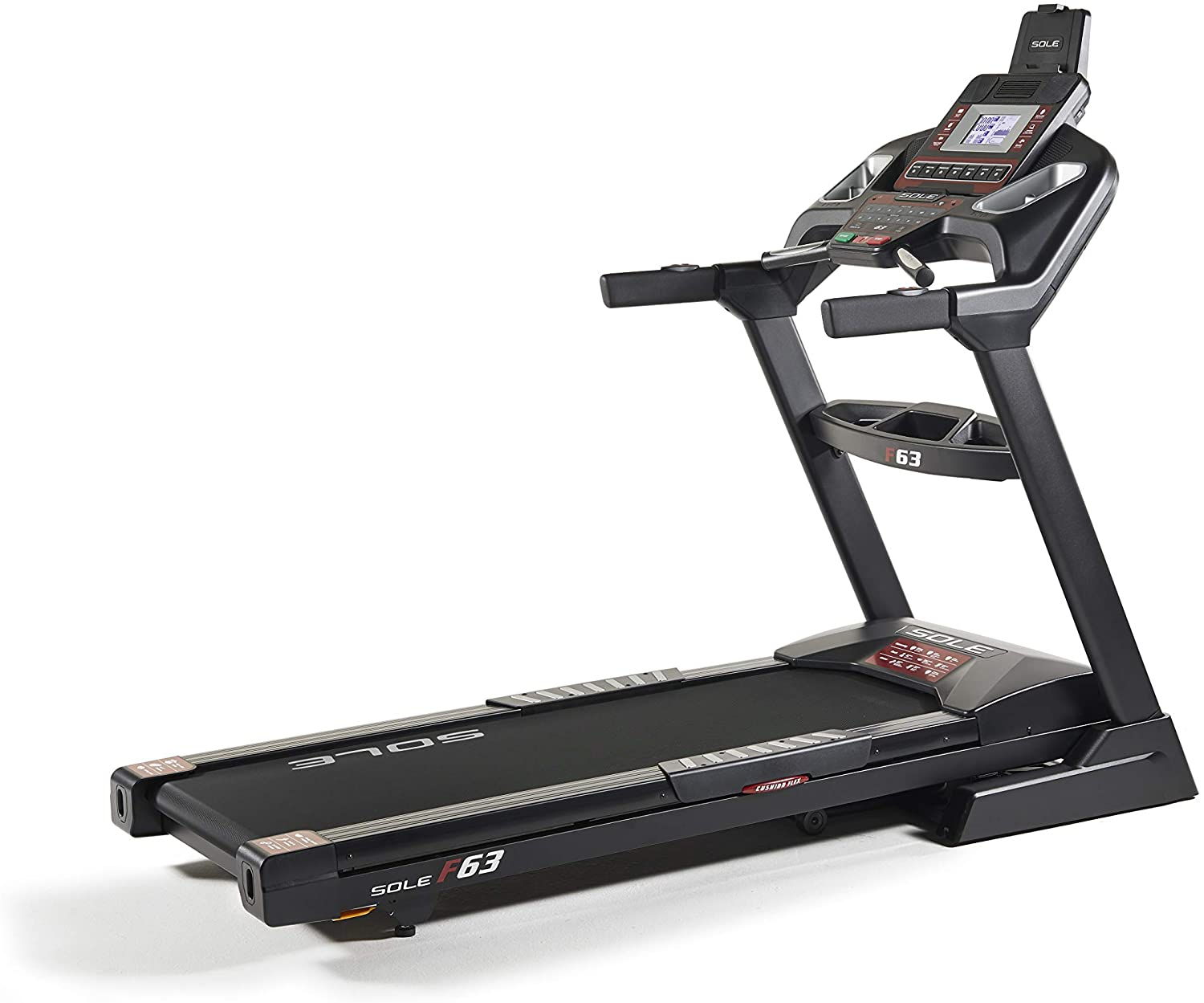 Pros –
Foldable design
Powerful motor
Higher weight limit
Standard programs
Built-in programs
Larger screen
Cushioned deck
Deck warranty
Integrated tablet holder
Cons –
People with long legs might face difficulty
Loud noises
Poor customer support
Tricky assembly
The sole f63 offers a minimum speed range of 1 – 10 mph. Get a USB port at no extra cost to pay. The pulse grips and chest strap works great in regulating heart health. This is a budget treadmill with a large running surface for your effective workout.
Track the workout data via the LCD screen and lee your eyes on time, distance, speed range, calories burned, etc. A robust motor support your workout routines. This sole treadmill also has a tablet holder to keep your devices handy in an emergency.
The built-in speakers allow you to connect media, listen to your favorite sound, and keep the energy at its peak. This is one of the best treadmills and has excellent value considering the price. In addition, you can adjust the setting as per your fitness level and fulfill your workout goals.
See how much space you have for accommodating a treadmill and cross-check with Sole F63 dimensions. The advantage of this treadmill is that you can fold it in a space crunch. In addition, the warranty cards make it a perfect treadmill. You receive 20 years motor warranty, three years deck warranty, a lifetime warranty on the frame, three years on electronics, and a one-year labor warranty.
The Sole F63 is an excellent treadmill with the most critical features required by the users. For assessing the Sole f63 vs. f80 treadmill race, let us now hop to the Sole F80 for more details.
The sole f80 might appear much like the sole f63 but is an advanced version. The sole f80 has upgraded features than most treadmills in the same price range. Like other sole treadmills, this has quality components and lasts long. In addition, it has a stronger motor and is excellent for home usage.
You can shed weight and go for good cardio training with this Sole F80 model. The features are such that you can train better than having a personal trainer. The wider running surface and the LCD contribute a lot to the modern look of the sole f80.
This treadmill is top-line gym equipment and results in practical training. In addition, it is a smart device and does not take much out of your pocket. From various incline settings to Bluetooth connectivity, from the powerful motor to preset programs, Sole F80 has your back.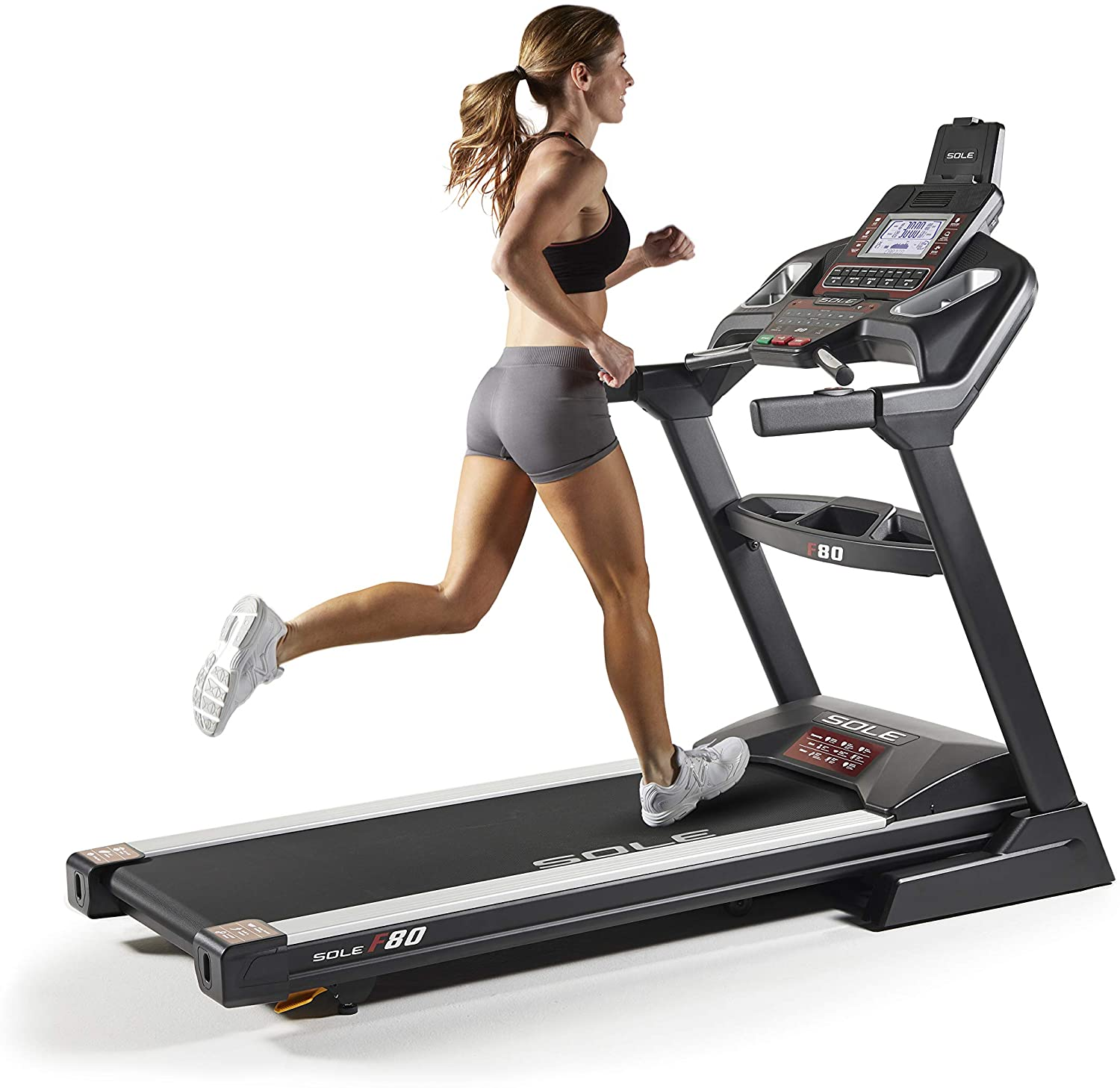 Features of Sole F80
The frame is made of heavy-duty steel
The item weight is 264 pounds
The maximum weight capacity is 375 pounds
Motor strength of 3.5 HP
The maximum incline percentage is – 15%
Blue backlit display of 7.5 inches
Top speed of 11 miles per hour
Cushion flex whisper deck
The running surface is 22″ * 60."
Rollers are 2.75 inches
Wireless Chest strap
Hand pulse grips
Double-woven 2-ply belt
Easy assist folding technology
Sic standard programs
Two user-defined programs
Two heart rate programs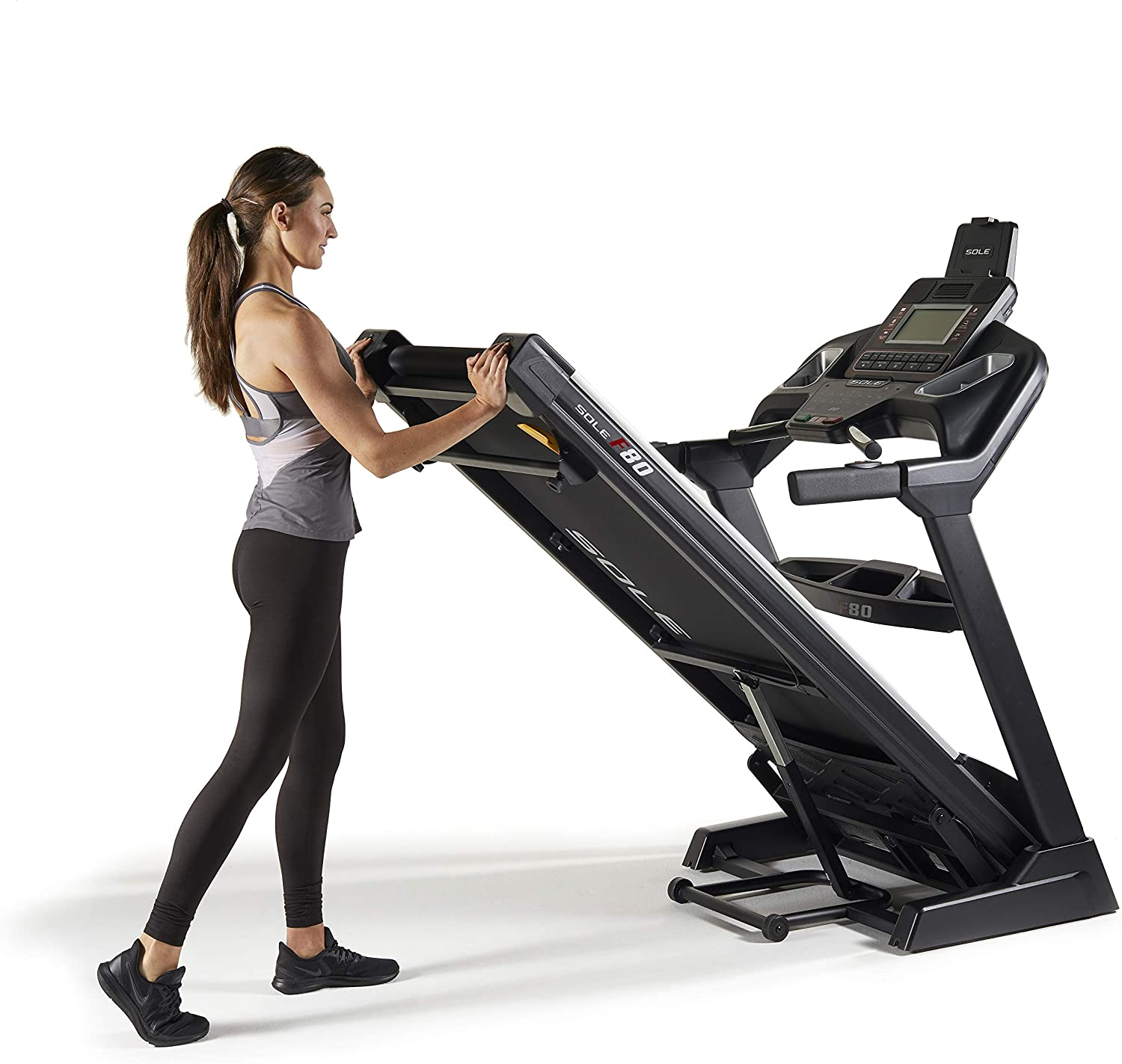 Pros –
Larger screen
Excellent weight capacity
Easy to put together
Quiet operation
Smooth incline
Cooling fan
Cons –
Folding the running deck is demanding for shorter people
The heart rate strap tends to fall apart
Heavier than Sole f63
A bit weak fan
The Sole F80 treadmill is of high quality and has a user-friendly design. The more extended deck, better display, and higher weight capacity contribute to the machine's productivity. In addition, the 7.5-inch display increases the picture quality and helps track your workout data.
The heavy-duty frame is helpful in the case of multi-users. You can adjust the speed and incline of the machine as per your fitness level and train accordingly. The steel-zinc coated flywheel of the Sole f80 is the reason behind the smooth and quiet operation. Not only that, but also the user experience a fluid motion on the treadmill.
The running deck is cushioned and gives a smooth running experience. It can absorb the shock and reduce the impact on the knees, joints, back, and ankles. The message board is one of the highlight features. It allows the user to scroll down messages related to the treadmill's features or the workout metrics.
You receive ample options to control your heart rate and ensure a safe workout session. You can also customize your workouts as per need and have practical training. The minimum and maximum speeds range from 1-11 miles per hour, which is in most treadmills in the similar category.
Once you are done, fold the deck and store it easily. There have been multiple upgrades in the Sole f80 compared to f63. Let us now compare both treadmills to see which gets the maximum votes.
Comparison between Sole f63 vs. f80
The Sole f63 vs. f80 treadmill battle is neck to neck as both are award-winning treadmills, and most features are qualified as standard fitness equipment. However, sole f63 and Sole f80 are not poles apart; they have a lot of similarities too. The first similarity between sole f63 vs. f80 is their cushioned deck with whisper-quiet performance.
Both have 15 levels of incline and two-ply belts in common. In addition, the Bluetooth connectivity makes Sole f63 and Sole f80 great for viewing the information on the display screen. The preset workouts and an integrated tablet holder are other common factors.
However, they are different from each other in some aspects. Let us look at the main differences and draw a line between the two.
The Display Screen
The Sole F80 has a bigger and more vibrant display screen than the Sole f63. The 7.5 inches screen of the Sole F80 presents a better view than the other. Both screens come with a backlight. Several buttons help you with the speed, time, distance, calories burned, etc.
You can directly pick a program with Sole F80, but you will need to scroll down to select a program using a sole f63. So, if you are looking forward to a wider screen and quick controls, the Sole F80 wins the first round.
Price Difference
Both treadmills have a reasonable price. However, the Sole f63 is a bit cheaper than the f80. So if you are on a crisp budget, you can go for Sole f63 and get a standard treadmill. And if you are okay with paying a few bucks to get some additional features, choose F80.
Power
The strength of an electric motor speaks volumes about the treadmill's quality. A motor regulates the lowest speed and the highest speed of the machine. A high-capacity motor will take the higher weight and allow a smoother incline transition.
The sole f63 has a 2.5 HP motor, and the F80 has a 3.5 Hp motor. Sole f80 exceeds raw power and gives a better workout mode. If you are the only user, sole f63 works fine but consider F80 for multi-users.
Weight Capacity
The F80 has a weight limit of 375 pounds, whereas the Sole f63 supports 325 pounds of user weight. A stronger motor has a lot to contribute to the weighing capacity. As a result, the F80 can sustain individuals with higher weight and facilitate multiple people's usage.
Inexperienced runners accidentally put more pressure on the surface due to less experience. As a result, they can go for F 80 to train better and avoid motor failure.
Running Surface
The running deck becomes an essential factor, especially for taller people. Both the treadmills have a cushioned surface and absorb the energy produced by the feet. There is a 2″ difference between the surface of both machines.
If you want a larger running space and have longer strides go with the 22″ surface of Sole F80. There is just 2 inches difference between the two, but sometimes even that can make a huge difference.
FAQs: Sole f63 vs. f80
What is the maximum speed of Sole f63?
The maximum speed of the Sole f63 is 10 miles per hour. The treadmill gives a speed range of 1 – 10 miles per hour and is suitable for a productive workout. You can adjust the speed of the machine as per your required intensity and shape your activity accordingly.
What is the running surface width of Sole F80?
The running deck size of the sole f80 is 22″ * 60″. It is two inches greater than the sole f63 treadmill. If you want a wider deck length, go for sole f80 and have a great running experience. The surface is cushioned and gives a comfortable ride.
Are Sole treadmills easy to assemble?
A sole treadmill is not very complicated to put together. You can assemble a sole treadmill in a maximum of 2 hours and get started. Follow the instruction manual and do it quickly. If you were a technical expert, you could do it even in a shorter time frame.
Can you fold a Sole F63?
The sole f63 comes with an accessible assist folding technology. You can fold it and store it away after using it. This is an excellent solution if you have a smaller apartment. You can fold the machine without help from 3 to 4 people and do it yourself.
Can Sole F63 be used for running?
The Sole f63 is an excellent treadmill and can be used for running, walking, or jogging. The 2.5 Hp motor is quiet and nicely designed with a 20″ * 60″ running deck. You can use it for running and walking and have a great workout routine.
Which treadmill between the sole f63 vs.. f80 has a cushion flex whisper deck?
Apart from the few differences, there are a lot of similarities between the two treadmills. And one of the foremost being the cushioned deck. The cushion flex whisper is present in both the treadmills and effectively absorbs shock and reduces the impact on the legs.
Final Thoughts: Sole f63 vs. f80
The final call narrows down to personal choice. Again, there is no significant difference in Sole f63 vs. f80 treadmill. Both the machines are great and possess all the necessary features of a standard treadmill.
If you want those extra two inches or a minutely larger screen, you can spend additional dollars to buy the Sole f 80. However, the difference between the two is minimal and not something you will miss on the other.
The F80 has a stronger motor and broader surface area; it also provides a large display for a better view. Consider the amount of money you are willing to spend on a treadmill and the features you are looking for.
Pick a treadmill between the Sole f63 vs. f80 and start your fitness journey. If you are already an enthusiast and work out regularly, upgrade your gym equipment and get GOING!