If you have been using a treadmill for a pretty long time, you are well aware of the disturbance a treadmill noise can make. And for novice users, it is difficult to use a machine with too much sound. But using foam mats, it is possible to reduce noise impact. A quality treadmill mat helps in a more silent workout without disturbing your downstairs neighbors or family members.
The mats are also beneficial in absorbing vibrations and shock. The availability of treadmill mats ranges from PVC mats to rubber mats, foam mats to water-resistant mats for noise reduction. In addition, you can slide a mat under your fitness equipment and enable impact protection.
However, it is difficult to choose the right exercise mat for the treadmill. Various cheap treadmill mats are available but do not fall into the trap. We have listed some of the most amazing treadmill mats for your workout equipment to remove the burden from your shoulders.
10 Best Noise Reducing Treadmill Mat | Buying Guide | 2022
The prosource fit interlocking mats are made of EVA foam for protective flooring. This non-slip treadmill mat is highly durable and comes with waterproof solutions. You can connect the puzzle mats quickly and disassemble them simultaneously.
Super easy when it comes to cleaning. The EVA foam provides tremendous support to the treadmill and helps in the right cushioning for the workout. An affordable and great product for your garage or home gym.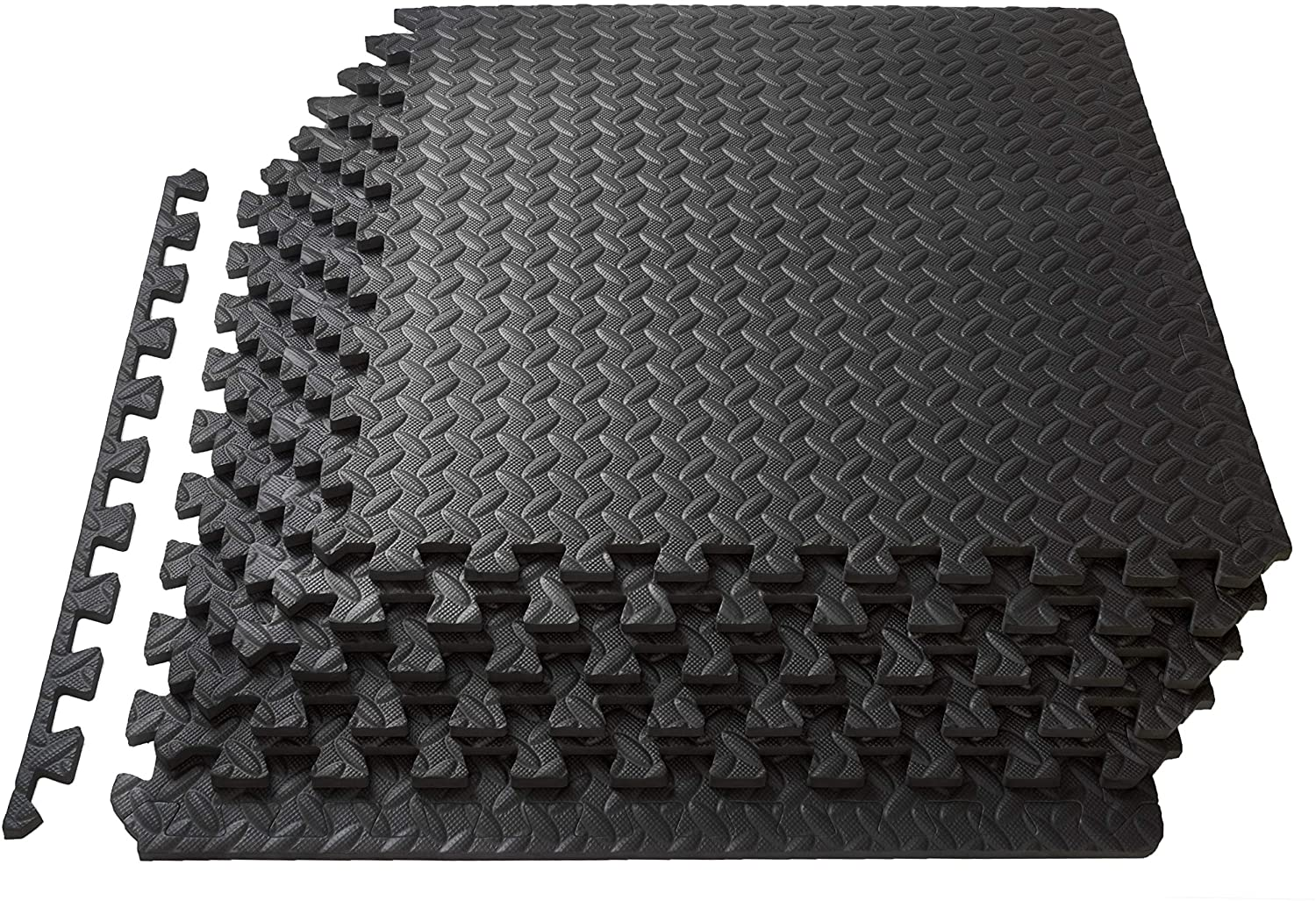 Key Features –
The material used – Foam
Six 24 inches square tiles
Item Dimension – 24 * 0.5 * 24 inches
Item weight – 4.3 pounds
Highs –
Reduces the impact on the joints
Water-resistant
Easy to assemble
Textured foam
Lows –
Few tiles have a looser fit
This treadmill mat helps you train like a pro and makes the best treadmill mat for noise reduction. The non-skid tiles are durable and provide a comfortable workout space. The cushion provided in this mat is way more than yoga mats.
The texture of the mat not only reduces noise but offers additional grip. The 6 square tiles can cover 24 square feet and make the surface look great apart from protecting it. The tiles are easy to cut and can be customized as per the need.
Sunny Health and Fitness provide one of the best treadmill mats. The mat not only aids noise reduction but also keeps your hardwood floors polished. The PVC foam material used is excellent in durability and offers ample comfort.
You can also use it as a yoga mat and for pilates. So, place this under your gym equipment and keep the treadmill feet intact.

Key Features –
The material used – Polyvinyl chloride
Item weight – 3.5 pounds
Item dimension – 79 * 35.5 * 0.16 inches
Warranty – 1-year manufacturer warranty
Highs –
Lightweight treadmill mat
Excellent for small spaces
Non-invasive color
Soft material
Lows –
You can also roll up mats and store them away under the bed or sofa to save plenty of space. The heavy-duty material makes this fitness mat very durable. The mat protects the floor and is super easy to clean. The unique design and texture are a fantastic show of toughness and stability.
The anti-vibration mat is waterproof and sweat resistant. When used over a flat or hard surface, it will give you the best results. So, measure your treadmill, and if the size fits, bring home this excellent exercise equipment mat.
This treadmill mat from BalanceFrom is of high-density material and protects the floor from getting damaged apart from noise reduction. In addition, this noise-reducing treadmill mat absorbs vibration and increases the lifespan of the workout equipment.
The pattern is designed so that the machines will not move here and there and remain intact. In addition, the moisture-resistant technology of the treadmill mat protects both the floor and the equipment.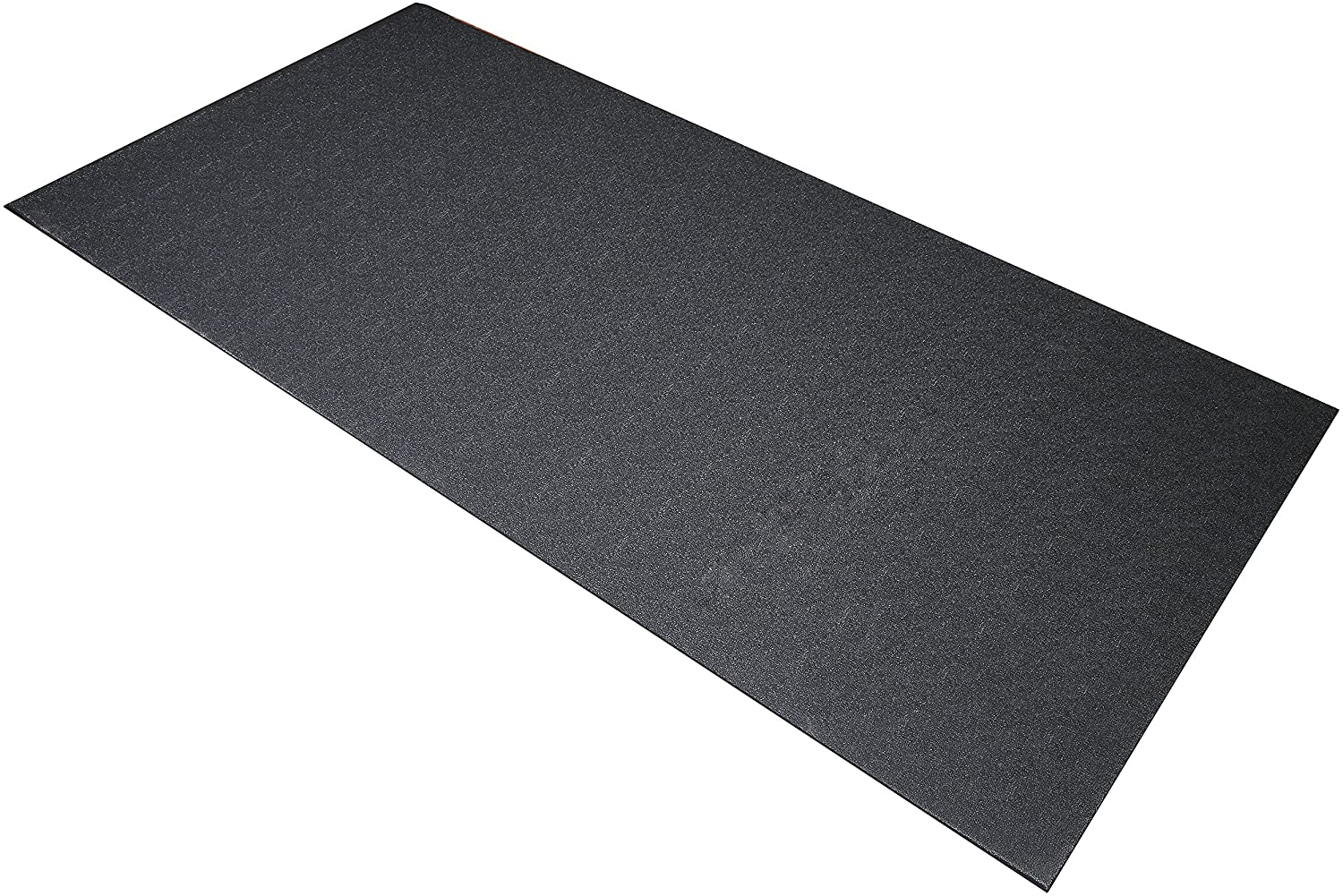 Key Features –
The material used – Polyvinyl chloride
Item dimension – 0.5 * 0.6 * 0.1 inches
Item weight – 6.5 pounds
Item size – 3 * 6.5 ft
Highs –
Excellent noise reduction
Durable
Long enough for the treadmill
Reasonably thick
Lows –
The patterns designed on both sides of the treadmill mat make it look amazing. This treadmill mat made of PVC can also be used as a yoga mat or exercise mat. Unfortunately, the rigid patterns on the mat do not allow it to slide.
The high-density building makes it beneficial for protecting any kind of flooring. You can easily clean the mat and use it for a long time and protect the treadmill along with the floor. So, get this noise-reducing treadmill mat and say goodbye to all the troubles.
This mat from Prosource Fit belongs to extra-thick interlocking puzzle mats. The EVA foam gives the perfect cushioning you require for your workout. In addition, the mat gives one-inch floor protection with the EVA foam and easily bears heavy exercise equipment's weight.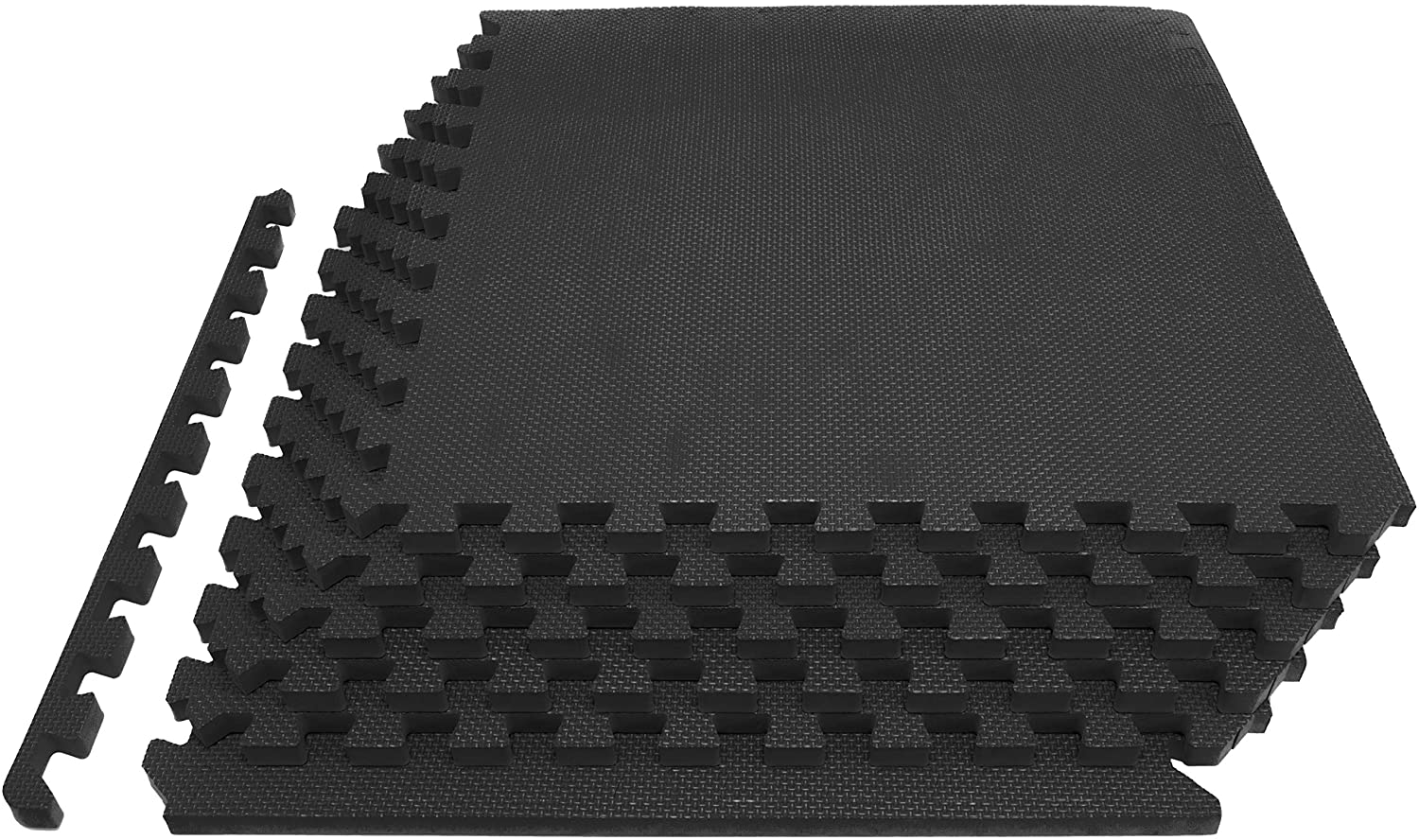 Key Features –
Item dimension – 24 * 24 * 0.7 inches
Color – Black
Item weight – 2.24 Kg
Size – 3/4″ thick 24 square feet
Highs –
The tiles are consistent and have the same thickness
Superior quality
Thick mat
Light-weight
Lows –
Interlocking pieces do not fit well
The mat comes with anti-slip supportive cushioning, keeping in mind your treadmill feet. The tiles are designed with a non-skid texture providing grip. The 3/4″ and 1″ tiles are durable for an intense workout session.
The interlocking pieces are easy to assemble as well as disassemble. You can install these mats for noise reduction in your home gym, garage, basement, etc. This is one of the best treadmill mats with simple assembly, quality foam, and low maintenance.
This treadmill mat is ideal for any area that needs protection from heavy exercise equipment. The foam works best for high traffics areas with the maximum protection requirement. So, get a good treadmill mat and see the difference it makes.
This bestxd treadmill mat is made of high-density rubber and is designed to keep your hardwood and carpeted floor safe. In addition, the unique punching design is effective in increasing friction and reducing vibration.
The product's compatibility with most exercise equipment makes it a good treadmill mat. This rubber mat also goes for rowing machines and exercise bikes and absorbs vibrations.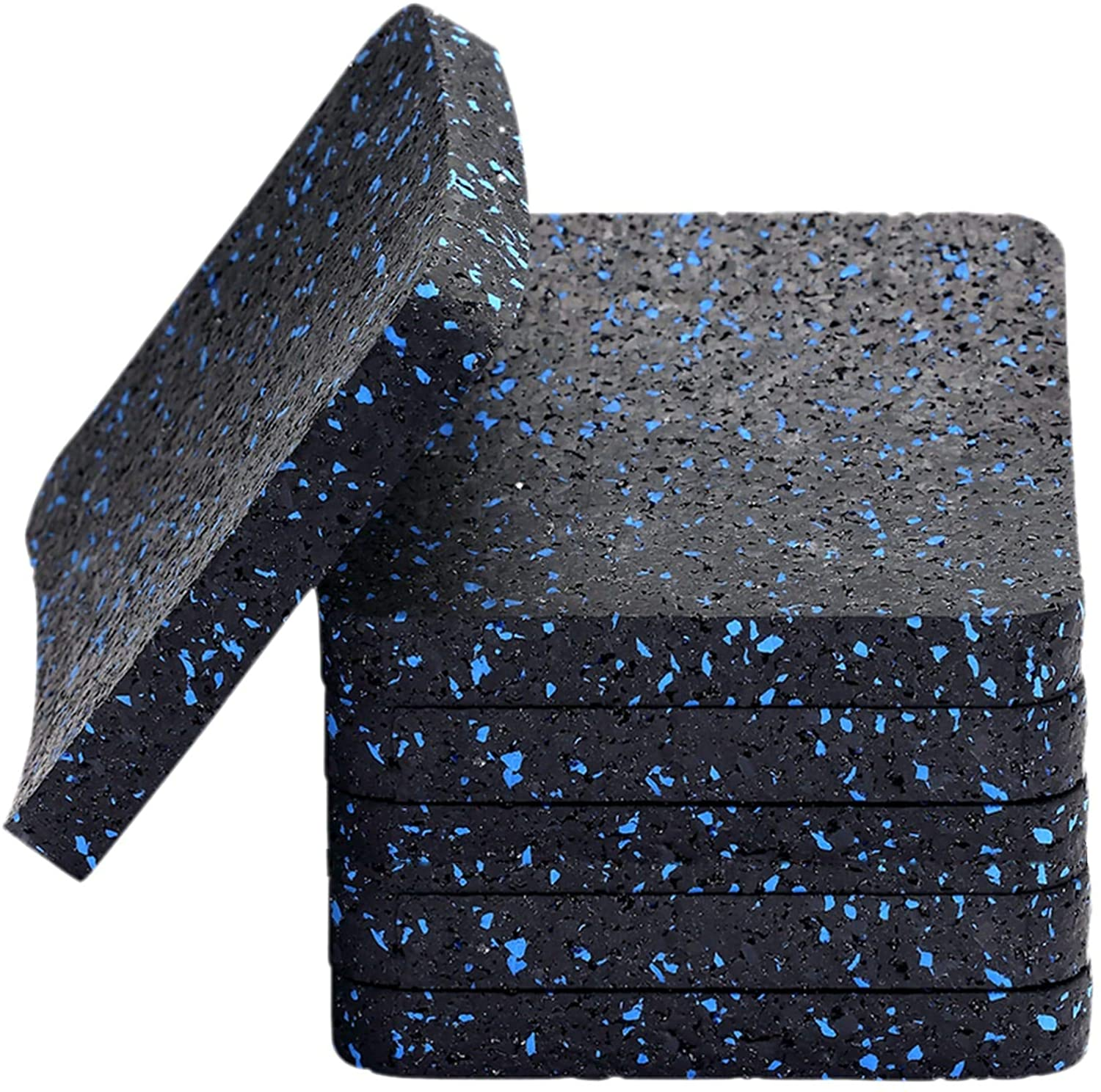 Key Features –
The material used – Rubber
Item size – 3.9 * 3.9 * 0.5 inches
Weight capacity – 1100 lbs
One-piece mat weight – 0.33 lbs
Highs –
Sturdy rubber pads
Keeps the treadmill steady
Excellent for carpeted floor
Thick rubber
Lows –
This rubber mat is your best stop for treadmill mat noise reduction. You can place the pads under each leg or foot of the exercise equipment, which helps in noise reduction. You will receive four pieces of the bestxd treadmill mat with each pack.
The high-density rubber acts as a shield and prevents dents and scratches caused by the gym equipment. So, get home one of these thick-rubber treadmill mats for noise reduction and enjoy your daily workout. The brand caters to customer satisfaction and offers a lifetime warranty for most mats.
Supermats high-density commercial grade solid equipment mat is one of the best products to reduce the treadmill noise. From large treadmills to ellipticals, this full-sized mat absorbs vibrations adequately.
Supermats high-density commercial grade solid equipment is super tough for floor protection. It is built with heavy-duty, durable construction and has more to offer other than noise reduction.

Key Features –
Item dimension – 102 * 36 * 0.13 inches
The material used – vinyl
Item weight – 1.04 pounds
Color – Black
Highs –
Textured finish
Ends do not curl upwards
No chemical smell
Thick and durable
Lows –
Creates moisture in wooden floors
This grade solid equipment mat is the top noise-reducing treadmill mat. As a result, the life span of your workout equipment increases as it protects the dust and debris from entering inside. In addition, the non-slip surface of the mat makes it fit for any room.
The mat absorbs vibrations well and keeps your neighbors undisturbed. No harmful materials or heavy metals are used for making this treadmill mat. Hence, it is also safe for children and pets. So, get this high-quality mat and ensure good floor protection.
You can place this exercise mat under a treadmill, exercise bike, ellipticals, etc. It is a non-slip mat and gives a good grip on the exercise machines. In addition, this is a PVC mat, and it is easy to clean.
You need to rinse that mat with soap and water to keep it clean. Using this noise-reducing mat, you can save your hardwood floors.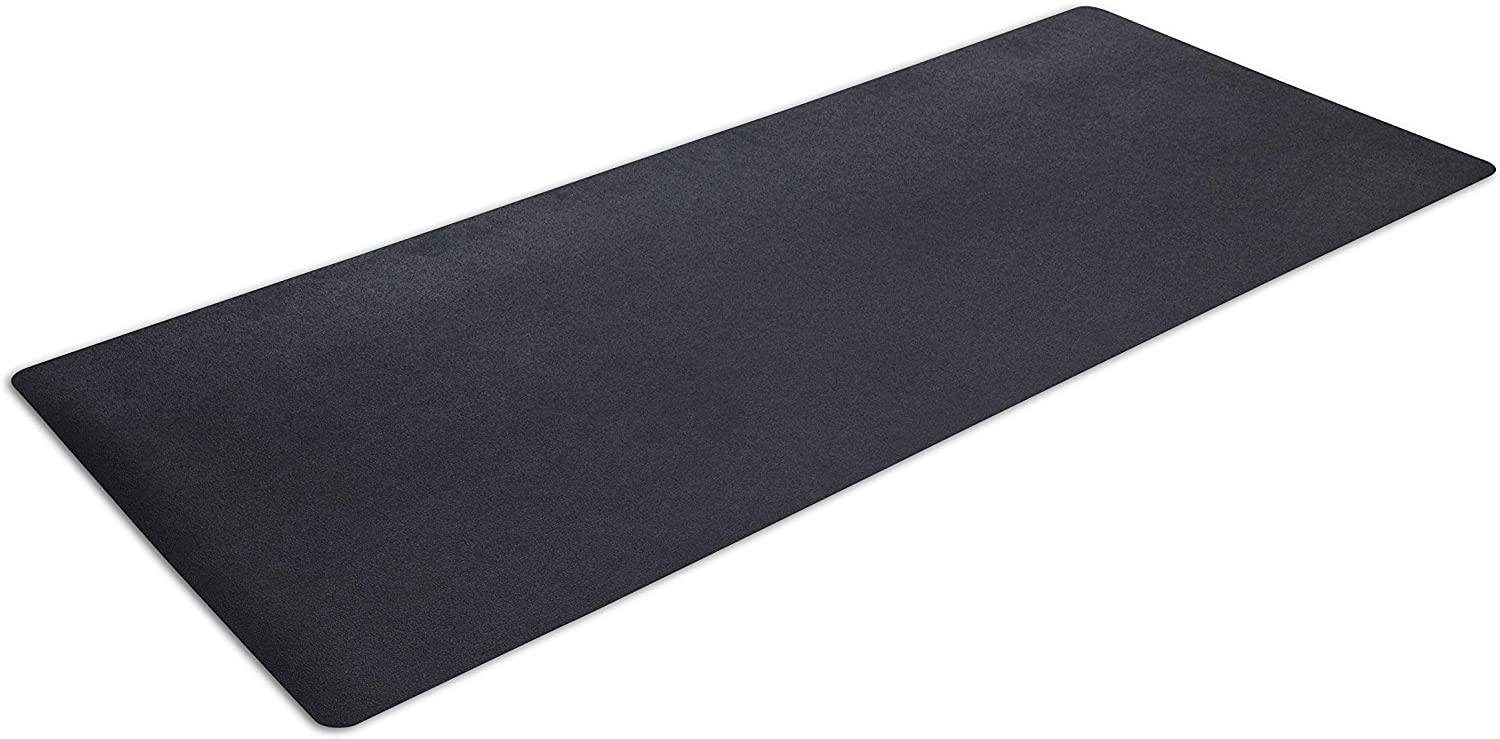 Key Features –
Item Dimension – 84 * 36 * 0.11 inches
Item weight – 15.72 pounds
The material used – polyvinyl chloride
Size – 36″ * 84″
Color – Black
Highs –
Roll out easily
Made of quality heavy-duty material
Highly durable
Lows –
It does not go well with carpeted floor
Protect your home and gym area with the MotionTex treadmill mat by reducing noise and vibration. The 36″ * 84″ is excellent for medium to large-sized machines. In addition, the recycled PVC mats repel sweat, grease, and any other liquid of this sort.
The presence of rounded corners saves the treadmill from getting curled. This reduces the chances of falling or tripping and provides security. So, get this treadmill mat today and shield your floor from the large machines.
This vibration reduction, anti-slip treadmill mat is simple to clean and requires deficient maintenance. Do not use chemical cleaners for cleaning the mat; instead, opt for soapy water and a soft cloth.
This also belongs to the category of roll-up mats and lays down on the hard floors easily. The mat is slightly thinner than others but provides a simple solution for your floor protection.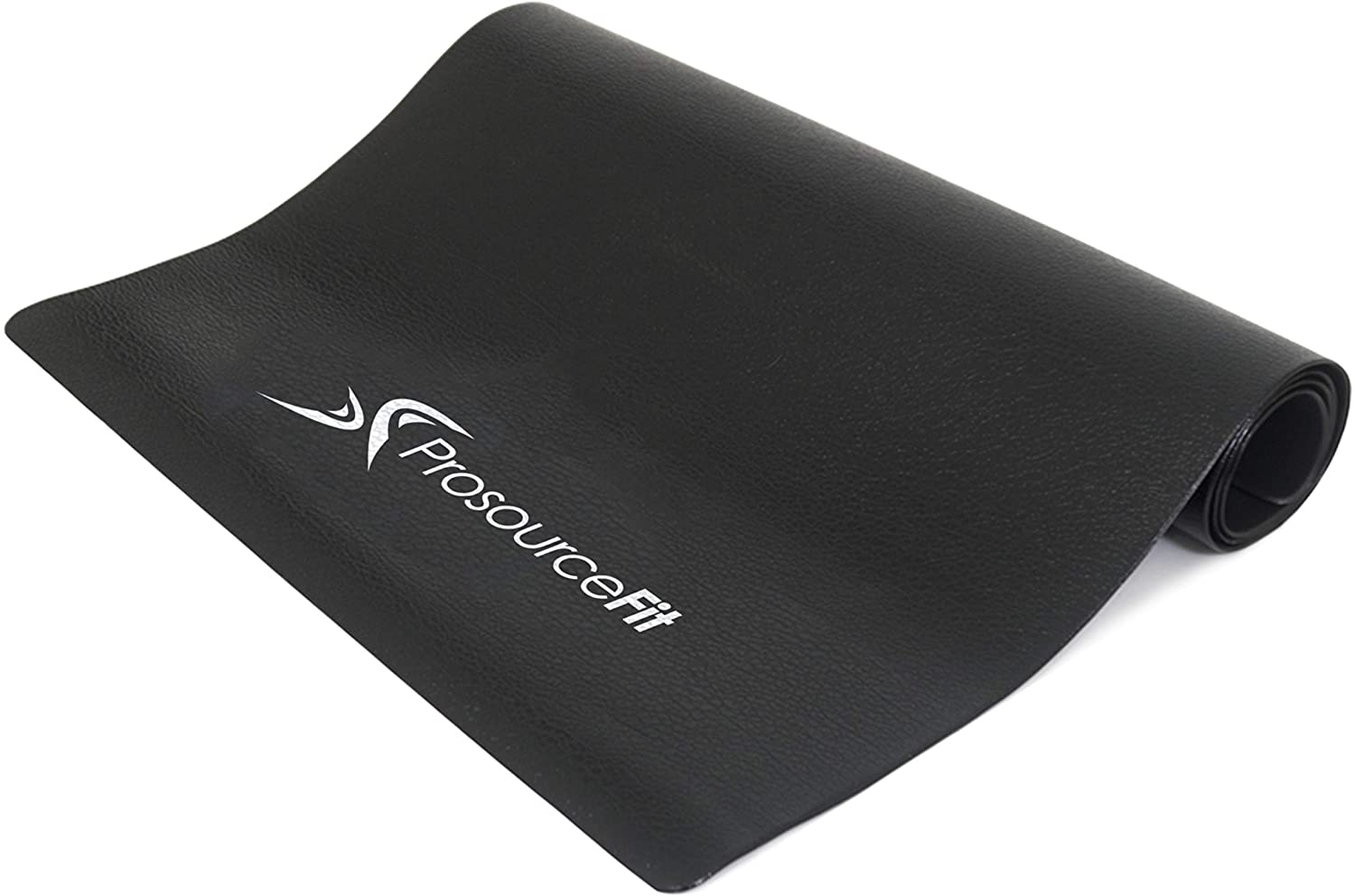 Key Features –
Item dimension – 78 * 36 * 0.16 inches
Item weight – 4 pounds
The material used – PVC
Item size – 6.5′ * 3′ * 5/32″
Highs –
Affordable price
Slip-resistant
Do not slide on the hardwood floors
Easy to clean
Lows –
The mat got a hole after a few uses
The non-skid texture of the mat helps keep the treadmill in place. This is one of the best treadmill mats for noise reduction. You can set this up at your home gym, basement, or fitness studio.
The non-slip mat is divided into seven 12-inch sections that can be easily folded up for storage. This mat is designed specifically for basic cardio equipment but can also double and be used for lifting weights, dumbbells, and a yoga mat. The high-density PVC increases the durability of the mat and helps in protection.
Zacro protective is another heavy-duty noise-reducing treadmill mat. One of the best exercise equipment mats for protecting carpets and floors. A treadmill mat prevents the dust particles from entering the mechanical parts and noise reduction.
This exercise mat is useful in reducing noise and comes with a thick black yoga strap. The yoga strap allows for performing basic poses and is perfect for beginners.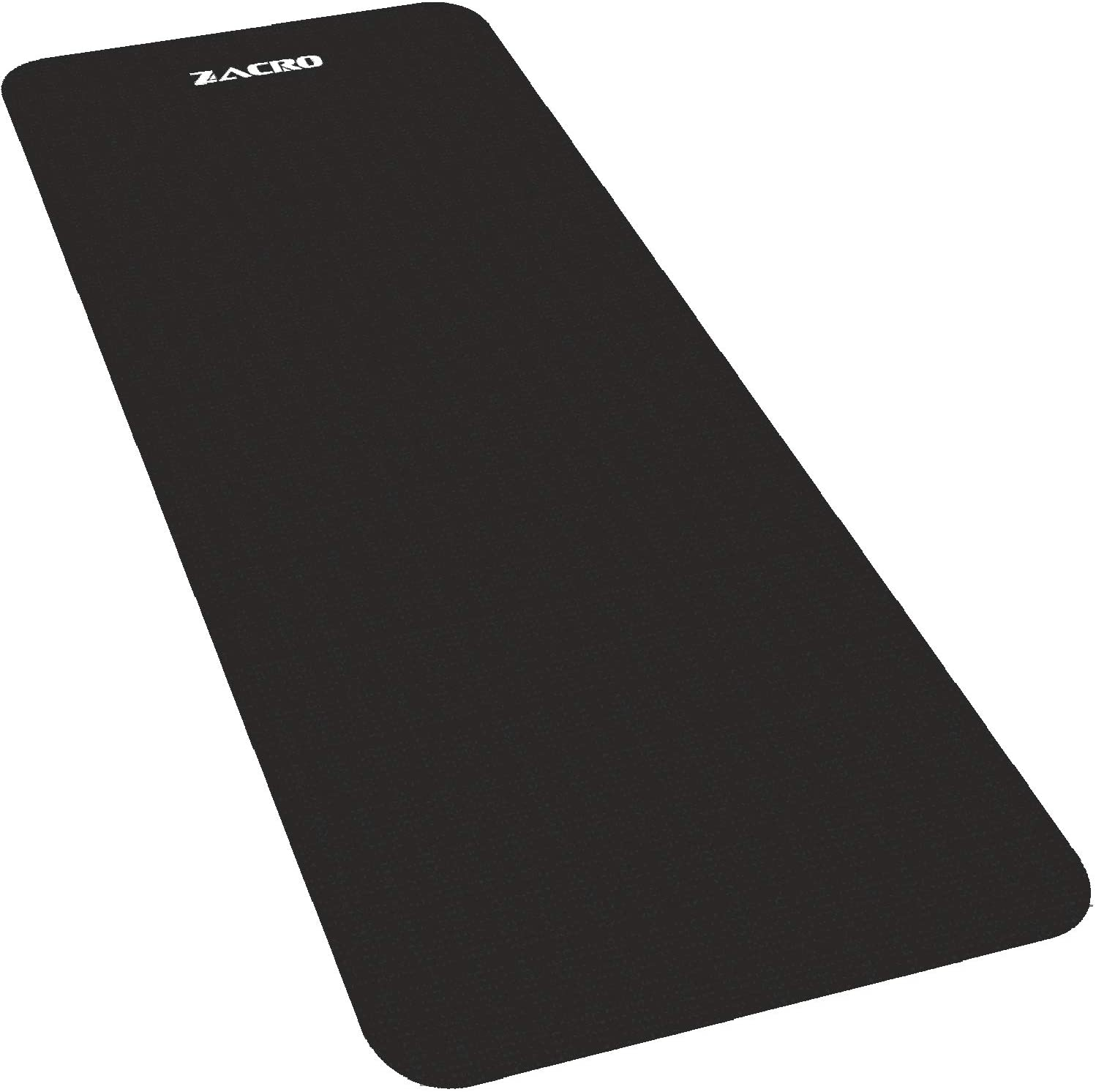 Key Features –
The material used – cotton
Item weight – 1060 grams
Color – Black
Item size – 5.9 * 2.46 ft
Highs –
Lightweight treadmill mat
Does not slide
Perfect thickness
Addition yoga strap
Lows –
This slip-resistant mat is ideal for your indoor workout. The high-quality NBR used for making the mat effectively meets multiple requirements. The dual benefits of this item make it one of the top exercise mats.
This is a non-slip good, quality mat made of dense material to provide extra stability to your treadmill. Reduce noise with this treadmill mat and keep your hardwood floor safe. Unlike most treadmill mats, this non-slip mat has the same texture on both sides and can be used face up and face down.
The Revtime treadmill mat is of the best solutions for your treadmill noise. The non-slip surface goes well with your workout equipment and provides the required stability.
The heavy-duty SBR and EPDM rubber make the treadmill mat more durable than foam-based mats. You need clear water and a soft brush to keep the best treadmill mat clean.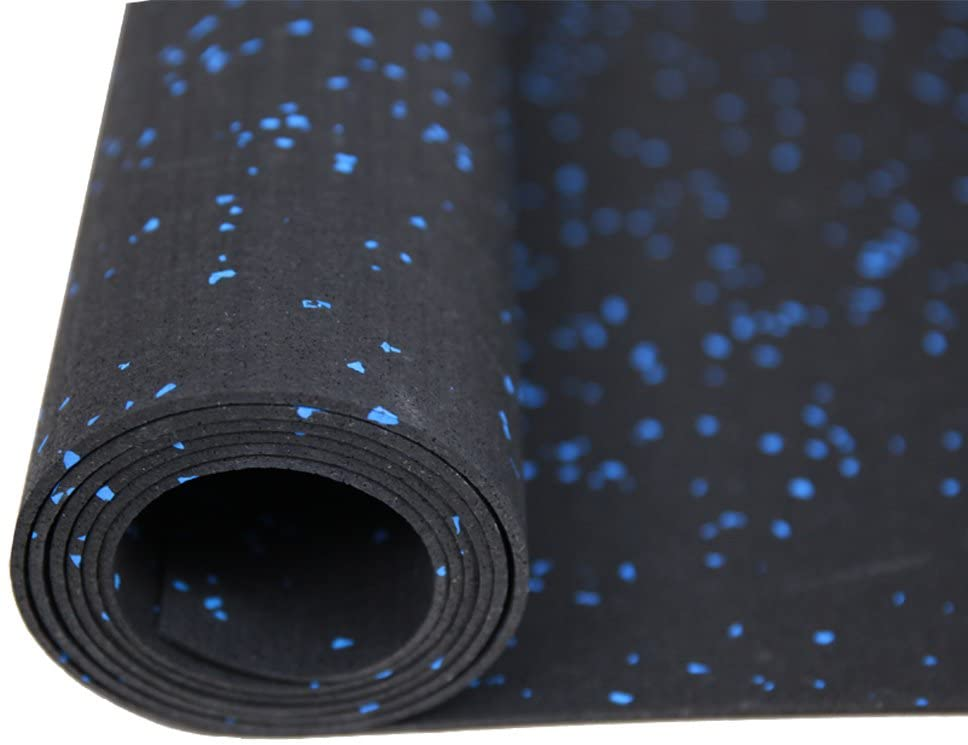 Key Features –
Item Dimension – 78 * 36 * 0.12 inches
Item weight – 12 pounds
The material used – rubber
Thickness – 3 mm
Highs –
Good density
Non-slip surface
Easy storage
Lows –
It has a mild plastic-like smell
High-density or EPDM rubber makes it a reliable noise-reducing treadmill mat. You can make rubber rolls and store away the treadmill mat without much difficulty. It requires no special maintenance and absorbs shock well.
No installation is required for this noise-reducing treadmill mat. The rubber is of high-density and anti-slip features. The 3mm thickness of the mat absorbs the shock and reduces the impact on the body. Just wipe it off with a damp cloth, and your rubber mat is clean and clear.
Things to Keep in Mind While Buying Best Noise Reducing Treadmill Mat
If you think all treadmill mats available in the market are beneficial for reducing noise, STOP. There are numerous brands with various exercise mats, but not all are effective. You need to cross-check a few things before buying a treadmill mat.
Dimension
The most common treadmill mat size is 78″ * 36." and big enough to fit under most treadmill machines. Measure your machine size before ordering a mat so that there is no trouble. If your treadmill mat is small and the treadmill feet are at the edges, it will not be able to protect the floor or absorb the vibration effectively.
Thickness
The thickness of a treadmill mat range from a quarter-inch to 3/8 inches. If a mat is thin, you can easily roll it up and store it away. But a thin mat also tends to tear away easily. The mat's thickness indicates how steady the machine will be once placed. The heavy rubber mats will not fold up, but the puzzle mats come apart and can be stored in a corner.
Brand
Do not fall for cheap marketing; instead, go for a good background check of the manufacturer. Take a look at how long they have been in the business. Check on the warranties they offer and their products and service quality. It is better to understand the brand's standard and then make a purchase for a better experience.
Warranty
Most treadmill mats do not come with warranties, but you can see if some do. The product's warranty talks a lot about the brand's loyalty too. If the mat comes with a warranty, understand the time frame to cover and other terms and conditions.
Price
Treadmill mats generally range from $ 20 to $ 200. The inexpensive mats will be 4″ * 4″ individual pads, but you can also get a full-sized mat at the same price. Cheap mats will tear and wear easily and do not provide longevity. So, do not fall for inexpensive mats and get yourself a good quality treadmill mat costing around $ 100.
Apart from the features mentioned above, it is a great idea to check the customer ratings. Ratings are a valuable tool and a reliable source of product reviews. Do not forget to check these qualities in a treadmill mat and add some clarity to your decision.
The Materials used for Best Noise Reducing Treadmill Mat
Treadmill mats are made of various kinds of materials, and each has its benefits. Here is a complete list of all the materials used in manufacturing a treadmill mat.
SBR Rubber
Styrene-Butadiene Rubber is a synthetic rubber providing excellent resistance powers and good stability to your exercise equipment.
EPDM Rubber
EPDM stands for Ethylene Propylene Diene Monomer, another synthetic rubber that adds cushioning to your treadmill mat. The elasticity of the mat also increases with the use of this material.
PVC
PVC, or Polyvinyl Chloride, is the 3rd largest synthetic polymer production. PVC has thousands of uses literally when it comes to manufacturing treadmill mats.
Vulcanized Rubber
The process of vulcanization includes the hardening of rubber using sulfur. Vulcanized rubber is another powerful material used for making mats.
EVA Foam
Ethylene-Vinyl Acetate is an elastomeric polymer used to make rubber-like and soft items. It also increases flexibility when used in the making of treadmill mats.
Solid vinyl and rubber mats are less likely to wear and tear. The materials used in manufacturing play a crucial role in determining durability and flexibility. They will absorb the vibrations well and also stop the treadmill from skidding.
Benefits of a Best Noise Reducing Treadmill Mat
Using a treadmill mat for your machine is essential and has several benefits for increasing the lifespan of your equipment and the floor.
Noise Reduction
Treadmills can be heavy and noisy at times. And the noise and vibration generated from the treadmill can disturb the other members and neighbors. A noise-reducing treadmill mat is an excellent solution to maintain silence during workouts.
Treadmill Protection
A treadmill is a costly machine, and it is not possible to buy a new one now and then. You will want to increase the life of your treadmill and use it for a long time. A treadmill mat will reduce the noise and protect your machine. It will not allow the dirt and debris to enter the mechanical parts and ruin their functioning.
Stability
A treadmill can move around while performing vigorous exercises. This is dangerous and can make you feel uncomfortable. Putting a mat under your treadmill gives stability and stays firm even with intense workouts. A non-slip surface is excellent for high-intensity training.
Floor Protection
Whether you have a carpeted floor, tiled floor, or hardwood floor, a treadmill mat works for all types. It will keep the floor safe and prevent it from any kind of dents and scratches. The mat can keep the tiles from cracking and protect the carpet from getting ruined.
Final Say: Best Noise Reducing Treadmill Mat
If reducing the noise caused due to the treadmill is your problem, a treadmill mat is a perfect solution. A multi-functional mat that kicks away multiple issues at once. A mat can attach a lot of value to your workout equipment. Prosource Fit puzzle mats and Sunny Health and Fitness mats are our top two picks, though you can check out what works best for you.
It is not a very big problem if your treadmill is noisy; you can use a mat and overcome it. However, when your treadmill is firm and intact, it will help you exercise with the proper technique. Running indoors can create a lot of vibrations, and thus the use of a treadmill mat becomes essential.
FAQs: Best Noise Reducing Treadmill Mat
Why do I need a mat for my treadmill?
A treadmill mat helps reduce the noise and vibrations created due to the operation of the heavy machine. Not only that, but it will also benefit you by protecting your floor and improving the longevity of the equipment.
Do I need a treadmill mat for my hardwood floor?
Placing your treadmill right on the hardwood floor does not sound perfect. However, this will put both your floor and machine at risk. Hence, using a mat underneath your treadmill could be an excellent idea to reduce the risk.
Is it possible to soundproof a treadmill?
Not in the truest of sense, but you easily lessen its impact by using a noise-reducing treadmill mat. Get yourself a rubber mat and place it underneath your treadmill to eliminate all the disturbing noise and vibrations produced while running.
How should I clean my treadmill mat?
Do not dip your treadmill mat right into a bucket full of water. Instead, you can use a damp cloth with soapy water to wipe off the dust particles. Also, use a dry towel to make the mat dry after cleaning.
Which is the best treadmill mat for noise reduction?
Prosource interlocking puzzle mat is one of the most popular treadmill mats available. It effectively reduces the noise and lessens the impact a machine can create on your joints.
How do you put a mat under the treadmill?
Firstly, clear the space and remove all the obstacles in the way. Next, place your mat in the preferred position and check if the mat is the right size. Now ask someone for help and place the treadmill on the mat, and you are good to go.