Fitness is incomplete without a good run on a treadmill. Gym equipment can be a big decision because it doesn't come off pretty light on the pocket. Your requirements and budget go hand in hand. Of course, picking the best treadmill under 1500 can be tedious, but it is worth it. You achieve the fitness goal and lifestyle you've always craved at your own house. 
A treadmill is an excellent workout machine that allows you to perform light jogging, running, interval training, incline training, and various exercises. It is surprising, but you can get a lot of quality features similar to expensive treadmills at an affordable price. The machines are tested and allow you to perform challenging workouts. However, a few things must be considered while getting the best treadmills under 1,500.
Factors to Consider for buying the best treadmill under $1500
Working mode:
Choose whether you need an electrical or manual model. The manual treadmill is less expensive and also does not require electricity to run. On the other hand, an electric treadmill gives you high-speed and more workout features than usual.
Motor:
Having a heavy motor does not mean more performance. It depends upon whether every feature has working compatibility with the workload motor will get. Additionally, you should remember how much you will use the treadmill. You certainly don't want to overload the motor. 
Weight capacity:
Each treadmill has varying capacities. The max user weight capacity of a treadmill is mostly between 240 pounds to 400 pounds. Getting a treadmill that can actually handle 50 pounds more than your actual weight is always advisable. A treadmill with a weight capacity of 300 pounds sounds excellent.
Stability:
You must check the strength of the treadmill's body. It shouldn't be unstable while working out. Look for sturdy treadmills with solid construction. Check if it comes with long handles to provide extra support during any loss of balance.
Belt size and cushioning:
Every person uses space differently for running. Some may need minimal legroom, while some need much more. Also, right cushioning prevents injuries to your bones and absorbs shock. Cushioning becomes essential for some in old age or with poor knees.
Warranty:
Treadmills are mechanical equipment that might need servicing. Make sure you have good years of warranty in your hand to resolve any grievances quickly. Most treadmills come with a motor warranty of about 1-2 years.
Finding the Perfect Treadmill
Here are the multiple options of treadmills listed below, within the price range of $1500. While each of these has its advantages, the talk of the town is NordicTrack T Series 6.5 Treadmill is the best treadmill under 1500! Although your preferences might be slightly different, keep them in mind for your pick. 
NordicTrack has been known to steal fitness-concerned people's hearts because of its straightforward simplicity. It does what it needs to do. The T 6.5 Series is one of those treadmills that won't let you down. Great design, performance, and price come with a perk of no joint pains. This model has received the most reviews and is streaming in the market.
Top Pick
Specifications
It is a foldable treadmill with 198 lbs weight.
It can handle a user weighing up to 300 lbs.
The motor is 2.6 CHP.
A guaranteed lifetime warranty (25 years on a motor with one year on parts and labor) 
Corded electric power source
Dimensions are 73 x 35.8 x 67.5 inches 
The compatibility of new technology does not seem to amaze many. The AUX cable is outdated and unnecessary as everybody is comfortable with Bluetooth nowadays. Overall, if you do not like excess features but simple fitness equipment that serves its purpose- NordicTrack is for you.
Pros
Good basic features
Good performance
Less noise
Cons
Lengthy assembly
Not technologically forward
Quiet performance
The most disturbing thing about treadmills is the noise. But NordicTrack does not make much noise. The belt speed and incline are adjustable. Even at 10 MPH, this treadmill gives out excellent performance. You also don't need to worry about joint pains. This makes it the most reviewed and best treadmill under 1500. 
Adequate features
The one-touch buttons and pre-programmed workouts are standard features everyone asks for in a treadmill. The heart rate monitor is pretty accurate when you hold the handles. You can monitor the distance you run and use the two speakers for some music. However, these speakers lose their power while running at a higher speed. This is the case with many treadmills. 
Xterra is a brand that revolves around exceeding customers' expectations. For them, their advanced programs of fitness training are set to provide comfort and fruitful workouts. The TR150 treadmill has the quality and performance for greater flexibility. It is effortlessly foldable for ease of storage. The features are pretty nice and suitable for a good workout any day. 
Foldable Treadmill
Specifications
16" by 50" walking/ running surface
5" LCD showing the time, distance, speed, pulse, and calories
0.5 MPH to 10 MPH speed range
12 preset programs
Incline with 3 manual settings
Maximum weight capacity- 250 lbs
1-year warranty on the motor and 90 days warranty on parts and labor
Good for your bad knee and joint problems

You need to lubricate the treadmill every 40-45 hours for smooth running. A reminder in the console is set for your convenience if you forget to do so.You get a proper manual on lubricating Xterra TR150 folding black treadmill.

This model has caught the attention of many customers on Amazon. The motor worked as new for a long time, and the functions included work seamlessly. Even though it is not as sturdy as gym equipment, it makes an excellent option for beginners and is light on your pockets. Within the price range of $1500, it makes a good deal for a foldable treadmill. It is not the fastest or a heavy-duty machine but certainly provides benefits for an entry-level workout. You can listen to songs and enjoy running with them with minimal sound. 
Pros
Safety features
Works on low electricity
Easy assembly
Extra soft cushioning for the runner
Easy-to-use quick console
12 preset programs
0-10 MPH speed
Cons
Lesser technological feature
Manual incline
It is rare to find the best treadmill under 1500 like this one or, as a matter of fact, any gym equipment that does not hamper the health of your bones. During a stressful workout, the joints are worked up more than any other body part. Joints are your "body movement helper" and must be taken care of. The TR150 has extra cushioning on the deck for better absorption of shock. This feature has been given the name of XtraSoft cushioning. You experience smooth running without any shock traveling to your joints. You will have a comfortable run with minor to no pain. 
Quick and easy assembly
Your courier of TR150 will have the deck wholly made up. You just need to join the side masts, console, and wiring. The entire assembly does not take more than an hour at maximum. The manual is well-detailed and will guide you through the process. Xterra recommends two people working on it for safety because of the product's weight, but if you are a pro, you can do it yourself too. There is no need for extra tools as all the tools required for the building and belt adjustments are already provided. 
The SF-T1407M is a manual treadmill that is so compact you cannot even imagine! This Sunny Health model is right if you want a very sophisticated workout at home. You will receive fantastic cardio benefits by placing this treadmill in any corner of your house.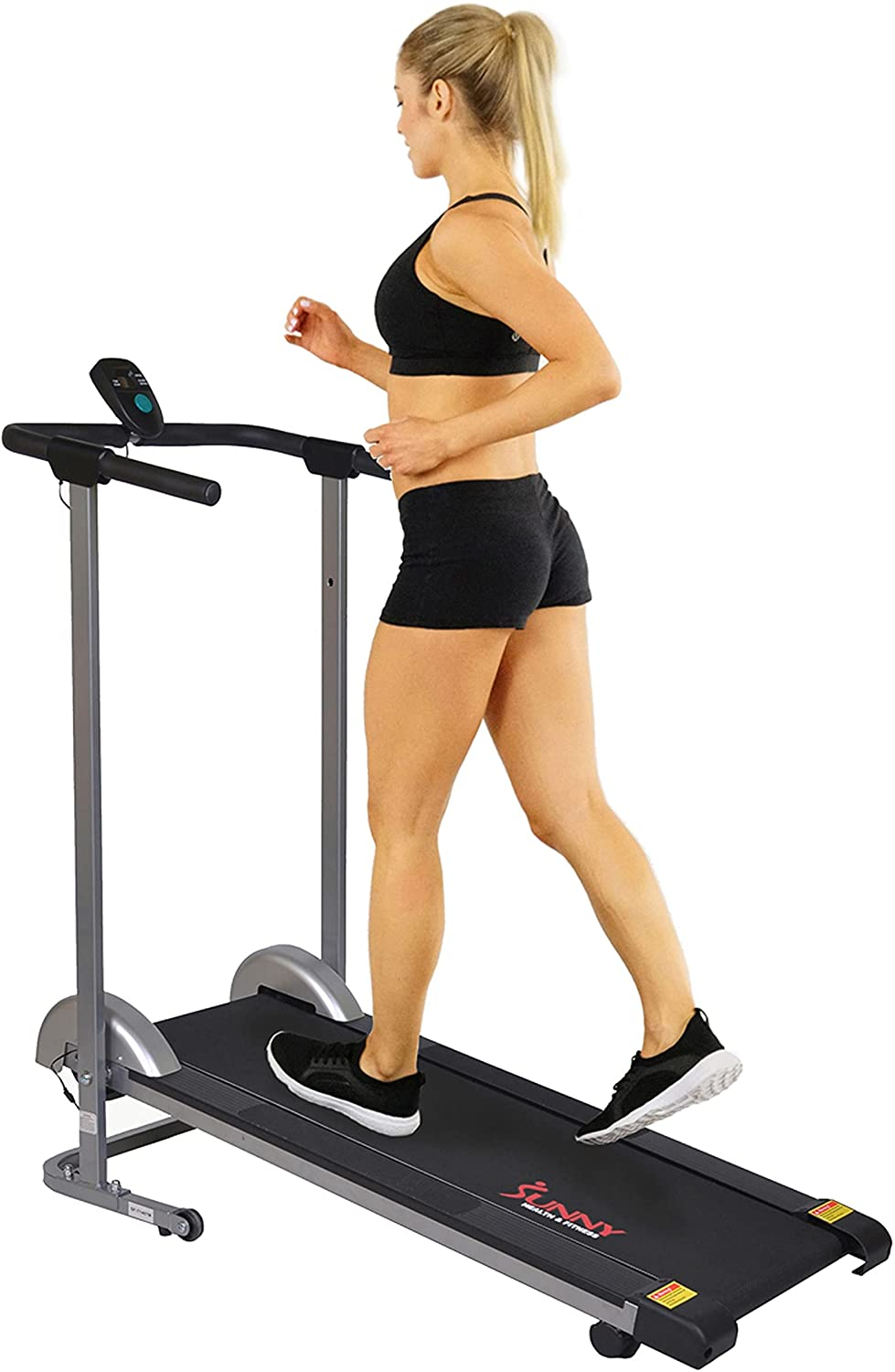 Stability of body
You might think about its stability and protection as it is very lightweight. But, the floor stabilizers ensure you don't fall off the belt. The stabilizers get a good grip on the floor so that fast running does not cause any injury. Dual flywheels give excellent resistance when a user uses excessive force to increase speed. The handlebars are made up of non-slippery foam for better grip. The running surface is also sturdy and non-slippery. 
Features and specifications:
Dimensions are 49 x 23 x 50 inches 
42 x 13 inches running belt
Can hold 220 lbs
Manual treadmill with no need for electricity
Compact design
Digital monitor
Pros:
Compact and lightweight
Power-saving
Cons:
Varnishing of handles comes off.
Delicate for extensive use
No cushioning
Sweat can easily be wiped off from the entire treadmill with a damp cloth. The LCD monitor shows you the speed, time duration, calorie burn, and a scan option for looking at your performance data. You will notice wheels that will help you transport this treadmill wherever you want. You don't need much muscular strength to do so. 
Sunny Health SF-T1407M is the best treadmill under 1500 in the manual range and at a minimal cost. You have a good deal here with this model. 
The G 5.9i Cadence is another manual treadmill but with slight tweaks in the technological area. It is also foldable and does not need electrical power. It is a budget-friendly option but with a few concerns for some people.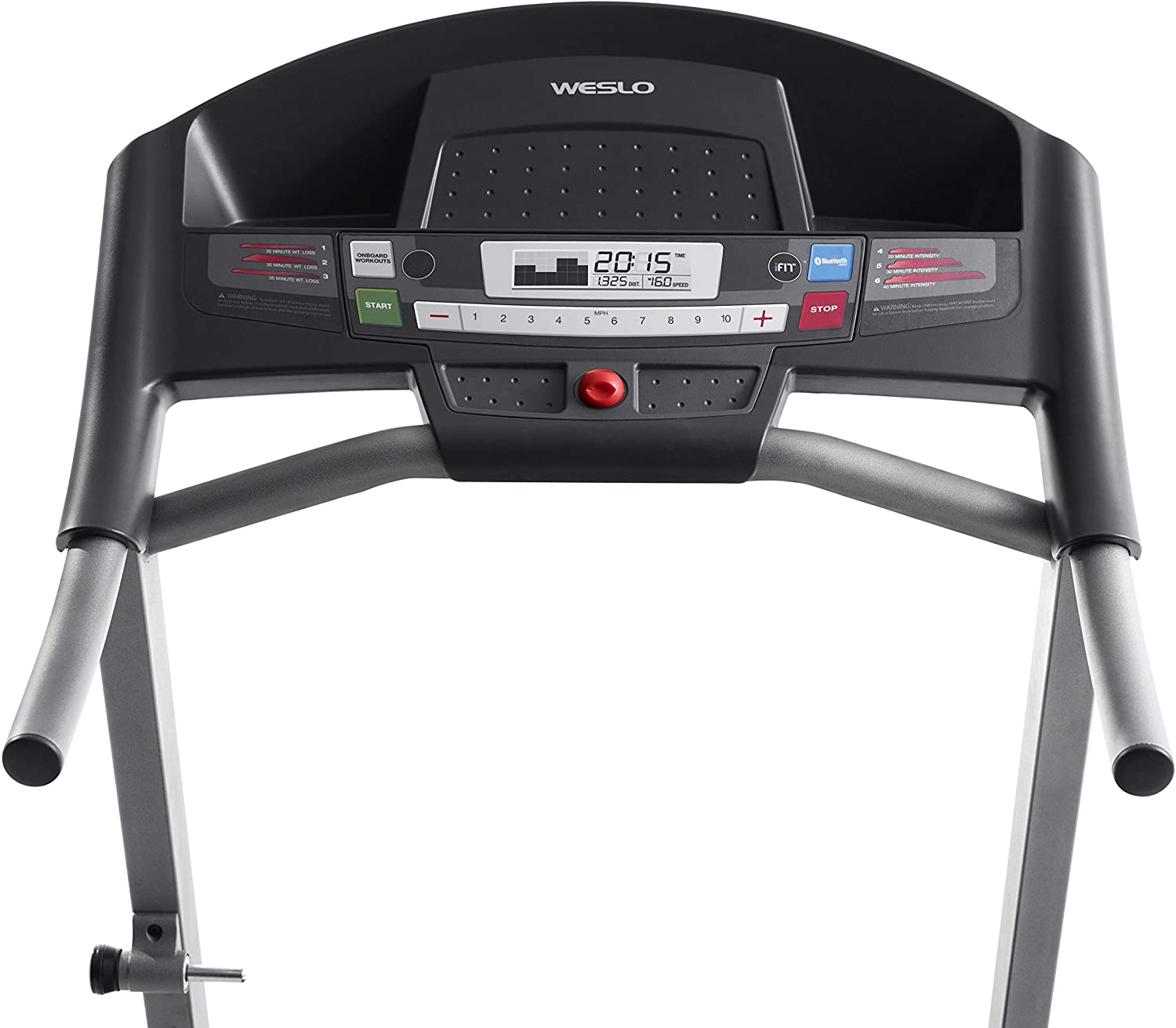 iFit Membership
This is a unique way of providing comprehensive fitness support. The Weslo Cadence G 5.9i treadmill works with an iFit-membership. This gives you a whole world of fitness opportunities. You can have studio classes and HIIT workouts on the tip of your fingers. iFit is probably why some people mark it as the best treadmill under 1500.
Other than this, the product assembly is straightforward and takes a maximum of 40 minutes. The 16*50 inches running belt does not let you feel any pain due to the comfortable cushioning. Your workouts will be very comfortable. 
Features and specifications:
Weight of 275 lbs
Dimensions of 55.5 x 29 x 64.5 inches
Adjustable 0-10 MPH speed and 2-position incline
Comfortable cushioning on the belt
1-year warranty on motor and 90-days on parts and labor
LCD with the iFit-enabled trainer and auto-adjusting settings
Pros:
Better technological front among manual treadmills
Comfortable cushioning technology
Adjustable manual speed and incline
Cons:
The main concern over time is how to start this treadmill. You can press the Bluetooth button for 15-20 seconds to start, but it asks for an iFit subscription, without which you cannot start working out. It is because of Bluetooth connectivity. Of course, the credit card subscription can be canceled later without hampering the functioning of the treadmill, but it seems to make a negative first impression. It is a good treadmill for lighter performances at home. 
Merax is a brand that exists for optimum efficiency. Long-distance running is relatively easy with this treadmill, and you can achieve outstanding performance for every fitness goal.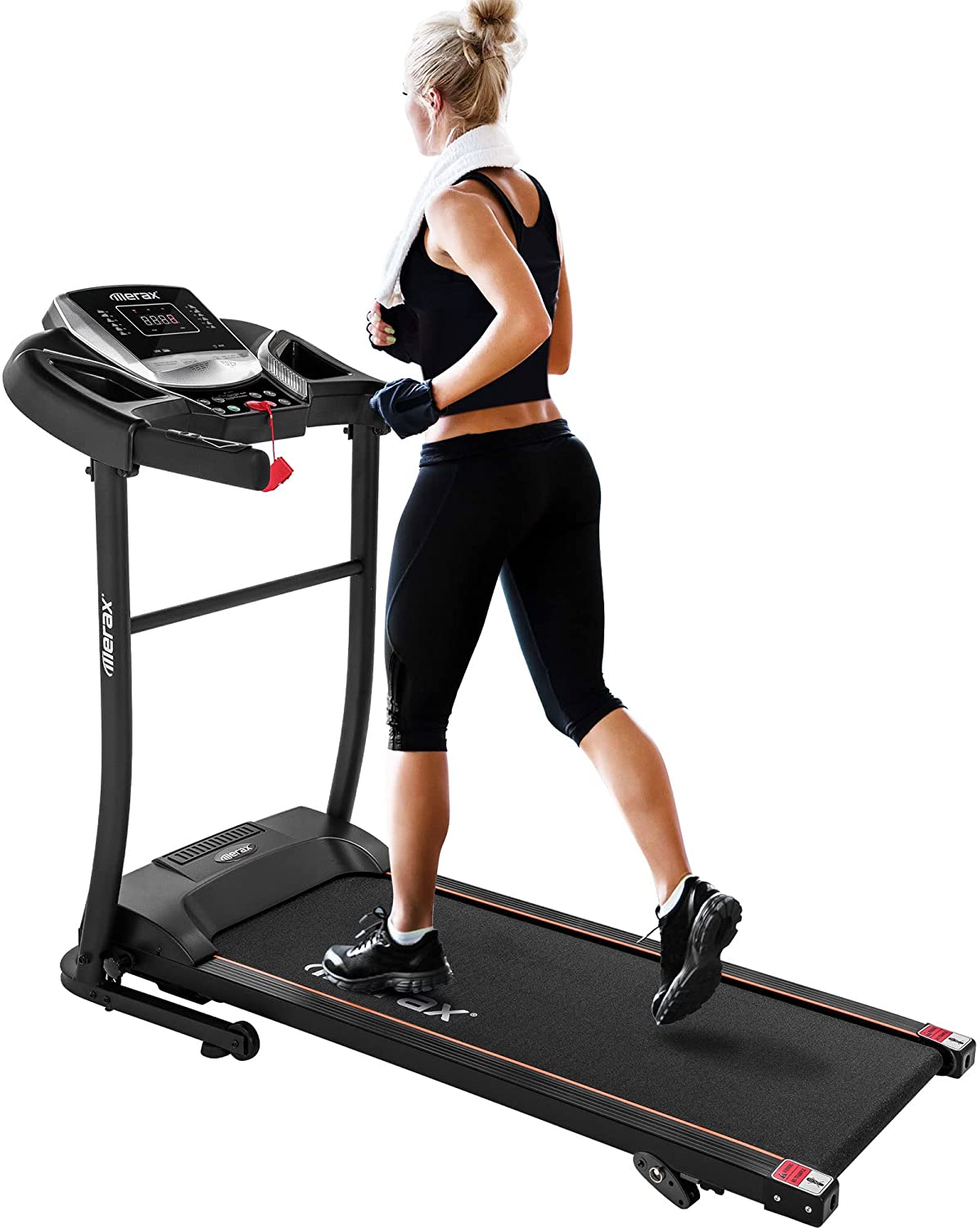 Excellent packaging
Merax always comes in excellent packaging and does not take much time and effort for the assembly. A single person can read the self-explanatory instructions and assemble the entire treadmill. No grievances haven't been raised regarding the assembly or delivery of the product. It is an entirely safe delivery with no damages. 
Features and specifications:
The motor of 1.5 HP
Dimension of 55 x 23.5 x 43 inches, folded- 29.5 x 23.5 x 49 inches
Running belt of 15.7 x 43.3 inches
64 lbs weight
Speed range of 0.5 to 7.5 MPH
Maximum weight capacity of 240 lbs
Pros:
High-temperature resistance
Mute performance
240 lbs capacity
Energy-efficient 
Sturdy
Cons:
Speed range up to 7.5 MPH
Quality of LCD
The body of this is pretty sturdy for a treadmill built for the home. Even though the motor is 1.5 HP, it still gives a reasonable performance rate. The multi-functional LCD looks a little cheap as it is made of plastic. Tracking the heart rate, time, speed, and other features is accurate. You will also not experience any jerks while changing speeds. The shortcut buttons seem convenient as well. 
The first impression it leaves on users is astonishing. Merax proves to be a worthy choice for an entry-level best treadmill under 1500. Your drive to the gym will be saved with this user-friendly option. 
The T101 treadmill is a beginner-friendly treadmill within the budget. If you are a newbie in the fitness line, Previously named the best treadmill under 1500, Horizon Fitness will care for your needs. It is built for comfort and makes a good option for stable function.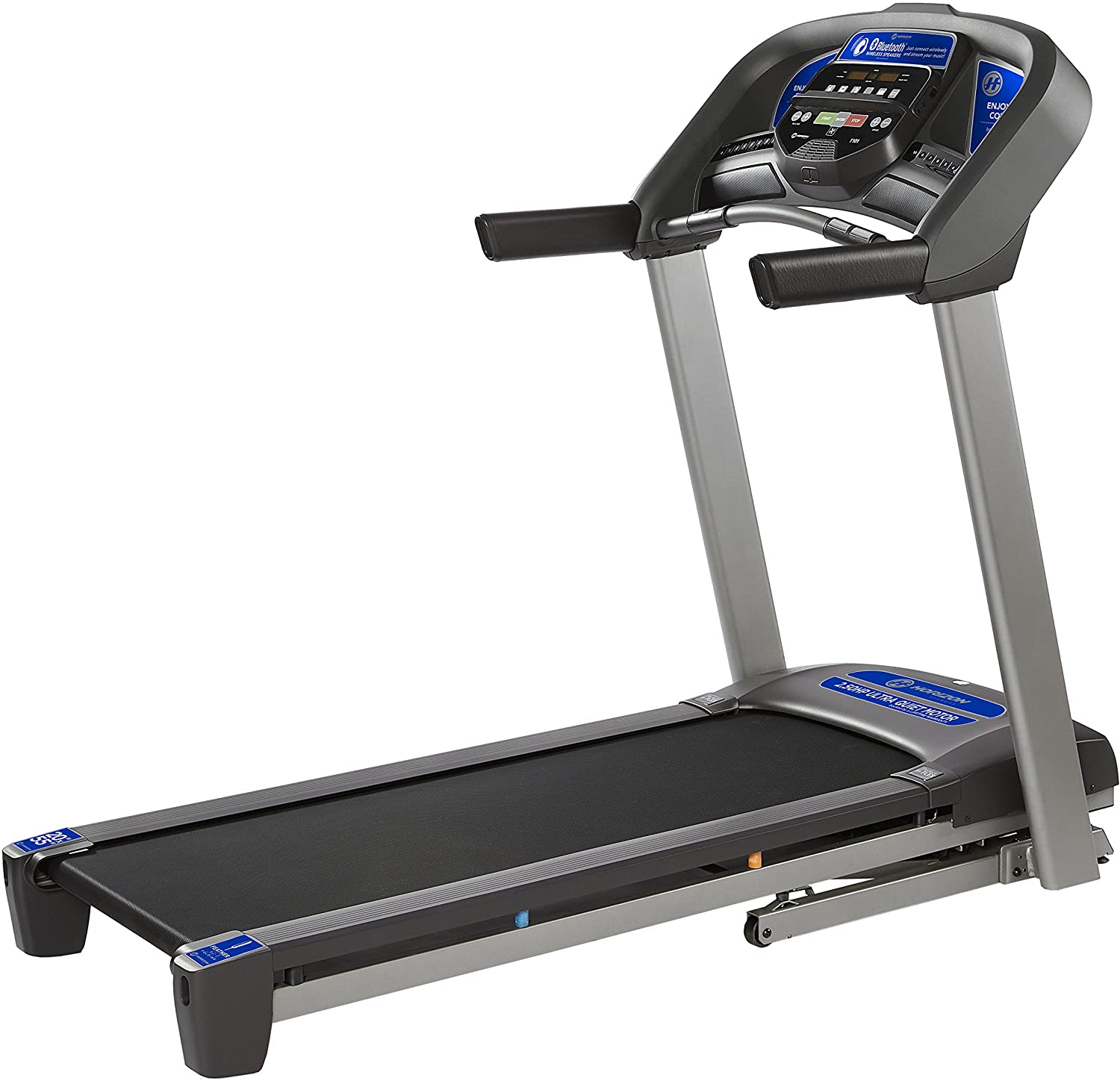 Deck support
The cushioning on the belt has a 3-zone variable response, one of the unique features a user gets attracted to. The three zones are impacted, transition, and push-off, coming at the end. The cushioning is so comfortable that you'll be in awe. It gives you an ideal amount of flex and support. 
Features and specifications:
3-zones variable response track
Bluetooth-enabled
Energy-saving mode
Light folding
Ten-speed and incline keys each
The motor of 2.5 CHP
Pros:
Cons:
The phone and tablet can be placed in the holder for entertainment purposes. A rapid-charge USB port will also enable you for long runs. The speakers give out a reasonably crisp sound even at high speed. The Horizon Fitness T101 treadmill is built for a fun run, never getting bored to achieve your fitness goal. 
This folding treadmill comes with some features to get your hands on. The ADVENOR treadmill is relatively lightweight and holds 64 preset programs for you! This is a much more significant number compared to other models. It is built for good portability and easy running.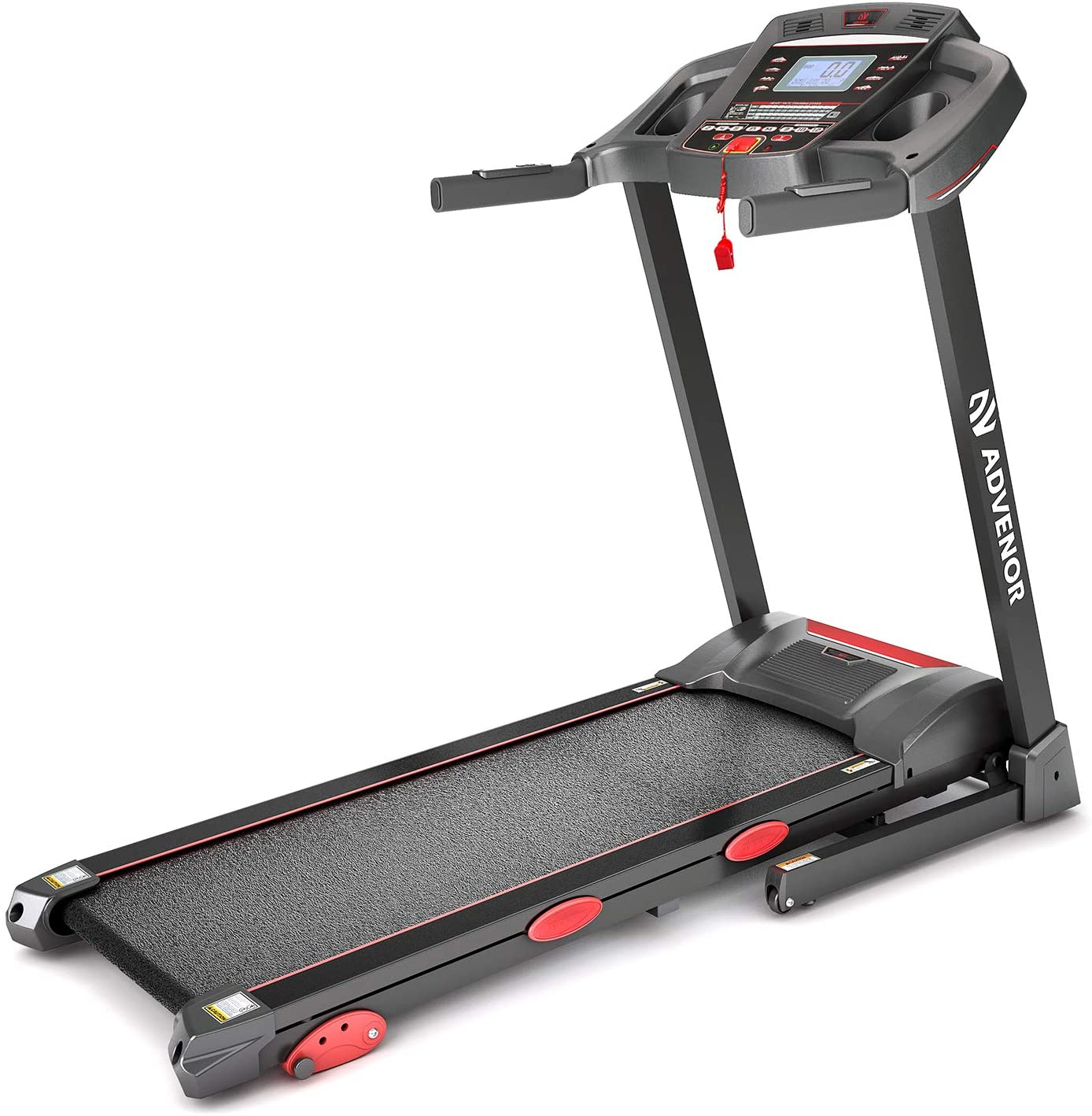 Display and Audio
The 5-inch backlit monitor gives a vibrant view of your statistics like speed, distance, time, heart rate, etc. All information is visible and does not hamper one's vision. The audio is impeccable as well. You will receive high-quality audio from speakers. The audio will not be compromised even at high speed as ADVENOR takes the same precision on the top as the best treadmill under 1500. 
Features and specifications:
The motor of 3.0 HP
Speed range of 0.6-8.7 MPH
Deck width 17 inches
It has a capacity of 220 lbs
Pros:
Lightweight
64 preset training programs
Eight shock cushions
Cons:
It has good safety features. The build quality is excellent, and sweat can be wiped off easily. The transportation wheels give support to move it anywhere at your home. Even though electrical, three incline modes can be set manually. 
You can run for about 14 km without noise, after which it becomes noisy as the motor starts heating up. The performance is moderate at high speeds and longer distances. 
The Nautilus T618 treadmill is an excellent pick for the home gym. It s a quality construction and is also compatible with fitness apps for various workout programs. From incline settings to advanced cushioning, this folding treadmill is a win-win.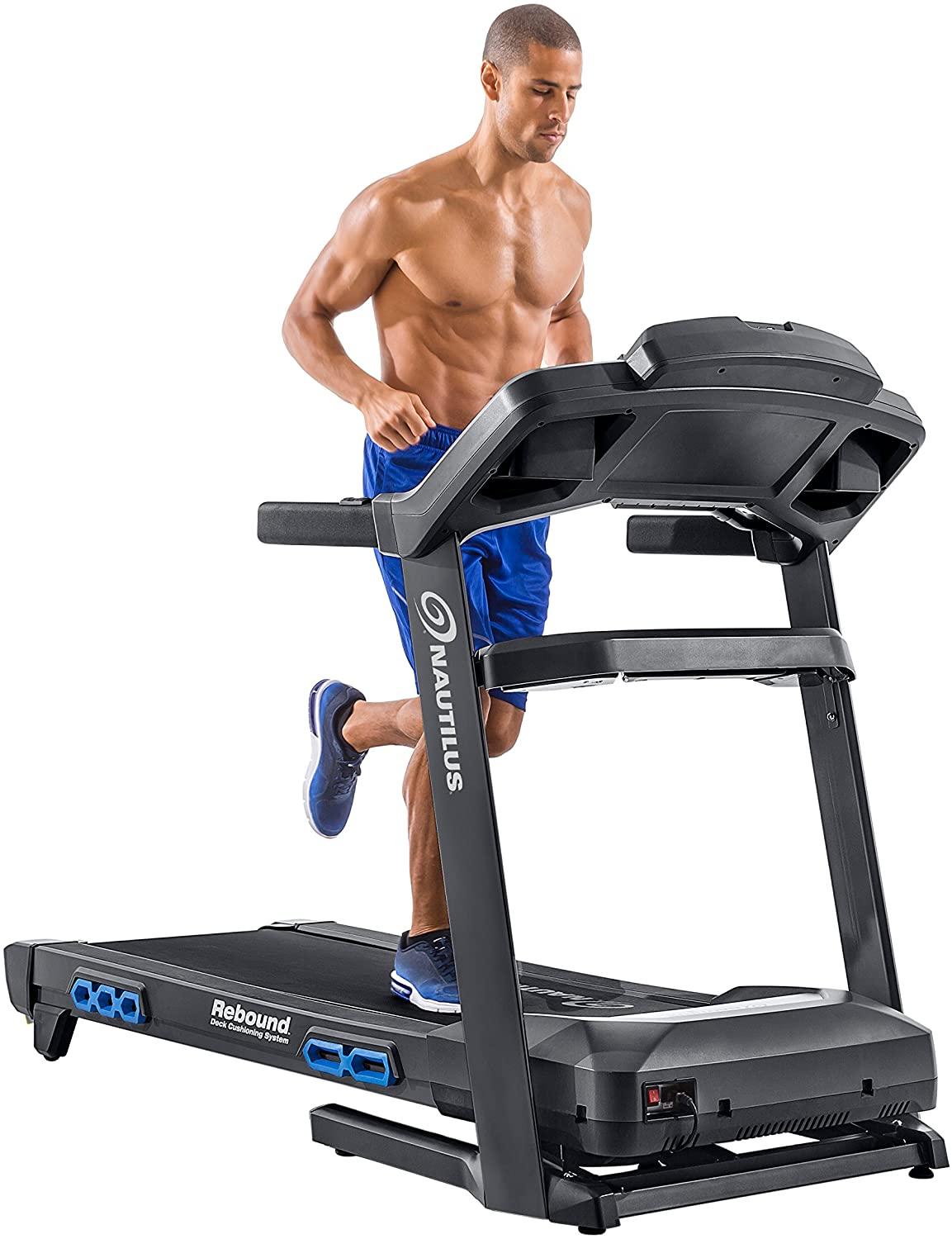 Explore the World App
You no longer have to worry about adjusting the speed or incline levels. The treadmill features auto-adjusting qualities and provides global routes to explore. It also helps track the workout stats, including heart rate, speed, calories burned, distance covered, etc. New destinations are added every month for a challenging workout.
Soft Drop Folding Technology
One of the best folding treadmills priced under 1500, this is the perfect home treadmill. It has a soft drop technology that allows you to lower the deck easily without bothering anyone. A non-folding treadmill might take some extra space, but this folding treadmill is sure to fit even in compact spaces.
Features and Specifications –
The item's weight is 288 pounds.
The color is black
Max user weight is 350 pounds.
Motor power is 1 HP
Has 26 preset workout programs
It gives a max speed of 12 miles per hour.
Inclines up to 15 %
Running surface of 20″ * 60."
Pros –
Enhanced Bluetooth connectivity
Cushioned running deck
Handrails
Charging USB port
Cons –
Some customers found missing components
The extra features include the wireless chest strap for monitoring the heart rate. The handrails also have added controls to adjust the speed and incline. Due to its folding capacities, you no longer have to worry about how much space it will require for storage.
Even a serious runner can hop on this treadmill for serious workout goals. This is undoubtedly one of the top-rated treadmills and can handle the weight of multiple users.
The Oma treadmill 5925CAI is a popular choice in the range of home treadmills. This is a store of powerhouse in the list of cheap treadmills. It has a good weight capacity compared to other treadmills in a similar price range. You can also watch the global workouts for training inspiration.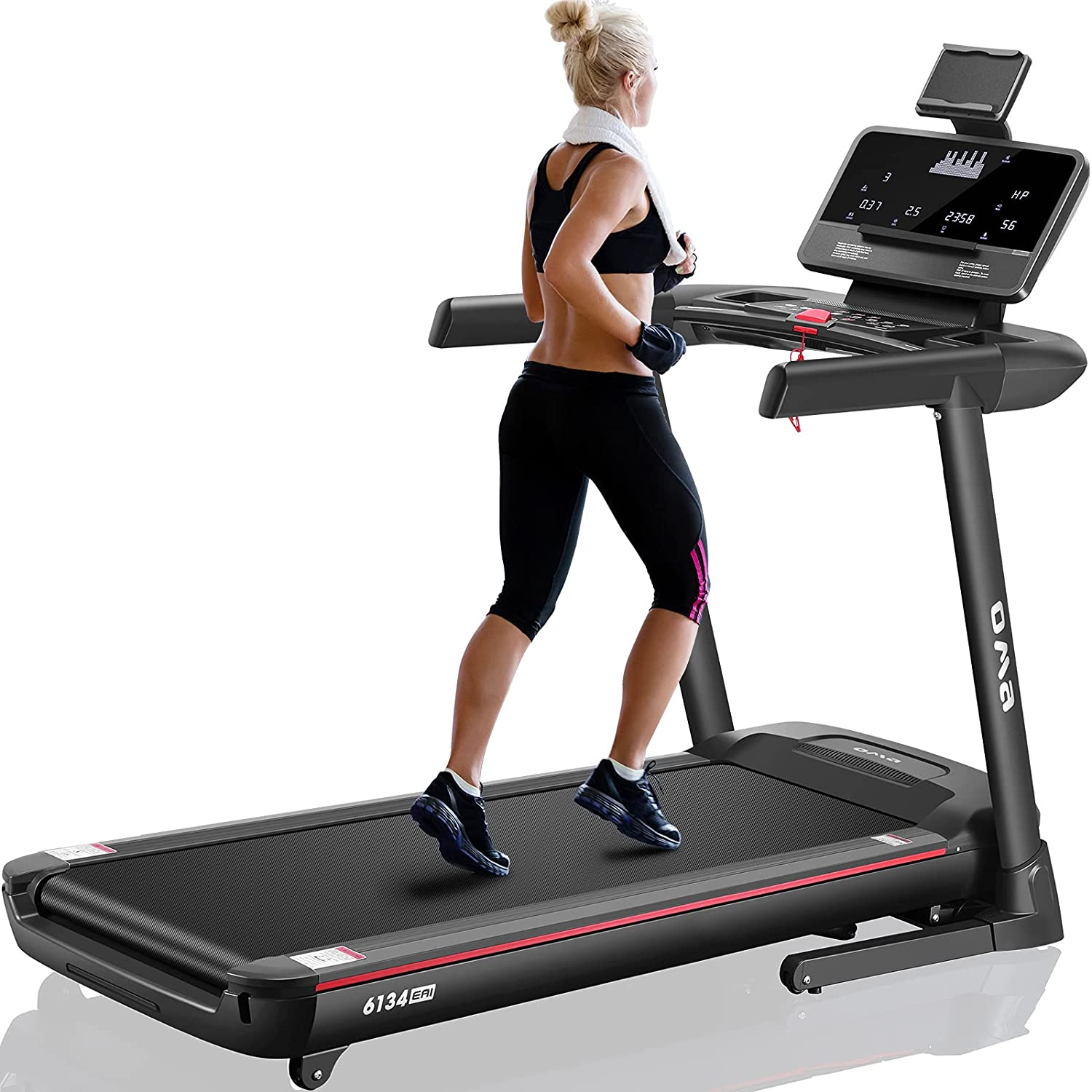 Convenient and Versatile Console
The treadmill features a versatile console with quick buttons to adjust the speed of the exercise. The console also has two tablet holders and item baskets for storing essentials. You can use Bluetooth speakers to listen to some music during the training. The armrests are among the other added features.
Motor and Incline Range
The treadmill has a commercial motor quality and helps in quiet training sessions. It gives excellent speed and can also be used for high-intensity training. And combined with that, the incline range options make it popular in the treadmill industry. This is the right treadmill that fulfills every workout need.
Features and Specifications –
The item weight is 92.99 kilograms.
The max user weight is 300 pounds.
The color is silver
The motor power is 3 HP.
The speed range is between 0-11.2 miles per hour.
The maximum incline range is 15%
The running deck is 55″ * 20."
Pros –
Tablet Holder
Quiet and smooth operation
Shock-absorption
Easy to fold
Cons –
Difficult to locate the actual seller or company
The quality construction makes it of the best treadmills under 1500. The running surface has six shock-absorption cushions to prevent injuries. The three modes of workout help in efficient training and burn more calories. You will also receive the benefits of Bluetooth connectivity for an enhanced experience.
Read out the detailed review and set this up at your home gym. You can easily mquicklyis from one place to another and fold it when no longer in use.
This model from LifeSpan fitness is one of the top folding treadmills in this price range. The brand has been making treadmills for than 20 years and knows exactly how it's done. It has various programs to burn fat and stay healthy.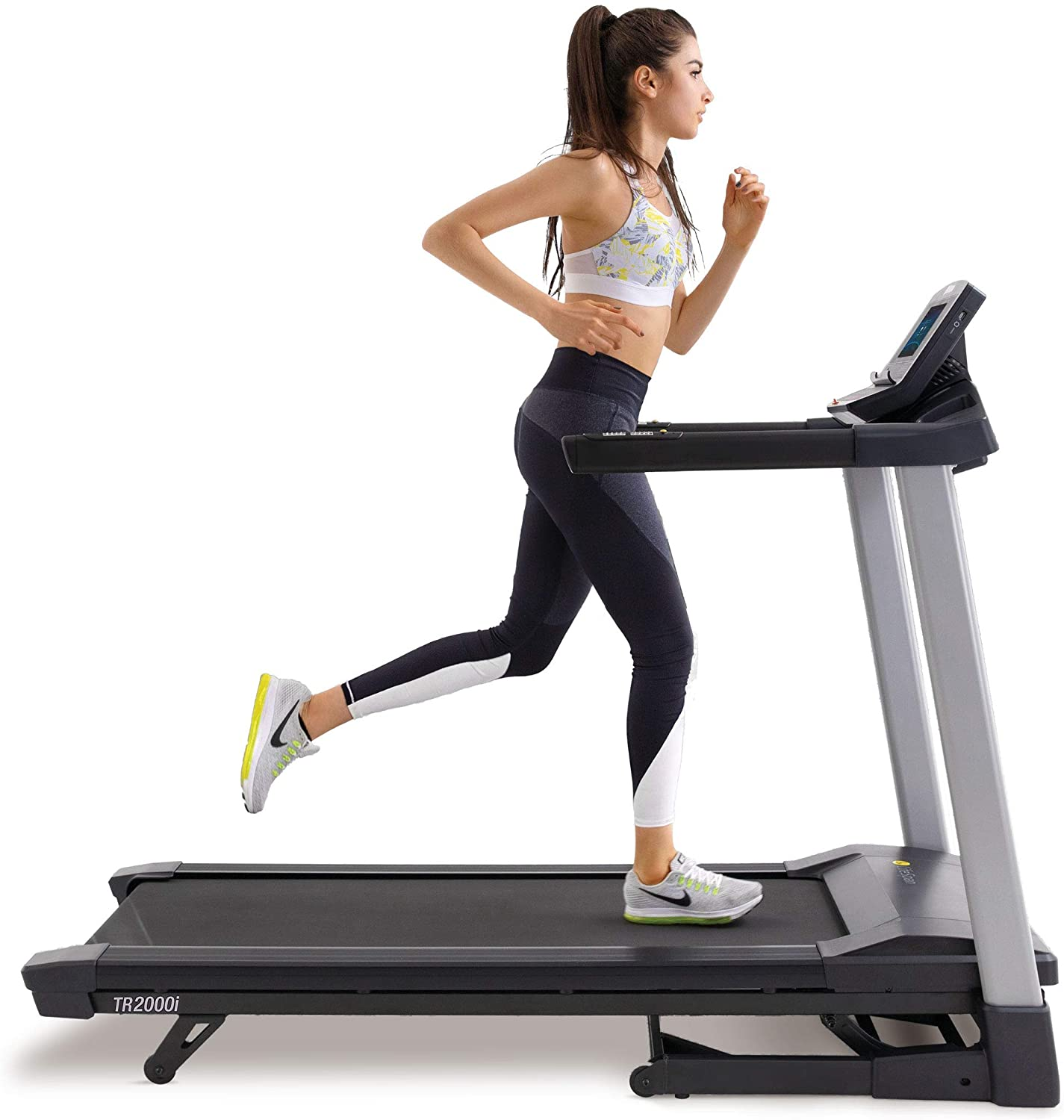 Helps in Effortless Storage
The Ezfold technology comes with a hydraulic shock for smooth folding and unfolding. The wheels on both rear and front sides make transportation super convenient. Simply fold the treadmill and roll it to any location you desire. This is one of the best treadmills under 1500 and has quality construction.
Compression Shock Absorbers
The treadmill comes with eight shock absorbers that help in intense workouts. This helps in a smooth workout and is beneficial in case of injuries. People with weak knees and joints must consider this feature before buying treadmills. Now, we know why this is one of the most popular treadmills.
Features and Specifications
The item dimensions are 70.7 * 32.9 * 55.7 inches.
The material is Alloy Steel.
Max weight capacity is 300 pounds.
The motor power is 2.5 HP.
The max speed is 11 miles per hour.
There are 21 exercise programs.
A display screen of 7."
Pros –
Cushioned running surface
Easy to fold
Transportation wheels
Vibrant display
Cons –
The sound quality of the speakers is not great
It is possible to customize the workout by adjusting the speed and incline through the display. The 21 easy-to-use workout programs help burn more calories and fulfill primary fitness goals.
LifeSpan Fitness has been making efficient fitness machines for years, and this is just one of them. Also, get the benefit of 10 years frame warranty, two-year motor warranty, and one-year labor warranty for added perks.
Sole F63 is another best quality treadmill in this price range. From the cooling fan incline control to the armrest, this has got everything. It has an excellent weight capacity and is an integral part of the best treadmills under the 1500 list. It has a basic design but a sturdy build compared to other treadmills.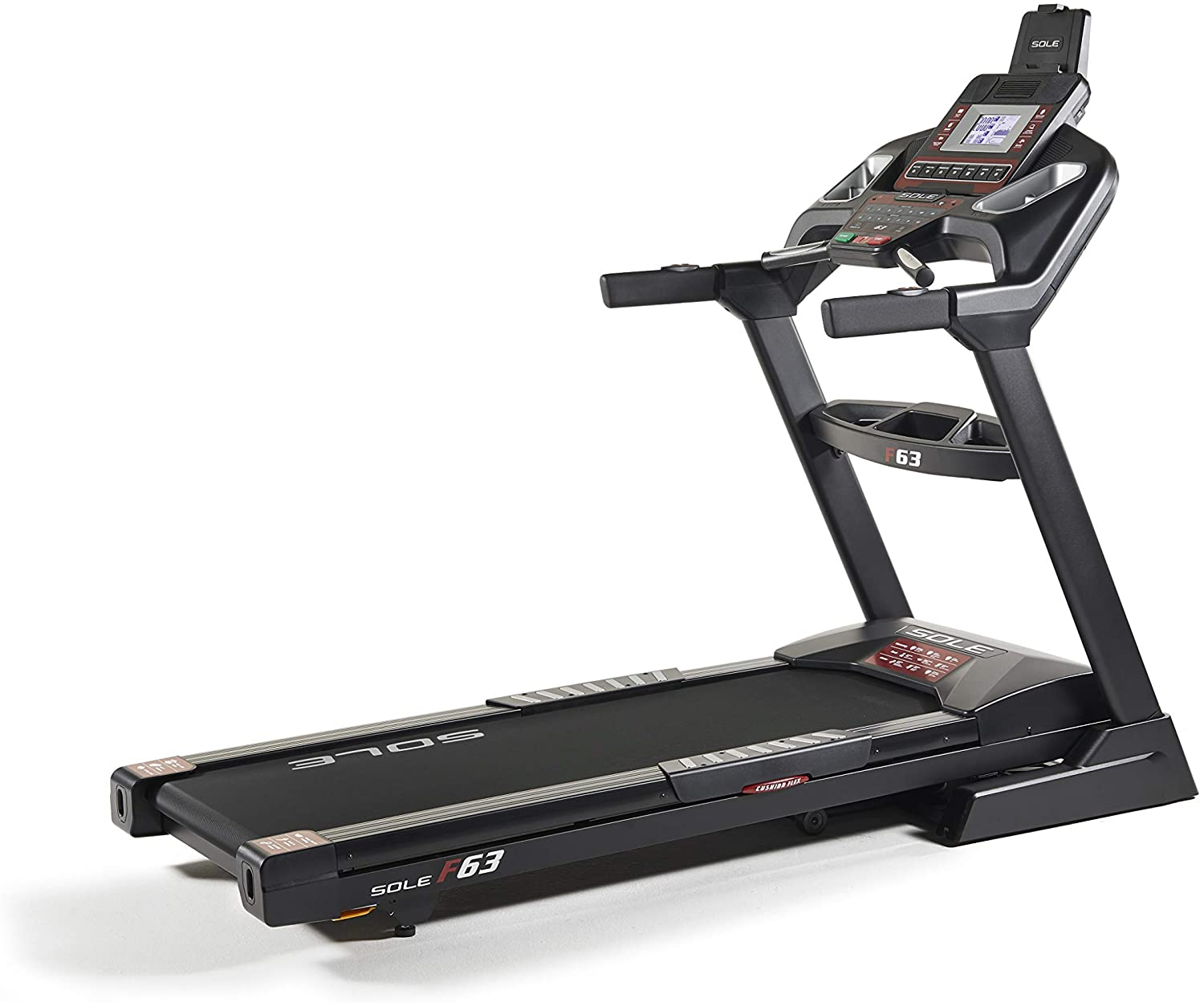 User-friendly Console
The console is very easy to operate and displays information ranging from speed, distance, time, calories burned, pace, to heart rate. There are various features for different types of workouts. Do not miss out on the built-in speakers for listening to some music during heavy training.
Meets Customer Requirements
The machine is made of durable materials and is a quality product. It is among the top folding treadmills and has a stable base. You can now perform training quietly without disturbing family and friends. The treadmill can meet most customer requirements and helps in effective training.
Features and Specifications –
The item dimensions are 82 * 35 * 57 inches.
The item's weight is 254 pounds.
The max weight capacity is 325 pounds.
The motor power is 3 HP.
The screen size is 6.5 inches.
It gives a speed of 12 miles per hour.
Max incline range of 40%
Pros –
It has a USB port for charging.
Integrated cooling fan
It comes with a tablet holder.
Quiet workout
Cons –
Some users noticed treadmill-shaking at higher speeds
The tablet holder helps in allowing the use of smartphones and other devices even during a workout. You can also adjust the settings using the handlebar for faster movements. This is a heavy-duty machine, and its durability might have lifetime coverage.
The USB port makes it possible to charge the smart devices while doing your exercise. It is the flywheels that help in a smooth workout and brings a fantastic experience
The Proform power is perfect for intense running sessions. This is one of the best treadmills under 1500 for beginners. It provides access to iFit technologies for improved workout programs.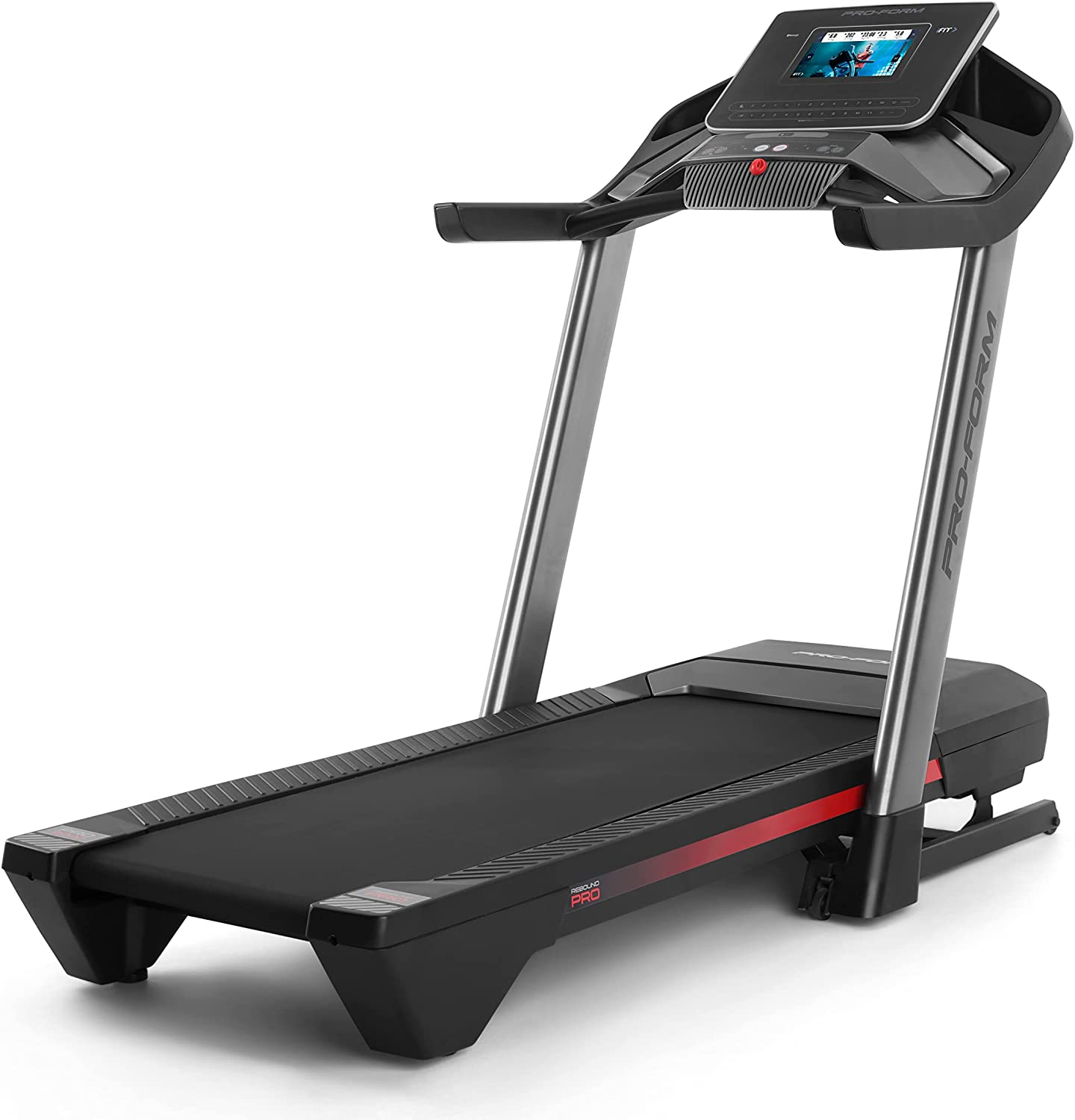 Commercial Motor Usage
The motor used in this treadmill is of commercial quality and can withstand challenging workouts. Even at high speed, the machine will not slow down or overheat, causing inconvenience. It has a powerful motor for performing quality training.
Apart from the above features, the incline range is another important area of discussion. The incline of the machine helps in determining the intensity of the workouts. With this equipment, you can both have the uphill and downhill running experience.
Features and Specifications –
The incline levels are -3 % to 12 %
The motor power is 3.25 HP
The size of the display is 10."
There are 50 preset workout programs.
The max weight capacity is 300 lbs.
The running surface is 20″ * 60."
Pros –
Commercial quality motor
Cushioned running surface
iFit Compatibility
Extended warranties
Cons –
The size of the screen is not very large
This is an excellent machine for walking, jogging, or running. The surface is cushioned, making it very comfortable for a workout. The incline settings are easy, and one can lower or raise the deck in no time. Another advantage of the machine is the 10-year frame warranty, 2-year parts warranty, and 1-year labor warranty.
It is an excellent treadmill in the budget and provides great results. You can do everything from light jogging to intense running using the ProForm 2000. So, save your gym fees and get home this running machine.
This is one of the best treadmills under the range of 1500. The on-demand workout programs help in an efficient training and provide multiple options. It is a quality treadmill priced under an affordable range. From excellent incline range to workout tracking, it is quite a deal.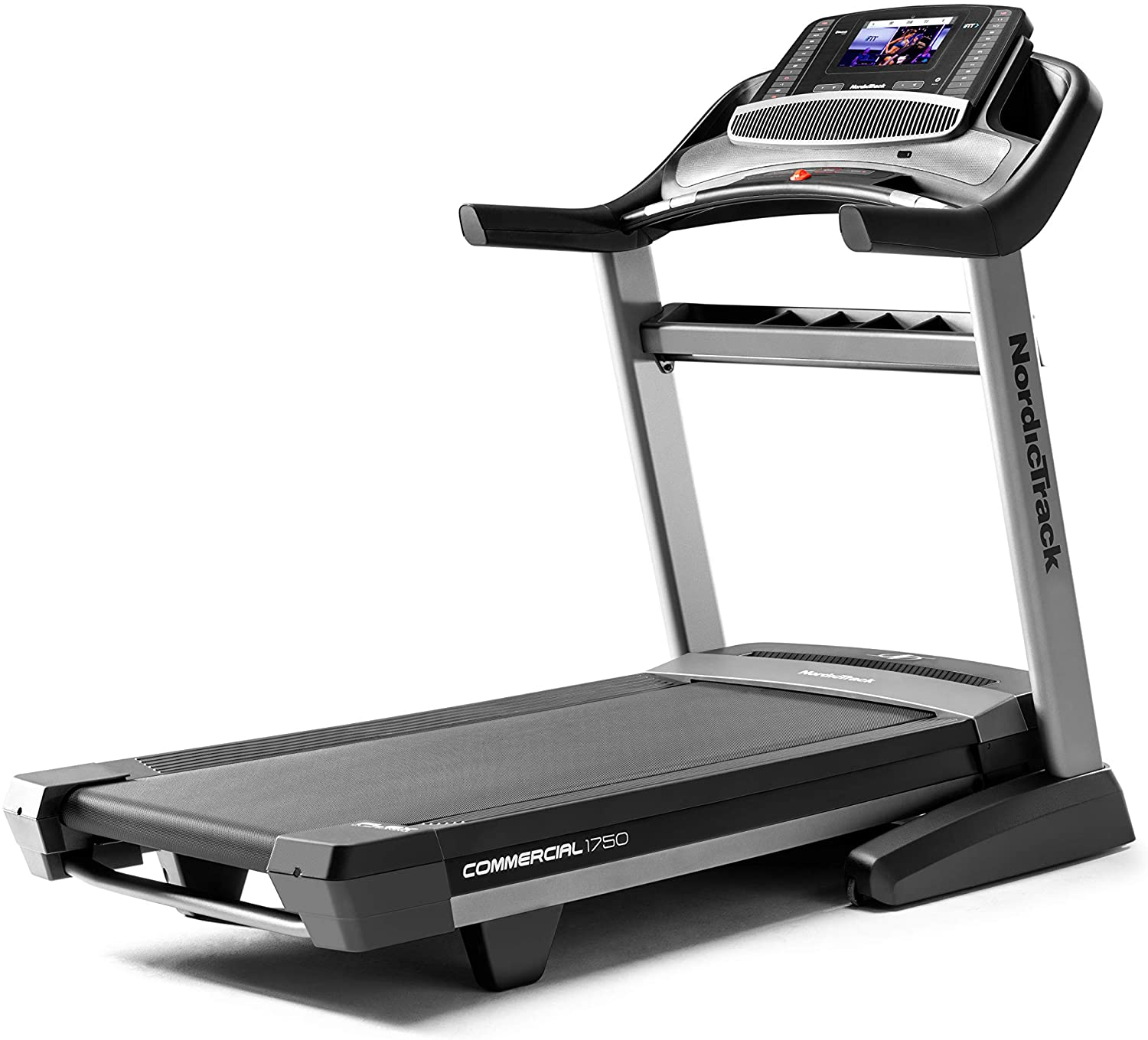 Innovative Space-saving Design
The machine takes very little treadmill space and is a folding treadmill. The EasyLift assist makes the whole process even more smooth. You can easily fold the machine post-workout programs and clear floor space. This tops the list of folding treadmills and has some great features.
One-Touch Incline Controls
The one-touch incline setting is one of the key features of this particular model from NordicTrack. The machine is iFit compatible and allows the trainer to auto-adjust the speed and incline during workouts. The one-touch control tops all the features.
Features and Specifications –
The item dimensions are – 78.8 * 39.2 * 63 inches
The color is black
The weight of the item is 346 pounds.
10-inch interactive HD screen
Incline range of -3 to 15 %
The maximum speed of 12 miles per hour
Max user weight is 300 pounds.
The running deck is 22″ .* 60″
Pros –
Smart response motor
Automatic controls
Preset workout programs
iFit Subscription
Cons –
A complicated training membership process
This is an excellent treadmill for your home gym. It is also backed by a 10-year frame warranty and 2-year parts warranty. Its innovative response motor has been discussed in popular treadmill reviews.
The interactive screen helps manage workout data and track the calories burned. So, save your gym membership and begin some challenging workout programs at home with NordicTrack 1750.
Bowflex circles around the notion of "strong" and is a brand that aims to provide personalized workouts. It provides a powerful motor in every treadmill model. Full-body exercises are great with Bowflex's customized training.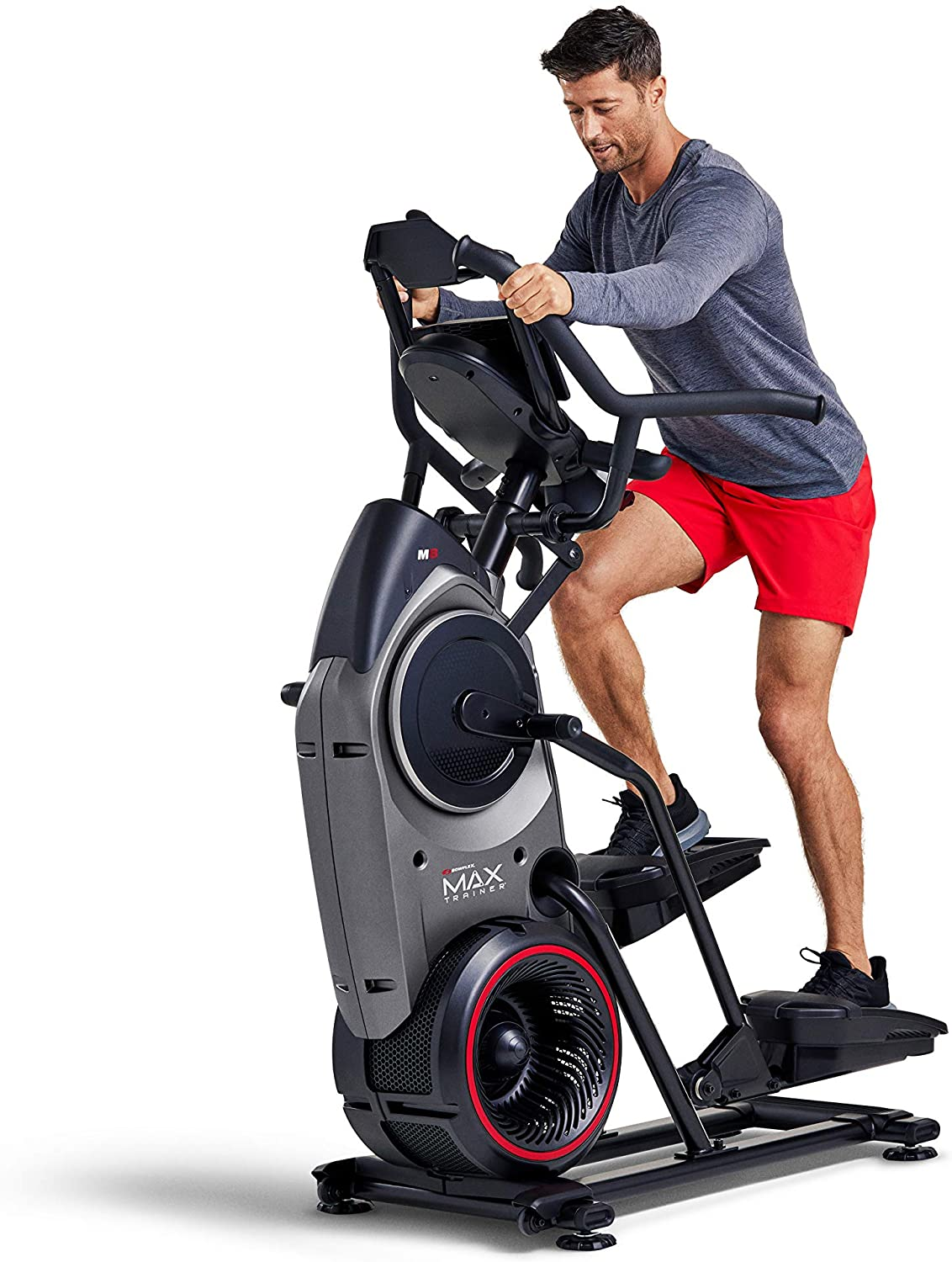 Horsepower
This model has a 4.0 CHP belt motor equivalent to four horses. Usually, the norms say a treadmill at home shall be 3.0 CHP. And most of the brands stay within limits. But, Bowflex knows how to provide something more significant outside the line. 
Bowflex JRNY Coach
It can not get better than this! You get a personalized coaching partner by Bowflex. The JRNY Coach is a technology that connects the treadmill to your bodily need for a workout. It will create custom workouts that can automatically adjust with the time and intensity you should work at. But, the only second thought is that it is not free. You would require a subscription to the JRNY application. 
Features and specifications:
Dynamic handles with multi-grip
Sports performance pedals
Adjustable workouts according to the time.
JRNY Coach for specialized workouts
Low-impact motion
Magnetic media shelf
Dual-mode backlit LCD/LED screen
Pros:
JRNY Coach
Bluetooth-enabled
Powerful motor
Con:
It can't be folded
Issues with assembly
Bowflex has a smooth motor that will give you a comfortable running experience. There is a large red-colored stop button for safety, and you can also use the tether if you move backward. It will protect you. This model is connected via Bluetooth for music and JRNY Coach. Hence, you receive a wireless experience. It is not fully foldable because of the paddles, so it might not be a good option if you are looking for a foldable one. 
Moreover, there have been concerns about the assembly of the product. As another best treadmill under 1500, Bowflex gives poor service sometimes. You're on the safe side if you are techy and know how to handle a machine. Overall, Bowflex treadmills make a powerful option. 
What Should I Look for When Buying the Best Treadmill Under $1500?
Your long-term budget matters when it comes to gym equipment. There are maintenance costs you need to bear too. If your budget is below $1500, you are on the right track. Yet again, a lower budget means cutting down on exclusive features. 
The warranty a brand provides you should be enough to cover any forthcoming damages. Usually, there is a one-year warranty on treadmills, but if you are getting a more extended period, it is more than enough for making the selection.
The body of the treadmills should be sturdy and robust enough to hold your weight. You should always use treadmills according to your current weight so that you don't cause any medical injuries to yourself or any damage to the machine while running. 
Treadmill Under 1500 FAQs
What is the Best Treadmill Under $1500?
All the brands' models listed above give you a wide range of options with their specifications. Whether a manual or electrical treadmill, each treadmill offers you something different from one another. It is up to you to choose the best for yourself according to your needs. 
Is It Worth Buying a Treadmill Under $1500?
Yes, it certainly is; $ 1500 is a good range for a treadmill at home. Even though you will get fewer features than a treadmill built for the gym, it is still a reasonable budget. The parts are adequate enough to fulfill basic workout goals.
Is It Okay to Work On a Treadmill Every Day?
Of course, you can use a treadmill every day. The only thing you need to worry about is the horsepower of the motor of your selected treadmill. Some brands cannot hold a heavy running load, and it breaks down. Remember to lubricate the belt at regular intervals of time. This will help with smooth functioning. 
Does Treadmill Use a Lot of Electricity?
Treadmills with higher HP motors use more electricity than those that will lower HP or manual functioning. If you have no trouble with electrical input at your abode, you can go for a highly-powered treadmill, and if not, choose a manual one.  
Do treadmills under 1,500 come with preset workout programs?
Yes, the treadmills under 1,500 come with a variety of preset workout programs. It makes the training easier, especially for those who have just started their workout journey. The preset programs motivate and push you to perform better.
Is a 1.5 HP motor suitable for a treadmill?
A 1.5 HP motor is the minimum power needed before settling for a treadmill. In case you are a regular runner and have a good weight, a treadmill with 2 HP is recommended.
How long can a treadmill last?
The average life of a treadmill is said to be about ten years. However, it can last even more if maintained well with proper lubrication. You can replace the damaged parts instead of replacing the entire machine.
Conclusion
From the best manual treadmill to electric, from folding treadmills to non-folding, there is everything on the list of best treadmills under 1,500. The top options give you a variety of features to choose from. Now you have the list in your hands; it will surely be easier to pick the best treadmill under 1500 for yourself.
The NordicTrack T Series stands out in the list due to its utmost simplicity yet extraordinary performance. Followed by Xterra Tr150 for its extreme flexibility in terms of workout features. They have excellent weight capacity and are top 2 on the list of best treadmills under 1500 list.
Now, you can work out any time of the day you want for better health. You will not be let down by the wide range of options on the list. Choose wisely and begin your workout journey TODAY!